Barnacle Bill's casual observations from the shore . . .


. . . . . . . . . . . . . . . . . . . . . . . . . . . . . .

This Section is merely to appraise you of what's happening around Police sailing, who's doing what (sailing-wise) and acting as general scuttlebutt.
19/12/19

Latest from Franjo

Dear friends and colleagues,

Finally our promo video is here. Its made by video clips taken this year of the ICCA regatta in Murter. Anyhow its dedicated to all the ICCA family. Here is the link on YouTube where you can find it. Enjoy it please..




Watch the video from the Event

Regarding World Police Sailing Championships - there is still room - so far we have only 12 boats, I don't know why... Please - I want to hear from you - all of you, your suggestion, your dissatisfaction, anything at all, which could help us to be better and to organize the event which will please you.

Thank you again to all of you who are coming back, especially those who didn't miss any of the events.

And now I wish you all Merry Christmas and a happy New Year, to you and your dear ones.

Franjo Stančin
ICCADRIA
28/11/19
Congratulations to Met sailors Fran Gifford & Pete Walker who received PSUK Achievement awards at the recent MPSC AGM.

Details of their citation can be viewed via the 'Reports & Stories' Section of this website.

26/11/19

Franjo already has 10 applications for WPSC 2020. He's hoping that, now there is some separation from the PSUK Champs date, even more entries will come from the UK. A reminder that the Initial Enrolment Form is available for download and completion. There are also the bank details available for entering the event.

Further details also available at:-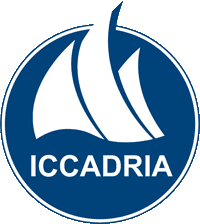 19/11/19
See latest Update and Initial Enrolment Form on the World Police Sailing Championships page.

07/11/19
Recent newsletter content from Franjo:
Dear friends and colleagues

Here is information about our next event World Police Sailing Championship 2020:

1. WHEN: WPSC 2020 will be held from 10th to 17th October 2020

2. WHERE : Marina Hramina, Put Gradine 1, 22243, Murter, Croatia

3. BOATS: Bavaria 41 C (2016/2017) with gennakers, boats are 3 cabins, so 6 berths +1 in the saloon

4. PROGRAM: Saturday - welcome party with bograc and red wine, then we will have races and dinners every evening except one (free evening), one day is possible to sail navigation race (optional) to Kornati islands and have dinner there

5. PAYMENTs:
- Prepayment 1.600,00 € - dead line is end of November we must cover all boats.
- Second payment 2.000,00 € will be next year somewhere until June.
- At the ICCA registration desk fee balance will be amount of 250 €
- If we decide to go to Kornati,tickets to national park cost cca 25 €
- Insurance-deposit at check in on boats and a tourist tax

6. TRANSFERS and APARTMENTS: if you need help - just ask for it.

Send Initial enrolment form and payment of 1.600,00 € to: (Contact Franjo for details...)

Best regards
--

Franjo Stančin
ICCADRIA

E-mail: info@iccadria.com
Mobile phone: 00 386 41 715 204
Web: www.iccadria.com

29/10/19

The combined NCA/PSUK Offshore regatta date for next year is now confirmed.

20th - 25th September 2020

Further details will appear when available, on the NCA page.

Contact, Ian Goodman
or via the Regatta Office on
ncaregatta@gmail.com
28/10/19
A message from Franjo regarding the World Police Sailing Championships, 2020
Dear friends,

Just a few information about WPSC 2020.

1. Date: still not sure all options in end of September (from 26 and latter) or October are opened, because all fleets have some option on it also by Iccadria. I'm looking the best possible offer I can get, we will know this week for sure I hope.

2. Venue could be Kastela (First 35 with gennaker, as we already talk before, or Murter (Bavaria 41 with gennaker)

3. Please send me your thoughts if you have crew ready and want to participate, so I can start negotiations more seriously - because a lot of things depends on number of the people who will participate on regatta, dinners.... Please send me asap.
Thank you,
Franjo Stančin
frenks@gmail.com
16/10/19

The PSUK National Dinghy Championships are pencilled in for 17th and 18th June 2020 at CVLSC

15/10/19

The minutes from the recent PSUK Sailing Section AGM, now available via the 'Reports & Stories' section of this website.

06/10/19

METROPOLITAN POLICE SAILING CLUB

Notice of AGM 2019

Tuesday 26th November 2019 at 5.30pm to 8pm

(followed by an optional club supper details below)

Venue:

The Little Ship Club

Cranes Wharf Bell Wharf Lane,
London EC4R 3TB

littleshipclub.co.uk
Tel: 020 7236 7729

including the PSUK Award of Excellence presentation to:
Fran Gifford and Peter Walker
02/10/19

Ian Campbell, PSUK Office Mgr has circulated an "Event Organisers Quick Guide" to sport secretaries for organisers of PSUK sports events. This will be forwarded to PSUK regatta organisers. A copy can also be obtained from Ian or applying to Barnacle Bill .
25/09/19

Just a note - that the PSUK 'Police Sport UK' has changed its website address to http://www.teampolice.uk/ .
The above logo may well appear on correspondence received from PSUK.
I've only just stopped referring to the PAA....

16/08/19

A message from the PSUK Sailing Section Secretary:

Dear all,

Following the very successful 2019 Dinghy Nationals hosted by Avon and Somerset we are still looking for a volunteer force to host next year's 2020 Nationals. Could I ask that you all speak to your respective sailing committees and have a think.

The PSUK committee should again this year be able to provide some funding (although we will not know how much until later in the year)

The best formula for the event is to encourage a local sailing club to run the event - this reduces work required from the organiser and offers a little independence to the racing.

I have tried to find a joint Services or similar event to combine with but nothing really jumps out as suitable.

Best wishes,

John
16/08/19

A number of links to pictures taken at this year's PSUK Dinghy Championships are now published
26/07/19

A Report on the PSUK Dinghy Champs 2019 is now available. Picture links will follow...

23/07/19

A message from John Oldham
Just a date for your diaries - The AGM of the PSUK sailing section will be held at New Scotland Yard on Wednesday the 2nd Oct at 11am - I will send out dial-in details nearer the time.

Those who wish to attend - please let me know but your will have to be at NSY at around 10 am to allow me time to get you through the security.
31/05/19
A successful regatta was held by Devon & Cornwall Sailing Association on 18th May. Some details have arrived and may be viewed via the D&C page.

15/04/19
Change of Contact personnel at Avon & Somerset Sailing Section

The Secretary is now Mike Buck. E-mail mike.buck@avonandsomerset.police.uk

Treasurer is Peter Knight
Bosun is Darren Crew
Assistant bosuns, Andy Butler and Malcolm Dykes.

Shirley Eden has retired from the Force so any emails sent to her address will bounce.

02/04/19

The Notice of Race and Entry Form for this year's PSUK National Dinghy Championships at Chew Valley Lake are now available to download.

23/03/19

The Devon & Cornwall Police Offshore Regatta takes place on Saturday, 18th May, 2019 at Brixham Yacht Club,

Details have already been circulated to a number of prospective participants and provide the opportunity for Sailing Sections of other forces to take part.

The D&C page provides details of the event including the Organiser's contact details.
14/03/19
A date for your diary

The AGM for the PSUK Sailing Section AGM is set for 11am on the 2nd October, 2019 at New (new) Scotland Yard,

More details to follow in due course..

30/01/19

ICCA announcement - A circulation received from Franjo..

Dear ICCA friends

I was thinking a lot, talking with ICCA committee, skippers etc... and finally made a decision. There will be change of a rule on ICCA regattas about participants. We will allow to participate also family members of the crew, but there must be minimal 4 law enforcement officers in the crew. Also majority of the skippers agree about this, and I hope this rule will make easier to put the teams together.

Regarding the WPSC regatta - the rule stays the same - only police officers can participate (active, former, retired).

We are asking all skippers to keep that in mind, and play fair game here on both regattas.

Franjo Stančin
ICCADRIA
23/01/19
The Notice of Race is now published for the NCA/PSUK Offshore Regatta in September.

18/01/19
The date for this year's combined NCA/PSUK Offshore Regatta is confirmed as 22 - 27 September. Notice of Race will follow shortly.

17/01/19
A recent circulation received from Avon & Somerset..

In recent years it is no secret that Police Dinghy Sailing has been in decline, last year's Nationals hosted by Hampshire at Netley saw less than 20 boats competing and it became obvious that unless someone volunteered to host the 2019 event that it was going to be the last one.

We volunteered to host the event in 2019 at Chew Valley Lake Sailing Club on the 12th and 13th June. If it is not going to disappear we need your support.

Please put the date in your diary, camper vans are now allowed on site and we are hoping to sort out camping. On the Wednesday after sailing there will be a meal and the bar will be open. Most of you will know what a lovely location it is.

We have yet to put full details on the Policesailing website but will do as soon as possible, if you are able to support us at this time just let me know and please try to drum up support. Let me know if there is anyone else I can contact.

We need to make this year's event a success or it could undoubtedly be the last National Dinghy event.

Thank you for your time and support.

Jeff Stratford.
President Avon & Somerset Sailing Section.
06/01/19
A summary of previous, recent entries from the end of 2018:
Avon & Somerset Sailing Section recently held their AGM and Jim Shaw was elected Commodore. Also confirmed were the dates for their annual regatta which will be incorporated into their running of the Championship for 2019.
The dates:- Wednesday-Thursday, 12th-13th June, 2019. The venue: Chew Valley Lake Sailing Club. The Race Officer will be the perennial, Keith Harris.
---
See the International Coppers Cup page for the latest news regarding the Programme for 2019 and payment.

(Most recent entries are now at the top of this page)