Barnacle Bill's casual observations from the shore . . . (Jan-Oct, 2004)
Firstly, welcome to the new website which I hope you will find of use.
The reason for the new website is simple. The old 'purchdev' sailing website was originally set up in 1999 merely for Northants members to view, prior to the local sailing section developing their own Intranet website. We wanted to be the first - ready to attract more members into sailing. Since then, a number of other forces have become interested in publicising their regattas, the site got busier and now, with the re-appearance of once-held annual police regattas plus additional forces running their own in-force regattas, the website now reflects police sailing nationally rather than locally.
The old 'Regattas & Results' page providing news of police regattas has been broken down into the relevant police organisation rather than all entries for one year being on the same page. The reason for the change is technical. With the increase in activity, the report and result details for all the year's regattas made for a very long page and unless you are on broadband or similar, made for a very long download time - too long now that the Internet is becoming more clogged up with extraneous matters. This is the main change on the new website and should make it much easier (quicker) to view details of specific Force activity and their regattas.
I am grateful to the Purchasing Development Group for hosting the police sailing website for these past years; their support has been invaluable in the promotion of police sailing and it has now become a suitable time to develop the website as an independent, self-supporting entity.
All 'purchdev' Email addresses contained within this website remain operative but will slowly change as the new website develops.


So we start with a, sort of, clean slate. Older entries in 'Barnacle Bill' have been relegated to other pages and can still be referred to.
This period of the year sees rapid changes to news as we look forward and regatta dates become confirmed for 2004.
News pertaining to this period January - March, 2004 will be added to, as it becomes available.
10/1/04
Not so many dates for 2004 regattas are known at present. The first regatta of the year - West Midlands Police Regatta date is now confirmed.
Sussex Police Regatta at Bexhill will run in August despite Sussex also hosting the National Dinghy regattas. No further news yet as to when entry details for Worthing will be in hard copy form - if you want to be updated promptly of any update, email me at this new address sailing@nccnet.co.uk .
The Met are toying with a possible change of date from their September regatta at Datchet. Stuart Jenkins has now taken over from Gary Walters as the MPSC's 'Rear-Commodore Dinghies' and will be organising their dinghy regatta.
The Met are also hosting this year's National Police Offshore Sailing Championships, now back on the Solent.
The Cheshire Regatta at Winsford will run and is liable to be held around the same time as last year (mid-late September).
Northants Police Sailing Section AGM duly took place and details appear in the 'Northants' section. Once again, it is planned to prepare for the Met Offshore regatta in October. On the dinghy side, the usual seven closed regattas will take place for Northants personnel. It is not envisaged to hold an Open Police regatta.
The Section plans to run a couple of weekends cruising in the Solent with a view to encourage new membership.
It seems so difficult these days to get recent Force intakes to participate in sport. There's a view that those who do, start off in soccer or rugby and remain sport oriented, but fail to come through to sailing. With this in mind, a suggestion was made to "game swap" by inviting members of other Northants sport sections to try sailing for a change.

J & P Sailing Ltd. is a new family business

set up by the Osborne's. Not those ones... Phil Osborne (Northants) has decided that it's time they got into the yacht charter business

and has purchased their

first yacht, the 'Hayley Louise', named after their daughter.

The boat is a newly built Bavaria 36 and is based at Hasler Marina, Gosport.

Northamptonshire couldn't be much further from the sea and whilst the family plan to sail their acquisition as much as possible, they also plan to accept charters.

You can read more about the Osborne's and hiring 'Hayley Louise' in the Northants Section of this website.
6/2/04
The date for the Metropolitan Police Dinghy Regatta is now confirmed as Thursday, 15th April, 2004. The date has been changed with a view to encouraging more competitors, as it was felt that the September date was missing out on numbers. We shall see.
Karoline George has also been in touch with details of this year's Met Offshore Championships in October which can be viewed in the Met's Section.
News that Hertfordshire are alive and kicking. Constant Offshore competitors, they hope to take part in the Dinghy calendar this year. Their secretary, John Walsh's details now appear on the 'Contacts' page
Ted Piggin would remind all who plan to take part in this year' Police Sport UK National Police Offshore Championships to get their entry in now and book their boat with Sunsail who cannot guarantee the availability of boats for ever waiting on late bookings.

News also from Alex Bisset (Strathclyde) of the SPRA, North British Police & Invitation Offshore Sailing Championships.
The event, in conjunction with the North British Police Champs is intended for forces north of a fairly flexible line above Derbys/ Notts, but they'll take others - Dorset are taking part this year, as are the 2 Wales (North & South). Any police team will be most welcome, there's a flexible rule that 50% (ish) of the crew should be some grade of membership of a police sports/social club. The Invitation element is more to attract other Forces, but also non police groups like the Civil Service, Royal Navy, etc.
The whole thing appears pretty laid back, with the emphasis on a good time and hopefully cracking sailing !
With an entry fee of £30, all you need do is negotiate for a yacht, etc.
Greater detail appears in the Strathclyde section of this website.
More news from north of the border....
Andrew Clark of the Lothian & Borders Police Sailing Club has outline details of next year's (2005) Police Sport UK Offshore Championships which are being held off the West Coast of Scotland.
Plans are already afoot and the purpose of the present detail is to update everyone concerned. You can read the story so far in the Lothian & Borders Section of this website.
Andrew will be down on the Solent in May and can answer any queries during this year's Police Sport UK Offshores.

7/3/04
The Met's "Jibe Ho!!" newsletter is just out under it's new editorship. Prior to the Internet, Jibe Ho!! (or "Gybe Oh!!" as it used to be called in the 70's) was the only written record of police sailing throughout the UK that was regularly available. As now, the content was only as good as supplied and much depends on members and participants to be prepared to supply COPY. Please excuse the capitals but one cannot produce the goods without support. Summer's nearly here and someone, somewhere will be having a fine (hopefully) time worth writing about and sharing with others - via Jibe Ho!!.
Congratulations to Vic George in producing an excellent edition which includes details of all the courses the MPSC organise plus a brilliant checklist for going offshore sailing whether you be a novice or experienced sailor.
All can be viewed via the Met's Section of this website.


News just in from Cheshire confirming their Police Dinghy Regatta date as Tuesday, 21st September, 2004. The venue remains the same as last year and full details appear on the Cheshire Constabulary page.
It's a good day in a very homely atmosphere. Dave Burrows would be grateful to know of intended participation in due course in order to cater correctly. Last year the food was brilliant but there was so much left over. Still, the 'goody bag' made the journey home much more enjoyable.


Committee work. Not everybody's cup of tea. It requires not only commitment, reliability, dedication, but also the ability to administer, to organise . . . so much beyond what we were originally trained to do.
Clive Collier has been the Secretary on the PAA/Police Sport UK Sailing Committee for 5 years. Clive has decided to devote more time to his two children who are both National level swimmers. At ages 13 & 11 they have training schedules that would make most of us wince. It's a once-in-a-lifetime opportunity and who would give up the chance to support the fulfilment of such potential.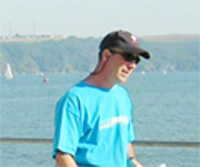 ..
Clive started police sailing in the Met back in 1980 when John Burbeck & Stuart Douglas invited him to an East End Pub, and he ended up going on his first cross-Channel race. From there he took part in the first Offshore Championships for Police sailing and had a great time developing his offshore knowledge. Clive left the Met in 1986 and moved to Cambridge, who at the time had no sailing section, but the following year they took part in their first offshore event. After two years he resigned the force and moved back to the West Country, and ran the post office at Salcombe, South Devon. Having applied to re-join in Devon and Cornwall, he found that they also had never taken part in offshore racing - again, the following year, they did.
Clive says, "I have taken part most years, and have found sailing a great way to maintain contact with colleagues around the country. I have not given up sailing, but have just handed the job to Mick, who I know has the enthusiasm to keep the national section growing over the next few years".
Michael Corrigan has been Sailing since 1983 doing most of his skipper certificates. He started with the Police Offshore about that time as crew and navigator. Mike then took over the West Midlands crew in the late 80's and has taken part in the PAA Offshore each year since then. He was one of the organisers of the Offshore 2001 and acknowledges the pressure of trying to arrange an event for Police Officers. He became the secretary for the Police National Offshore regatta at the 2003 event and recently agreed to cover the Police Sport UK Sailing Section full secretary post.

Mike's main areas of sailing are the Solent, South Coast, Channel Islands and West Coast of Scotland. He fully enjoys the racing and his main achievement was to be invited by members of the Leicestershire Police Sailing Team to assist in crewing a yacht during the Fastnet, 2001. "That was the best sailing trip I have had. We came fourth in class that year."
Mike tells me that he hopes to be as active as possible, attending the Dinghy Nationals as a spectator and taking part in the National Offshore.
Committee work requires much allocation of time and I wish Michael every success with his new role.
28/03/04 -
"All is going well for the Dinghy Nationals"
Further details of the National Dinghy Sailing Championships at Worthing are now apparent and details of the daily schedule appear on the Police Sport UK National Dinghy Champs page. The Sussex Chairman, Bob Trevis has sent me a letter as to the current state of play - which I would recommend you to read via the same page.
Soon, the Entry Pack will be available and now is the time to register your interest. However, the plan is to publish Entry Form and connected details on this website so that you can print everything off to complete beforehand. This to save postage, paper, admin, etc. No doubt "entries will be accepted on the day" but if you have ever tried to organise an event, catering, camping space, et al, you will know that the organiser is most grateful to receive entries beforehand. If you want to be informed when the Entry Form etc., are available, drop me an email via sailing@nccnet.co.uk .

Dates for Dorset are now set.
Rob Gillespie has received approval from Poole Yacht Club for the holding of the 2004 Dorset Police 2-day dinghy regatta, which will be held Wednesday July 21st - Thursday July 22nd. Basically, it is intended to run it as per last year.
Notice of Race, etc., will be available in due course.


Heard from David Wilson (Merseyside) who, with Andy Hall, won the Maiden Trophy at the National Dinghies in 2002. Dave was missing from last year's Nationals in the Laser Stratos having come off the trapeze in the May and messed up his knee. Nevertheless, he's back onto the water this April for the first time, a bit of practice and hopefully he and Andy, plus Tim Mercer (Laser) will be just one of the many northern Forces represented at Worthing this year.


The Racing Season is on us in earnest. The Met Regatta date-change to April obtained the required conditions - wind and plenty of water. 13 boats was a trifle disappointing with a number of regulars absent but, by way of compensation, there were some new faces.
A report, result and pictures can be viewed via the Met Dinghy Section's page.


The April edition of the Met's Jibe Ho! newsletter is now out under new editorship. It's always a problem when you take something on only to find that other factors start to (like work?!) increase and interfere. Vic George has handed the reins over to John Bailey.
The same rules apply. A newsletter is only as good as the support it gets so don't be backward in supplying John with copy. It makes the job much more satisfying.
You can read Jibe Ho! which mainly pertains to the business of running the MPSC which becomes a key reference point for the increasing number of members joining the Met Police Sailing Club.

Bartley Sailing club once again hosted the West Midlands Police Dinghy Regatta. Conditions were wet and windy all day which made for late arrivals struggling through traffic and many capsizes on the water.
Graham Cook succeeded in coping with the varied conditions and had the regatta sewn up by lunchtime. A full report with results and pictures are shown in the usual place.



The Police Sport UK National Dinghy Sailing Championships.
The Info/Entry pack is now available from Alan Leslie at Newhaven P/Stn. You can now print a hard copy of entry forms for both the Laser and the Handicap regattas for posting back to Bob Trevis.
Registering beforehand helps the administration no end and gives the organisers a clue regarding catering and the like.
The organiser, Bob Trevis has kindly provided a phone number for eleventh hour enquiries: 07986-304562, but do use circumspectly, he'll get busier as the regatta approaches.
See the 'Forces & Regattas' Section for the latest on the championships.


We don't currently see too much of Greater Manchester on the dinghy circuit but when they're about they've had great success over the years, particularly in the National Championships.
Heard from Pete Jackson, their Offshore Secretary who plans to have a busy season, having not only competed in the Offshore Nationals but may take part in the annual Three Peaks Yacht Race, in which the police have competed in past years together with other Service teams.
GMP also hope to be at the SPRA/North Britain Championships and later in the season, to Northern Ireland where the post racing craic is to be recommended - then the Met Offshore in October. A busy season indeed.
It's good to hear of yet another large force supporting the Police Offshore Racing calendar.


To MPSC members:
The MPSC is now able to offer a limited number of Motor Cruising Courses from Mercury Marina aboard 'Alpha', a luxury forty-four foot Sealine twin diesel (860 HP) Motor Yacht. The RYA Helmsman Course (two days) is an introduction to motor cruising and no previous motor cruiser experience is required. The cost is £270 including fuel with a student / instructor ratio of 4:1. Places are currently available on courses commencing 8th / 9th June, 2004 and 9th / 10th June, 2004. See MPSC Intranet site under 'RIBS' for details or call Paul Brown (Mobile 0771 413 6061) Thank you.

7/5/04
Karoline George has issued a letter updating details of the Metropolitan Police Offshore Championships to be held in October. This can be viewed on the Offshore page in The Met's Section. Karoline reminds everyone planning to enter to return the Registration Form to her promptly and she can send you the Sunsail Booking form or you can contact Sunsail direct.
It's always useful for the organiser of any regatta to have a clue as to number of possible entries so do let Karoline know early.


18/5/04
Congratulations are due to Pete Walters and the Nottinghamshire team for their splendid win in this May's Police Sport UK National Police Offshore Regatta. Numbers were again well into the 20's with teams attending from all over the UK.
My thanks again to Len Gooch who, back early from Africa, turned out to support the event and provides a report on the week with some excellent pictures of some of the teams taking part. Action photos of the sailing were lacking this year due to the indifferent wind conditions. However, if you should have any shots you would like published, please forward them and they can be added to the photo-gallery of the event.


27/05/04
Beyond the normal quarterly issue of Jibe Ho!, The Met are planning to circulate news which is rather more "Time sensitive" by email. Also to keep their own Intranet site up to date which is fine if you are serving personnel but of no use if you are a retired member of MPSC.
The first circulation of this nature has just been received which includes the availability of charters for the yachts 'Blue Flame', Blue Spirit' and 'Sapphire' as at 24th May, 2004. There are also details regarding their RYA courses and the way to book. Plus news and berth availability on 'Boldexplorer'.
If you are missing from the circulation list and wish to be updated, contact Phil Onslow, MPSC Rear Commodore Offshore.
27/05/04 - Important news regarding the future of the Police Sport UK National Offshore Championships:
Heard from Mike Corrigan the Secretary of the Police Sport (UK) Sailing Section. He tells me there was a rumour circulating that this was the last year with Sunsail UK.
Apparently, at the conclusion of the 2004 racing, a rumour started that Sunsail considered that this was the last year of this event using the Sunsail yachts in The Solent.

Mike has spoken to a representative of Sunsail management who categorically denies that any such decision has been made. Furthermore Sunsail consider the Police Offshore Championships as one of their prestige events and are looking forward to organising the event in Scotland in 2005 and of course seeing all the teams and more back in The Solent in 2006.
June, 2004
The Police Sport UK National Laser & Dinghy Sailing Championships took place at Worthing Y.C. and for those who have never sailed on the sea, it must have been quite an experience.
The Laser Day was pretty straightforward though wind increased in the afternoon to force a few retirements in the last race - maybe saving themselves for the following two days!
The following day, Day One of the Dinghy handicap event, brought a distinct change in the weather and despite the good intentions of competitors to blast their way down to the Start Line, many capsized on the way, rescue facilities looked like being overstretched for the race and the Race Officer decided to call it a day - for the day. Racing was abandoned.
For those with damage to repair it was fortunate - unless your damage was beyond repair and the Leicestershire Albacore, having capsized and bounced the mast about on the bottom, eventually returned to shore with a mast shaped like a 'Z'.
So you've come all this way and end up with a spare day without racing. What to you do? Some shot off to see relatives and friends in the area. Others packed their boats away for the day, had a spot of lunch and made out like being with the family at the seaside. A small investment at a nearby Council putting green passed a relaxing hour, a stroll along the prom' almost to Brighton took another hour and raiding the chippie mob-handed made the proprietor's day. It never rained and the wind & waves became steadier leaving some wondering, could we have sailed?
And so the day passed well enough with football to look forward to on a large tele' kindly provided at the yacht club. It wasn't like being on the terraces but again passed a good two hours in pleasant company. And we won.
Day Two. Early start and four races to get through, back-to-back. The wind had dropped but the sea remained lumpy. The Race Officer got it just about right with the length of races and four races were quickly completed to be off the water again early afternoon.
Such a pity that everyone eventually departed before the results could be announced. It was always asking too much to sort results by hand from 4 races with no gap available in between.
Next year's hosts will no doubt have already noted this.



The Laser Day was easy, of course. All same class racing and no handicaps to work out. But only just. I did hear that a certain single-hander - not a Laser - wondered if he could turn up and join in...

23/6/04
Today, hiding from the torrential rain and howling wind, I began to realise just how lucky we were with the weather at Worthing last week. Albeit a day was lost, I wonder what would happen if the whole event had been blown off the water and never been run.
A lot of time and effort goes into the Championships, not only by the organisers but also by the competitors some of whom had an eight hour journey. What would happen if the wind never blew - or blew too much? It won't be the first time for a club's open sailing regatta to have been abandoned completely, the competitors sent home and entry fees returned. Fortunately it has never happened in our National Championships but there's always a first time...

Please don't call be sexist in these days of gender equality (allegedly) but it was great to see so many of the fairer sex taking part in the Nationals. Not only taking part, but helming. This is good news. If only we could guarantee such entries, would it be just the opportunity to raise a trophy for the first lady helm?
The Police Lasers (BPLSA) had a trophy many years ago but there was never anyone to present it to.
There must be a Force out there looking for just this opportunity to present such a trophy.


For those who, having been successful at Worthing, are wondering what is to happen about the presentation of prizes, Bob Trevis will be deciding shortly, but the probability is that trophies will be presented at one of the police regattas yet to be held this summer.

There's a change of personnel on the committee of the Police Sport UK Dinghy Sailing Section. Stuart Jenkins (Met) takes over from Tony Britten.
Stuart Jenkins has been Police Sailing for the last 17 years and never missed a PAA Championship! He also travels around the UK to most if not all the Police Dinghy Opens. He is currently the Rear Commodore Dinghies & Racing for the Met Police Sailing Club. Stuart has sailed various boats over the years - Merlin Rockets, Enterprise, GP14 and of course Lasers which he has always found to be the best boats for general Police Handicap Dinghy Racing.
Stuart aims to rebuild dinghy racing circuit which has in recent years declined but is once again on the way up. His details appear on the 'Contacts' page


Police Sport UK Dinghy Sailing Championships, 2005
The venue for next year's championships has been confirmed as Scaling Dam Sailing Club, North Yorkshire hosted by Cleveland Police. Date to be announced but probably around the same time as this year's.
Contact for the event is Nick Hunt who was expecting a 'new arrival' in the family and was thus unable to make this year's championship. In his absence, Steve Brisley gave us an idea of the set-up. It's inland then, but there should be plenty of wind being up in the North York Moors. If your looking on the map, it's about 7 miles west of Whitby on the A171. "Heartbeat" country.
Contact Details:
Nick Hunt, Police Station, France Street, REDCAR Cleveland
Tel: 01642-326326
(mobile) 0796-609-1570
email: nick.hunt(@)cleveland.pnn.police.uk
(take out the parentheses)

10/7/04
I met Dave Green from Devon & Cornwall at Worthing. Usually to be seen sailing Cats, he was looking forward to a bit of weather. Mind you he played it on the safe side and sailed a Gull... Anyway, multihulls are not permitted in the Dinghy Nationals.
Dave has a sort of adopted son, Dan Holman, who came third in the Laser Olympic Trials for Athens. Dan does Race Training and in talking with Dave Green, one wondered if it was feasible to have a day's training immediately before the Police Laser Nationals next year. There's a cost (like £150 + exps) which between a dozen or so helms wouldn't be so much even though the next chance would be in Cleveland...
24/7/04
The Dorset Regatta took place at Poole Yacht Club last week. Five helms took part, four of whom were retired officers. Poole may be the best venue that we get to use; the course area - a perfect test of sailing skills. The club is most supportive and the members friendly.
So where was everybody? Most schools were in the throes of breaking up for the holidays. Was it the change of date? Was it that it's a two-day event? Can't serving personnel get away anymore? Is it lethargy or just disinterest? Is it the same for all police sports?
There was a time when the provision of sport in the Police Service was another attraction to the job, in fact it was something of a persuader - even if you had to perform off nights or after getting up for early turn. The time-off provided for sport was a great compensation but it still relied on the efforts of the individual to train and take part. The Armed Services still provide support but the Police appear to be lagging behind.
There remains a small nucleus of helms who endeavour travel and support each regatta and local forces also manage to turn out boats which should make each event currently around ten to a dozen boats. Suffice to say that without supporting each other's regattas, all events bar the Nationals could shortly be lost through lack of support.
On to happier matters. Sussex Police hold the next open regatta at Bexhill on Wednesday, 18th August. Those of you who have read this column in the past may remember that Bexhill SC received a grant from the Lottery. This has now borne fruit. The changing facilities have been renewed.
This regatta takes place during Bexhill Sea Week which makes for a very convivial atmosphere. Lots of boats about but we get our own Start. Sailing at Bexhill is a bit like Worthing. Fortunately there is a winch to assist pulling boats back up the beach.
Being during the school holidays, the event gives a chance for all the family to attend and only the helm is required to be police personnel.

In the Met's Section of this website under 'Training Courses' you will find the latest details of the opportunities to learn to sail offshore, also an update on the charter availability of their three yachts.
Although you may belong to a different Police Service and therefore not be a member of the MPS, it's a little known fact, but you may apply and be considered to be an Associate Member of the MPSC.
The Metropolitan Police Sailing Club hold their Open Weekend on 21st and 22nd August. There will be opportunities for new members and prospective members to see the Met's yachts, dinghies and new powerboat as well as some sailing opportunities with a barbeque in the evening.

Yacht for Sale
Macgregor 26X trailer/sailer. (1996) 6 berth, 50hp mariner 2 stroke outboard, Garmin GPS, Autohelm, tri data log, VHF radio, Gas cooker, Chemical toilet.
Extensive inventory and photos can be provided.
Lying Medway, Kent. £17,500
Contact: Lindsay Sprott (W) 0207 601 2652 (M) 07905 965 271
e-mail. lindsay.sprott@city-of-london.police.uk


9/8/04
Andy Cuddon has recently taken on the position of secretary of of Lancashire Police sports and social sailing section. They have a growing number of members and are active in both dinghy and offshore sailing events. He has raced in Laser class events for several years and this year the Force entered two yachts in the Northern British Offshore Championships on the Clyde in June. Andy looks forward to seeing you all again at the Cheshire regatta.
14/8/04
The annual PSNI yacht regatta, is getting into shape and provisionally they are planning 2 races (probably round the cans) for the Friday 3rd September and a 'Round Strangford Lough' race for the Saturday 4th September, all handicap racing. The event will be based between Down Cruising Club, and the neighbouring Whiterock Yacht Club at the head of Strangford Lough. The event is of course open to all (the more the merrier) although some notice would be nice of attending crews. the event is fairly laid back, with the emphasis firmly on the social side of the sport.
This year's organiser is David Price who can be contacted on 07801 590018

16/8/04
Older sailors may remember the ex-Kent Police helm, Chaz Jordan. Chaz has been in touch over recent months and I am grateful for the photos he provided from past regattas. A number of these have now been included throughout the "Stats" Section.
An account of his sailing experiences leading up to the Peter de Savary and Blue Arrow's America's Cup Challenge in 1988, can now be viewed in the "Reports & Stories" section of this website.

19/8/04
A salute to those who arrived for the Sussex Police regatta at Bexhill. The forecast had been for gales arriving from the south-west, rain and lots of grief but as it turned out the the biggest problem was the sea which made getting afloat and returning ashore something of an adventure.
Bexhill local members are obviously used to this and there was a lot of support to get everyone out and back in safely.
From the safety of the clubhouse, I met a lady, Betty Crosse who is no doubt proud of her age but it won't be mentioned here. Her husband Captain F.C. Crosse, R.D., R.N.R. was a founder member of Bexhill S.C. in 1947. Before then they had been out in New Zealand and she had a number of years flying Spitfires. Mrs Crosse still owns a Mirror but finds it difficult to get a regular crew. For me it was great to find someone who had been a member all those years ago and still turned out at the club.
She said, "It doesn't matter how old you are - it's how you feel". Amen to that.
Bexhill have made good use of their Lottery Grants. The £38,000 cheque was for the club to purchase 18 boats and a RIB which they did in 2001 (6 Laser 2000's, 6 Topaz and 6 Toppers - to add to their Topper Fleet - all for the Sail Training Courses & hire by Club members).
The Sunday after the police regatta, 22nd August, 2004, the new changing rooms/extension was officially opened by Olympic sailor - Silver medallist - Keith Musto and Sport England presented the club with a cheque for £120.000.
They have now had three 'Sport England' awards in five years and the new changing rooms plus the extended first floor make the club very comfortable. Let's hope the weather is a little kinder next year.


As it is, congratulations to Rob Jones who also won the event last year with an RS600. The boat is now sold and this time the plan was to bring his wife and sail his two-hander. Unfortunately, she was unable to make it (wise girl) and Rob's old boss before joining the police, Russ Attwood, turned out instead.
In fact Rob sailed Russ's RS600 in the Worthing Dinghy Nationals in June. Having gained 3rd place overall at that event, the opportunity was taken at Bexhill to present Rob with the Merseyside Trophy. Well done, again.
Also at Bexhill, Dusty Miller was presented with the Lakeland Trophy for first retired officer at the Police Sport UK Dinghy Nationals.

3/9/04
The Met's regular news bulletin which comes out in addition to their Jibe Ho! newsletter, has details of their AGM in November plus availability dates for chartering their yachts and for courses also news from the Powerboat Section

12/09/04
Well done to Colin Gilmer, Strathclyde Police who won the Visitor's Trophy at the recent PSNI regatta in the yacht Excalibur. Evidently a great event again this year but little else is known of the results.


22/9/04
The Cheshire Constabulary regatta at Winsford was again a resounding success despite threatened gales and the like. As it was, conditions on the water were quite tough enough with no-one escaping a ducking but very little damage to gear except for the odd grubby sail.
The turnout was also promising for the future; apart from the Nationals only the Met had as many dinghies out earlier in the year.
Intent on establishing the regatta, the organiser Dave Burrows has already given a provisional date for next year. Dave is evidently looking forward to retirement from the Service and looks to Paul Meeson to take over the reins for next year.
Provisional date for next year is Tuesday, 20th September, 2005


Good to see some new (or maybe new-old) faces at Cheshire. There is always the odd local fresh face persuaded to come out for the day but in addition it was good to welcome Gary Stephenson (Lancs) to the travelling circuit and in particular Rod Jenkinson (GMP) who has suddenly surfaced from the past sailing a Solo to good account.
These police open regattas depend so much on helms who are prepared to travel and one hopes that their experience at Cheshire provides them with a good view of police sailing in the UK. We look forward to hearing more of them.


The Deputy Chief at Cheshire, Mr Holding took time out to give a similar view. Cheshire has just hosted the PSUK Judo Champs and he was at pains to point out just how important it was to have an outside interest away from the stresses and strains of police work. I think he was probably preaching to the converted at Winsford but the point was well made. His comments were very much an echo of what John Burbeck had to say at Manchester last year.
Let's hope that the pendulum is starting to swing towards support for police sport not only in cash but kind. We desperately need the younger members of the service to get involved in police sailing which surely should not reflect society by having more 'wrinklies' participating than young'uns. Dorset recently was a classic example, where on Day Two, every helm was a retired officer.
Sailing is a young man's sport for all that - and somehow the intakes of recent years need to be persuaded that it's worth taking part.


Soon, Cheshire may not be the only regatta north of the Midlands. Lancashire Police are looking at the possibilities of holding a regatta at Bolton SC, next year. No date yet - but watch this space.


Which reminds me....
There are no rules determining dates but in the absence of recent news from Cleveland, one anticipates that the Police Sport UK National Dinghy Champs will be a similar date in June to last year. There are no tides to take into account at Scaling - I hope..
Accordingly, Force sailing secretaries begin to plan a date next year for their own regatta. This year at short notice, the Met changed from early September to April which looks like being a permanent move and leaving a space in the calendar of regattas during late August/early September. Apart from the National Offshore event, May looks pretty blank.
For organisers, there's often a lot to prepare for. Confirmed permission from the sailing venue which can take a while; avoiding dates of other regattas in order to maximise attendance; offshore events also take away personnel who would otherwise be in dinghies; getting the date out early so that Annual Leave etc can be arranged.
Thanks to Pete Franklyn (A&S), the Police Sport UK Dinghy Section now have a comprehensive 'aide memoir' to assist organisers. It's particularly for our National event though much of it pertains to organising any regatta. It's available.....
Meanwhile Cheshire are already in the throes of establishing their date for 2005 so hopefully others will follow during the Autumn..


The Police Sport UK Sailing Section has their AGM at Warwicks FHQ on 1st October. I shall be going. The Agenda is pretty well set but do contact me if you would like any matter brought up in A.O.B.


An unusual precedent happened at Cheshire. The morning race had been quite tough on some, and the wind looked like deciding to blow old boots.
Bearing in mind the strength of the wind, a request was made by one of the competitors to change his full rig Laser sail for a Radial sail. The request was made at lunchtime - after the first race in which the competitor had used a full sail. For those not aware, the Laser dinghy hull allows for its full sail to be replaced by a smaller sail called a Radial - and an even smaller sail called a "4.7". The smaller sails also require an alternatively sized mast spar. Naturally, the PY rating when using the different rigs is not the same as the full rig.
Now, Police Sailing being a friendly enough affair, the organiser merely asked the assembled company whether they would agree to the change and, as there was little sound effects to the contrary, the change was allowed. Two Laser competitors took up the change to a Radial sail.
Now there are a number of aspects to this decision and I hope that I can cover the more obvious ones, here and now.
Firstly, there were not too many dinghies about that have such a facility and apart from furling the sail as the Comet Trio did, there is little change that other dinghies were able to make. You just don't use your spinnaker if conditions make it impossible to control but then the spinnaker boat doesn't get the full benefit of his rating unless there is a recognised rating for particular sail usage.
Secondly, it poses the premise that as each race is 'a different race', does it matter what you sail, as long as you have a PY rating for that particular boat. Extending thought along these lines, could one change boats completely for each race - say, according to the conditions - and the course?....
If you were racing on a yacht with a number of sails to cater for particular conditions would/could you change them mid-race even if other boats did not have the same facility?
I don't think that Laser sailors would claim any special privilege but I wondered what the decision would have been if the competitor had started off with a Radial sail and wanted to change to a full sail...
I started off by saying that this was a precedent and it is. The nearest example I can think of, is when the writer signed on for the Nationals. Those that were there may remember that it was blowing enough for the day to be abandoned. On that day, my Radial rig caused some full Laser rigs to regard me with a little envy - Radial rigs have rarely been seen on the Police Sailing circuit - so far. As it was, I never got the benefit but the point was mooted that, seeing that I (nor anybody) had yet competed, I could have changed the Radial for a full sail on the second day, which was lighter conditions, without contention. As it was I decided to stick with the Radial. It was a personal decision.
Apart from the Police Sport UK events (also Avon & Somerset regatta evidently) there has been virtually only one main rule in the Police Opens - and that is, that the helm needs to be 'Police' whether serving, support staff or retired. For the Nationals, it has always required all personnel to be 'Police'. Thus, beyond the obvious rules, we have managed to keep our sport fairly simply controlled. One tends to feel that it is up to the Organisers to decide their particular Rules for Entry and competing. Precedents will always come along and this has been one of them.

8/9/04
Mentioning Laser Radial rigs - at Avon & Somerset's regatta, albeit a Radial won two of the races, the regatta was eventually won by a full rig Laser. Enough of Radials....
It was a brilliant turnout at Chew Valley where seventeen boats took part. This is getting towards the sort of numbers all our regattas used to attract. This was, in no small way, thanks to the preparations made by the organisers who also made some Toppers available for police helms new to racing. It's not everyone who will fit into a Topper - it's something about leg-room - and despite some capsizes in the rougher winds, one can only hope that the new competitors enjoyed their experience enough to compete another day and will eventually venture further abroad to support other Force regattas.
As with other regatta reports, Avon also produced a number of pictures which can be viewed via their Force page.


Numbers at Avon might have topped 20 but, as ever, duty calls at the eleventh hour and a few were unable to get to Chew Valley Lake. These few included a new face, Ian Saunders (Wiltshire) based at Swindon and living not far from the Lake. Ian is looking to start a Force sailing section and hopes to get organised to support next year's regattas.


The Police Sport UK Sailing Section AGM was duly held at Warwicks HQ.
Included in the many items discussed were the preparations for the Police Sport UK National Police Offshore Championships which take place next May off the west coast of Scotland. Andy Clark (see Lothian & Borders) is the Organiser and further details are about to be published with some slight amendments.
A report was submitted outlining the British Police' representation at Cowes Week 2004. The substance of the report can be viewed in the "Reports & Stories" Section
If you are a recipient of the likes of 'Yachts & Yachting' or 'Laser News', do not be too surprised to see the odd item drawing attention to Police Regattas.


There have been a few enquiries already regarding dates for 2005.
Cheshire have confirmed their regatta already (Tuesday, 20th September, 2005) and other Forces will shortly follow. If you wish to be informed as dates are set, you need to email me requesting to be informed. I hate spam and do not plan to circulate the world with dates but I am happy to let you know - if requested.
The simple alternative is to check out the "Forces & Regattas" section and see what updates there are.


As at 11/09/04
The latest info from Cleveland confirms that next year's Dinghy Nationals will be at Scaling Dam, which is on the A171, inland from Whitby.
The date (sometime during mid-June, 2005) has not yet been decided. Cleveland have a meeting in late November to decide.
As soon as I know, you'll know.


The Met Offshore Championship saw a great competition on the Solent. Congratulations go to Gary Walters with his helmsman Andy Taverner who had 3 first places and 1 second place to be clear winners of the MPSC trophy.
The top visiting team was Warwickshire skippered by Chris Edmund and who also had the Chairman of Police Sport UK - Sailing Section, John Burbeck on board.
This year a large number of pictures were taken and a selection of these together with the results of the regatta appear on the Met's "Offshore Section" page


"Jibe Ho!", the Met's newsletter also came out this month. Vic George has taken over the editorship once more and there is a fair amount of information regarding the future of the Metropolitan Police Sailing Club which looks like becoming a plc.
Also linked via the newsletter is a "Sailing Check List" which is extremely comprehensive and is a 'must' for anyone contemplating sailing offshore. Vic has recently updated the content and it's well worth having a hard copy. The check-list can also be viewed via the Met's 'Cruising Section' page.


News from Scotland - As from 24th October Alex Bissett relinquishes his position of secretary to the Sailing Section of the Strathclyde Police Recreation Association. Alex remains treasurer of Police Sport UK Sailing Section.
The new Strathclyde sailing secretary is John Hunt - details on the 'Contacts' page.
The North British Offshore Sailing Championships will again take place in 2005. Dates provided in due course.

30/10/04
Police Sport UK National Offshore Champs, 2005
After a comprehensive presentation of next year's National Offshore Championships at the recent Police Sport UK Sailing AGM, the organiser Andy Clark has now updated the details, including:
The amended handicap band.

A section defining the 'core fleet' and how the winner will be determined.

A bit about the entry fee.

A correction to a chart number and another email address in the Racing Itinerary.

Some additional information about Sunsail.
Full details can now be viewed on the Lothian & Borders page.


Monday, 15th November, 2004 is a most important day in the life of the Metropolitan Police Sailing Club.
Their AGM will take place at NSY and decisions will need to be taken regarding the future of the Section which has now become so big, materially, financially and personnel-wise, that the time has come to make firm decisions to become incorporated as a plc. This is on the strong advice of the parent sports club - the MPAA, other Yacht Clubs and solicitors.
There are a number of issues to be accepted by the members of MPSC including liability but in essence the club's activities will remain the same.
Phil Onslow has circulated details regarding the incorporation and all concerned should endeavour to attend the Met AGM