Barnacle Bill's casual observations from the shore . . .


. . . . . . . . . . . . . . . . . . . . . . . . . . . . . .

This Section is merely to appraise you of what's happening around Police sailing, who's doing what (sailing-wise) and acting as general scuttlebutt.

For previous and recent entries - See above..

01/01/11 - A Happy New Year to All...

For your diary - A reminder of Police Regatta dates for 2011 known so far....
The Police Sport UK Offshore Sailing Championships on the Solent :
Monday, 8th - 13th May, 2011
Hosts: Metropolitan Police Sailing Club.
(See item re VAT below)
The North British Offshores
5th-10th June, 2011.
The Avon & Somerset Constabulary Regatta
at Chew Valley Lake SC
on Wednesday, 15th June, 2011
The Dorset Police Open Dinghy Regatta
at Poole YC on Wednesday, 29th June, 2011.
The Sussex Police Open Dinghy Regatta
at Bexhill SC is booked for Wednesday, 17th August, 2011.
The Police Sport UK National Laser & Dinghy Sailing Championships
at Rutland Water Sailing Club:-
Tuesday/Wednesday/Thursday, 13th - 15th September, 2011
Hosts: Leicestershire Constabulary.
Metropolitan Police Yachting Champs '11 on the Solent -
5th - 7th October, 2011
01/01/11
The Police Sport UK Offshore Sailing Championships, 2011
An update regarding the event from Sunsail...
Police Offshore Regatta
Sunday 8th to Friday 13th May 2011

Sunsail are pleased to confirm the new fleet for 2011 will be the Sunsail F40, a proven cruiser/racer based on the highly successful Beneteau First 40 and modified to our own specification.

VAT PRICE HELD FOR JANUARY!!

Sunsail are pleased to announce your regatta charter price will not be affected by the VAT increase until February, giving you a whole month at a lower net rate.

£1607 including VAT – Until 31st January 2011
£1641.19 including VAT – From 1st February 2011

Book your charter now with a 25% deposit to secure your booking at the current rate.
The Charter Package includes:
Hire of one of the NEW fleet of Sunsail F40s from 1900hrs on Sunday 8th May to
1700hrs on Friday 13th May 2011

Sunsail support and event management.

Fuel and Yacht engine hours

VAT
Additional Options:
Wet weather gear is available to hire at £6.00 per set per day.

Sunsail skippers and crew can be hired from £200 per day plus out of pocket expenses.

Practice Charters are available – ask for details.

Regatta provisioning pack also available – ask for details when booking
How to Book:
To secure your yacht we require a non-refundable 25% deposit. Please note there is a 2% surcharge applicable to credit card payments. Debit cards and cheques remain unaffected.
As ever, if you have any questions or queries, please do not hesitate to call us on:
02392 222221 or email grant.james@sunsail.com

--------------------------------------
Further details regarding the event appear on the PSUK Offshore Championships page.
06/01/11
The Sailing Instructions for the PSUK Offshore Sailing Championships 2011 issued by MPSC and now available for download - See the PSUK Offshore Championships page.


The next Interpol Coppers Cup regatta will take place on 23-27th September, 2011.
The event takes place as usual, on the Ijsselmeer and the Notice of Race is ready to view and all the details appear on the Event website at:
24/01/11
The Northamptonshire Police Sailing Section recently held their AGM and it was decided that due to the re-structuring of the Section, the Northants Open in October will not now take place in 2011.
The Section has lost some members over the Winter and now has a new secretary, Ben Fathers whose details appear on the Contacts page.
The Section will continue to run their own 'local' regattas at Pitsford with a view to encouraging new members and the planned dates appear on the Northants 'Local Regattas' page. The Section also hopes to run their annual 'Police v. Fire Service' regatta.

29/01/11
South Yorkshire Police Sailing Section has just changed their own website address to:
www.sypsailing.com
.

It's rare that this website is involved with commerce direct; we tend to avoid it. But it does happen - particularly regarding sponsorship in offshore sailing.
Northants Police Sailing Section has LaserPerformance at Long Buckby, on their doorstep. Their Sales Exec has been in touch with a view to mutually benefiting our police regattas and enquiring whether there was enough interest among police sailors to purchase items as a group either as a sail deal or boat deal or spares.
If your Sailing Section is thinking of purchasing from Laser, it might be of value to let other Sections know beforehand in order to get a useful discount by purchasing together with others.
It's academic really, to purchase as a group - and I would be happy to act as a conduit for putting police sailors together with a view to making savings.


07/02/11
The arrangements for this year's PSUK Offshore Championships continue. So far 22 teams have booked their boats with Sunsail which is already an increase on last year.
Sunsail or rather the Fleet Captain of the new Sunsail F40 Class yachts has produced the Class Rules which can now be viewed via the PSUK Offshore Regattas page.

07/02/11
The Metropolitan Police Sailing Club have now confirmed that their annual Dinghy Open Regatta will take place on Thursday, 30th June, 2011 at Netley Sailing Club, Southampton Water.
From the organiser Stuart Jenkins, "The event follows on the day after Dorset Dinghy Open which therefore amounts to two days of sea sailing and worth the drive!!"
NoR & SI's to follow. Meanwhile further details appear on the Met's Dinghy Section page of this website.

15/02/11
The Date for the Avon & Somerset Dinghy Regatta is now confirmed -
Wednesday, 15th June, 2011.
A reminder that ONLY THE HELM is now required to be Serving or Retired Police Officer or Police Staff.
The Notice of Race is now published also an Entry Form. You can view all the details via the Avon & Somerset page.


Another date for your diary:
The probable date for this year's West Midlands Police Dinghy Regatta at Bartley S.C. is Wednesday, 13th April, 2011.
From Marie: "The date is unlikely to change, however we are just finalising the details with the club, and I will let you know the full details when I have them (hopefully very soon)!"



PSUK Offshore Sailing Championships, 2011
17/02/11
The Solent Marks 2011. Details and Explanation are now available and can be viewed/downloaded via the PSUK Offshore Regattas page.

18/02/11
The City of London Police Sailing Club regularly take part in the Met Offshore Championships also the Fire Brigade Offshores.
Their Sailing Secretary, Angie Rogers' details now appear on the Contacts page of this website.


21/02/11
The Proposed Event Itinerary has now been published for this year's North British & Strathclyde Police Yachting Championships which take place on 6th-11th June, 2011.
It's time to be completing an Entry Form and full details can be viewed via the Strathclyde Police page.

04/03/11
The date of the West Midlands Police Dinghy Regatta at Bartley is now confirmed; Wednesday, 13th April, 2011.
Message from Marie:
"This year unfortunately due to financial issues we wont be able to provide a free lunch, but we have kept the entrance fee the same as last year! And the start time is also a little earlier at 10am (the briefing) so that the race doesn't impact on the club sailing in the afternoon!"
As in earlier years, this has once again become the first police regatta of the year and will hopefully surpass last year's entry of 13 boats.


08/03/11
The PSUK Offshore Championships page has been updated with the Sunsail Next of Kin Form which now replaces the old Word NOK file.
Entries are already beating last year's total.


Meanwhile the North British Offshores on 5th-10th June have already attracted a good number of entries. Last year there were 23 yachts participating. It will be interesting to see if the entries increase this year, now that it is PSUK supported.

26/03/11
The West Midland Dinghy Regatta is not so far away - To assist the catering, it's time to let Marie know if you plan to attend.


Nottinghamshire Police Sailing Section now has a new secretary - Alex Piggott. Details are on the 'Contacts' page.

07/04/11
The Agenda for the PSUK Offshore Consultative Meeting which is held during the Championships has now been published.
You can view the agenda details in this Adobe .pdf file.


The first regatta of the Police Sailing season is imminent.
West Midlands Dinghy Regatta at Bartley S.C. on Wednesday, 13th April.
A reminder that the first race is scheduled to start soon after the 10am briefing..

19/04/11
For those entering the North British Offshores in June, It's time to get your entry fees to Louise.


Report, Results and Pictures from the recent West Midlands Dinghy Regatta are now published

27/04/11
It's countdown time for the PSUK Offshores and there are a number of facets that may be affecting participants - all the latest details are on the PSUK Offshore Championships page including the Agenda for their forthcoming Consultative Meeting held at the championships and a "Musto Offer".


For those sailing the new 'Sunsail F40s' in this year's PSUK Offshores, you may be interested in a Training Manual published on the Sunsail website at:

04/05/11
The MPSC Organising Committee are having some trouble tracking some of the older trophies which seemed to have disappeared over the last few years. They request all to ask around their Forces and see if any are in cupboards..


Just for your information the PSUK Sailing Section AGM is to be held on Thursday, 6th October, 2011 at 11am at Thames Valley Police HQ.
A new date may be forthcoming...
15/05/11
Whilst the full Results and Report awaits, there is an 'Interim Report on racing at PSUK Offshore Championships 2011' to view as an Adobe .pdf file.. comprising early results of races.

16/05/11

Notice of Race, etc., for this year's PSUK National Dinghy Sailing Championships still await. Don't forget that this is the first September date for some years and that the 3 days are Tuesday (Laser) and Thursday/Friday (Handicap).
Meanwhile, the following item has been received from Leicestershire Constabulary Corporate Communications Office:
Police sailors take to Rutland Water

Police officers and staff from around the country will be travelling to England's smallest county to sail on one of Europe's largest man-made lakes.

Rutland Water, in Rutland, is the venue for this September's Police Sport UK dinghy sailing championships, hosted by Leicestershire Constabulary.

Inspector Johnny Monks, the commander of the Rutland local policing unit, is on the organising committee.

He said: "This event is the highlight of the year for the policing community's dinghy sailors. We are expecting around 70 competitors over the three days.

"Rutland Water is as big as Lake Windermere, and has excellent facilities for an event like this."

The first day (September 13) will be the Laser championships, and will be followed by two days of handicap racing for PSUK titles (September 14 and 15).

For more details, contact johnny.monks@leicestershire.pnn.police.uk

PSUK Offshore Sailing Championships 2011
A Report, Results and a few pictures now appear on the PSUK Offshore page.
Congratulations to the Nottinghamshire Police 'A' team for yet another win - the 8th in succession. Their skipper, Pete Walters has also provided a report on his regatta which can be viewed via the 'Reports & Stories' section of this website.
25/05/11
Wanted - a Host for the PSUK Dinghy Sailing Championships, 2012
A series of nationwide celebrations anticipated for the Queen's Diamond Jubilee plus the Queen's official birthday (June 4th-5th) together with the Olympics (27th July - 12th August), makes 2012 a very busy year for serving personnel. Apart from all the special and annual occasions that the year will promote, the Paralympics (29th August - 9th September) together with both torch relays involved will also put pressure on police resources through the UK.
The lead up to the Olympics will also involve a number of Forces security-wise during the summer months.
At the Consultation Meeting held during the recent PSUK Offshores, it was announced that West Midlands Police Sailing Section were unable to host the PSUK Dinghy Nationals for 2012 which were planned to be held at Draycote Water S.C. in September.
At this stage the PSUK Offshore Championships hosted by Cleveland Police are proceeding in 2012 (pencilled in for 13th-18th May) and albeit the year is busy, the Chair of the PSUK Sailing Committee is now seeking a Police Force who would be prepared to host our Dinghy National Championship in 2012 and a circulation will also go out to Sailing Secretaries - and they of course, need to decide whether to run their own Police Open regattas, some of which will also be directly affected.
31/05/11
The PSUK recognised 'North Brits' take place next week and the Entry List of 22 yachts has nearly beaten the previous record entry. Details of Forces/yachts entering can be viewed on the Strathclyde Page.
The Organiser, Colin Gilmer is looking forward to promising weather for the championships. He will be around at Troon on Saturday.

05/06/11
Dorset Police Dinghy Regatta in Poole Harbour is at the end of this month. The Notice of Race and further details now appear on the Dorset page.


PSUK Dinghy Sailing Championships 2011 - 13-15th September - update.
The Notice of Race including a plan of the water and 'How to get there' all appear on the PSUK Dinghy Champs page.
Rutland SC has a splendid Accommodation list and evidently provides some accommodation on site. There is also a camping site nearby.
On the Wednesday evening Leics are providing a meal and live entertainment. Entry Forms are also available for download - A reminder to get your entry in before 15th August to avoid the 'late entry penalty'.

18/06/11
The Results & Report from the PSUK North British Championships can now be viewed on the Strathclyde Police page.

18/06/11
Also the Results and Report of the Avon & Somerset Constabulary Dinghy Regatta can be viewed. Nineteen boats wasn't a bad turnout and most helms coped with the windy conditions which prevailed in the first two races.
A Picture-gallery of the Event follow shortly.

18/06/11
The Notice of Race plus provisional Sailing Instructions are now available for the Metropolitan Police Dinghy Regatta which takes place on Thursday, 30th June, 2011 at Netley.
This event follows the Dorset Police Dinghy Regatta in Poole Harbour 29th June. The Notice of Race and further details now appear on the Dorset page.
A reminder that the first race start at Poole scheduled for 10.30am.


I understand Hong Kong Police has been selected to host the next Police World Sailing Championships, scheduled to take place in October, 2012
08/07/11
So the two-day event on the South Coast at the end of June came and went. 15 boats at Poole; 14 at Netley. Of the competitors, 8 took part in both events.
Was it a success? The general opinion appears to be that it worked well considering the number of entries from the Midlands that both events attracted. For them it meant virtually only one lot of travelling cost covering the two events which made the exercise viable.


09/07/11 Wanted ! - an update..
There was some discussion during the two days at Poole & Netley regarding the PSUK Sailing Committee's request for a host to run their Dinghy Championships, 2012. It's Olympic Year with all the complications that that is going to make to the sporting police calendar.
Surprisingly, Leicestershire had looked at the possibility of running the event at Rutland for the second consecutive year, seeing that they are pretty well organised already for this year.
The Met had considered hosting the championships as a two-venue event - similar to linked Poole/Netley this year - with the Laser Nationals taking place at Poole and the two day handicap immediately following at Netley.
Northants had also wondered if the event would be financially viable if run at Pitsford once more.
One thing appears evident from the discussions. The end of the year is not necessarily the best time to run the Police Nationals, though we'll see how things turn out this September. In some people's minds June remains the optimum time to hold the dinghy regatta. But, after the earlier threat of blanket cancelling of Leave during the Olympics and the lead up, just how many Forces will now be affected by Olympic commitments in June and how many entries would such an event held say, in early June attract, whereas late September onwards serving personnel may be catching up on cancelled Leave..
If the Police Dinghy Nationals are to be run in 2012, there appear to be two linked questions:
Just how many helms would be available take part in 2012? What date would the majority be available to turn out for?
It looks as if we may be generally short on police regattas next year and at this time there is little way of knowing how many helms would support our National Sailing Championships in 2012.
13/07/11
The Notice of Race plus provisional Sailing Instructions are now available to view for the Sussex Police Dinghy Regatta which takes place on Wednesday, 17th August, 2011 at Bexhill Sailing Club.
Phil Mears is the Contact for the regatta; he has recently changed his contact 'phone No.
A reminder that the first race start at Bexhill is not before 10.30am.

23/07/11
Due to the PSUK Dinghy Nationals taking place in September this year, the annual Cheshire Constabulary Open Regatta will not take place in 2011.

29/07/11
A reminder that on October 6th/7th, the Metropolitan Police Offshore Racing Championships take place in Sunsail 40 yachts on the Solent. The Initial letter, Notice of Race and Entry Form appear on the MPSC's website.


It's time to get your Entry Forms in for PSUK Laser & Dinghy Champs at Rutland.
An additional fee of £5 for single handed dinghies and £10 for double handed dinghies will be charged for entries received for the National Dinghy Sailing Championships only, if received after the 15th August 2011.

05/08/11
Johnny Monks, the Organiser of this year's PSUK Dinghy Champs tells me all is set fair for Rutland. All he needs now is plenty of entries - every organiser's wish..
I also heard from Laser Performance who tell me that the Laser Worlds have just finished at La Rochelle and the boats used will be returning to the UK for sale at Long Buckby. If you fancied a virtually new Laser for our Dinghy Nationals, they can be purchased at a discount during August. Click Here for some further details or contact Emma at Laser Performance.

12/08/11
Message for Phil Mears:
Due to the current extraordinary demands on the Police Service the Sussex Police Open may need to be cancelled. Final decision on Monday, 15th August.
Watch this space...


Cowes Week has just about finished. Some members of Nottinghamshire Police managed to escape south before the week's grief erupted to represent the British Police in the J109 class..
You can view the result of Pete Walters and his crew's endeavours on this Cowes Week website.

15/08/11
Sussex Police Open - Wednesday, 17th August, 2011

Due to the recent and ongoing demands on the Police Service the 2011 Sussex Police Open has been cancelled. We apologise for any inconvenience caused.

Bob Trevis
Chair
Sussex Police Dinghy Sailing Club


23/08/11
Confirmation of dates and venue for the Offshores 2012 now appear on the PSUK Offshore Sailing Championships page.
The best of luck for the future to Tony Riordan who is just retiring from Cleveland Police and therefore the formal contact for the event will now be Nick Hunt.


12/09/11
A reminder from Helen Neaverson, Secretary of PSUK Sailing Section:
"The PSUK Sailing Section AGM has had a date change to Date: Thursday, 6th October, 2011 Time:11am Location: Thames Valley Police HQ (OX5 2NX). All Regional Reps will be emailed in person by myself ref this date change.

Please could those wishing to attend please let me know by Monday 3rd October 2011.
Agenda items to me by Friday 30th September please".


The PSUK National Dinghy Championships have now taken place. For two of the three days the wind blew making for exciting - and exacting - sailing. The results, reports, pictures etc., are in the throes of being published and can be found on the usual page..
For the second year running, both Laser and Dinghy regattas were won by Simon Hawkes to whom congratulations are due. Incidentally, the PSUK Sailing Committee are dealing with an application to consider Simon for the PSUK 'Award of Excellence' - the criteria for which is very high.
Not since Notts hosted the event in 2006 have entries been so high. There are those who believe that it may be because the regatta was held in September rather than the traditional June. A central venue could also have helped.


17/09/11
On top of that, on the weekend before the PSUK Nationals, Simon was representing the British Police in the Phantom Nationals held at Lyme Regis SC. He came 10th out of 86 entries; a formidable result considering that all the higher placings were gained by National or International championship winners.

A little early whisper....
At the Dinghy Consultative Meeting held during the regatta, some concern was expressed that due 2012 being 'Olympic Year', police sailing regattas could fail to take place - in particular our National Dinghy Championship.
The PSUK Offshores are in fact pencilled in for 13-18 May, 2012 but this year's dinghy hosts, Leicestershire are seeking the required permissions with a view to considering hosting the championships again, at Rutland, towards the end of September, 2012.
No doubt Leics will announce any dates as soon as confirmed.
Certainly West Midlands Police are planning for their usual annual regatta at Bartley around their usual time in April.


From Pete Walters:

The British Police were represented at Cowes:
The Notts Police having won the PSUK Offshore event in 2010 represented the British Police and PSUK in Cowes week 2011. They chartered a J109 from Jellyfish Charters and with a team of 8, attempted to perform better in 2011 after the 10th place overall in 2010.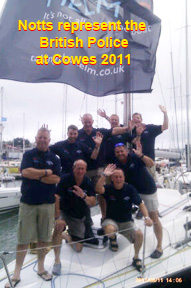 The winning crew from the PSUK offshore event were not all on board due to other clashing commitments so a crew which included novice sailors attempted to show the other regular 109's the way home.

Things started well with an 8th place on the first day and no problems. However, as the wind increased over some of the other days to a force 7, the inexperience started to manifest itself with crew errors and on some occasions damage to the boat which forced the boat to retire out of 2 days racing. This did not help the overall position as we were only allowed to discard one result from the series.

On the days when the wind was more reasonable, we had top 10 or near and on the last day led the fleet for 2 of the first buoys, finishing 12th on that day.

Overall we came 15th out of the fleet of 30 boats which, considering the conditions was a good result for the team. Some of the more regular crew believe we certainly have a top 5 finish within us in the J109 fleet. Notts Team again won the PSUK championships in 2011 and are hoping to again compete in Cowes Week 2012 and hope, with leave allowing on Olympic year, we can try and achieve the above target.

24/09/11
The PSUK Sailing Section Secretary, Helen Neaverson is moving offices from Rennie Hogg Road. Her new contact details are shown on the 'Contacts' page.


24/10/11
2012 is going to be a difficult year for police regattas. As it stands the PSUK Offshores are set for 13th - 18th May, 2012 and now the PSUK North British Offshore Championships are confirmed for 4th - 8th June, 2012.
West Midlands Police Sailing Section are looking to run their Dinghy Open at Bartley in April (date yet to be confirmed) and Avon & Somerset Constabulary are also looking at the possibilities - either Spring or late Summer.
Dates for the PSUK National Dinghy Championships could be available fairly soon.. Leics, the hosts again, are asking Rutland SC, to consider us for a date mid to late September, 2012.


Just received - Details from Sunsail of an 'Early Booking' price for next year's PSUK Offshores. Full details can be viewed on the PSUK Offshore Championships page.
Further Details can also be viewed via a Cleveland Police web page dedicated to:
PSUK Offshore Sailing Championships


The Laser Centre in Northamptonshire are having a Sale day on the 26th November 2011 from 10-4pm. They have lots of discounted spares and are selling off their ex demo and showroom boats at discounted prices. For example, the Lasers that are XD spec with trolley, top cover and combo bag that are 6 months old are selling for £3650.00. These are available to pre

-

order.

They will have 2 boats available at a lower price of £2795.00 which includes trolley and top cover and combo bag but they are on a first come

,

first served basis.

27/10/11
The dates for the PSUK North British Sailing Championships, 2012 hosted by Strathclyde Police have been revised to avoid the Bank Holidays and are now set for 11th-15th June, 2012

11/11/11
Due to circumstances, Dorset have been obliged to pull out of running the PSUK Dinghy Championships in 2013. A great disappointment as Poole YC is such a good host to our regattas, though there's probably no reason why the venue couldn't be used albeit a different Force organising. The PSUK Sailing Secretary, Stuart Jenkins will no doubt be searching for a willing host for the event.


Meanwhile, Forces are looking to working round the Olympics to hold police regattas next year. So far these include West Midlands at Bartley (mid-late April), Avon & Somerset at Chew Valley (confirmed for March) and the Met at Netley (provisionally Thursday 21st June, 2012).
No dates are fixed yet.

One dinghy date for 2012 is now fixed - the PSUK Dinghy Championships which Leicestershire have kindly offered to run again with Rutland SC and is now confirmed for 19th-21st September, 2012.

11/11/11
Busy day on the wires today - there must be something about the date..
Latest from Mark Fordham at Avon & Somerset. Their annual Dinghy Regatta is now set for Wednesday, 28th March, 2012.
It's early in the year - and well clear of Olympic matters - but with good notice of the event, Mark hopes to attract a good turnout.

17/11/11
The latest confirmation of regatta dates for next year is the Metropolitan Police Offshore Racing Championships which is set for Monday, 8th & Tuesday, 9th October, 2012. Pick up yachts from Sunsail at 7pm on Sunday, 7th.
Further details will be forthcoming on the Met Offshore page in the New Year as Sunsail's 2012 costs become available.
Nick Mason is the Met Contact for the event.

20/11/11
We've seen little of Sussex member Paul Miller competing in his RS400 recently. It's all due to his commitment during this year to sailing in the Fastnet 2011. It's not just a matter of signing on to a competing yacht; there's much to learn and train for, with a view to not only take part but to compete to the best of your ability in a team situation; to compete safely in what is one of the most famous offshore events in the world.
After a summer of training and competing in Offshore regattas, he has now come ashore to place his memories on record. You can view Dusty's Fastnet Race 2011 via the 'Reports & Stories' Section of this website.


06/12/11
The Entry Form for the PSUK Offshore Championships 2012 is now available for download via the PSUK Offshores page.


The 12th Police World Sailing Championships are scheduled to be run in Hong Kong on 21st-27th October, 2012.

For further information, please contact Mr. Joe Tsang, Secretary General IPA Hong Kong by email.

Over the years the IPA sailing fraternity have taken an interest in many international police sailing events and an information document (an Adobe .pdf file) regarding the history and current plans is now available for viewing.

08/12/11
Sussex Police Dinghy Sailing Section recently had there AGM and after much discussion it was decided that they will not be running their annual Bexhill Dinghy Open Regatta during 2012.

A 'Look Back' on 2011
It's been a mixed year, with some events being very successful; other regattas not taking place at all.
Mid April saw the start of the police sailing season with the West Midlands Police Regatta at Bartley SC. There were 11 entries of which 6 were visitors. Conditions are always tricky here and there was enough breeze about to cause a few capsizes. The event was the first of this year's wins by Simon Hawkes.
In early May the PSUK Offshores took place on the Solent, as usual. The organisers this year were the Met under the leadership of John Oldham and a splendid job the hosts did in preparing for the event. Nevertheless, considering the effort put in by the Met, numbers were low again this year. Just 21 boats - but with 15 Forces represented, the event continues to have strong support throughout the UK. Congratulations to the Notts team skippered by Pete Walters who won the event for the umpteenth time.
The North British Yacht Championships organised by Strathclyde Police took place on 6th-10th June; for once not clashing with our Dinghy Nationals. This a very popular event attracting a number of Northern Forces including PSNI.
Mid June has usually been allocated to the Police Dinghy Nationals but with that event being moved to September this year, Avon & Somerset Constabulary took over the space created to run their annual regatta at Chew Valley Lake. Of the 19 entries, only 4 were from outside Forces. The regatta gives the opportunity for a good number of local Force helms to get on the water in a friendly, competitive environment and these made up the bulk of the fleet. Conditions were pretty tough for many of the helms in the morning but in the afternoon the wind slowly died away to make the last race a drifter. This was another win for Simon Hawkes.
At the end of June there were two dinghy regattas; both held in tidal waters. Dorset Police Regatta was held on the 29th June with the Metropolitan Police Dinghy Regatta taking place the following day; the purpose being to attract entries from north of Watford to both events and virtually halving the travelling costs. The Dorset regatta at Poole attracted 15 entries and the next day at Netley, 14, of which 8 were Met helms. In both events we saw the K1 take part for the first time in police regattas. Simon won at Dorset although pressed by Alistair & Moira Glen sailing a Merlin Rocket, also Nick Mason with his new Phantom.
At Netley conditions were much lighter; so much lighter that racing didn't start until 1.30 pm and then the wind was so light and variable that it was difficult to set courses. Frances Gifford, back in harness after her temporary absence whilst sailing round Britain in a Wayfarer, was the eventual winner; finding it no trouble to win both races in her Merlin Rocket.
There followed a long break with no police regattas during July and the Sussex Regatta in August being cancelled. The Summer rioting may have had something to do with this decision.
We then come to September and the Police Dinghy Nationals at Rutland SC hosted by Leicestershire Police. Hurricane Katia had passed through the UK at the weekend and this might have put a few off. As it was, there were 15 entries (but not necessarily sailing) for the Laser Day and a handsome 34 for the Handicap regatta.
Conditions were grim for the Laser regatta and some did not sail; others evidently relished the conditions, with a face from the past, Tim Mercer pressing Simon Hawkes, with Sean Moore often ahead using a 4.7 rig and doing very nicely thank you. Once more it was Simon's day.
Conditions had eased for the start of the handicap event and the faster rated boats were managing to score best. Four races were held on the first of the two days as it was anticipated by the Race Officer that racing on the second day was unlikely due to the forecast of virtually no wind. And so it turned out, with a pathetic drifter to finish off the regatta. However, final results were still uncertain and thus a number of leading competitors were obliged to go afloat and hope for good results. Certainly the altered conditions made for reversed fortunes but Simon Hawkes still managed to hang in there to capture the overall winner's spot from Frances Gifford.
The Leics organisers were very pleased with how things went and, with the turmoil of next year's Olympic events and the general effect on the Service to consider, they have nevertheless prepared themselves to run the Dinghy Nationals in 2012; again at Rutland.
The change of dates for the Nationals affected the usual Cheshire regatta at Winsford and this was another police regatta that fell by the wayside. The Northamptonshire Regatta was another faller.
Thus the Met Yachting Championships became the next and last event of the year. The Met Offshores are supplemented by teams from outside of the Police Service but this year, police teams took the first six places with a Met team skippered by Andy Robinson winning the event. Competition amongst the host teams is high as this regatta decides who represents the Met in next year's National Police Offshores and to try and wrest Nottinghamshire's offshore dominance in recent years. 15 entries was the lowest for some years.
Overall, there seems to have been a limited selection of events this year with limited numbers attending. Whether or not it is a consequence of the current economic climate is not clear. There were a few new faces appearing at the regattas but these events seem to rely more on the presence of older hands for support; there being little indication of new blood coming into an occupation that prided itself on its sporting involvement for so many years.
The table below of yearly comparisons provides a record of participation at police regattas:
Regatta

2002

2003

2004

2005
2006
2007

2008

2009

2010

2011

Metro Dinghies
Datchet Water

7

12

13

16
12
9

10

Abandoned
(16)
Abandoned
Almost...
(11)

Netley SC


14
West Midlands
Bartley SC

10

10

10

10
17
11

6

11
13
11
National Offshore
Championships
Solent


25

Plymouth


21
Solent


23

Argyll
19
Solent
19

Solent


23

Solent


2

7

Solent


2

4

Solent


2

0

Solent


2

1

National Laser
Championships
Cheddar
SC
15
Leigh &
Lowton
16
Worthing
SC
15
Scaling
Dam
12
Notts
SC
11
Poole


YC


13

Northampton




SC


14

Netley




SC


14

Chew




Valley


10

Rutland




SC


15
National Dinghy
Championships
Cheddar
SC
46
Leigh &
Lowton
30
Worthing
SC
38
Scaling
Dam
29
Notts
SC
39
Poole


YC


32

Northampton




SC


27

Netley




SC


27

Chew




Valley


29

Rutland


SC
34
North British
Offshore Champs

-

-

17

?

12

?

16

15

23

23

Dorset
Poole SC

n/a

Two-day
11

Two-day


5
One-day
13
One-day
17

Not held due to holding the Nationals

12

12

13

15

Sussex
Bexhill SC

13

10

7

Blown off

9

Blown off

5

6
10

canc.

Cheshire
Winsford Flash

n/a

10

13

16
8
8

12

9
10

canc.

Avon & Somerset
Chew Valley Lake

Not held due to holding the Nationals

12

17

22
28
19
24
20

Not held due to holding the Nationals

19

Metro Offshore


Solent

22
22
24
22
24
21
2

0

19
20

15

Northamptonshire
Pitsford Reservoir
-
-
-
-
14
16

Not held due to holding the Nationals

9
22

canc.
22/12/11
"GYBE OH"
In pre-PC times (Personal Computer, not politically correct) it was rather an effort to get the word out on forthcoming police regattas, plus results and other matters relevant to police sailors. Many police sailing sections were obliged to travel and attend the Met's AGM to circulate publicity for their event or rely on posting. The Met helped to sort this by creating a Newsletter that was then posted to the sailing secretaries of other Forces and for this we were grateful of the dedication of Len Gooch, the original editor in the early '80s and those that followed right up to 2000 or so - by which time the magazine was called "Jibe Ho !!" and circulated only to members of MPSC.
With the development of and familiarity with, the Internet it became possible to reproduce the magazine as a web page, thus not only cutting down on the cost of hard copy circulation, but making the contents once more available to police sailors in other Forces.
Recently, some old Magazines of the Metropolitan Police Sailing Club came to light and Barnacle Bill is making it a Winter project to reproduce their contents which may be of interest to past and maybe present police sailors.
You can view the results so far via the MPSC pages.
There are no doubt, old copies hiding somewhere in lofts or cupboards and should anyone like to have them included on the website, please contact Barnacle Bill.


22/12/11
I would like to take this opportunity to wish all police sailors, their families and supporters, a happy Christmas and a rewarding New Year.

I look forward to seeing you on the police sailing circuit in 2012
R.S.
More follows as available...