Dusty's Fastnet Race 2011


Sussex Police Sailing Club member, Dusty Miller's involvement in the 2011 Fastnet Race.

The Fastnet Race 2011 – These are the highlights – The preparation – The Training – The Race.

"Being involved and participating in the Fastnet Race is nothing like you would imagine. It is like no other race I have ever undertaken.."

I was invited by the owners of Leopard Clipper – a Reflex 38 yacht – based in Eastbourne Marina to take part in their 2011 Fastnet campaign. It is not only a performance race from Cowes via the Fastnet Rock and into Plymouth, – 608 miles nonstop in the quickest way - it is also about team involvement and personal endurance.
In order to qualify for the Fastnet Race the crew must undertake a number of RYA courses and have been involved in at least two Royal Offshore Racing Club races totalling over 300 race miles plus, the yacht must be subject of scrutiny to ensure it meets the most stringent and appropriate safety standards.
RYA Courses and In-house training
The crew agreed to undertake the RYA courses together which included the RYA's Sea Survival Course, Offshore Safety Course, First Aid Course and the Radio course. These courses begin to highlight the potential difficulties like getting into a Life raft in a swimming pool was fun, but with the underlining concern that in the sea it was going to be very different, or letting off flares was something that makes you think about their use and that you do not want to be in a position to have to use them. But if you do, you know how they work.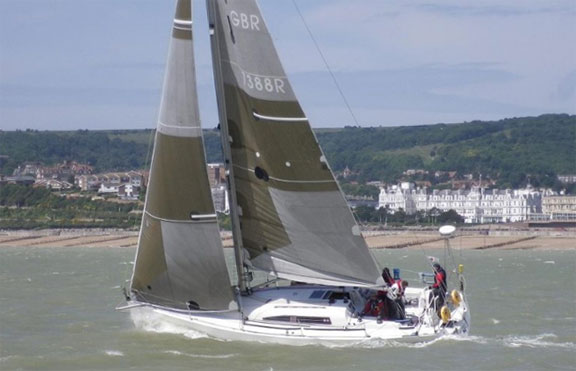 The 'Leopard Clipper' on a training day off the Grand Hotel, Eastbourne
We also had in-house training which included weekly club racing. We undertook man overboard drill and recovering fenders in the Solent is nothing like being at sea seven miles from off shore by the Sovereign Lighthouse in large waves. You realise the real difficulties involved in the recovery of a casualty, let alone ensuring you do not lose sight of the person. Cruising at night has little impact on your sailing skills, but when racing at night in potential storms with changes of sails, flying the kite or just trimming the genoa - where is that tell-tail? - all have their problems, even identifying the right rope for the task! It was all a learning experience.
What it did do, was bring us together as a team.

The Cevantes Trophy Race - Race to France
The first Royal Offshore Racing Club race we undertook – The Cevantes Trophy Race – is designed to last 24 - 36 hours, starting in Cowes and finishing in Le Havre; a distance of 125 miles.
On Saturday, April 30, 2011 at 08:00 we started racing from Cowes. Down the Solent to the Needles then across the bottom of the Isle of White to the Nab Tower, turning southwards across the Channel and straight to Le Havre. Simple! The race was good, with no problems with the yacht or crew, except for me. I was sea sick. It was only after I had finished my watch and had gone to sleep on the bunk. I woke up and knew I was not right and immediately made my way on deck and over the side went one of Rob's lovely meals!! Now, I have done a lot of sailing and was sick only once before. That too, was crossing the Channel at night.
Our finishing position in The Cevantes Trophy Race was 43 out of 107 yachts and in the IRC we came 21st out of 32 yachts after 19 hours 56 minutes and 34 seconds of sailing.
We recovered in Le Havre with some of the crew having too much to drink; far, far too much to drink!!! Following a refuelling in the marina the decision was made to return direct to Eastbourne leaving in the early evening. We motored up the coast as there was not a breath of wind, with the sea like a mill pond. After some hours the engine stopped making us question "Did we put petrol in the tank rather than diesel"? A check of the receipt found it was diesel. But was as it dirty diesel? Much attention was given to the fuel lines and filters. The engine started and then stopped again. With only a little wind, the decision was made that we would sail across the Channel to Eastbourne overnight and sail into the outer harbour of Eastbourne Marina getting the work boat to tow us in. That was the plan. So, looking forward to a cosy, easy sail back through the night the Watch system continued and we went to our bunks but for me, not for too long, then back on deck getting the sea air. After a few hours I went back to the bunk, only to be woken some hours later apparently mid-channel.
The wind was pushing us along at a really great rate. As time progressed the wind increased as did the waves and we reefed down, then later reefed down again as it was apparent that the wind was continuing to increase which eventually produced winds in excess of 30 knots; a Force 7 to 8 and the sea had built into very rough conditions . So being susceptible to sea sickness was not the ideal situation for me to be in!!!
We arrived off Eastbourne on a Bank Holiday Monday morning with the winds gusting 38 mph and with no chance of safely entering the harbour. We called out the Lifeboat. As the Lifeboat spokesman explained later to the press "With the wind gusting to gale force (38 knots Force 8,) it would be extremely hazardous for the yacht to sail into the harbour so help was requested via the Dover Coastguard for assistance."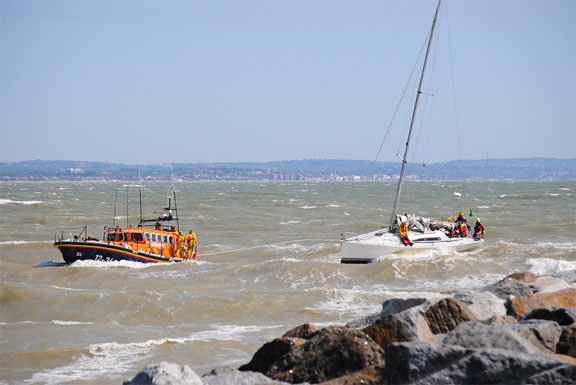 Leopard Clipper was towed into Eastbourne Harbour by the Lifeboat.

Myth of Malham Race - Race from Cowes to the Eddystone Lighthouse (off Plymouth) and back -
This is a race of some 230 miles from Cowes, taking us round the Eddystone lighthouse which is off Plymouth, then back to the Solent. This we undertook on Friday, May 27, 2011 starting at 08:00. The Race was very straightforward and we had a great start.
We quickly got into the rhythm of our watch system which was made up of four hours on watch taken up with each of us doing one hour spells at the wheel, the main sheet, trimming the genoa and one hour doing whatever was required in maintenance and keeping everyone happy.
We had a wind of some force five and were soon making good speed. During the night the wind and waves got up and a number of sail changes took place in difficult circumstances. A lesson for us was that when a sail change was required in rough weather, both watches needed to be involved. We raced on into the night. We were miles off land to the east of Plymouth when we had a frightening and potential horrific experience in the dark which brings home to you the safety requirements needed at sea.
A red light was seen ahead. The navigator took one look at it and disappeared to check the chart. It was a typical light at the end of a harbour arm. We surely were not that near land. When you see a light at night you cannot tell if it is a big light far away or a small light near to you. We were racing at somewhere near eight knots. Whilst staring at the light it became obvious we were approaching it very quickly. It came into sight. It was, to our amazement, a red light on the top of a fully inflated eight man life raft. We raced past it at the same time thinking what did they hit? Is it still near us? Is there an upturned yacht nearby? Will we run into it? A lot of things happened at once. One crew member kept permanent watch on the light. The engine was started and we came about. A call to the coastguard outlining what we had come across. A powerful searchlight was brought on deck to shine on the life raft. As we re-passed the life raft we shouted at the occupants. There was no reply, so we turned around again with the aim of stopping alongside the life raft. We manoeuvred the yacht so that crew members were able to grab the life raft, open the flap door and there was no one in it. Our findings were reported to the coastguard, who asked if we would be able to recover it but it was too big and heavy, so we declined. Its location and the wind direction was passed to the Coastguard and 22 minutes later we resumed racing, only to hear on the radio a short while later from another racing competitor that they had lost a liferaft off their yacht and could we recover it for them!!!!. For several hours after that we heard different yachts reporting the sighting of this life raft and them also investigating, making an attempt to rescue the occupants only to find it empty.
We raced all night during which we rounded the Eddystone light, then back towards Cowes.
In the Myth of Malham Race our position was 69 out of 125 yachts racing. In the IRC we came 24th out of 35 yachts. After 35 hours 12 minutes and 22 seconds of race we crossed the finish line, and then onwards nonstop directly back to Eastbourne, sailing overnight. This was a great sail averaging over 10 knots an hour in 24 hours.

The Fastnet Race – Cowes to Fastnet Rock (off Southern Ireland) and return to Plymouth.
This famous bi-annual Rolex Fastnet Race is the highlight of the Royal Ocean Racing Club's calendar. It has earned the reputation as one of the most demanding offshore races and is widely considered to be one of the world's classic ocean races. The 608 mile race is a real test for skipper and crews, with its tricky tidal currents and changeable weather conditions. The race attracts entrants from all around the globe with a diverse entry ranging from the fastest grand prix race yachts to small cruiser/racer family boats.
We had stayed overnight in Gosport. On the morning of the race Sunday, August 14, 2011 we motored up to Cowes and were nearly two hours early! Better to be early just in case anything goes wrong, someone said!! Having gone through the Scrutineer's gate with storm sails hoisted we settled down and put the main sail up. There was a bang and the kicker had come away from the bottom of the mast. The large metal retaining fixing had cracked and shattered so we were without a kicker. Work began to put together a temporary kicker in place that would hold the boom down and allow us to sail. It took nearly an hour to provide an adequate repair and within minutes of our start it was done!!!!. This repair lasted the whole of the race including our return to Eastbourne.
We were about to start the 608 nautical mile non-stop race being one amongst a fleet of 320 yachts that entered the 2011 Rolex Fastnet Race. One day, 20 hours, 18 minutes is the current monohull course record set by ICAP Leopard (GBR) in 2007. Our aim was to finish - and finish in a respectable time.
The start at 12 noon was a fantastic, exciting spectacle with many high value yachts racing off the start line into a brisk wind, so tacking was essential. We came midway off the start line on starboard, heading towards the shore line to make best use of the tide and seeking to avoid those yachts starting on or tacking to, port. Seeing two yachts collide only a short distance in front of us when one had tacked onto port and the other was trying to get behind it, makes you think of all the time, race miles they must have done, RYA courses, preparation and the money spent. To collide yards from the start line within minutes of the race starting requiring them to retire due to damage - what a waste!!!!
We continued at seven knots plus tacking down the Western Solent to the Needles in company with many other race competitors in a really good wind of Force 4 to 5. We saw a lifeboat going down the channel at high speed and subsequently watched a large Cat with no mast being towed back towards Yarmouth. We knew the Needles Strait was going to produce large waves with the strong tide and the high winds. We were not disappointed.
At the Needles we saw a further collision between two yachts and from our previous experience, our skipper was careful not to put us in any awkward situations.
We were out into the Channel, racing westward at over nine knots. We went into our watch system. The first day produced strong winds and a sea that made many of the crew sea sick. But I was not; I had overcome my sickness.
Having gone round the Fastnet Rock in the dark we were racing back to Plymouth and home. As dawn broke it became apparent we were surrounded by dolphins. Not just one or two, but what seemed like hundreds, escorting us back towards the finish across the Irish Sea.
Some twenty five miles outside of Plymouth on the Thursday afternoon we found ourselves alone, in a wind hole, becalmed. We could see miles away, other yachts seeing our plight were navigating away to enjoy a little wind to the north and south of us. We must have sat there for some four or more hours desperate to do things that would make the yacht move as we inched towards Plymouth.
As darkness fell we picked up a little wind and we edged towards the entrance to Plymouth Sound. There was no 'flying finish', it being more of a slow, painful end to the race. We had all sat on deck for the last five hours knowing the finish line was not far away. We finished at 0043 hours on Friday, 19th August having sailed nonstop for four days, 12 hours, 33 minutes and 58 seconds. We motored into Sutton Lock and into the Marina. There was cheering from the Quayside even though it was in the early hours of Friday morning. After rafting up we made our way to the cheering crowd and the open bar. We were all very excited to have finished and were on a high; clearly we were all very tired. With the thought of having only one drink and then back for a good night's sleep, it actually developed into two, then three, then four drinks, and after that well - who knows?.. We must have returned to the yacht, as I woke up in a bunk to a lovely warm Devon day and then had a long, long hot shower – the first wash for five days!!... - plus a toilet where there was room to move and which was flat and not at an angle!!!
Our official position in the Fastnet Race was 46th out of 71 yachts racing in the IRC 2, placed 23rd in IRC 2B class made up of 33 yachts and overall 190th in IRC of 278 yachts that finished.
It was a wonderful experience and for me, a great personal achievement.

On a personal note it became apparent that it is crucial when working a four hour, four person watch system that everyone was fit and well and, able to perform any allotted task, sail changes, reefing down, etc. When one of the watch members becomes incapacitated – like sea sickness – it places a burden on the other watch members. If two watch members become ill then crew members from the other watch need to assist and there is the potential for the Watch system to break down. Everyone needs their rest and in particular, sleep. If you do not get your sleep, as time goes on you place everyone else in a difficult situation, if not in danger.
So I sought a remedy for my sea sickness which I needed to at least manage if not eradicate so that I was an active Watch member. In the second RORC race I was able to manage the sea sickness, but I was unsure if this was also due to better weather. I researched the internet and went to see my Doctor (who has sailing experience) who not only gave me an all clear check-up, but agreed to prescribe Scopoderm which comes in the form of patches to be placed behind each ear and that last for four days.
The other need was to visit the Dentist (who has sailing experience). He explained that one of my teeth was loose caused in a previous sailing escapade when I received a blow to the side of my head. He would give me pain killers and penicillin to take with me racing, but that in the event that the tooth became infected it could, after twelve to twenty four hours, incapacitate me due to the pain. For me it was off to Dental Implant Clinic to have the tooth removed and a costly implant procedure commenced, to ensure that I was ready and able for all the RORC races.
Why was I asked to be a member of the crew? Was it my vast sailing experience? No, as the two owners have much more experience. Was it as they wanted an older person there so that they could say, well if he can do it so can we!!! ...I think maybe it was...
Or was it that they thought if it all goes wrong there is this silver haired chap who will use his maturity and life experience to take charge and see us all safely through to safety!!! I would like to think so, but maybe I'm wrong.
There will be lots of very pleasant and fond memories especially as regards all the crew members Rob Styles and Mark 'Oz' Osborn - the yachts owners - Andy, Lizzy, Greg, Keith, and Jay. At the finish all of us felt an intense feeling of achievement. It was a roller coaster ride in more ways than one and more than a 'tick in the box', although it was that as well. For me it was a once in a lifetime experience with thanks to Oz and Rob.


The Leopard Clipper Team
You may ask why I have not written more about the four and a half days sailing in the Fastnet. Well to be truthful it was four days of hard work with four hours working and four hours asleep, so that the hours and days flew by punctuated by "Landsend is over there – somewhere" coffee....snacking..."We have rounded the Fastnet Rock"... one hot meal a day... "dolphins "..."Scilly Isles - somewhere in the mist" ... "Plymouth straight ahead". Looking back it went so quickly.
All of us on Leopard Clipper can say that we are `Fastnet Sailors' but it was as much about how we got there as it was about the great experience of the actual Fastnet Race.
For additional Photographs and further details, they are available at the website of 'Leopard Clipper':
http://leopardclipper.weebly.com/

In conclusion I want to acknowledge the ongoing support we had from the loved ones left onshore. For them, at times it must have been frustrating, and at times very concerning and worrying. As my wife explained on the occasion of us returning from France, she had seen the enormous waves and high winds with one yacht bobbing about far out at sea. On arrival at Eastbourne Marina she saw all the lifeboat crew had been called out and were clearly going out to an emergency. She asked one of the lifeboat crew if the yacht they were going out to was Leopard? When he acknowledged they were, it all became very concerning!!!!
Dusty M.
Oct, 2011