Barnacle Bill's casual observations from the shore . . .
(January to December, 2010)


. . . . . . . . . . . . . . . . . . . . . . . . . . . . . .

This Section is merely to appraise you of what's happening around Police sailing, who's doing what (sailing-wise) and acting as general scuttlebutt.

For previous and recent entries - See above..

08/01/10 - Happy New Year to All...

For your diary - A few Police Regatta dates for 2010 known so far....
The Police Sport UK Offshore Sailing Championships on the Solent :
Monday, 17th to Friday, 21st May, 2010
Hosts: Kent Police Sailing Club.
The Police Sport UK National Laser & Dinghy Sailing Championships
at Chew Valley Lake Sailing Club:-
Wednesday/Thursday/Friday, 9th-11th June, 2010
Hosts: Avon & Somerset Constabulary.
There will be no Avon & Somerset Regatta due to organising this year's PSUK Dinghy Champs.
Metropolitan Police Yachting Champs '10 on the Solent -
Thursday/Friday, 30th September - 1st October, 2010
Northamptonshire Police Open Dinghy Regatta at Northampton SC
Wednesday, 13th October, 2010
08/01/10
Just a few dates in so far for the coming season. No dates yet for the early season regattas at Datchet & Bartley.
Kent, hosts for next year's PSUK Offshore Championships, are still sorting costs before publishing any further detail. The current weather situation has prevented them getting together to finalise matters but any enquiries regarding the event should be directed towards the Organiser, Roy Williams.
Meanwhile Kent secretary, Andy Larkins has a yacht for sale. It's a Wakering 33 built in 1970 and more details can be viewed on the News section of the Kent Police Sailing Club page.
The Met Offshores have moved a week earlier than last year. Fortunately this should not affect any other regatta's arrangements.
Northamptonshire is planning to run their Open Dinghy Regatta again this year but unless numbers improve it could well be their last.
2010 is a Police World Sailing Championship year. This time Germany are the hosts and the event takes place on Lake Constance which is situated on the borders of Germany, Switzerland & Austria, on 11th-18th September, 2010.
They organisers are using 'Scholtz 22' racing sailing boats. The teams will draw lots for the boats for every racing day.
The Notice of Race states that 'All active participants should be serving their country's Police or Law Enforcement Agency or they should be honourably retired members'. Although the event is sponsored by the IPS, you do not need be be a member of IPS to take part.
The organisers are looking to receive applications to take part by February 15, 2010, using the entry form - available from the organisers. The time will soon fly..
More precise details are available in the Notice of Race shown on the Worldwide Police Regattas page.

Scholtz 22 - It looks very much as if Offshore or Dinghy sailors could cope with this...
11/01/10 - News from 'Velocity Girl'...
Plans proceed for Richard Lett & Sharon McMichael's campaign for this year's Round Britain & Ireland Race. An update just in, includes details of the two charities that they are sponsoring, why they have chosen them and how you can support their endeavours accordingly.
You can view their latest update via the RBI 2010 link in 'Reports & Stories' section of the website.

12/01/10
More regatta dates coming in...
The West Midlands Police Dinghy Regatta is now provisionally planned for Wednesday, 21st April, 2010. This is a week earlier than in previous years, primarily with a view to attracting better numbers and, as last year, the regatta will be open to helms from the Emergency Services. Also, following week, the Fire Service are holding their 'The UK Firefighters Sailing Challenge 2010' which involves a number of police Offshore teams and possibly potential entries beforehand at Bartley.
Details of police entries appear on the UKFSC website at: http://www.ukfsc.org.uk .
Another provisional date recently received (again, just waiting for formal arrangement with the hosting sailing club) is at Poole Yacht Club for the Dorset Police Open Dinghy Regatta. The date being planned for is Wednesday, 30th June, 2010.
From the organiser: "Standing HW is late morning through to late afternoon, with LW at 1929hrs, which is the best daytime midweek tide we've had for several years.
Usual format 3 races in total, committee boat line starts. RO - same as before - John Yonwin."
30/01/10
The Sailing Section members of Wiltshire Police are now 'rudderless' as their current secretary is leaving the Service.
Meanwhile, Rob Allen appears to be permanently ensconced in organising the Cheshire Police Open Regatta and has again chosen a Monday to run the Cheshire regatta. This year it is September 6th. Once again, Rob has managed to include breakfast & lunch in the price of entry. By the way, contrary to a recent circulation to sailing secretaries, I've checked with the organiser - The helm only is required to be 'police' personnel etc... as in previous years. Further details can be viewed via the Cheshire Constabulary page.
I also heard from Paul Meeson. Events tick along and he's looking to get back to work but it won't be for a while.. I'm sure all wish Paul the very best and look forward to his eventual return to sailing.


02/02/10
The official Minutes of the Police Sport UK Sailing Section AGM held last October are now available and supersede the item on the meeting which appears in the 'Report & Stories' section.
You can view the Minutes on the PSUK website or download the Minutes here as an Adobe pdf file or Word .doc file.
PSUK Offshore Champs., 2010
Update: 04/02/2010:
A number of teams have already registered their interest in taking part. Sunsail have currently made 26 boats available.
The cost of entry to this year's Offshore Championships has been set at £475 per team. The cost of hiring the boat from Sunsail is £1451.52 plus VAT((£1705.54).
Further details regarding the Championships including Entry Forms etc., are being prepared with a view to publishing during the coming week.

07/02/10
News just in that a provisional date has been announced for the Metropolitan Police Open Dinghy Regatta to take place at the Datchet Water SC, Queen Mother Reservoir on Thursday, 8th April, 2010.
The responsibility for organising the regatta now falls to Frances Gifford.
10/02/10
A reminder that the deadline to apply for the World Sailing Championships on Lake Constance in September is imminent...
Teams from Switzerland, Netherlands, Italy, Great Britain, Hong-Kong and Germany have already applied.
The organisers has created a pretty comprehensive website for the event. Please see the Worldwide Police Regattas page for details and the latest update.


A provisional date for the Sussex Police Dinghy Regatta at Bexhill is Wednesday, 11th August, 2010. Confirmation and details will be publish on the Sussex page in due course.


The Round Britain & Ireland 2010, participant Richard Letts (Met) has changed the name of his racing yacht from 'Velocity Girl' to 'Richard House Children's Hospice'.
Further details and updates can be viewed via the 'Reports & Stories' section of this website.



Police Sport UK National Offshore Sailing Championships 2010
12/02/10
The Notice of Race, Entry Form, etc., are now published on the PSUK National Offshore Championships page of this website.
A reminder from the Organisers - "When you have submitted your Entry Form and it has been acknowledged, a coded reference will be given to you. Once you have that reference, contact Sunsail who will accept that reference as proof of your entry in the event and will arrange your charter".
Entry forms must be received by Friday, 9th April, 2010.


The Strathclyde Police Recreation Association Sailing Section hold their annual North British Offshore Championships on 7th-11th June, 2010.
The organiser, Colin Gilmer tells me that he is anticipating a bumper year for entries.
Proposed Details of the event including the Entry Form are now available and can be viewed on the Strathclyde Police page.

15/02/10
Richard Lett and Sharon McMichael are entering the 2010 RBI as a personal challenge and to raise money for the 'Richard House Children's Hospice'.
For the benefit of Offshore sailors and yacht owners in general, Richard has produced a comprehensive article on the management and efficient charging of boat batteries.
The article is based on his experiences whilst preparing his yacht, the re-named 'Richard House' and covers a number of aspects including the Power requirement, the Charging system, Smart chargers and Boat Alternators.
Some thoughts on boat batteries -
and more efficient charging on the VQ32 'Richard House'
If you enjoy or learn something from this article, please consider visiting the 'justgiving' website to learn more about the 'Richard House' and the Round Britain Yacht Race.
Further details and updates to their RBI 2010 campaign can be viewed via the 'Reports & Stories' section of this website.

22/02/10
The winners of last year's PSUK Laser Championships - Graham Cook, also the PSUK Dinghy Championships - Simon Hawkes (Phantom) have both confirmed that they are taking up the opportunity to represent the British Police in their respective National Championships.
Graham will compete in the LASER MASTERS NATIONALS at Stokes Bay S.C., being held 2nd-4th July , 2010.
Simon takes part in the PHANTOM NATIONALS at Stone Sailing Club on 28th-30 July, 2010.
I'm sure all will wish both our representatives good fortune in their endeavours.

27/02/09
Metropolitan Police Open Dinghy Regatta
The proposed date in early April has not worked out and the Met are looking at an alternative date, yet to be announced.
Hence the NoR, etc., has not been published yet but a set date should be forthcoming during this next week.


There's an update to Richard Lett's page on his visit to Richard House Hospice - the charity that he is supporting for his Round Britain & Ireland Race 2010.
Also now included is an article entitled 'Why Use Waterballast' which could benefit racers and cruisers alike.
You can view all the details via Richard's RBI 2010 page

08/03/10
The date of the Metropolitan Police Open Dinghy Regatta at Datchet Water S.C. is now confirmed.
Thursday, 6th May, 2010.
This year there will be a new Race Officer. Brief details and How to Get There can be viewed via the Met Dinghy page.
At least the weather should be warmer...

09/03/10
As Richard Lett prepares for all possible eventualities before his Round Britain & Ireland Race, his latest article is on 'Sealing seams on waterproof clothing' in which he reflects on experiencing a wet bum and advises on the solving of the problem by using a polyurethane sealant..

11/03/09
West Midlands Police Open Dinghy Regatta
The date for the West Mids regatta at Bartley SC is now confirmed - Wednesday 21st April, 2010.
A reminder that, as last year - The 1st race will be at the earlier start of 1030hrs, with a free lunch included.
Further details will appear on the West Midlands page.

Met Dinghy Regatta.
It sounds as if Frances will soon be leaving the Met. Evidently organising the Met regatta has got mixed up with when she is due to finish. It sounds as if she won't make the regatta and therefore, for continuity, Stuart Jenkins is now named as the Organiser.

22/03/10
Sussex Police Dinghy Sailing Section have now confirmed their regatta date - Wednesday, 11th August, 2010 at Bexhill Sailing Club. It has taken just a little while to confirm whilst the Section deliberated to justify continuing with the event having regard to the small number of entrants in recent years.
This is not the only police regatta that could go to the wall through lack of support. The Northants Dinghy regatta at Pitsford Reservoir in October could also be the last unless numbers are better than last year.
Cheshire also struggles to keep numbers up to justify running the event.
To attract larger numbers, West Midlands has opened up their regatta to 'the emergency services' and this may be the direction that police regattas are to go if numbers are to be sustained. It has been many years since representing your Force was a guarantee of time off to participate and all police sport now requires more personal dedication.
Soon enough we may be left simply with the annual Police National regattas - and the enjoyment derived from competing with fellow UK police personnel throughout the current sailing calendar will be lost.


For those who need to plan well ahead - The dates for the PSUK Offshore Sailing Championships 2011 are Sunday, 8th to Friday, 13th May, 2011.
A reminder that the PSUK Dinghy Champs 2011 move from the usual June date to September 13/14/15, 2011.

25/03/10
Death of Philip Tomaszewski, Leicestershire Police Sailing Section
The sudden death of Philip Tomaszewski, known in his Force as 'Tommo', occurred on Thursday, 18th March, 2010. He was riding his motor cycle, off-duty when he skidded in the wet and collided with a tree.
Phil was a regular participant in the Police Dinghy Nationals and it was mainly due to his support and interest that Leicestershire are hosting the PSUK Dinghy Nationals in 2011.
The funeral is set for Thursday, 1st April 2010, at 12:30 at St. Remigius Parish Church, Long Clawson, Leics. After this service, his colleagues will be invited to a wake at Long Clawson Village Hall, whilst the family attend a PRIVATE FAMILY cremation in Loughborough. The family will then return to the wake.
This will be a "full-police funeral" with dress uniform, Guard of Honour etc.
The family have asked that flowers are NOT sent. They have asked for any donations to be made directly to UK COPS.
PC Tim Lowe, Ops Planning, Leics Police was a friend of Tommo's and has kindly offered to co-ordinate the arrangements.
It is really important that anyone wishing to attend does so by notifying Tim of their intention and of anyone, e.g. partners, attending with them. This is, so that appropriate planning can be made, to ensure adequate arrangements are in place.

Times Past....
It's amazing what you come across on a chilly Easter Monday when sailing still awaits some warmer weather and maybe it's the opportunity to sort a few bits of paper found stuffed away in some deep recess..
Once upon a time, when the hosts of the Police Dinghy Nationals put together the hard copy programme and - if you had entered in good time before the event - the programme included the entry details of the competitors taking part.
Looking through the odd programme, I found the following info..
In 1985, Merseyside Police hosted our national regatta at Bala and the details of 42 out of the eventual 59 entries were included in the programme. It was a persuasive reason for getting your entry in early.. Some of the names might ring a bell and you can now view the update to the Stats entry for that year.
Albeit an item on the start of our national event appeared in the 2008 programme, found in the 1987 programme was an article on "PAA Sailing - How It All Began". If you are interested in a brief history of how our national event started, this item appears in the 'Reports & Stories' section of the website.
There must be some further old programmes sculling about somewhere...

08/04/10
Richard Lett & Sharon used the Easter weekend to get in some useful training for this year's Round Britain & Ireland Race.
Sailing out of Ocean Village on the Friday, all did not go smoothly but that's what training is for.. You can read about - and maybe learn from - their experiences over the three days on their RBI 2010 page - accessible via 'Reports & Stories'.

13/04/10
Next week is the first regatta of the Police Sailing Season..
West Midlands Police hold their annual Dinghy Open on Wednesday, 21st April at Bartley SC.
This could be the last year of a number of police dinghy regattas unless well supported.
If you are planning to go to Bartley, now's the time to let Marie know so that catering can be arranged - as your lunch is included in the entry fee.

15/04/10

The RYA have just produced an updated list of PY's which has quite a few significant changes in ratings.

You might like to update yourself and check whether you are affected..

You can download the RYA Portsmouth Yardstick List 2010 via:
http://www.rya.org.uk/infoadvice/racing/Pages/portsmouthyardstick.aspx
West Midlands Police Dinghy Open Regatta - 21/4/10.
First police sailing regatta of the season.
- A reminder: 1st Race Start = 10.30am...
Have you let Marie know re catering?

22/04/10

Due to the date of the General Election now falling on the original date, the Metropolitan Police Open Dinghy Regatta is now planned for Thursday, 16th September, 2010. All other details remain the same.

Had a chat with Bob Lowrie at Bartley regarding the PSUK Dinghy Nationals. All is going well in preparation for the event.
For those planning to get to Chew on the day before the Laser Day, Bob will be about at the sailing club - but not before 4pm - for those who want to arrive and maybe unload their boat beforehand. Most importantly, you need to let him know an ETA as I doubt he will be wanting to hang around all evening.
I plan to get there between 4pm & 5pm to beat the rush hour..
Bob's contact number is: 0778-975-2856
robert.lowrie@avonandsomerset.police.uk
A reminder that it's time to get your entry in. Additional charge for entries received after 10th May..

27/04/10
Evidently t
he Gremlins have struck again - The Metropolitan Police Open Dinghy Regatta is now planned for Wednesday, 15th September, 2010. All other details remain the same.

29/04/10
Time to get your Entry Forms in for this year's PSUK Dinghy Sailing Championships. The 'Discount Deadline' is 10th May.
One or two have asked about the location of the local camping site and you can now view details of Chew Valley Fruit Farm camping site .
Unfortunately 'Googling' the camping site does not currently provide its precise location in Bonhill Road, Bishop Sutton, hence the amended detail... also the Organiser plans to put up a 'PSUK Camping' sign to assist arrivals.

05/05/10
Just 4 weeks to go before the Round Britain & Ireland Race, 2010 gets under way.
MPSC's Richard Lett is competing in 'Velocity Girl'; a purpose-built VQ32 short handed racing yacht. He recently completed a couple of races in preparation for the main event and you can read his latest update via the dedicated page in the 'Reports & Stories' section.
Besides the updates which Richard plans to continue during the race, there are also some useful articles on various aspects of his preparation of the yacht.
If you enjoy or learn something from these articles, please consider visiting the 'justgiving' website to learn more about the 'Richard House' and the Round Britain Yacht Race.

12/05/10
But before the RBI, Richard takes part in the PSUK Offshore Championships 2010, as helm on board with skipper Andy Rook's MPSC team who, having won the Met Offshores last October, will represent the Metropolitan Police SC in this year's Police Nationals.
No word from the Organisers as to how many entries have been received but competition will no doubt be fierce to prevent the Notts team from becoming champions for yet another year.
Meanwhile, Richard and his partner Sharon prepare the final touches to 'Velocity Girl' by more time on the water, sailing and competing. You can read their latest update which also includes some detail of the competitors they face in the RBI via the 'Reports & Stories' section of this website.

14/05/10
Just received - The Programme of Events for the PSUK Offshore Championships also the Course Marks for 2010
. The Organiser is updating participants direct but if you've missed the info, please see the
PSUK National Offshore Championships
page for the details.
24/05/10
Brief results of last week's PSUK Offshore Championships now received. Also a report kindly supplied by Terry Clothier which appears on the Sussex Police Offshore website.
Congratulations to Pete Walters and the Notts 'A' team who notched up yet another win. Pete evidently took the trouble to make notes of each day's activity on the water and you can read his account via the 'Reports & Stories' section.

01/06/10
The PSUK Offshore page now has updated Race Results and includes a breakdown of the results by Fleet also the Buddy System.

PSUK Dinghy Champs - Laser helms:
A reminder for those planning to get to Chew on the day before the Laser Day, Bob Lowrie will be about at the sailing club - but not before 4pm - for those who plan to arrive on the Tuesday and maybe unload their boat beforehand. Most importantly, you need to let him know an ETA as I doubt he will be wanting to hang around all evening.
Bob's contact number is: 0778-975-2856
robert.lowrie@avonandsomerset.police.uk

02/06/10
It's getting busy. Whilst the PSUK Dinghy Nationals are running at Chew Valley Lake, the same week Strathclyde are holding their annual North British Offshore Championships which has attracted some 24 yachts sailing handicap races - rather more than the number of entries in the recent PSUK Offshore Champs. A number of entries are from PSNI; no doubt due to the convenience of nipping across the North Channel from Northern Ireland to Troon.
The list of competitors, which includes entries from PSNI, Strathclyde, Lothian & Borders, Lancashire, South Wales and West Yorkshire, can be viewed on the Strathclyde Police page

02/06/10
This coming Saturday, Richard Lett (Met) who recently took part in the PSUK Offshores, with his sailing partner Sharon McMichael, start in the Round Britain & Ireland Race in their purpose built yacht 'Velocity Girl'. The race starts from Plymouth and by now they will be ensconced there going through last minute checks.
With his sailing partner Sharon McMichael, they are hoping to raise the profile of their chosen charity, Richard House Children's Hospice.
You can follow their race on the dedicated page, rbi2010 or via the 'Reports & Stories' section but do have a look at the 'Just Giving' website if you have a mind to support their endeavours.


Last November, at the PSUK Sailing AGM it was proposed to make an application to the parent body, Police Sport UK, for an Award of Excellence to be presented to Pete Walters (Notts) for outstanding achievements in Sailing.
The presentation duly took place during the recent PSUK Offshore Championships. Congratulations to Pete. This is the first time the PSUK Sailing Section has been party to such an award and richly deserved it is.

PSUK Sailing Chair, Sara Thornton presents the Award of Excellence to Pete Walters.

03/06/10
Just in - The Notice of Race for the Metropolitan Police Yachting Championships 2010 on 29th September-1st October is now published.
The Entry Form is also available

04/06/10
Rather more imminent is the Dorset Police Dinghy Regatta which takes place shortly after the PSUK Dinghy Nationals. The date is Wednesday, 30th June at the usual venue, Poole Yacht Club who always make us very welcome.
All the details including the Notice of Race together with Entry Forms can now be viewed on the Dorset page.

14/06/10
The PSUK Dinghy Nationals went well at Chew Valley Lake despite hardly any wind for the Laser Day. The other two days for the Dinghy Championship provided a great variety of conditions from Force 5 to no wind at all.
Chew Valley Lake SC did a splendid job of organising the regatta. Results, Reports & pictures can be viewed via the National Dinghy & Laser Championships page.

15/06/10
The Metropolitan Police Sailing Club are hosting the PSUK Offshores 2011 and they are intent on getting the message out early.
There is a letter from the Organisers, a poster for download also an update regarding the value of early booking of your Sunsail Yacht which is anticipated to be their new 40'er.. If you are thinking of taking part in 2011, view the National Offshore Championships now...

17/06/10
Cowes Week 2010 - Ever fancied taking part?
Sunsail has been an integral part of Police Offshore Racing for many years and Sue Moss has been the contact at Sunsail. They are hoping to organise an Emergency Services Race on the Monday of Cowes Week and wonder if this would be of interest to members in the Police.
It is of course, a concept which fits perfectly into the 'One Day Racing' package that Sunsail are able to provide and you can view the general details of such an event - Cowes Week – one day racing package - a 2 page .PDF file, or contact Sue for further information.
It's a little late for preparation (Cowes Week 31st July - 6th August) but there it is. I guess such an event would take place in Sunsail 37 yachts (see item above) which most police offshore teams must be well used to.


One face - amongst others - missing from this year's Dinghy Nationals was Frances Gifford; previous winner of the event. Fran left the Met in the Spring and is currently sailing round the coast in a Wayfarer. Her crews are various volunteers along the way. She set off in May from the Suffolk Coast going clockwise round England and has currently arrived in the Isle of Man.
You can follow Fran's Big Adventure on her dedicated website.

21/06/10
After his triumph in the PSUK Offshores, Pete Walters returned to the South Coast this last weekend to take part in the 'Round the Island' Race with a team from his local club.
Sailing in the 'Sunsail' fleet of 57 plus about 30 day-boats on the start line, they rounded in 8hrs 36mins winning their class, 15 minutes ahead of the second Sunsail boat.
In Cowes Week, Pete and the Notts Police Team will be taking part in the J109 fleet and representing the British Police. We wish them good luck and every success.


The next police regatta is hosted by Dorset at Poole Yacht Club on 30th June. This is always an enjoyable event whatever the weather and Poole Y.C. make us very welcome - despite the low numbers supporting this regatta. This year is make or break for a number of our dinghy regattas and it would be nice to increase on the dozen entries which competed last year.
The point is, that these little police regattas we run are often the only way to develop the interest of police sailors who have not yet taken part in our National Championships. Without new blood coming into our sport - and the Job - it could all fade away.


Sussex Regatta in August could also fail after this year. Bob says it needs 12 boats to cover their costs. Admittedly, there are drawbacks to Bexhill and they do look at alternatives. One might be Pevensey Bay but that's in the future. For sea sailing, what a splendid spot to hold our Dinghy Nationals.


On the matter of future Police National Dinghy Championships, a number of aspects were discussed at Chew during the Dinghy Consultative meeting and a report on that meeting will be available in due course via 'Reports & Stories'.

22/06/10
The annual North British Offshore Championships organised by Strathclyde Police goes from strength to strength with 23 teams turning out - not only from the two strong Scottish sailing forces but also from PSNI, West Yorkshire, South Yorkshire, Lancashire and South Wales.
It's a pretty relaxed affair and the racing takes place in a beautiful part of Scotland. The report and results have now been published and can be viewed on the Strathclyde page.

23/06/10
Just a week to go to the Dorset Police Open Dinghy Regatta. The SI's are also now available to view/download.
Also a reminder that, as last year, Briefing is at 09:30 hrs and First Race not before 10:30 hrs.


My thanks to David Lavender for his comprehensive 'Kent's eye view' Report of the PSUK Offshore Sailing Championships held on the Solent in May.

27/06/10 - RBI 2010 - 17:36 hrs
Last-minute message from Richard Lett and Sharon McMichael as they prepare to leave Lowestoft on the last leg of their race.....
You can read their exploits on the recent leg from Lerwick to Lowestoft on their RBI 2010 page - and support their chosen charity.
"Just getting prepped for the last leg, last ice creams and flakes on board. Start at 18.32.

Last leg should be 3 days, weather hard to predict, but hopefully in Plymouth by Thursday closing time.

All the best

Richard & Sharon"


July, 2010 sees our 2009 National Police Sailing champions representing the British Police.
Graham Cook will compete in the LASER MASTERS NATIONALS at Stokes Bay S.C., being held 2nd-4th July, 2010.
Simon Hawkes takes part in the PHANTOM NATIONALS at Stone Sailing Club on 28th-30 July, 2010.
Pete Walters and his Notts team take part in the J109 fleet at Cowes Week 31st July - 7th August, 2010
I'm sure that all will wish them 'the very best' in their endeavours.
12/07/10
The next regatta is the Sussex Police Dinghy Open Regatta at Bexhill Sailing Club on Wednesday, 11th August, 2010.
This is one of the police regattas which needs strong support in order to survive. Entries have been disappointing in recent years and the event really needs some dozen entries to be viable. Fortunately Sussex Police Dinghy Section choose Bexhill Sea Week in order to keep costs down and certainly, the sailing club makes us very welcome.
This year the organisers have produced a Notice of Race and other details which can be viewed via the Sussex Police page.

19/07/10
Had a call from Nick Hunt. On her circumnavigation of the British Isles, Frances Gifford has now reached the North East coast. Nick was in touch with her and had been hoping for a spell crewing aboard the Wayfarer but someone was there before him..
Won't be long now before journey's end. I wonder if we'll ever see Fran back in the Job?
To catch up, follow Fran's Big Adventure on her dedicated website.

27/06/10
News regarding the PSUK Offshore Champs, 2011 - Forms and details regarding the Sunsail yachts to be used will be available shortly. Sunsail have not released details of what they are buying yet. Whilst the organisers can get round this with the forms, it presents difficulties for skippers when crew planning and considering costs. The hosts, MPSC are hoping this will be sorted by the 31st July when Sunsail should release details of the new fleet.
It's comparatively early doors but MPSC are pressing on with preparations for next year and for information to be available in good time. Forms and updates from the hosts will appear as available on the PSUK Offshore Championships page.

26/07/10
The results of both events in which last year's PSUK Dinghy Champions took part are now completed.
Graham Cook (Met) took part in the Laser Masters coming 46th out of 75 standard rigs.
Race Results: 6 - 24 - 3 - 46 - DNC - DNC - DNC .
Simon Hawkes (Avon & Somerset) competed in the Phantom Nationals for 'Police Sailing UK' coming 5th out of 83.
Race Results: 13 - 2 - 6 - 15 - 9 - 3 - OCS
More details of their endeavours may be forthcoming...

31/07/10
Last weekend the Phantom Dinghy Nationals took place at Stone Sailing Club. For the first time, the British Police were represented in the event.
The level of competition was extremely high with many well known names in the dinghy world competing.
Our man Simon Hawkes has provided a great insight into the experience of taking part in a National Championship and you can read Simon's report on events via the 'Reports & Stories' section.


It's Cowes Week. You can follow Pete Walters and the Notts Police crew representing British Police in the J109 Class via the Cowes Week website at http://www.cowesweek.co.uk .

07/08/10
News from the Met regarding next year's PSUK Offshore Sailing Championships...

Sunsail have announced the introduction of a brand-new fleet of 42 Farr-designed Beneteau First 40s, known as F40s, these will replace their current fleet of Jeanneau Sunfasts in April 2010. This means the 2011 PSUK's will be one of the first to make use of these fantastic new yachts.

The organisers will be releasing the Entry Forms, Notice of Race and costings shortly. In the meantime take a look at the following link with pictures and details of the new yachts.

http://www.yachtsandyachting.com/news/?article=153182
25/08/10
The next police regatta is the Cheshire Constabulary Dinghy Open at Winsford Flash on Monday, 6th September, 2010.
Last year there were just 9 entries and to ensure the continuance of this annual event, it needs better support.
It would greatly assist in organizing the catering if you could let the organiser, Rob Allen know in advance if you are intending to take part.

'British Police' representation 2010 -
Good details of Nottinghamshire Police Sailing Section's campaign at Cowes this year also a blow by blow account of Simon Hawkes' endeavours at the Phantom Nationals can now be viewed via the 'Reports & Stories' section.


The Cheshire Dinghy regatta attracted ten boats despite the forecast of high winds. And so it was... Due credit to those who attended as some ended up hardly sailing at all in the winds that gusted up to Force 8. A local club member took the opportunity to video the second race which can also be viewed via the Cheshire Regatta report. Though the original video was excellent in quality, the definition on YouTube is 'iffy' This is the first video I have re-produced for the Net; hopefully quality will improve..

09/09/10
The next regatta in the police sailing calendar is the Met Dinghy Open Regatta at Datchet Water on Wednesday, 15th September. The event was originally planned for the Spring but the General Election got in the way.
Then it's the Met Offshore Championships on the Solent at the end of September.
For those concerned, the Police Sport UK AGM takes place at Thames Valley HQ., Kidlington at 10.00 am on Thursday, 7th October. Notification of the intent to attend should be addressed to the PSUK Sailing Section Secretary, Helen Neaverson
The Northants Police Open Dinghy Regatta takes place on Wednesday 13th October. It is 'make or break' year for this event and this year, due to some local interest shown, the event has been opened up to the 'Emergency Services' and apart from attracting new blood to Pitsford, it may be a guide for other police regattas which, in these days of restricted opportunities, may not otherwise survive.


One of the number of circulations which Helen receives - If anyone is interested in becoming a RYA Regional Race Officer or learn about all the aspects of Race Management, there is a seminar at Datchet Water SC on 6/7th November.

09/09/10
Early warning from Colin Gilmer, organiser of Strathclyde's North British Offshore Championships. Enquiries have already been coming in with regard to dates for next year. The dates are the 5th June to 10th June, 2011, so mark up your diaries and plan your leave.

09/09/10
The Police Sailing World Championships are on during next week. There is only one team from the UK and they are from the PSNI.


The Met Dinghy Regatta was all but blown off at Datchet. The reservoir is not yet up to its normal level after recent repairs and little summer rain which left competitors with a steep shoreline for launching. With a Force Five blowing onshore, it took half a dozen able-bodied to launch the first boat, Nick Mason's Laser. Despite there being the short pontoons to assist, competitors spent some time pacing up and down the shore for a prospective launching spot before deciding to stay ashore and watch Nick being given a Start, sail a single triangle and then a Finish.
Though winds had not been as strong as Cheshire the previous week, it was a disappointment for distant travellers. One can only hope that the last police regatta of the season at Northants will be more equable.

23/09/10
The Met Offshore Section, hosts for the PSUK Offshore Championships 2011 are, as usual, comfortably ahead of schedule and have produced the Notice of Race, also Entry Forms etc., which can be viewed via the National Offshore Championships page.

The PSUK Sailing Section are still currently missing representatives for the following regions:

Eastern ( Bedfordshire, Cambridge, Essex, Herts, Norfolk, Suffolk)
North West (Cheshire, Cumbria, GMP, Lancs, Merseyside, Isle of Mann)
Wales (North Wales, South Wales Gwent and Dyfed Powys)
Northern Ireland (The police service of Northern Ireland)

Also due to Pete Walters retirement there is a vacancy for the
East Midlands (Derbyshire, Leics, Lincs, Northants and Notts)

The PSUK Sailing Section Secretary, Helen Neaverson has a candidate to take over from Pete but to be seen as being fair she wishes to offer the position to others. Interested parties are to email me.

Any candidates, please ring Helen on 07770 984667.

28/09/10
The 11th Police World Sailing Championship on Lake Constance has now taken place and the results plus links to the event, are located on the Worldwide Police Regattas page.
PSNI took part, winning a couple of races and coming 7th out of 11 entries.

06/10/10
A small item appears as 'A Notice to Mariners No. 16 of 2010' originating from the Harbour Office, Chichester.
HMS Sidlesham was renamed TS Gerald Daniel, when it was permanently moored in Bosham Channel in Chichester Harbour and used as a training centre for the Sussex Police. It was sold in 1985.
It was named after PC Gerald Daniel who was killed in service for the Sussex Police.

This ex-Minesweeper was used by Police Cadets for Sail Training.
'Mariners are advised that the 30m ex-Minesweeper Gerald Daniel is due to be towed from its berth in the Bosham Channel to a new berth on the Thames'.

Some further detail appears on the Sussex Police Dinghy Section website. If anyone has any info regarding Gerald Daniel, perhaps they would contact Dusty, the SPDSC webmeister.


Next week sees the last police sailing event of the season. The Northants Police Dinghy Open is being held on Wednesday, 13th October at Northampton Sailing Club, Pitsford Reservoir.
The weather conditions for the last two Police Dinghy Opens this year has been frustrating for willing travellers so it's time for conditions to be more benign. Access to the club will be available by 8.30am and the galley open by 9am. First Race is not before 11am.
Currently, the anticipated numbers for the regatta look promising, which could ensure the continued running of this event in future years.

08/10/10
The Metropolitan Police Yachting Championships took place last week on the Solent. Mixed weather conditions saw a 20 strong fleet of Police and Fire Service teams competing in the usual Sunsail 37's maybe for the last time, as next year the fleet could be in the 40 footers which it is hoped will be available for the PSUK Offshores in May 2011.
The regatta was won by a team from London Fire & Rescue and you can read Len Gooch's excellent report plus results appearing in the Offshore Section of the Met pages.

16/10/10
Speaking of Fire Service Offshore sailing, I have had a message from Mick Stead, the Organiser of the UK Firefighters Sailing Challenge 2011 who have planned to hold their regatta on 26-27-28 April next year. Its a busy time, what with Easter just before and the Early May Bank Holiday falling shortly after.
Police Offshore teams are invited to take part and Mick requests that we endeavour to avoid that period. Previously this has only affected the West Midlands Dinghy Regatta date. However, with some usual September police regattas affected in 2011, some organisers will be looking for alternative dates.
Police Regatta Dates 2011 are published on the website as soon as known.

Northants Police Dinghy Open Regatta.
The last regatta of the police sailing season took place Pitsford Reservoir and attracted 22 boats. This was the best entry since the early Northants regattas of the 70's & 80's and bodes well for the continuance of this event which was in doubt. For the first time a police dinghy regatta received invited entries from the Fire Services and this, in part, helped to boost numbers. Nevertheless there were some welcome new faces to the regatta and despite some travelling police helms being absent, the numbers made for an excellent competition in the light but dry conditions.
Much to the surprise of all, the first race heralded a fly-by from a Vulcan bomber which in due course was joined by a local 'flying circus' team for a bit of formation flying. Not just one pass, but a number of crossings over the reservoir. I noticed that the nose of the Vulcan seem to be tipped up slightly which I presume was to slow the bomber down for the single prop 'planes to keep up...
So we look forward to 2011 with renewed hope..

16/10/10
Meanwhile, there are the odd dates about that have been tendered for 2011. With the PSUK Dinghy Nationals being moved to September, there could be a bit of shuffling about of regatta dates, so here is the story so far:-
The Firefighters Offshores (see above), Police National Offshores (set for 8-13 May), North British Offshores (set for 5-10 June), Police Dinghy Nationals (set for 13-15 Sept), Met Offshores (4-7 Oct?).
Leicestershire Police are considering a regatta in addition to running the PSUK Dingy Nationals and are currently looking at the feasibility and a date of 22nd June, 2011 - but nothing is fixed. Evidently they are thinking of inviting Emergency Services, the RAF and local schools so as to get as many boats out as possible.



SPRA's North British Offshore Championships now recognised as a PSUK event.
21/10/10
Congratulations to Strathclyde Police sailing section who have received the OK to have their North British and Strathclyde Police Sailing Championships recognised as a Police Sport UK event.
This recognition may of course help with funding for the event, but maybe some support from local Forces either by Leave or finance.
Albeit their are non-police participants aboard the yachts, as I understand it each boat competing is skippered by police personnel.
The regatta is well supported, particularly by the Northern Forces including PSNI and the dates for next year's event are the 5th June to 10th June, 2011.
Does this mean that our Police Open Dinghy regattas, which in all cases require at least the helm to be police, can now apply to be similarly recognised?



So we come to the close of the police sailing season and regatta organisers get a little break before planning for next year.
With the PSUK National Dinghy Championships taking place in September, 2010, there are a couple of police regattas directly affected. No doubt the Winter period will see some regatta dates being confirmed and these may not now take place at the expected time of the year.
So look out for new dates on the website which will be published as soon as they are made available.

24/10/10
Arrangements for next year's PSUK Offshore Sailing Championships move along and in the light of the anticipated availability in 2011 of Sunsail's new fleet of 40-footers, the number of permitted crew members on board both 37's and 40's has been amended by Rule 3.3 of the Notice of Race which can now be viewed - and the current NoR downloaded - via the PSUK Offshore Regattas page.

01/11/10
A letter has recently been sent out to all previous competitors regarding the Met Police Yachting Championships for 2011.
The content includes confirmation of next year's dates, 5th-7th October, 2011, the yachts to be used and costs - including a Sunsail offer if boats are booked before 31st November..
See the Met Offshore page for further details.

18/11/10
Avon & Somerset Constabulary Sailing Section held their AGM yesterday and, after many years of sterling work, Bob Lowrie and Jeff Stratford relinquished their roles and passed the reins to Mark Fordham.
The provisional date for next year's regatta - subject to the OK from Chew Valley Lake SC - is Wednesday, 15th June, 2011.
The A&S regatta is one of those events affected by the change of date for the PSUK Dinghy Nationals to September. At the AGM they have also agreed to change their rules that ONLY THE HELM has be Serving or Retired Police Officer or Police Staff. This now puts their event in line with all the other Police Opens around the UK and whilst it affects Avon competitors insurance-wise, the Section hope to attract greater numbers for what is, a great event.
So note the new date; albeit September was good June could be a more splendid time to be in Somerset..


15/12/10
Regatta Dates update for 2011
Albeit the change of dates for PSUK Dinghy Championships has thrown a spanner in the works, news of annually held regatta dates are coming through for next year...
The Sussex Police Open Dinghy Regatta at Bexhill SC is booked for Wednesday, 17th August, 2011 - its usual spot.
The North British Offshores - now a PSUK recognised event - are set for 5th-10th June, 2011.
The Avon & Somerset Dinghy Regatta at Chew Valley Lake is planned for Wednesday, 15th June, 2011.
Unfortunately this date has clashed with Dorset who are reliant on suitable tides at Poole YC and no date has yet been set. Rob hopes to be able to arrange another date with the club shortly.
West Midlands Police Sailing Section have their AGM at the end of January when the date of their regatta at Bartley should be decided.
The PSUK Dinghy Nationals at Rutland Water are set for 13th-15th September, 2011
The PSUK Offshores on the Solent are also set - 8th-13th May, 2011.
The Met Dinghy Section are looking at the possibility of an alternative venue but no further details have been received.
The Met Offshores are well ahead of the game as usual and are set for 5-7 October, 2011.
The Northants Dinghy Regatta is planned for mid-October - precise date to be announced in due course.

Do you fancy creating your own Police Sailing Calendar for 2011 ?
Recently I created an A4 sized calendar with pictures that reflect the police regattas held in the UK during the past year. Details were recently circulated to a selected few to ascertain the interest, which was evidently - and surprisingly - well received and there appears to have been quite a number who have downloaded the calendar.
What numbers have determined to print it off for use, I know not, as everybody gets some sort of calendar these days, but here is the opportunity to have a calendar relative to your own interests - for what it's worth.
You should use A4 card (100gsm at least) and there is a good space at the top of the pages to use a binder machine or just a bulldog clip to gather the pages together.
This is a sample of a calendar page: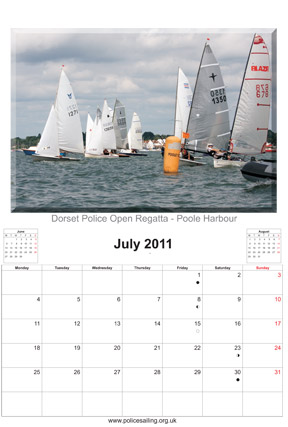 My thanks to all those photographers who provided photos of the police regattas throughout this year from which I have selected but twelve. The sailing pictures take up half of each page, therefore you will be using a fair amount of ink to print off the pages.
To view further samples of the pages plus access to the Adobe PDF file of the calendar - Click Here .
17/12/10
The Leicestershire Police Sailing Section have their AGM on 11th January, 2011 when matters pertaining to next year's PSUK Dinghy Championships at Rutland Water will also be discussed. Arrangements are in hand and further details regarding the Dinghy Nationals should be available come February.
Leicestershire had considered the possibility of organising an earlier regatta at Rutland but this will now be a purely local affair, should it take place.

South Yorkshire Police were strong on the police dinghy regatta circuit in the 70's/80's but once more have a well supported Sailing Section. The current section was established in 2004 and has taken off in the last 3 years, but is primarily aimed at cruising rather than racing.
The Section now has 120 members and for the last 2 years they have chartered 5 boats each June and taken up to 32 members cruising in company around the Solent.
Contact details can be viewed via our 'Contacts' page or direct via their excellent website at www.SYPSailing.weebly.com which gives comprehensive details of their activities and the personnel involved.

A 'Look Back' on 2010
Another year finishes which makes the website some 10 years old..
Looking back on 2010, police sailing appears to tick along fairly healthily; most regatta entries up, some down.
The year should have started brightly with the Met Police Dinghy Regatta but sadly the date chosen clashed with the General Election. To some, this may not have made a ha'porth of difference but the chances of serving officers being unable to attend persuaded the organisers to delay until a later date.
Thus, as in years previous, the West Midlands Dinghy Regatta became the first event of the year and provided a good day's competition for 13 boats. For the second year running the event was opened to the 'Emergency Services' but despite there being no additional takers from that source, attendance was up; their highest turnout since 2006. The regatta provided the first win of the season for Simon Hawkes, now well established in his new Phantom.
In May, the PSUK Offshore Championships hosted by Kent Police were held on the Solent. Numbers were surprisingly down on recent years but a full programme was completed. Light winds in the mornings limited courses but breezes filled in in the latter half of the day. The planned 'Round the Island' race failed to materialise in the lighter conditions but the Passage Race took place. For the 7th consecutive year a team from Notts with Skipper Pete Walters won the event with Hampshire (Isle of Wight) second and Devon & Cornwall third.
The PSUK Dinghy Sailing Championships followed in mid-June, hosted by Avon & Somerset Constabulary at Chew Valley Lake. For the Laser Championship Day, conditions were too light with the wind hardly rising above Force 1. This made the race results something of a lottery. The Dinghy Championship, run over two days saw different conditions with a Force 5 on the first of the two days but culminating in light airs on Day Two. The winner of both events was Simon Hawkes who is in a class of his own and will again represent the British Police in a National regatta.
Considering the number of sailors representing the local Force at Chew, numbers were disappointing but it's difficult to ascertain why. Each year the North British Offshores sail during the same week but there is little evidence that this event affects numbers for the Dinghy Nationals.
The usual hosts, Strathclyde run the North British Offshore Championships; soon to become recognised as a PSUK event. 23 boats was the highest entry to date with the majority of boats representing Northern Forces including PSNI. Ricky Gray, Strathclyde's Chief Constable skippered the yacht winning the main event.
The end of June saw the Dorset Open held at Poole Yacht Club. 13 boats this year, but the event justifies better support; the club always make us most welcome despite the low numbers. Light winds in the morning, stronger breezes in the afternoon. Excellent conditions for competition with Rob Jones and his Blaze succumbing once more to the overall winner, Hawkes; but it was a close match.
A long break until the Sussex Police Regatta at Bexhill in mid-August. Conditions were the best for many years with the wind just right - 'not too little; not too much'. 10 boats was the highest turnout since 2003 and despite some boats succumbing to damage in the afternoon for one reason or another, the event can be termed a success considering the conditions prevailing over recent years; either no wind or too strong. Here, Rob Jones was a clear winner with the Blaze relishing the conditions.
September usually has two police dinghy regattas and with Avon & Somerset hosting the Nationals, the Cheshire Constabulary Open took place early September followed by the postponed Met Dinghies. For both events the wind blew - and blew. Despite the forecast, Winsford had 10 boats afloat with the first sighting of a Laser 4.7 rig being sailed by the organiser; a very wise move indeed. Unsurprisingly, there were many capsizes but no great harm with Hawkes again a worthy winner.
Conditions were little better for the Met Open at Datchet Water but here, there was a bigger problem. It became virtually impossible to get afloat with the wind onshore to the steep slope of the reservoir edge and boat damage liable to occur getting afloat or landing. It took half a dozen people to get a Laser afloat so the last person ashore was never going to make it. As it was, just the Laser started a single lap of a single race to record a formal win.
The end of September, the beginning October is the Met Offshore Championships. Over recent years this event has invited guest teams including from the Emergency Services and this year saw a non-police overall winner for the first time. London Fire & Rescue won the event with the Met Police (Skipper, Andy Robinson) second.
The last regatta of the police sailing season was at Pitsford Reservoir hosted by Northamptonshire Police Sailing Section. By way of testing the response, this year the event was opened to the Emergency Services from whom there were 4 entries making a total of 22 boats; a record for recent years, due in no small way also to the five boats travelling from Somerset to take part. The fleet was entertained to a flypast by a Vulcan bomber but it was more important to concentrate on the sailing in the light and variable winds. Hawkes made it another convincing win.
Overall then, a good year with many making the effort to support regattas. But little in the way of new faces travelling on the dinghy circuit. Eventually, the PSUK Dinghy Nationals will rely on new blood as older hands turn to yachts and in this respect, the proving ground of open police regattas remains important.
The table below of yearly comparisons provides a record of participation at police regattas:
Regatta

2002

2003

2004

2005
2006
2007

2008

2009

2010

Metro Dinghies
Datchet Water

7

12

13

16
12
9

10

Abandoned
(16)
Abandoned
Almost...
(11)
West Midlands
Bartley SC

10

10

10

10
17
11

6

11
13
National Offshore
Championships
Solent


25

Plymouth


21
Solent


23

Argyll
19
Solent
19

Solent


23

Solent


2

7

Solent


2

4

Solent


2

0

National Laser
Championships
Cheddar
SC
15
Leigh &
Lowton
16
Worthing
SC
15
Scaling
Dam
12
Notts
SC
11
Poole


YC


13

Northampton




SC


14

Netley




SC


14

Chew




Valley


10
National Dinghy
Championships
Cheddar
SC
46
Leigh &
Lowton
30
Worthing
SC
38
Scaling
Dam
29
Notts
SC
39
Poole


YC


32

Northampton




SC


27

Netley




SC


27

Chew




Valley


29
North British
Offshore Champs

-

-

17

?

12

?

16

15

23

Dorset
Poole SC

n/a

Two-day
11

Two-day


5
One-day
13
One-day
17

Not held due to holding the Nationals

12

12

13

Sussex
Bexhill SC

13

10

7

Blown off

9

Blown off

5

6
10
Cheshire
Winsford Flash

n/a

10

13

16
8
8

12

9
10
Avon & Somerset
Chew Valley Lake

Not held due to holding the Nationals

12

17

22
28
19
24
20

Not held due to holding the Nationals

Metro Offshore


Solent

22
22
24
22
24
21
2

0

19
20
Northamptonshire
Pitsford Reservoir
-
-
-
-
14
16

Not held due to holding the Nationals

9
22
20/12/10
News from Dorset -
Arrangements are in hand with Poole Yacht Club to hold the Dorset Police Open Dinghy Regatta on Wednesday, 29th June, 2011.
The Met were planning to run their regatta around that time to fit in with their own 'Open Day' at Netley SC and it may be that the Met Dinghy Regatta follows on from the Dorset Regatta. It could be over two days..


21/12/10
The date of the next Dorset Police Open Dinghy Regatta at Poole Yacht Club is now confirmed - Wednesday, 29th June, 2011.

25/12/10
I would like to take this opportunity to wish all police sailors, their families and supporters, a happy Christmas and a rewarding New Year.

I look forward to seeing you on the police sailing circuit in 2011
R.S.