Round Britain & Ireland Yacht Race 2010

This race is sponsored by the SHETLAND ISLANDS COUNCIL and is for Two-Handed Mono and Multihull Yachts between 30' and 50' in length.

Met officer Richard Lett and his partner Sharon are taking part in a purpose-built yacht, ''Velocity Girl' - now re-named 'Richard House Children's Hospice' for the RBI..

The race will start on Sunday, 6th June, 2010 from the Royal Western Yacht Club, Plymouth and below are some details as received.

Read Richard's article on Boat Battery Maintenance

Article - Why Use Waterballast?

Article - Sealing seams on waterproof clothing

Article - April Bank Holiday Training
'Velocity Girl' is a purpose-built VQ32 short handed racing yacht. Built during 2007 in the Netherlands, Richard Lett and Sharon McMichael took possession in February, 2008. Pictures of 'Velocity Girl' in construction can be viewed and the early story of the yacht - also fellow competitors sailing VQ32's in the RBI 2010 - can be viewed on the VQ32 website.

'Velocity Girl' is sailing in the RBI under the name 'Richard House Hospice'
Richard Lett and Sharon McMichael are competing in this year's Round Britain & Ireland Race on behalf of
Richard House Children's Hospice.

You can help to support their endeavours by sponsorship.
Please visit:
http://www.justgiving.com/roundbritain-velocitygirl
Dateline: 1st July, 2010
From Richard Lett:
Hurrah!!.. Back where we started in Plymouth. Lucky I remember from the Sailing Instructions to re-enter Plymouth using the Western Entrance otherwise we wouldn't have completed the RBI and a very long way to come to be disqualified at the end...

With generally high pressure over the UK since leaving Lerwick it has been difficult sailing for the last 1000 or so miles. Thanks for all the comments re sailing to Norway, etc. I deserve a lot of ribbing for my weather routing master class. Chris Tibbs (Author of many books on weather and sailing) passed us at Start Point (on our 3rd attempt at getting round against the tide) to say Hi! They were on way back to Cowes and it was great for them to wish us luck for the remainder of the leg. It appears that up until an hour or so before we left; he was also thinking of the same route, but got new weather and changed their minds....

We started at Lowestoft at 18.32 on Sunday evening, fresh from watching England's heavy defeat to Germany. We have had a good leg. We gained over 12 hours on the boats starting just behind us and caught up 24 hours on the pack we had previously been racing against.

The main factor was that we were incredibly lucky to make all the tidal gates, from Dover, Dungeness, Beachy Head and Portland, all just in the final hours of tide. This made such a difference, as getting shut out on a headland in light airs will inevitably cost you 6 hours or more until the tide turns. If we had made Start Point we would have finished another 12 hours ahead.

When we rounded Dungeness, it was just as the tide had turned and we immediately turned inshore to hide from the worst of the spring tides building against us. We were just about making headway and pleased with ourselves for making the tidal gate when a large and fast motor boat roared up to us; they were the range safety boat for Lydd Army Ranges. They told us the range was active and we had to head due South until we were three miles offshore. He must have seen the tear in my eye, as turning due South would put us back into the full tide. We turned as we had to, to see our track curved back into the East, very painful and probably cost us getting around Start Point and about 12 hours later in the leg.

-----------------------------------------------
Certain paragraphs have been excluded pro tem. R.S.
-----------------------------------------------

At Start Point we were always going to be tight, watching the GPS waypoint marker counting up and down to just ahead the tide change, made for tense viewing throughout Tuesday night. I was already planning breakfast at the yacht club when the wind started to fall off again and it became impossible to round with tide.

We headed into the Skerries Bank and made it into less than 10 mtrs of water and prepared to anchor to wait for wind. In fact we were still getting 2 kts of breeze and I decide to sail right in close and pick up the counter current and try to force a way round, short tacking to stay in the shallow water. As the shoreline is granite and full of rather nasty rocks, it made for some careful attention to the charts and depth sounder.

We sailed right under Hallsands and Cawsands Bay and the Start Point lighthouse and so close that we could speak to persons ashore. We went round with the counter-current 4 times before we managed to get around and back on our way. The final 30 miles to Plymouth took another 16 hours; sailing when you can't use your engine can be a real pain.

I have really enjoyed the compulsory use of the AIS (automatic identification of ships) system, the AIS sends your boats position, course and speed via the VHF aerial every couple of seconds to everyone around. Apart from being a great safety feature as it is compulsory on every boat over 400 tons, it has been a great source of tactical info, to see who is making best speed, etc. Over the last 24 hours it has also been a source of bitter-sweet pain as all our friends on their way to places various have seen us and sailed (or motored) up to us to say farewell. I would love to be on our way home saying goodbye to people still trying to finish !!!

We turned in to Plymouth Sound on our final approach to the finish line and hoisted the Spinnaker under a 10k South-westerly breeze. It was a wonderful sail all the way to the finish line. The finish line is right into Plymouth Harbour, and after the line there is less than 100 mtrs before land. I was determined to cross still under spinnaker as I could see a surprisingly big crowd cheering us home from the Royal Western Clubhouse balcony. With Sharon, I checked the halyards many times and prepped very thoroughly for the drop, as I didn't think 'Velocity Girl' deserved or could stand 'tee boning' Plymouth's Barbican after keeping us safe for the last 2500 miles..

When we crossed the line we got a finish cannon and loud cheer from the club balcony. Sharon bust out in tears, and my face turned to panic as she didn't look like being able to drop the spinnaker !!! The emotion of crossing the line does hit you hard, and I remember feeling a little tearful when I crossed the line with Justin at 4am, four years earlier. However we pulled ourselves together and got all the sails down and parked in Queen Anne's Battery.

After a very quick sort out of the boat we were in the Royal Western bar with the other sailors for a celebratory drink.. In fact we stayed sharing stories and heroics for many hours, until at 23:30 the bar closed on us and we had to find our way to our hotel. We hadn't found time to shower or change, yet we had had a wonderful afternoon and evening, eventually falling into bed and for the first time in weeks, completely sound sleep.

Today, clean, rested and giving 'Velocity Girl' some deserved love and attention. We haven't suffered too much damage, I think our No.2 headsail has been up for over 1000 miles and many hours on this race and must have suffered. A few blocks had been changed and the repair on the broken spinnaker pole is still holding together.

'Velocity Girl' will remain in Plymouth for the week. Next weekend Andy Rooke will skipper her to London, and on the 14th July she will be moored at London's Excel Centre for the 'Richard House' Hospice Reception. 'Richard House' aim to bring together around 100 of their supporters to see 'Velocity Girl' and share a glass of wine with us for successfully and safely getting all the way round the United Kingdom and Ireland..

I hope you have enjoyed some of our adventures and stories. If you have thought about making a donation to 'Richard House' then that would be really kind, now that we have finished.

www.justgiving.com/roundbritain-velocitygirl
All the best.

Richard & Sharon
Dateline: 26th June, 2010 - 17:43hrs
From Richard Lett:
The following 'Postscript' is placed before the blog for the Lerwick to Lowestoft leg... Unusual, but this last entry had just been written just after we arrived - tired, sunburnt and in dire need of an ice cream and a cold beer/ wine. After a longer leg than expected we are down to our last three bottles of water, a packet of jelly tots, a melted Wispa bar, one Pot Noodle and a handful of peanuts..
25th June 2010, 1900 arrived Lowestoft... Just as the other VQ32 'Vanda l' prepares to leave for the final leg.... painful, very painful, but a fair position after misjudging the high pressure... 48hrs behind in one leg.
Sharon has handed over her newly knitted booties to Woody on the start line.
The Lerwick leg started at 0212-ish on Sunday, 20th June and believe it or not we got off to a good start. Since then the last 4 days have been the toughest and most difficult sailing I have ever undertaken. Not at all dangerous, but trying to fight through the middle of High Pressure weather system just takes so much focus, hand steering for hours on end - watch on, watch off just to make a mile's progress. We have essentially drifted from the top of Denmark all the way to Lowestoft. Please see below for some reasons why... Over the last few days it has been like some kind of sailing Eurovision contest as we have listened to the Norwegian, Danish, German, Dutch, Belgian, French and occasional British weather forecast all giving us Null Points for wind, and null points for my sailing strategy (which seems far too grand a word for such an almighty mess up).
Anyway, here we are just tied alongside and already faces of concern (some with a wry smile) from our erstwhile racing competitors, all coming over to find out what the blazes we did wrong. Not sure what to say at this stage.. a jammed auto pilot ? broken GPS, crew drunkenness.. none of the above.
I think will just take the flak and join them down the pub to hear of their personal glories whilst Sharon and I feign delight and get quietly drunk.. At one point we were so close to an oil rig that their Guard Ship 'Putford Voyager' came over and called up on channel 16 to find out if we were ok. They offered us fuel, mechanic, whatever to help us on our way. I replied we had the misfortune to be in a yacht race and had to sail come what may. Further ignominy followed when we had to break out the oars and row clear of the rig as the tide started to drag us back towards their exclusion zone. Thanks to the crew of the 'Putford Voyager' for giving us a cheer and the offer of a bacon sandwich rather than all hands on deck for a laugh.
24th June
" It is a beautiful sunny day, light winds, smooth seas and a perfect blue sky... 5 days into a leg predicted to be less than three... plenty of crisps, chocolate (although going a little soft), 6 bottles of water, not so much proper food left, one can of lager and a bottle of wine (for late night arrivals you understand – whilst underway we are strictly a dry boat).. we have been averaging less than 3 kts for more than 48 hours, maybe steaming under full engine into Lowestoft roaring drunk doesn't seem such a bad idea right now (as those that know her can imagine Sharon already has the wine cooling off the back of the boat).
As you will read below, we tried to sail around the high pressure you have been enjoying for the last few days, with the result that the centre placed itself right on top of Velocity Girl and we have been enjoying the sunshine with you all.. Last night the MSC Poesia, one of the newest ocean liners on the High Seas passed us. I was lucky enough to go to her launch party, it seems cruel to imagine the luxury on board as they swept past at 18 kts.
23rd June 2010. North Sea. 156 miles North East of Lowestoft.
(After realisation I had called the High Pressure system totally wrong).
I am writing a blog before Lowestoft to capture a little of how I feel about seemingly ruining our chances in the 'Class 2' RBI races. After 3 days and 400 miles of very little sleep and rest this is a good time to explain why I am a little blue and how tough it is to get a grip of oneself and keep fighting for whatever minutes and miles we can save. Sailing is a very tough sport and one reason why racing teaches so much is because of how raw the feedback and results of poor decision making, a fast boat even if reasonably well sailed is not enough.... some decisions like misjudging a high pressure centre can be dire.. it can be bad enough to lose one race during a regatta, in something like the RBI it can we catastrophic.
Throughout the time in Lerwick there was a 30 plus kts wind, blowing straight into the harbour where we were berthed. Velocity Girl was the inner boat on a 4 boat raft. We were against a commercial quayside and had to adjust lines to account for a 3 metre tide, whilst ensuring we didn't move around too much and cause ourselves any more damage than could be helped. I think we were both already tired when we left Lerwick.
It was always going to be a difficult decision as to which way to go to deal with the high pressure expected to build over the UK in the coming few days. I do not have any satellite comms on board and knew I would have to make our routing decision on what I knew on leaving Lerwick. I also knew that our nearest competitors did have sat-comms, and apart from watching our progress, would have up-to-date weather throughout the leg. This put the pressure on, to make the right decisions from the start.
The situation on leaving Lerwick was that we were expected to be in a 20 – 30 kts southerly blow for around the first 24 hours. This was the remains of the weather system that had made Lerwick such an uncomfortable berth. As it happened this wind was already down to less than 12 kts when we left. So I already knew the weather info I had was out of date. On hindsight I guess that was the key clue to re-evaluate our strategy.
On the Navtex we were still picking up gale warnings near to Norway and as far South as Denmark. With the High pressure due over the UK. I decided to head east and try to pick up the edge of the south blowing gale and hope this would take me into the south-flowing side of the High Pressure building over the UK. The atmospheric pressure on the barometer was already at 1021 and building. At this stage we should have been in around 1016 and still some way off the centre of the high.
We had a glorious first day and night under spinnaker, heading towards Norway; and so I thought glory in getting to the stronger and south flowing winds on the far side of the high. I could even imagine our nearest competitors slopping around somewhere of Edinburgh in no wind, rowing. Greed, vanity, glory, whatever name you can give it, it was all there.... and it appears to be paying me back in spades.
We never got as far as the Norwegian gales. Not even a whisper or a hint of a south flowing tempest. It was all gone and like many UK forecasts, never happened. The wind was however, still in the North (if you can imagine a High Pressure system as air flowing clockwise) which meant we were still making our objective of getting to the Eastern side and glory...
During the day the pressure continued to build and the wind started to turn Westerly, which meant the High was in fact building over us and was now likely to be much further East than expected. We had sailed an extra 100 miles to avoid something that caught us up any way; within 6 hours we had started to row...
Luckily, in fact mercifully, we didn't have to row for long.... Rowing even a small boat like Velocity Girl is still tough after more than a couple of hours (and there I am probably trying to sound a lot fitter than I really am; and Sharon was also demonstrating what a demon rower she could be)... Just enough wind filled in to keep us going. We were however, now trapped on the far side of the high and it was going to be a painful sail to get back West.
I had reasoned that if we got the extra wind and could keep the spinnaker flying South; we would maintain at least 10% speed advantage than anyone sailing the Rhumb Line direct from Lerwick. The Leg being 500 miles long, this would make up for 50 miles, plus they would need to tack and would have to sail at least another 50 miles or so, and they may also be stationary for long periods... and from painful experience of being sat motionless in high pressures I was prepared to roll the dice to find wind..
At this stage the wind is now blowing directly from Lowestoft, which means we will have to sail up-wind for the next 24 hours or so to make the finish... Everyone has to face times when their head drops, we are also sailing for 'Richard House' Children's Hospice and I am sure all of the people there can teach us something about keeping going when it all starts to feel tough. We won't stop however much time it costs us....
Three big errors so far...
First leg we have an amazing start, great pace and leading the fleet as far as the Scilly Isles... we were having a great sail under A5 Spinnaker in 30 kts of winds. Velocity Girl is an amazingly stable boat; she showed absolutely no signs of broaching or being out of control - until I pushed the envelope too far by pointing ever higher and trying to make Kinsale in one leg. A sense of invincibility - just like a teenager - had come over me and I just wanted to get even further ahead. I should have consolidated, not been greedy, and not pushed it so far until we did broach out and broke the spinnaker pole... We then spent the next 95 miles without a spinnaker option and apart from losing all the ground we had made, fell behind by another 12 miles or so....
Third leg, we have caught up with Vandal, Jangada and Comedy of Errors, and we are flying along again under spinnaker. This time I decided to keep our angle to the wind modest, sail deep and safe. Then the wind increased to over 30, I saw we were making such big gains and although I had been helming for many hours without a break, I wanted to take even more out of the opposition. In the end, after seeing the Speedo on Velocity Girl go past 16 kts (She had never been so fast and I wasn't sure what would happen), I decided to take the spinnaker down. A lucky escape probably, but one that could easily have blown out the spinnaker or even brought the whole mast down if we had come to a stop at the bottom of a wave and the rig had loaded up under the pressure of 30kts of wind. Greedy, much to greedy, but this time lucky... No damage but a lesson nonetheless.
Fourth (current leg) trying to be too clever by half with the weather... If it had worked as intended, would I be so modest as to say otherwise ???
We are likely to be at least 24 hours (in fact we were 48 behind) behind after this leg.... Apart from the humiliation of the poor decision making; I am going to miss having three or four boats on the horizon to race against... No one to play with....Now that makes motivation hard... Best I get on deck and trim the sails !!!!
On the bright side, and I reckon a 'Round Britain & Ireland Yacht race first', Sharon has knitted a pair of booties for Andrew Wood's (sailing on one of the other VQ32's Streamline) new daughter 'Morwenna', a sign of our desperation is that Sharon is now more worried about running out of wool than food. How many other race yachts have knitting as a standby option... Me, I'm still doing the traditional thing, staring at the Navtex, pacing the deck, tweeking sails, appealing to the weather gods; all a waste of time.. Lowestoft will come when the weather is good and ready to let us get there..
Also we have taken some great footage of Dolphins swimming under 'Velocity Girl'.. We had a group of four common dolphins with us for nearly an hour and, after hanging over the back of boat, I was able to film them swimming around our keel. Will post to You Tube and copy link.
Adrift on the North Sea.
Richard & Sharon
Sailing for 'Richard House' Children's Hospice.
29/06/10. 19:50 hrs
After some struggling with YouTube, I have managed to upload two short videos.

Try searching for

RBI Dolphins 2010

and

Velocity Girl A2 spinnaker Round Britain Yacht Race.
Dateline: 20th June, 2010 - 01:04hrs
From Richard Lett:
Barra to Lerwick RBI Update
We are in at Lerwick having arrived at 2am on Friday morning to a force 8 gale and a close finish with Streamline and Comedy of Errors.

Before leaving Barra we realised we had caught a polypropylene rope around our rudder. I could not pull it free and wasn't sure what else was lurking around the keel. So after a quick pep talk from Sharon I jumped over the back of the boat with mask and snorkel to inspect keel and remove the rope. There may have been some element of a push but am not too sure... Bracing it certainly was... in fact freezing and it took me a while to get my breath before I could dive under. Job done and back on board to warm up and get ready to race, would have been nice to shower in fresh water before 4 more days at sea...

Leaving Barra there was absolutely no wind and we joined the other starters in a rowing race to Barra Head. This was going to really help the later starters as they would all start in wind and would give them a good opportunity to catch up, which many took and have overtaken us - and several others in the handicap competition.

As we rowed down to Barra Head we were followed by a seal who kept popping his head up to have a good laugh at what we we doing. We also passed by 5 basking sharks and we have taken some good pictures of them all.

As we approached Barra Head the wind started to fill and we could put the oars away. It had been a tough few hours rotating turns to row. No one would have had an easy time of it.

From Barra Head to St Kilda it was a 30 mile reach. When we approached St Kilda the fog had filled and visibility was less than 100 meters. At one stage I said to Sharon that you wouldn't be quite so happy on the helm if you could see how close the cliffs were to the boat. The roar of the surf hitting the rocks was very loud. We never saw anything of St Kilda, funny that when we got to Lerwick we were given some change including a Scottish £5 note that has a picture of St Kilda on it.

After rounding St Kilda, we had to make a small course adjustment to make sure we round Sula Segir, the outmost point of the Sulisker Islands and the point after which we headed straight to the Shetland Islands.

In the stretch from the Sulisker Island to Shetland we were several hundreds of miles from the mainland and by far the furthest offshore during this race. There were fishing boats all around and one had to be very careful in the fog as they don't seem to keep very much of a watch out themselves. I saw one very large fishing boat cross our bows and over 9 kts, almost stop and then turn straight in towards us. I called him up on channel 16 to say I was under spinnaker and couldn't bear away any further and could he give me room to pass. He claimed to be fishing and to have rights. We changed to channel 72 and had a brief but very frank exchange about his claim to be fishing at over 9 kts and how inconsiderate to just turn in towards another vessel without some consideration. He turned away and gave us room. Many years ago I worked for a few months on a Trawler out of Mevagissey in Cornwall, so I know a little about the stunts and lack of thought given to yachts by fishing boats.

The winds were alternatively light and moderate, and it would be spinnaker all the way to the Muggle Flugga the most northerly point of the UK. Although for trivia aficionados, there is one more rock further North called 'Out Stack' that also is part of the UK and we had to round this as well.

The Shetland Islands are 60 degrees North and for the first time we experienced 24 hours of daylight. I have taken some video at 3am in a sky that seemed to be early dusk.

The wind had been building as we approached the Shetlands and we were still flying our largest spinnaker with the winds touching 25 knots. 'Richard House' was averaging 12 kts of boat speed and we were surfing at up to 16 kts; which in a 32 feet boat is pretty scary...
Shortly after we took the spinnaker down as the winds got to 30 kts and, with memories of breaking our spinnaker pole on leg 1, we were happy to get it down and change to the Jib Top. I had been at the helm for over 10 hours on the final approach to Shetland as with the rising wind and tides the auto pilot can get caught out by big rolling seas and I didn't want to risk an unplanned gybe in these winds.

We put the Jib Top up and were side by side with Streamline and Comedy of Errors after rounding Muggle Flugga. After the full on spinnaker ride of the last 48 hours it was a big relief and a chance to have a hot meal and drink. However, after engaging the auto pilot, I went below and leant on the disengage button !!! 'Richard House' went into a 360 degree spin and chaos broke out below as she crash-gybed and everything went flying. Lucky everyone and everything was still in one piece. It took us about 30 minutes to sort out the wrapped headsail and get going again. We ended up about 30 minutes behind Streamline at Lerwick after a long pursuit the length of the Shetland Islands.

As we sailed down the Shetland Islands the Coastguard put out an immediate warning of a Gale Force 8 wind approaching that hadn't been forecast. All around us was blue sky and an amazing sunset covering the green hills and cliffs of the Skerries. Within 30 minutes we were in a full on gale. Incredible how quickly this approached, just like a squall line rushing upon us. How the local Coastguard reassessed the weather I don't know either, but things do appear to change very quickly up here.

At the time all three boats, including us, had changed to our heavy weather spinnakers; still way too much for the force 8 when it arrived and we each had our own dramas in trying to get them down in the teeth of this rapidly filling gale. So much for a peaceful and beautiful arrival into Lerwick.

There was another yacht race in town, Bergen to Lerwick with around 50 fully-crewed Norwegian yachts also arriving. Finding a berth was hard work, we ended up by the fuel dock by one of the ferry terminals. We have spent the last 48 hours with half a mind on protecting 'Richard House' from bashing against the other 4 boats rafted outside us and the great big rubber tyres alongside the dock wall. All this is not easy when trying to set lines and springs for a 3 metre rising and falling tide.... We did manage to spend Saturday night with the crew of Home of Jazz and Streamline at Leslie Irvine's family home right in the centre of Lerwick. Leslie's wife Raewyn manage to farm out all of our washing to friends and family and get everything cleaned, dried and even ironed for us.... Fresh clothes and bedding are such a delight.

The wind hasn't abated for 48 hours and we are due to leave tonight in the last throes of the gale. Should be a quick start.... although not one I fancy right now. The wind is coming from the North and is bitterly cold... One other thing about the weather is that the Northerly wind is bringing lots of Volcanic Ash from Iceland and our boat appears to be several millimetres thick in it. Don't yacht races get grounded by volcanic ash too ????

The next leg from Lerwick to Lowestoft is around 600 miles. Looking at the weather it appears we will be starting in the remains of a gale and will end up in the airless centre of a high somewhere off the Dogger Bank in the North Seas This could be a real challenge to sail around or through. Our ETA to Lowestoft is Thursday evening. Hopefully, one leg that will finish before the pubs shut !! However, depending on what wind we can find in the building high pressure it could be longer.

We didn't suffer any damage on the last leg, although 'Richard House' has had a tough time of it on the mooring. As we are predicted to be under spinnaker for the next 600 miles, I have taken the precaution of changing the spinnaker halyard. Last thing I want to see is the spinnaker dropping down and wrapping around our keel somewhere in the middle of the North Sea.

We have taken some great photos and video of 'Richard House' even one clip of her doing 16 kts under spinnaker. We don't have the time or the bandwidth to doing anything with these just yet, but hopefully we will get the chance to share some of the best bits with you once we finish.

I hope you are managing to use the tracker successfully.... I think it can also be viewed via the 'Yellowbrick Tracking' website page and www.shetland.org. ( I think)..... [ http://live.adventuretracking.com/rbandi2010 looks useful - Ed]

Lerwick is a super place to visit and the whole of the Island is very beautiful.... This weekend there is a rock concert on the main jetty, something called a 'hamefarin' (homecoming for those who have left the Islands) festival, a motorcycle rally around the Islands, and a Viking Festival - apparently at midnight tonight they will set light to a very nice looking Viking Longship on the quay and then get heavily drunk (all in the name of culture). Oh! - and the Norwegian boat crews having drunk the bar dry at the Lerwick Boating Club seem to be joining the Vikings in pillaging every bar in town.... lock up yer daughters !!!!

Meanwhile snuggled up on 'Richard House' we shall be wearing eyeshades against the midnight sun and ear plugs against the Viking Hordes..

Best for now, going to get our heads down for a few hours before the start.

See you in Lowestoft...

Richard & Sharon
Racing for 'Richard House Children's Hospice'
Dateline: 14th June, 2010 - 16:06hrs
From Richard Lett:
RBI update - Kinsale to Barra.

Most of this leg was upwind in 20 - 30 kts of wind, a brutal 48 hours during the worst of it. Knowing that whoever could keep themselves and boat together, push on and be prepared to crawl onto the foredeck and changes sails as necessary, would do well on this leg.

This would be another 'big boat' leg. Something heavy and long is an ideal weapon of choice for bashing into a big angry Atlantic sea in these sort of wind speeds. At times we were seeing 40 kts apparent wind speed on the instruments. Needless to say nothing hot was drunk or eaten for over two days... Velocity Girl is 32 ft and only weighs 3500 kgs.. We were hitting and crashing off some waves so hard it sounded very bad and several times I looked below or up above expecting to see the floor caved in or the mast coming down.. Objective on this leg was to hang on, not lose any places and wait for more moderated conditions to show our strengths... So far this RBI has all been heavy weather sailing. However we have improved one place to 3rd in class and 12 overall out of 39 boats racing under an IRC Handicap.

There were a couple of retirements on this leg and many equipment breakages amongst the fleet including more spinnaker poles, sails blown out and injured crews. Luckily 'Richard House' remains in one piece. At the height of the winds our jib sheet came off the clew of the No.4 and it took very quick action to control the sail, drop it and reconnect a new sheet before the sail destroyed itself. As the sailed flogged and I fought it back on deck the clew whipped round and gave me a nice little black eye. I will need a better defensive guard the next time I go in the ring against that little sail...

The yacht 'Spirit' a super little Corby 30 lost their mast and limped into Galway under a jury rig. I have met the Dutch crew a number of times and know they will be very disappointed. I have sailed against the Corby 30 before and know it to be a very quick little boat.

When we left Kinsale in the very early hours of Thursday morning we weren't sure what we would find as the Harbour is so sheltered (and very beautiful by the way) that it is hard to reconcile the forecast with what you experience in the shelter. The first part of the leg is a 5 mile section to the lighthouse of the 'Old Head of Kinsale' where we knew there would be 2 kts current against us and against the wind which can often lead to much steeper seas than expected.

It was pitch black as we hoisted the main and set up for a somewhat reluctant spinnaker hoist as we started. The wind was much more veered than we expected which would mean a Port Spinnaker pole and a gybe in over 20 kts of winds of the Headland; after a quick team chat we decided to white sail only until Kinsal Headland, get through the overfalls etc, then gybe before setting up for the long reach on starboard gybe to the Fastnet Rock. Sense (Sharon) took the better part of valour I hope.

Between Kinsale and the Fastnet our speed rarely dropped below 10 kts, and 'Richard House' was flying along. I have rounded the Fastnet 4 times and this was the first time I have ever seen it clearly. Before it has always been the middle of the night, thick fog, or blowing a gale. We rounded at around 7am in champagne conditions, full spinnaker, a planing boat and glorious sunshine. Fantastic.... Have some nice photos for the first time.

As we rounded the Fastnet Rock and harden up on the wind for a beat almost all the way to Barra. It was the best weather of the leg. Within 10 hours we were in almost 30 kts of wind, pouring rain... How it all changes so quickly at sea !!!

The critical decision on this leg was when to tack back towards Ireland as wind was expected to back from North East to North Westerly during the night. Those that did best on this leg got this decision right and made many hours on the fleet. We probably went too far West into the Atlantic and would have done better tacking about 3 hours earlier... One of the down sides of trackers is how you can replay and criticise all your own decisions, and the tracker never lies !!!

We had a close fight with Taika, skippered by Chris Tibbs (famous for many books on weather and routing for sailors and racing), who has previously been N>avigation and Tactics on a Volvo Round the World Team. It appears that he was miles ahead of us by the Fastnet on the first part of the leg, we then caught up over 12 miles on the upwind leg and then pulled out a 4 mile lead to find he managed to beat us on the run into Barra as he many much better judgements about the wind shift coming into the final 6 hours or so.

We are also within 1.5 hours of the leading VQ32 Streamline. We are essentially the same boat, although the bulb on the end of Streamline's keel weighs more than 200 kgs than ours, the extra 200kgs at the end of her 2 meter keel provides a lot more power in heavy winds, so we are pretty happy to be so close in conditions more suitable to their boat. We expect to be faster below 14 kts of wind, we wait to see...

We arrived in Barra at 3 am on Sunday morning. We seem to be liking the middle of night for arrivals and departures. We knew from the 2006 Race that the anchorage in Castlebay can be treacherous so we deciding to anchor overnight in Cornaig Bay on the next Island of Vatersay until the morning.

The following day we motored into the main anchorage to join the fleet. We were on our 3rd attempt at setting our anchor when we noticed the much larger yacht 'Greyhound' dragging her anchor. She had no crew on board and would have been on the Rock of Kismul Castle within 5 minutes without immediate action.

I took a deep breath as the only way to save 'Greyhound' from going aground was to drive along side tie her to us and then using our engine to control her position until we worked out what to do next. My concern was that I wouldn't have time to set fender or protect us from all 12.5 tons of her versus the 3.5 tons of 'Richard House' and our new paint work.

As we motored towards 'Greyhound' we picked up the crew of 'Comedy of Errors' who would act as the boarding party. Putting ourselves alongside 'Greyhound' as carefully as possible we made her fast to us and began to control both our positions as we moved through the 40 plus anchored boats to a safe position to work out what to do next. Sharon again heroically put herself physically between both boats trying to protect us as much as possible and then forcing some fenders between both boats as we established better control. We continued to hold 'Greyhound' whilst the Barra Lifeboat brought her crew out from ashore.

Or little 20 hp Lombardini worked hard and as we were pulling 'Greyhound' away from 'Jager', our alternator belt snapped !!!! An alternator belt can last years and never fail.. How's your luck ?? The noise was a little disconcerting as the belt thrashed around inside the engine bay. Luckily I knew immediately what had happened and guess it would just sound bad but not cause any problems.. Luckily I also carried a spare alternator belt...

There is a picture on the RWYC race site showing us alongside controlling 'Greyhound'. You will see it was also a lovely sunny evening in Barra.

We spent the evening in the Barra Hotel, the hotel was so overwhelmed with race crews that we didn't get our main course until after 11pm.. So it was a late night paddle back to 'Richard House' for sleep.

Today we have re-stocked with food and water ready for the next leg to Lerwick. The weather looks better with much of the leg looking like being under spinnaker and yet yesterday it looked like an upwind leg. You can know when the weather predictions change so much the forecasters don't have a clue and anything could happen. There does look like a vicious little low pressure developing off Iceland and another expected on Denmark, so whether we get caught in the middle or have perfect conditions don't know yet.

We leave at 3am tonight and have to re-round Barra Head and then out to St Kilda to ensure we round the whole of the UK. This leg puts us the furthest of shore, maybe over 200 miles at times.

Sharon is on great form, enjoying the challenges and sailing her socks off (although they are a little muddy having manage to fall into a peat bog on the way back to the dinghy last night).

When we get to Lerwick we will be just over half way..

Fair winds for now.

Richard & Sharon
Sailing for 'Richard House Children's Hospice'.
Dateline: 9th June, 2010 - 15:25hrs
Pre race, final preparations - First leg Plymouth to Kinsale - Kinsale to Barra.
From Richard Lett:
Pre race, final preparations.

On Monday, 31st May, I departed Ocean Village, Southampton with Andy Rooke a fellow member of the MPSC to deliver 'Richard House Hospice' to Plymouth for the start of the RBI. We had 3 days of glorious sunshine, light winds and enjoyable sailing as we day sailed via Weymouth and Dartmouth arriving in the Race Village, at Queen Anne's Battery on Wednesday, 2nd June.

Most of the other boats also arrived that day, with the remainder due by 1600 on Thursday 3rd. the race village looked great with the fleet flying battle flags for the RBI, Charities and sponsors. The atmosphere in the race village and the camaraderie is what makes the RBI a very special race.

We had few remaining jobs to prepare for the race, Andy was great to have around as it gave me an extra pair of hands as Sharon wasn't due to arrive until Friday evening. We spent the next 2 days working on the boat and the evenings in the Royal Western Yacht Club bar talking to the other crews. Although many of the crews are very experienced, there was a very sense of nerves, as noone really knows what weather, events or misfortunes one will face at this stage. A little scared of the unknown, everyone said they would feel much more confident once the race started as being in a 'blow' is generally much better than worrying about being in one, if you know what I mean....

On the Friday I suddenly hurt my back, I couldn't get up out of a chair and the pain was really bad. No idea what caused it, unloading and reloading the boat, climbing the rigging, no idea; but I was in real trouble. I contacted Steve Varney a good friend in Hertford who has a physio clinic and he put me in touch with a colleague in Plymouth who would treat me on Saturday morning. The rest of the day I was a complete casualty and unable to do very much. Luckily, we were pretty much ready to go; just as well as Andy was nursing a hangover in a vain attempt at getting some of the opposition drunk.

On Saturday I was no better and went to the Physio, who gave me a number of treatments including electric shocks, deep acupuncture and a massage. I also came away with a back support and plenty of Nurofen from the chemist on the way back to the boat.

Saturday was a struggle; although that evening I had arranged a dinner for 30 people at a local restaurant for family, friends, race crews and representatives from 'Richard House Hospice'. We had a great time and we got to bed by 11pm, full of nerves and excitement for the following day's race start.

First leg Plymouth to Kinsale.

The race committee has decided that any boat over the start line would incur a penaly of 30 minutes for every 1 second over the line before the gun !!!! This was a serious penalty and no one was planning on being over.

The race was started in Plymouth Sound between HMS Iron Duke and the RWYC Committee boat at the Pin end. The line was heavily biased to the Pin End as the wind was veering westerly all morning and the Iron Duke wasn't about to up anchor and start moving about. This meant the pin end was going to be busy.

Being in a small boat we also wanted clear air and a fairly good start as we didn't want to get buried by the bigger boats. I didn't intend to get competitive on the line but I got trapped into a very aggressive and competitive fight for survival at the Pin End, and there was ODM outside the RWYC Committee boat; it could have got very ugly. Elixir and Fastrack were both below me and I was on a good starboard tack layline to the line with little room to leeward to accelerate into. As we approached the line I found Home of Jazz, skippered by a very good friend Maarten Russchen barging in from our right with another boat outside him trying to do the same. With 50 boats on the start noone had anywhere to go and it looked like Maarten would hit the Committee boat. I did everything I could to give him room by using our gap and free off down on to Fastrack. It was a very finely judged situation. Maarten definitely owes us several beers for letting him in....

Once around the Plymouth Breakwater, the first mark is the Eddystone Lighthouse around 10 miles due South of Plymouth. It was a starboard reach all the way to the Light and we were making very good progress. We were maybe in 5 place by the rounding and as we hardened up on starboard tack it was wonderful sailing, 12kts of breeze, calm seas and plenty of afternoon sunshine.

The wind was just North of West and due to Back into the South or South West later; our plan was to stay on Starboard tack until the wind started to back and then change to Port Tack as we approached the Scilly Isles. By the Lizard we had pulled out a 5 mile lead on the other VQ32's and were in the leading pack of boats, all was looking great and we were enjoying the sailing.

We noticed some boats tacking onto port early, we stood on until the True Wind direction started to back, with our instruments reading the TWD as 280 degrees and backing through 270 degrees. We tacked at 270 degrees. However, we had been a little greedy staying out on Starboard Tack and the wind, once it started to back did so very quickly, which meant we had now overstood the Port lay line into the Scilly's. This cost us a couple of miles on the fleet, but still left us in the leading pack.

We got to the Bishop's Rock Lighthouse at 0400, just as it was getting light. Sharon was sleeping as I prepared for the spinnaker hoist as we round the lighthouse in 25 kts of wind. Lucky it was getting light as the seas were already pretty big and wind strong, so a little light would make the hoist and set just a little safer.

We rounded about 600 meters ahead of 'Hotsocks' and Q11, both Class One boats and should have already been ahead of us, so we were looking good. Sharon came up for the hoist and we put up the A5 heavy reaching spinnaker, hoping that we could keep it stable deeper than it was designed to go in the heavier airs.

The A5 went up and after about 20 minutes playing with the pole heights and trim we were cooking on gas as 'Richard House' flew along between 10 and 15 kts of boat speed. It was going to be long day at the helm as in this sort of wind and sea state we could not rely on the auto pilot and had to hand steer all day.

We had made about 20 miles towards Ireland when the wind started to gust over 30 kts. 'Richard House' is only 32 foot long and weigh 3500 kgs so it was all very exhilarating. Our maximum speed hit over 16 kts at one point and I could hear the keel and rudder 'singing' as they began to vibrate at these speeds.

'Richard House' steered like a dream and felt very easy on the helm. She is wonderful to steer even at this wind speed. I then lost concentration for a split second and put her into a spectacular broach..... She was pinned over at 90 degrees with the main and Spinnaker holding her against the sea. Sharon and I were holding on to the almost vertical decks... I was wearing a back brace and although I had quite strong pain killers I was struggling to move and I could reach the spinnaker sheet to release it. My inability to move cost us dear as 'Richard House' tried to right herself the spinnaker had an explosive fill, this broke the spinnaker pole in two with the sound of a gun shot and mayhem followed as I struggled to release the spinnaker sheet and the main.

The spinnakers was flying off to leeward as was the mainsail, which had also run out the complete mainsheet line meaning we could no longer trim in the main. For the next hour we were in a bit of a mess. Sharon heroically pulled the 80 sq mtr spinnaker in from the sea, whilst I tried to keep the boat aiming down wind. The between us we had to forcibly pull the main down and lash it to the boom in order to recover and re-thread the mainsheet line.

We still had 90 miles to Kinsale and our 6 mile lead had become a 6 mile deficit, but we and the boat (apart from the Spinnaker Pole) were in one piece. We now had to go into damage limitation mode and make as much progress under white sails as we could to not lose anymore time or distance on the fleet.

Luckily the wind was slightly on the beam and with our Number 3 jib we still managed good boat speed. Just before Kinsale we suffered a double whammy as the wind went really light meaning that the mileage deficit that we had managed to recover to 3 miles cost us several more hours as we struggled to get her over the line, taking 3 hours to cover the last 3 miles !!

We finished leg 1 at 01.54.49 on Tuesday 8th June. We had taken just under 38 hours to cover the 270 miles from Plymouth to Kinsale at an average speed of over 7 kts.

Kinsale is a real treat, located in a beautiful and perfectly sheltered inlet on the South Coast of Ireland. It is a popular tourist location with much of the hospitality, good food and beer that Ireland is famous for. We went straight to sleep.

I was up early and without time to shower or have breakfast, I set off around Kinsale and Cork before finding a French guy in Crosshaven who seemed to have the skills to repair our carbon spinnaker pole. As I write I am expecting the repaired pole to arrive in the next 10 minutes on the back of a truck from Crosshaven. Whilst trying to get the pole repaired yesterday morning we spoke to all the suppliers we could contact in Ireland. Ss there are no manufacturers in Ireland we had to rely on stock. Noone had any 80mm carbon or 87mm Alloy tubes that we could use to make up a new pole !! So I am totally reliant on the repair - Have I ever been rude about the French? Certainly not their Sailors; I am sat here a little apprehensive.....

Last night there was a drinks reception in the Kinsale Yacht Club, where we got together with the 120 or so other competitors and Kinsale Yacht Club members. It showed every sign of turning into a big drinking session, so with a couple of other boats we ducked out to the Trident Hotel for a quiet meal,,,, only to be joined by all 20 of the Dutch competitors and a live Irish Folk band in the Hotel. The Dutch found the Irish Folk music to be much like their own, or so it seemed and all became of fine voice, singing their own words to Irish tunes. So much for a quiet and early night... lots of fun though..

Stop press...... Spinnaker pole just arrived... looks in one piece, a little rough and ready on the repair, but it looks strong enough... Not looking forward to the first hoist in any strong winds.

Kinsale to Barra.

So for the rest of this afternoon we will be prepping the boat for the next leg that starts at 01.54.49.. The wind forecast is for 24 to 30 kts from the north, north east. So it may be pole up and straight of with a spinnaker from Kinsale !!! in the pitch black of night in strong winds not something I am very much looking forward to. When we reach the Fastnet Rock the sky should be getting lighter as we remain on starboard tack. Then we harden up on the wind for a 2-3 day beat into winds forecast to remain in the middle to high 20's. Could be a real test of boat and crew; am not expecting to be eating any hot meals over the next few days...

Next stop is Castlebay on the Island of Barra on the Outer Hebrides. At Barra there are only a few mooring buoys and a rocky anchorage. In Barra the only option is to row ashore, so we hope to find a decent place to secure the anchor and light winds to make it possible to go ashore.

The prediction is for the next leg to take 3 to 4 days. We are hoping to be in Barra by the 12th or 14th June.

To see where we are or how we are placed in the Fleet please go to the Royal Western website on www.rwyc.org where you will also find our link to the Just Giving Website if you feel inspired to contribute to Richard House Hospice...

Cheers for now

Richard and Sharon
'Velocity Girl'
9th June, 2010
Dateline: 9th June, 2010 - 15:49hrs
'Stratford & Newham Express' - 4th June, 2010 edition
Addition from Richard Lett:
The link above is to the Newham Recorder, who have run a full front page on our entry. And who said yacht racing isn't big news? !!!!

Absolutely pouring down in Kinsale, wind building, 400 miles on next leg - 200 meters away a great pub and B&B .... going to be tough to leave at 2am in the morning.....

Cheers

Richard
Dateline: 26th May, 2010
From Richard Lett:
On final approach to the RBI... lots of small things to do, however I think (hope) all mission critical jobs are done. I sail for Plymouth on Monday, 31st May.

Last week I was part of one of the MPSC Teams in the PSUK Championships, it was a great week's sailing. We were in second place for a day, behind the seemingly invincible Notts 'A' Team. However, by the end of the week Hampshire (Isle of Wight Team) and one of the Devon and Cornwall teams were too good for us and pushed us into 4th place. Still, this was the first attempt by this team and we look forward to being even more competitive next year...

I reckon everyone was really tired after a long week on the water; many had to drive home long distances. I had entered the Royal Southampton Weymouth Double with Sharon for our last preparatory race before the RBI starts on the 6th June. The first leg of the Weymouth Double is a night race that start at 7.30 on Friday evening only a few hours after finishing the PSUKs.

I rushed to Ocean Village and made 'Velocity Girl' ready, Sharon skidded into Ocean Village at 6.30pm and we headed for the start line at Royal Thames buoy. Our GPS showed 58 minutes to go, with only 50 to the start sequence !! with VG's mighty 18 hp Lombardini at full chatter we motored down Southampton Water with Sharon shedding her city clothes for something more appropriate. We were both fairly shattered and not particularly looking forward to a long night of light airs and a foul tide expected as we approached Hurst Castle and the tidal gate at the Western end of the Solent.

With a combination of an improving tide and cutting the corner at Calshot Spit we got to the Start line as the warning signal was given... the wind and tide were both still going West, so we made sure we didn't go across the line early. Most boats including us hoisted a spinnaker off the start, and yet within 15 minutes we had tried our Jib, A2 Spinnaker again and our lightweight Code Zero: this was going to be a long night... Coffee was already flowing. This would be good practice for the RBI, whatever happened.

We were doing really well up to Hurst, when we, along with all the boats in Class 1, tried to get through Hurst Narrows with the now-building foul tide and unsurprisingly dropping wind... You could hear the rustle of kedge anchors and lines across the fleet.

It was by now 2am and it was clear that however many times we tried to gybe across Hurst we were not going to get through until the tide turned or the wind increased substantially.. I said to Sharon that we would anchor and both get some sleep, if we woke and the fleet were still there we would race on or we would get up when we were ready and make our own way to Weymouth for the return leg.

We woke at 7am and the fleet had gone, much more determined than I at the end of the week. I was glad we had got some sleep as Sharon works very long hours and although good training, we know we could have kept going if needs be. It just didn't seem worth it today..

We sailed on to Weymouth and were only an hour behind the leading boat, but we had retired. Arriving in Weymouth at 2pm, we had a lovely afternoon lazing in the Sunshine and had a couple of drinks in the George Inn and later at the Royal Dorset Yacht Club.

The return leg started at 9.30 on Sunday morning; again in light airs. From Weymouth to the start of Christchurch Bay at St Albans Head we had a good race. We were in 5th place on the water and probable 2nd on handicap. After St Alban's Head we stayed to the left of the fleet who were only 200 meters South of our position.. next thing we fell into a wind hole and off the other boats went. It was terrible to sit in no wind for the next 4 hours, but we hung on. It was however, amazing to see the difference a such a short distance can make. Katie Millar who was next to us at St Alban's, went on to beat us by over 4 hours in just the width of Christchurch Bay. Actually, it was a real lesson in weather routing and using the barometer to notice you are sat in the middle of a high pressure system.

The finish was shortened to North Head buoy just outside the Solent, just in case the tide turned before the fleet managed to get that far. We were the last boat to manage a finish and ended up 9 out of 25 starters.. with everyone else retiring. We motored back to Ocean Village and drove home arriving at 3am on Monday morning.. We were both up and out again by 7am for work.. Plenty of coffee for me, Sharon seems so much more resilient than me, I was shattered, she still seemed full of beans.

This weekend we will do our final preparations and on Monday I will be sailing with a friend to Plymouth to get to the Royal Western Yacht Club in time for scrutineering deadline of 1800 on Thursday 3rd June.

This year has flown, just over a week to go to the start.

Will probably send next update from Plymouth.

Richard and Sharon
'Velocity Girl'.
Dateline: 12th May, 2010
From Richard Lett:
14th and 15th May.
A busy week's sailing ahead. On 14th Sharon has a meeting in Weymouth so I am going solo in 'Velocity Girl' to join her on Friday evening. It looks like the breeze may be in the North so making for a reach and hopefully sailing with the tide I can cover the distance in around 6 hours. My aim will be to beat closing time.... We will sail back on Saturday together.

17th - 21st May.
I am part of the MPSC crew in the Police National Sailing Championships and I am really looking forward to racing against colleagues from across the UK. It looks as if the first part of the week we will still be in a high pressure system so wind direction could be difficult to call for a few days.

22nd and 23rd May.
If I have the energy Sharon and I will enter the Royal Southampton Yacht Club, Weymouth Double. This is quite a social race with a dinner in Weymouth and a race back the following day. This will be our final race before the RBI, and our final chance to test the rig and autopilot calibrations before the race starts. I am a bit of a fiddler and Sharon is just hoping I will leave everything alone and get on with sailing the boat fast. I on the other hand, am in boating heaven when adjusting, repairing or polishing.

Updates on the other VQ32's

'Vandal' another VQ32, called 'Streamline' for the RBI is based up in the Shetland Islands. Her skipper Leslie Irvine and Co-Skipper Andrew Wood have just sailed her down from Lerwick in 5 days !! They reckon to have hit a surf at 17.5 kts... and to have averaged 12 kts for a 24 hour period. I know this is not Volvo 70 speeds, but nonetheless that is a scary speed to hit on a little 32 ft, IRC design..

Andrew Wood is a professional sailor who has competed successfully in many solo races against the French in his Mini Transat racing yacht. 'Woody' is one of those people who just call for more and more speed and don't seem to get scared.. Sharon and I will have some interesting discussions on board 'Velocity Girl' under spinnaker as we go into the night; we know 'Vandal' will keep flying her's, so what will we do? I am more reckless than Sharon, I hope between us to make sensible decisions and keep ourselves and the boat in one piece.

The other VQ32 'Home of Jazz' is sailed by two Dutch guys, Maarten Russchen who has completed the RBI once before and his co-skipper Harry Vogel who I think may be on his 3rd or 4th RBI. They are a very experienced couple. Maarten tells me they will set out from Amsterdam around the 23rd May to get to Plymouth in plenty of time to finishing preparing their boat. We raced against HOJ in the 2009 Fastnet and managed to beat them by 6 hours. Maarten has been preparing his boat all winter hoping to take his revenge in the RBI. Maarten also told me something worrying; he has had to replace his wind instruments due to a software failure. We have the same unit, manufactured at the same time. NKE won't replace unless it fails, this could be a small but significant problem as many of the function of the autopilot just won't work without the mast head unit.

We must be in Plymouth by the 3rd June for scrutineering, so I hope to leave Southampton on Bank Holiday Monday to give myself a couple of days to get there in one piece. I am getting nervous about little things now as time is getting short for repairs, replacements or in the event of injury.

'Velocity Girl' will be in Queen Anne's Battery Marina with the other 60 entrants. All yachts will be flying battle flags and race decals. I anyone is nearby on between the 3rd - 6th June come and have a look at the fleet and say hello to Sharon and I. We may be buried in amongst all the bigger boats, but we will be in there somewhere.

This months Yachting World has a nice article about the RBI by Sir Robin Knox Johnson. He completed this race 7 times, winning on 2 occasions.

Best wishes for now.

Richard and Sharon
Racing for 'Richard House Children's Hospice'.

Dateline: 5th May, 2010
From Richard Lett:

Been ever so busy working and trying to get some preparation in around the edges for the RBI...

Royal Southampton Spring Double 10th April.

I took part in the Royal Southampton Yacht Club Spring Double with Andy Parker from the MPSC. The race was run in very light airs and Velocity Girl really struggled to get going. At the end of last season we had the mast re- positioned, the rig seemed to be really tight, too much rake and the back stay on or off didn't make any difference to the forestay tension which remained bar tight. Having decided it was all the boat's fault (!!!) we finished 22nd out of 30 boats and were around 1 hour behind the winning boat.. Not my best piece of sailing, but it gave me lots of food for thought re adjusting the rig.

Determined to reset the rig I borrowed a Loos Rig Tension guide, I found the shrouds were double the tension they should be and were approaching 50% of breaking strain which is getting quite dangerous. I reset the tension back to around 20% and reduced the rake. Having done this I was really keen to get on the water and see whether she sailed any better. We were entered in the RSYC Cherbourg two-handed race, including 10 entries for the Round Britain and Ireland yacht Race, so a great opportunity to weigh up the opposition and our own development.

30th April Cherbourg Double, start 8pm from Coronation Buoy on the Solent.

We had a poor start, I failed to set my watch at the preparatory signal... again !! I must get better at this. Still we were away and on a reach taking the Easterly Route around the Isle of Wight, an interesting choice as the Race Committee left it to crews to decide which way to go around the IOW. The winner went East and Second place went West, down the Needles Channel, just goes to show how close it can be if given the choice.

This was setting up to be a big boat race with a forecasted heavy airs reach to Cherbourg. However Velocity Girl was going great, the sails set much better with the re-tuned mast. Halfway across the Channel we were in third place and probably leading on handicap, so we were getting quite excited.

We were to the right of the fleet, higher on the wind and further uptide than the majority, all looking great and I couldn't see how we could lose such a great strategic position; then I thought we could afford to foot a little and trade some height for increased speed... Doh!. Now how many of you ever trade the weather gauge on a fleet if you are lucky enough to have one??? The wind dropped enough to put our arrival in Cherbourg back around 1 hour, and 1 hour after the tide started to flood. We ended up 1 hour down tide and wind on the finish. I was cursing myself for being greedy earlier and wanting even more speed.. a lesson I have learnt and re-learnt so many times..

Coming into the finish we were in a group with a Class 40, a J124, Q11, a Prima 38 and a Stewart 37, all very good quick boats and with much higher handicaps than us, so it seemed as if a lot of people got caught out down wind and tide. I bet after a long cold night there was more than a little cursing going on amongst the fleet....

We finished at 09.30. A good hour later than if we hadn't footed. Still, life and racing is all about might-have-beens. Velocity Girl had come 6th out of 21 entries, and we had come third out of the 10 RBI Competitors. So we were very pleased with our performance and felt competitive against the fleet.

The rig still needs a little work as the pre-bend on the mast is now a little too much and the forestay tension is a little soft, but VG is getting closer to how she should be and we still have a few weeks left to the start on the 6th June.

One safety point came up that may be of interest to those of you thinking of fitting an Automatic Ship Identification System 'AIS'. We recently fitted a Class 'B' Transponder AIS, so that we could also send our position as well as receive position reports from shipping around us. Class 'B' systems are now required for Offshore Racing. To save money on a VHF Splitter we connected ours to the emergency VHF Antenna we have on the pushpit; I found that we only had a 'receive' range of less than 4 miles as I was tracking a number of ships to see what kind of performance we were getting. 4 miles just isn't enough warning. At over 20kts approach speed shipping was upon us before we had time to consider or adjust our course to avoid collision. I guess our transmit distances were probably even worse, and I wonder how much notice of our location we were sending to anyone on the 'Bridge' of these huge vessels?

I have decided to fit a VHF splitter, that will enable me to share the mast-head antenna with the VHF and AIS (priority is automatically given to the VHF). This should increase our send and receive distances to over 10 miles, which will make me much more comfortable.

On the way back to the UK the winds built to 30 kts... I have been experimenting with our camera, a waterproof housing and some 'bodge tape' to secure it on the pushpit rail. I have edited our footage down to 3 minutes. The film on YouTube may give you an idea as to how small, but also how well Velocity Girl handles heavy weather. Notice how straight she tracks with no tendency to round up in a gust at all.

For film follow link: http://www.youtube.com/watch?v=-CPM3pRJydc
4 weeks to go to the start of the Round Britain Yacht Race for Richard House.

This month's Yachting World has a full page article by Sir Robin Knox Johnson, who as completed the RBI 7 times....

The race is organised by the Royal Western Yacht Club. You can preview the entrants and follow the race live on their website WWW.RWYC.ORG

Best wishes from Richard and Sharon.
Dateline: 8th April, 2010
From Richard Lett:
We went training on 'Velocity Girl' over the Bank Holiday Weekend and had a few problems damaging sails and with the engine. I suppose finding weaknesses is all part of preparing for an endurance race like the RBI.

On our return we were very close to a yacht called 'Andromeda' that was lost on the Shingles Bank just ahead of us.. I have written a short article which has a link to a short video of 'Velocity Girl' flying her A5 on the Spinnaker Pole for the first time. This was taken in the Needles Channel where Andromeda was lost, you will see how benign the conditions were that day.

The Metropolitan Police publish a fine monthly journal that I know all your non 'Met' reader will just love to read (ok I have been in the police for 27 yrs so I know all about inter force rivalries) they have included a small piece on our entry into the RBI on page 27. The Job newspaper can be viewed online at www.met.police.uk/job .

Hopefully it is sailing that brings us all together and not which part of the country we police...

Best wishes

Richard & Sharon.
P.S.

The small hot water bottles worked a treat.

The rowing sculls, that looked so big in the house, didn't even reach the water !! Am going to take an oar from a rowing 8 down this weekend. These are a lot larger, so fingers crossed will be going around in circles before too long.

Cheers

Richard
Dateline: 30th March, 2010
From Richard Lett:
The RBI has an unusual rule for Offshore Racing in that they allow rowing... This can be a real help if you are stranded just outside a harbour at one of the leg finishes. It can also put a lot of extra pressure as rowing for any time will take a lot out of you, and then there is getting the oars, finding somewhere to stow them and setting the boat up to row.

Today I visited the Thames Rowing Club, home to some of the UK's finest Olympians for some advice on rowing an oar selection. Lucky enough I met someone who helped prepare a Royal Marines yacht for the 'Three Peaks Challenge', they used a pair of sculls which they attached lashed to the stanchions when required.

TRC have kindly lent me a couple a pair of sculls to try out.

I am looking forward to testing these to see how we get on. I think we will aim to row from the bow, lashing the sculls to the stanchions and sitting on one of the saloon cushions for comfort.

Whether we row using both sculls or sit offset to each other and have one each, all TBC. Should be a source of amusement and curiosity in Ocean Village Marina as we test this theory out.

This weekend we are sailing to Weymouth on Friday 3rd, Dartmouth on the 4th and return to Southampton on the 5th.

Forecasts are for a 20+ kt reach on the 3rd which should see us cover the distance in around 6 hours. The 4th could be unpleasant as the forecast is up to 30 kts on the nose from Weymouth to Dartmouth, using the ebb (which wont help the sea state) we hope this will only take around 7 hours. And on Sunday the forecast is for a 14 kt Westerly, which may give us a wonderful 12 hour spinnaker run back to Southampton.

This will be our first longish sail of the year, still pretty cold sea temperatures, Sharon has bought us both a half size hot water bottle to stuff inside our foulies, looking forward to testing those out too.

Anyone around Ocean Village on Monday 6th may enjoy seeing us rowing around in circles.....

Richard & Sharon
Dateline: 29th March, 2010
From Richard Lett:
I have put a little movie together about painting the 'Richard House Hospice Hearts' on 'Velocity Girl's' A2 Spinnaker, including of our first hoist today 28th March 2010.

Ok not the best painting you have ever seen, but would have cost around £500 to had it done for us.

Velocity Girl is getting ready to race....

You Tube link to movie on http://www.youtube.com/watch?v=D8bvjrCeUZk .
Richard & Sharon.
Dateline: 25th March, 2010
From Richard Lett:
Not ideal wind conditions, probably between F3-4, but essentially no rain, so pressed on with painting the 'Richard House Hospice' Hearts onto our 86 sq metre A2 spinnaker.

I prepared everything to paint this the other day but 'bottled out' and put it all away again. Today decided to get a grip and just go for it.

I had a small hand drawn copy of the RH hearts and used this to help me draw the 3 hearts using masking tape. I centred each heart on the centre seam of the spinnaker.

The paint I used is in fact an ink made by a company called 'Sericol', you require the paint which is called Nylotex, a catalyst (which is apparently based on Cyanide!) and thinners. The choice of paint could be critical as I am told Nylon is a really difficult material to keep a paint on.

The paint is really thick, but the instructions warn against too much thinning as it lowers the opacity of the ink. The first mix of paint had much too little thinners and was like painting with marmite. Each batch I put more and more thinners in, which made rolling much easier, the coverage was also much better and the paint looks as red and thick as the first batch.

I used more and more items to keep the sail on the ground as it was far from perfect conditions.

The paint dried to touch in about 30 minutes.

Please see photo of progress..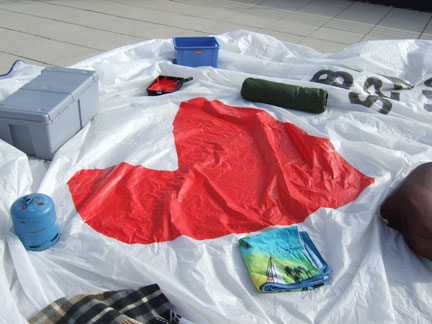 Am still somewhat apprehensive about the first hoist, you just know it is all going to look a little lopsided......... still would have cost close to £600 to have had done professionally and was actually good fun to do.

We should stand out on the Solent a little more now.

Best wishes

Richard
Dateline: 18th March, 2010
From Richard Lett:
See the short article about us representing Richard House Hospice in the RBI linked above.

Spinnaker painting update..

I have ordered the ink to 'paint' our spinnaker with Richard House Hospice Hearts. I thought this would be a fairly easy job to do..... after lots of enquiries found out that you have to use a specialist Nylon Ink called Nylotex made by a company called Sericol. This ink needs thinners and a special catalyst (that apparently contains cyanide!!).

I was going to get some of the kids to paint the spinnaker, but had better do it myself after seeing the contents of the catalyst.

Apparently nylon is one of the hardest fabrics to take a colour; and what with the wet and the flexing it has to withstand there is more to it than a can of Dulux it seems.

I have laid out all 86 sq mtrs of the spinnaker on the lawn and after many minutes of chin scratching about where to start drawing the Hearts; and how to mark out the shapes for painting..... decided to put it all away again. I will need very little wind, a steady hand and a fairly confident approach to this if I am to avoid an unmitigated disaster.

I now have some masking tape, a small roller and all the products ready to take this on, am somewhat nervous as a large red splodge running down the front of our Spinnaker may not be the best look..

Will send pictures if at all presentable.
Richard.
Dateline: 9th March, 2010
As Richard prepares for all possible eventualities before his Round Britain & Ireland Race, his latest article is on 'Sealing seams on waterproof clothing' in which he reflects on experiencing a wet bum and advises on the solving of the problem by using a polyurethane sealant..
Also...

"Today was spent completing the Vinyls on the hull"
Dateline: 27th February, 2010
From Richard Lett:
Sharon and I visited the 'Richard House Hospice' on 19th February to meet the youngsters, parents and staff. We had a great time meeting everyone and seeing the wonderful environment they have created. You really get the idea behind a dedicated children's hospice when you visit, it is a wonderfully positive place to be.

The youngsters are really looking forward to following their boat and reading our blogs as we sail around the UK and the staff have already made sure the RBI website on www.rwyc.org is loaded into their 'Favourites' folder.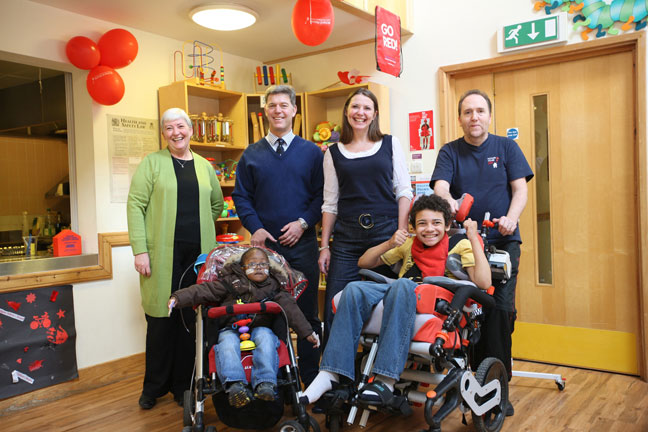 ---
The handle to operate waterballast never fitted that well and this week I have re-made a handle out of laminate and epoxy (epoxy soon becomes an instant fix for all repairs!) and aim to re-fit and test this at the weekend. We have a potential 350 kilos ballast on each side, which equates to around uncomplaining 4 man crew hiked out in all weather, they don't need feeding and can be jettisoned as soon as the wind drops and are no longer required..... I will write a short article on how our waterballast works and what I think our its strengths and weaknesses for cruising or racing.
See article mentioned above on 'Waterballast' - in which Richard describes the benefits it can bring to racers and cruisers alike.
Aspects include:-
What does waterballast do?

When to use waterballast.

What boats might use waterballast?

A Description of the system on 'Velocity Girl'.

Fitting water ballast.

The Downside..
You can view the article and download the 4 page Word file on the Why Use Waterballast? page.
Dateline: 15th February, 2010
Richard has been burning the midnight oil composing an article on Boat Batteries. More precisely, the efficient charging, maintenance and running of batteries on board his newly named yacht 'Richard House'.
The article is obviously of value to offshore sailors or those possessing or contemplating the acquisition of a yacht, where the charging & maintenance of boat batteries on board is just one of the considerations that can make the difference for the yachting experience whether cruising or racing.
Based on the experiences of preparing his yacht for the RBI the aspects covered include:
You can view the article and download the 3 page text on the 'Boat Batteries' page.
If you enjoy or learn something from this article, please consider visiting the 'justgiving' website to learn more about the 'Richard House' and the Round Britain Yacht Race.
Dateline: 10th February, 2010
Velocity Girl has been renamed 'Richard House Children's Hospice' for 2010 and the RBI.

Have a look at our 'Just Giving Webpage.' at: www.justgiving.com/roundbritain-velocitygirl .

10 photos of us and the boat also.

Richard & Sharon
Dateline: 11th January, 2010
From Richard Lett:
'Velocity Girl'
The 2010 Round Britain and Ireland Yacht Race.

Richard House Children's Hospice and Yorkhill Children's Hospital chosen as charities.
Sharon and Richard built Velocity Girl so that we can take part in ocean yacht racing on our own small boat. Velocity Girl took 2 years to complete at Vels Boatyard in Medemblik, Holland. She was launched in February 2009 and in her first year competed in 8 offshore yacht races including the famous Fastnet yacht race. Velocity Girl is designed to be simple and safe for short handed yacht racing.

We are both enthusiastic amateur sailors and love being on the sea sailing Velocity Girl as a team. I am a police officer and a member of the Metropolitan Police Sailing Club for whom I am a cruising instructor. Sharon works for the London Olympics and is busy helping to make the 2012 Games a resounding success for the UK. Sharon only started sailing a couple of years ago after I had just completed the last Round Britain yacht race in 2006 when we decided to enter the 2010 Race together.

The Round Britain Yacht race goes all around the UK including the Atlantic coast of Ireland. It is a real test of stamina, seamanship and at times courage. Fifty yachts between 30 and 50 feet, mono and multihulls compete. Velocity Girl is at the smaller end at just 32 feet long. However, we hope she can punch above her weight and between us challenge the bigger boats for podium places. The RBI has four 48 hour stopovers in Kinsale, Castlebay, Lerwick and Lowestoft; for more information on the Race please visit the race website at www.rwyc.org/oceanic/rbi10/ .

We have chosen two charities to support throughout this campaign; Richard House Children's Hospice in London and Yorkhill Children's Hospital, Glasgow. Please take time to visit the Richard House website on www.richardhouse.org.uk and the Yorkhill website on www.yorkhillchildrensfoundation.org to read about the amazing help and reassurance they give to many children.

We hope that with real-time tracking of the race to inspire the children at Richard House and Yorkhill Hospital with their own challenges whilst encouraging you to donate money to help their work.

As a very young child Sharon underwent a lifesaving heart operation at Yorkhill and totally recognises how important it is to support places like Yorkhill. I work for one of the Metropolitan Police Specialist Operations Teams and our unit has adopted Richard House as our charity. I hope that everyone in SO14, Met Police Sailing Club and police sailors across the UK will follow our race, read our blogs on www.policesailing.org.uk and make a donation to Richard House or Yorkhill.

Donating through JustGiving is simple, fast and totally secure. Your details are safe with JustGiving – they'll never sell them on or send unwanted emails. Once you donate, they'll send your money directly to the charity and make sure Gift Aid is reclaimed on every eligible donation by a UK taxpayer. So it's the most efficient way to donate - I raise more, whilst saving time and cutting costs for the charity.

I hope you enjoy following or supporting our exploits and please dig deep.

The link for Richard House Children's Hospice is www.justgiving.com/roundbritain-velocitygirl
The link for Yorkhill Children's Hospital is www.justgiving.com/Sharon-McMichael

Many thanks.

Richard and Sharon.
Dateline: 3rd December, 2009
From Richard Lett:
My partner Sharon has now managed to clear her diary for June next year and will be my Co-Skipper (or I hers !). Sharon only learnt to sail in the last couple of years and yet she completed the entire RORC 2 handed series and Fastnet with me this year, hopefully her achievement is encouragement for all novices to get Offshore. By completing the Fastnet 2 handed we also qualified for the RBI which is good news and takes pressure of qualifying as still lots to do.

This year's race should be tracked in live time which may make it a more interesting event to follow. I hope we are in the mix and fighting for a good finish; however the adventure and fun during the RBI is fantastic.

'Velocity Girl' was only launched in February and we have been working on her all season to complete her as we were very much involved in the build throughout to save money and develop her into the boat we wanted for short handed racing. We improved every race as we learnt to sail her and new sails and equipment arrived.

I have attached a couple of photos for you, maybe they could be shown on the website for anyone interested in the Round Britain Yacht Race? The website for the RBI is via www.rwyc.org .

I hope to do a daily update, probably starting as we sail to Plymouth from Southampton for the start on the 6th June.

Short handed sailing is getting very popular and if anyone has any questions or thoughts please email me. I am also a member of the Petit Bateau Short Handed Sailing association and their website may be of interest.

Best wishes.

Richard
Dateline: November, 2009
Below is part of a recent circulation to MPSC members which included the request for a co-skipper plus details of the event - which may be of interest to any other police personnel contemplating taking part or merely those interested in following Richard and Sharon's preparation, training and participation. The vacancy appears now to be filled....
"CO-SKIPPER WANTED FOR 2 HANDED ROUND BRITAIN AND IRELAND YACHT RACE"
Starts 6th June from Plymouth - return estimated around 30th June.

I am looking for a serving or retired Police Officer to join me as Co-Skipper in the 2010 Round Britain and Ireland Yacht Race.

With my partner Sharon we have been building up to the 2010 RBI with a successful first season with our new VQ32 "Velocity Girl". Sharon works for the London 2012 Olympic Games and it is becoming increasingly obvious that even as far out as 2010 she may be too busy to take 5 weeks off work to compete; she is an extremely competitive sailor and is biting the bullet early enough to enable me to find an equally good Co-Skipper either through the MPSC or RORC.

"Velocity Girl" is purpose built for short-handed races such as the RBI, OSTAR, Fastnet, RORC and JOG. She has a deep fin and bulb, water ballast, lightweight hull, carbon mast with moderate sail area combined with lots of righting moment. Her stability and safety are exceptionally good for a boat of this (or any size) with an AVS of 151 degrees and a STIX of 46.5, her IRC handicap is 1.035. She has a moderate planning hull and her typical upwind speed is between 6 and 7.2 kts and her downwind speed is between 6 and 14 kts.

We have entered the full RORC 2009 programme including the Fastnet 2 Handed, the Petit Bateau Solo races and the Royal Southampton YC 2 Handed series. Our results have got better each race as we learn how to tune the rig and sails to their best potential; she has more to come.

I competed in the 2006 RBI on Chikara a Tripp 40 with Justin Rowley where we came 4th in class one. Maybe I have rose tinted glasses as to how hard it was at times, but also have great memories of some champagne sailing and the fantastic welcomes and parties in Ireland , Scotland , Shetland, Lowestoft and even the 4am finish at Queen Anne's Battery Plymouth.

The RBI is a great challenge and will test your racing, seamanship , humour and endurance to the fullest. Velocity Girl is tough enough and built for this type of challenge, we have to add human frailty into the equation and find a way to keep going when cold, wet, hungry, tired and scared. Up to 50 teams will enter in boats between 30 and 50 feet, we will be at the smaller but not necessarily the slower end.

I am looking for an excellent sailor, there are two other VQ32s qualified and entered for this event, both skippers have been lucky enough to have a professional racer as Co Skipper. In the 2009 Fastnet, Sharon and I beat one of these crews (Home of Jazz) by 6 hours, I am very much looking forward to testing ourselves against the whole fleet but particularly HOJ and the 3rd VQ32 Vandal.


The Royal Western Yacht Club in Plymouth run this event and their website will give you a lot more feel for the nature and history of this event.

Apart from being good on the water you will need a lot of commitment to do this as well as an understanding partner as it will take around 5 weeks plus a qualifying sail of 300 miles, training, your share of the costs could be up to £3,500; in fact there is not much to commend this at all. If you are more than just casually interested send me an email or text and I will get back to you and we can discuss this adventure further over a beer or a trial sail.

This is big decision and in order to run an effective campaign in the short time available I aim to have a Co Skipper selected by Christmas.

Richard Lett
---
You can also view further details on the Shetland Islands Council Round Britain & Ireland Race at:
http://www.rwyc.org/oceanic/RBI10 .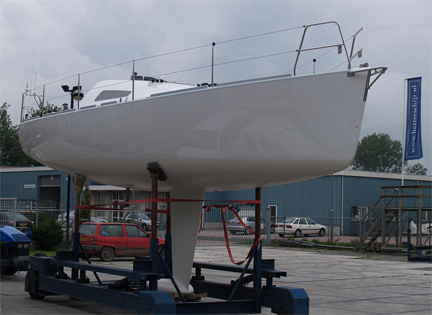 'Velocity Girl' at launch