Barnacle Bill's casual observations from the shore . . .


. . . . . . . . . . . . . . . . . . . . . . . . . . . . . .

This Section is merely to appraise you of what's happening around Police sailing, who's doing what (sailing-wise) and acting as general scuttlebutt.
08/01/15
Happy New Year to you all..

Apart from the PSUK Offshore and Dinghy Champs, only the North Brits have confirmed dates for events in 2015.
Dinghy regatta dates await...

Meanwhile one police regatta this year has already declared that their Entries are complete. The 14th running of the Coppers Cup regatta has moved from its old location in the Netherlands to the Adriatic and appears to be "under new management". The regatta remains for law agencies but has changed it's title to the International Coppers Cup Adria with a view to continuing the run of regattas previously known as the Interpol Coppers' Cup.

The usual suspects are entered - Hong Kong, the Dutch, the Swiss, Germany, PSNI, the Garda Siochana... The UK will be represented by Dorset Police.

The ICCA have set up a website showing the full list of entries also some previous Coppers' Cup results. Some of it is in english but it helps if you speak Slovenian....

Despite the setback in planning for this year's PSUK Offshore Championships, arrangements are now confirmed with the dates the same and the venue being changed from the Scotland to the South Coast.
The following letter has been received from the Organiser, Tony Riordan.
"I am writing to update and invite you and your team to participate in the PSUK Offshore Sailing Championships 2015.

You may be aware that Cleveland Police are hosting the event and following last year's event were tasked (by those competing) to host the event in Scotland.

Unfortunately, and after much research, negotiation and circumstance we are unable to host the event in Scotland. The main reason being the lack of suitable charter yachts for racing.

However Cleveland Police are determined to host a successful championships.

The Championships are to be held on the Hampshire and Dorset Coast, 18th - 22nd May 2015. The Championships will focus on true Offshore Racing. The Championships will be a one design event with the yachts being supplied/chartered from Fairview Sailing using their Matched Beneteau Oceanis 37s. www.fairviewsailing.co.uk

These yachts are far safer than any yacht with a mainsheet system within the cockpit having the mainsheet mounted on the coach roof, which presents far less danger when crews have to cope with rapid movement of the boom and mainsheet lines when the yacht is tacked.

They benefit from the simplicity and effectiveness of A-Symmetric spinnakers, making the yachts perfect for both novice and professional crews.

Skill levels of crews are less demanding than those of crews trying to cope with the complexities of learning how to use full spinnaker kit, however the racing is truly exciting for all levels of crews as the yachts are identical in every way.

This is match racing at its best. Everyone is equal and on-board a truly superb yacht.

The winning team will have had to work very hard to gain a first place in this highly competitive fleet.

The yachts have superb handling qualities in both strong and light winds.

A first class fleet offering exhilaration, excitement, comfort and fun!!!

The cost of the yacht charter is £1526 (inc VAT)

The cost of entry to event is £500

The entry fee is to cover the cost of berthing your yacht at the Marinas during the Championships, the Race Officer/Crew and Committee Boat and the Prize Giving Evening. It is the organising committee's intention to refund (equally) any underspend at organising the event, to the relative Force Sporting Associations (or refund to those crews who have not received funding from their Force Sporting Associations."
The Entry Form is on the PSUK Offshore Championships page. Notice of Race, etc to follow fairly soon.

12/01/15
The Met have taken the bull by the horns and incorporated both their Dinghy and Offshore regattas to "Tri-Service" events. The reason is simple enough - Entries have been low in recent years.

MPSC have therefore opened their events to the other Emergency Services in London in a bid to increase the fleet sizes. Whilst the main competition prizes are centred on the London entries, the regattas are open to all serving and retired police officers and there will be a prize for the fastest non MPS entry.

Whilst the Offshores remain on the Solent, their Dinghy regatta moves on to Stokes Bay SC.

13/01/15
The date of the annual Dorset Dinghy Regatta is now confirmed - Thursday, 2nd July, 2015 - two days after the Met Dinghies along the coast at Stokes Bay. An intervening day for rest and recovery then..

14/01/15
Regatta dates arrive thick and fast... The latest is the Avon & Somerset Dinghy Regatta which takes place at the Chew Valley Lake Sailing Club on Wednesday, 2nd September.

That's a week before the PSUK Dinghy Champs..

Also, Avon has a new Sailing Secretary - Shirley Eden - details on the 'Contacts' page.

14/01/15
The Event Description plus Entry Form for the North British Annual Offshore Sailing Championships 2015 are now available to view via the Strathclyde Police page.

04/02/15
Besides hosting this year's Dinghy Nationals, Sussex have now confirmed the date of their Open Dinghy Regatta will be held on Wednesday, 5th August at Lancing Sailing Club.

04/02/15
The Notice of Race for the Tri-Service Dinghy Regatta on June 30th is now published - see the Met Dinghy Section page.


PSUK Offshore Championships 2015
Urgent message circulated from the Organiser...
"As you're aware Fairview Sailing have kindly reserved their fleet for our Championships, however only four teams have made reservations so far. Please may I request that if you intend to compete in this year's you make your reservation with Fairview at the the earliest opportunity, but no later than 28th February. After this date Fairview will most probably allow other customers to charter the available yachts.
The contact at Fairview is Mike Sellers.
Kindest Regards to all,
Tony Riordan."
13/02/15
The Notice of Race plus Entry Form, SI's and Sunsail F40 Rules for the London Emergency Services Offshore Championships 2015 are now published - see the Met Offshore Section page.

17/03/15

Sad News received from Laura Davison, Strathclyde.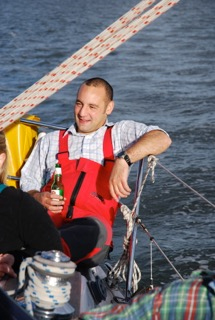 Dear Friends,

It is with great sadness that I have to let you know of the tragic death of Allan McLean (AKA Sparky), who competed in the North Brits on many occasions as part of the Lothian and Borders team.

Allan was one of life's true characters; always ready with a smile for everyone, a humorous anecdote and boundless energy to pursue whatever adventure he fancied that day. Despite having the gift of the gab, Allan was a great listener and empathiser who touched many people, leaving a lasting impression on all.
Allan will be sorely missed by friends, family and colleagues, he truly was irreplaceable. He leaves a wife, Erin, and two beautiful young girls, Ava and Niamh. I'm sure your thoughts will be with them and his L&B team.
Best Wishes,
Laura

20/03/15
Martin Lambert was the son of Chris Lambert who was the leading light of the Bedfordshire Police Sailing Section over many years. Father and son took part in a number of police regattas during the mid 70's/80's until Chris's premature death. Martin continued to sail in his Laser until he took to the Phantom and won their National Championship in 1989.

For a number of years Martin had been suffering with a multitude of ailments and passed away on 18th March. The Funeral is Alford Crematorium Station Road, Lincs. LN13 9LH at 3pm on 31st March, 2015.

30/03/15
A reminder that the Early Bird Discount for the North British Offshores now ends on 13th April.

04/04/15
Police Regattas, 2015 look like being on the quiet side.. Recent in-Force re-organisation.at Cheshire Constabulary has affected arranging their Dinghy Regatta which is now postponed until 2016.

The West Midlands Dinghy Regatta organisers have missed their usual springtime spot and may not therefore take place this year - but a decision one way or the other has yet to be made.


22/04/15
Paul Greenwood is now the club secretary for the West Yorkshire Police Sailing Section,

13/05/15

NORTH BRITISH POLICE & INVITATION SAILING CHAMPIONSHIP

SUNDAY, 7th TO SATURDAY, 13th JUNE, 2015

Update from Laura Davison:

The North British Police Sailing Championship is now just under a month away! Interest has been good this year with a lot of you taking advantage of the early bird offer. There is still time to enter, please let me know if you are hoping to attend so I can keep caterers up-to-date with numbers. I have attached the entry form and event description.

I know there are some forces who wish to attend but are struggling with availability of charter boats. If are struggling to find one please let me know so I can see if I can help. Likewise, if you know of any available or obscure companies, please let me know so I can pass this on.

A couple of people have approached me looking for berths, please let me know if you are looking for crew and/or if you are available to crew.

Could I please ask all those who have trophies from previous years to ensure they can get back to me in time for the event?

I hope all boats are back in the water with no issues and you are all managing to get out practising!

Please do get in touch if you have any questions.

Best Wishes

Laura

22/05/15

ICC - Interpol Coppers Cup Regatta Adria
19th - 26th September, 2015

The Interpol Coppers Cup regatta was first held in 1989 in the Netherlands, when a group of sailing enthusiasts Interpol in the Netherlands decided to invite sailors employed in law enforcement to a competition in sailing. The regatta has since been held every two years, the number of crews has increased from year to year. Most countries of the then EU and Australia have participated. Since 2003, the regatta was organized under the auspices of Europol, and in 2013 it was decided that the organizing would be taken up by the Slovenian team 'Ticve & Co' with the event taking place off the Dalmatian Coast.

Places for the regatta have been booked for some time but dependant on the success of this year's event and venue, the team will hold the Coppers Cup again in 2017.

There are 4 teams from the U.K. taking part this year.

The organisation has its own website for the regatta at: http://www.tikve.com/sl/content/coppers-cup/
18/06/15
A Report and results can now be viewed on the PSUK Offshore Championships page.

With entries so low in this year's event, the decision was to attempt to hold the PSUK Offshore Championships alongside World Police Sailing Championships. Tentative enquires are being made with the organisers of the World's and the final decision will be confirmed at the PSUK Sailing Section's AGM in London in September.
25/06/15
The NCA are holding their 5th Offshore Regatta on the Solent through Fairview Yachts from 1700 hrs Sunday 20th to Friday 25th September, 2015.

For further details of the event contact ncaregatta@gmail.com
13/07/15
From Sussex Police SC website:
The Bewl Valley Sailing Club has gone into Administration despite ongoing discussions with their landlord seeking to remedy their financial problems. Their premises closed as of Monday 13 July 2015.
The Sussex Police 2015 PSUK Organising Committee had no prior warning or notification of the closure of the Bewl Valley Sailing Club.
With less then eight weeks to go the Sussex Police Organising Committee are urgently seeking other venues.


22/07/15 - Message from the organiser:
"We now have confirmation that we can move the PSUK to Netley SC; dates remain the same. We are working with them to finalise the SIs and Notice of Races and will circulate them as soon as they are done. Entry fees will be the same as last year, with camping at £5 per night and a BBQ for the social on the Wednesday evening at around £10 per head.
Netley have also advised that they have three Toppa Xenons available to hire at £25 per day (or £100 if we take all 3)".
PSUK Sailing Section A.G.M.
From John Oldham, PSUK Sailing Section Secretary:
"Due to issues in CC Sara Thornton's diary I have had to move the AGM of the PSUK sailing section from the 16th September to the Friday 18th of September ( same time 10am) at 10 Victoria Street, London, SW1H 0NN."

06/08/15
Notice of Race also Entry Form & SI's now published for Avon and Somerset Constabulary Dinghy Sailing Championships on Wednesday, 2nd September, 2015 at Chew Valley Lake S.C.

London Emergency Services Offshore Championships
Sunday, 27th September to Tuesday, 29th September, 2015
Update: 13th August, 2015
Message from Jason Cranmer:
Dear all.

We have a total entry this year of two boats for the MPSC Offshores at the end of September. Therefore I will recommend to the MPSC Committee that the event is cancelled for 2015.

Regards,
Jason

19/08/15
The Notice of Race, Entry Forms & SI's are now published on the PSUK National Dinghy Championships page.


The results of the racing are now available on the PSUK National Dinghy Championships page
Next year's Police Sport UK National Dinghy Sailing Championships are now confirmed for 21-23 June, 2016 hosted by Dorset Police at Poole Yacht Club.

15/09/15
From Laura Davison:
"I can confirm next year's North British Police and Invitation Sailing Championships will be held between 6th and 10th June 2016.

I am still awaiting confirmation from some marinas but I will put out an event description in due course. I can confirm that we will be starting from Troon and finishing at Largs Marina".

07/10/15

National Offshore Championships 2016
This event will not be run in 2016 however the highest placed UK yacht from the World Police Championships (if held) will be funded to race for UK policing in 2017.

A skippers' meeting held during the recent International Copper's Cup Regatta in Croatia discussed the 2016 World Police Offshore Sailing Championships. Germany stated they were willing to stage the event but warned it would have to be at a colder time of year outside the expensive charter summer months. Franjo, the Coppers Cup organiser, said his committee were willing to hold the event. A skipper's vote confirmed that the preference was for the Croatia venue.

Keep an eye out on this website for details, Franjo is arranging for the charter of twenty Beneteau First 35's with spinnakers and the proposed date is 10 to 17 September, 2016.

See International Copper's Cup Regatta 2015 for a report, results, pictures in the 'Reports & Stories' section.
13/10/15

World Police Sailing Championships 2016

Info received from the Organiser, Franjo Stancin

Dear prospective competitor,

Some information is now available concerning the World Police Yacht Sailing Championships to be held in September 2016. Details are limited at this time but please take note of the following and act upon the information if you wish to compete:-

The subject of the Worlds and various venues was discussed at the ICCA Coppers Cup recently held in Croatia where the UK was represented by Bryan Tucker and his team from Dorset. Germany stated they were willing to hold the event if no one else came forward but warned that it would have to be held outside of the summer season as the charter costs would be prohibitive during summer months. Additionally the venue would be in Northern Germany and it would be cold!

Several of the Skippers present stated they favoured Croatia as a venue. Franjo Stancin (Slovenia) agreed to research this and stated he would report back.

Franjo has now identified two dates for the event 10th - 17th September 2016 or 17th - 24th September 2016 and has identified a fleet of 20 x 35ft Benetau First Yachts available for charter. At this time there are no exact details but generally you should assume the following;

Entry Fee: Will be no more than 3500 Euros (about £2,700 at current exchange rate). This price includes your boat charter, transit log, tourist tax, 5 dinners and a spinnaker.

Flights: Are an additional expense.

Venue: Dalmatia (In the vicinity of Biograd, Murter, Kornati).

Boats: Benetau First 35 with spinnakers. Note that these boats have a maximum crew of 6. Sleeping arrangements are 2 in forward cabin, 2 in aft cabin and 2 in saloon.

Please note that there are only 20 boats available.

What you need to do: Please complete the form of 'Initial enrolment' and send to frenks@gmail.com

Sending in this form does not give any right on participation. The organising Committee will confirm entries in October 2015. The official enrolment form and the first rate of the enrolment fee have to be submitted after this confirmation but before end of year 2015.
15/12/15

14th Police World Sailing Championships, 2016

Update from Franjo -

Dates now confirmed: 10th-17th September, 2016 - Venue: Marina Kaštela, near Split, Croatia.

Registration for the 20 boats that are currently available has been completed plus a few teams are on reserve lists waiting.

Half the fleet are teams registered from the UK.

The proposed itinerary plus further details can be viewed on the Organisers' website at:
A 'Look Back' on 2015 There were fewer Police Sailing regattas this year with the West Midlands and Cheshire unable to organise events. The Met Offshores planned for October also suffered through lack of support and was cancelled.
Thus the first event of the season was in May - the PSUK Offshores which had originally been planned to run on the Clyde. However, until it became apparent that yacht charter would be extremely difficult in the area and the venue reverted to the usual Solent and surrounding waters. There were 5 entries - drastically down on previous years. The Met Police were first and second and the two boats are going on to represent the UK at the World Offshores in Croatia next year
North British Police Regatta did run on the Clyde in June. 10 entries was well down on previous years. West Yorkshire won the event.
At the end of June the Metropolitan Police Sailing Club hosted the first London Emergency Services Sailing Championship at Stokes Bay Sailing Club with a view to increasing support. Sadly there were no other entries beyond the police forces but the new venue did attract 10 entries with the event being won by Nick Mason (Met)
Two days later the Dorset Police regatta took place at Poole Yacht Club and was also well supported with 11 entries. The (somewhat) surprising winner was Tony Hyland in a Laser, beating the Phantoms for once. Dorset will be hosting the PSUK Dinghy Nationals at Poole in 2016.
Sussex Police held their annual their dinghy regatta during the August school holidays which allows their Sailing Section to invite competitors from the host sailing club at Lancing and make the event viable. The first police boat was Ken Daniels.
At the beginning of September Avon & Somerset squeezed in their ever popular annual regatta, one week before the PSUK Dinghy Nationals. 14 boats took part and the event was won by Rob Jones (Hampshire).
Sussex also hosted the PSUK Dinghy Nationals. Originally planned to run at Bewl Water this event was obliged to move location to Southampton Water where Netley Sailing Club offered to hold the event at distinctly short notice. Nevertheless, 14 boats took part in the Laser & Single-handed event which was won by Simon Hawkes. The main Dinghy Championships attracted 23 boats and this provided another win for Fran Gifford & Pete Walker in a Merlin-Rocket.
With the Met Offshores being cancelled in October the police sailing season came to an end.
Apart from the PSUK Dinghy Nationals at Poole YC in June 2016, no other dates have yet been registered for next year.

A Merry Christmas & A Happy New Year
from Barnacle Bill..
See top of page for previous years' entries...