This page is dedicated to providing a convenient 'shortcut' to the latest circulations of news and information. . .

MPSC - News
'Info Update' Page
Content of this page is Copyright © 2017 Metropolitan Police Sailing Club, All rights reserved.
Further and fuller details are on the Met's own internet website
Dateline: 09-12-2017
Change of club line number MPSC:
The MPSC is currently changing the club line 02086434292 to a mobile number. The club line has now been disconnected and will be replaced with the
following number 07920799270 very shortly. We will update you when the new number is fully up and running, in the mean time you can contact the
club via the email mpsc@hotmail.co.uk.

Dateline: 26-10-2017
Notice of Annual General Meeting, 13th November, 2017:

METROPOLITAN POLICE SAILING CLUB LTD.

NOTICE OF ANNUAL GENERAL MEETING

The Executive Management Committee hereby gives notice that the Annual General Meeting of Metropolitan Police Sailing Club Ltd. will be held on:
Monday 13th November 2017 at 6.00pm
in the Ground Floor Conference Room (G1) at
New Scotland Yard, Victoria Embankment, London SW1A 2JL.

The meeting will deal with the usual business of the presentation of annual accounts, review of the past year, plans for the future, election of directors, awards of life membership and club colours and any other business. Importantly it is also your opportunity to ask questions about the way the club is run by the directors and influence planning for the future.

The Executive Committee is proposing the following special resolution to alter the Club's Articles of Association.

Under Article 3.3.1.1 Full membership of the Club is open to the following:
change Art 3.3.1.1.2 from 'retired members provided that they were a full member before their retirement' to 'retired members of the Metropolitan Police Service'

Under Article 3.3.2.1 Associate membership is open to the following:
delete Art 3.3.2.1.3 'retired members of the MPS who were not full members before their retirement, at the discretion of the Executive Management Committee'.

Explanatory note – at present retired MPS members who were not members of the MPSC prior to their retirement may only be admitted to Associate membership paying a higher subscription rate than Full members and not vote at an AGM nor hold office. This proposed change will allow all retired MPS members to be admitted to Full membership irrespective of when they join the MPSC. A special resolution requires a 75% majority of Full members attending to be passed

At least seven days' notice must be given in writing to the company secretary of motions to be included in the agenda of the annual general meeting or of persons wishing to stand for election to the Executive Management Committee. Please note that only Full members are entitled to stand for office or vote on any resolution or motion proposed. Associate and Family members are still very welcome to attend.

At the AGM all MPSC directors are required to retire from office on the Executive Management Committee but all are eligible for re-election. Five directors will be seeking re-election, however two directors, Jason Cranmer (Vice Commodore) and Gary Pankhurst (RC Cruising) will be retiring from office at the AGM and Victor George (RC Works) resigned from office on 31 July 2017. Other than the five directors seeking re-election all nominations for director must be notified in writing or by email to the company secretary at least seven days before the AGM.

In order that answers can be properly researched it would be appreciated if any questions to be asked of the Executive Management Committee were also notified to the company secretary with at least seven days notice.

Any notification as above must be sent to the Company Secretary, John Bailey, on mpsc@hotmail.co.uk or by post to MPSC, PO Box 308, Brockenhurst, SO42 7XR

The minutes of the last AGM and the club accounts to be presented at the meeting will be available to view or download from the MPSC website at www.mpsc.london (on useful documents page). Members are encouraged to print their own copies of these documents to bring to the meeting; some copies will be available at the meeting.

Following the AGM light refreshments will be available.

Retired members attending and others requiring visitors passes are requested to notify the Company Secretary as above at least 7 days prior to the meeting.

THIS IS YOUR CLUB – PLEASE ATTEND TO PLAY A PART IN SHAPING OUR FUTURE.

John Bailey 16th October 2017
MPSC Ltd. Company Secretary
Dateline: September -2017
As some of you are probably aware, Phil Onslow, the long standing Operations Manager for the club recently retired from his post as operations manager.

The MPSC and would like to advertise a new paid position; please find details on the MPSC website for MPSC Club Administrator.
Dateline: 04-07-2017
July Newsletter:
Well summer is here and I know that because Wimbledon Tennis is starting. I hope that doesn't signify some wet weather
If you're quick, there is just time to book a place on our Day Skipper weekend which is a chance for those who have completed their Day Skipper but are looking to build a bit more confidence before they charter. We have a club skipper who can help you along and give you some good advice. That also applies to powerboating.

We've some new course dates and places on our autumn cruises..

I've also included a reminder of the process for booking courses, cruises and yacht charter which we try to make as easy as possible for you.

Thee are some guidance references for those using Cowes where changes have been made to the chain Ferry and for Portsmouth where changes have been made to the entrance channel. Neglect these at your peril.

Round the Island Race
This is an awesome event with over 1300 yachts taking part from top notch sailors to families and friends wanting a day out.

Pride took part in the annual Round the Island Race last weekend and was skippered by Gareth Granville with a relatively inexperienced crew. They completed the course and came a creditable 27th in class, 129 in group and 513 overall. Well done to Gareth and his crew.

New Courses
In response to demand we have organised further practical and shorebased courses. Details of availability for the Day Skipper or Competent crew are as follows
Competent Crew or Day Skipper
16th to 21st July - One place
20th to 25th August (New date) - 2 places

Our September and October courses are full but if you are interested in dates during these months then please let us know and we'll put you on a waiting list if places are cancelled or further courses are arranged.

Day Skipper Shorebased
We're running a Day Skipper shorebased course starting at 9am on Saturday 23rd September in our dedicated classroom at Hamble. This 5 day course also includes a free days sailing and accommodation during the course is provided. The cost is just £299.

How to Book our Courses, Cruises and Charter
We have a range of activities but all are easy to book.

Online courses - Just complete an online booking form from the 'Training' menu and we'll send you the details and link to get started.

Courses and Cruises - Phone the club line 020 8643 4292 to ensure availability. We then hold a place for up to a week to give you a chance to complete the online booking form from the cruising or training menu.

Yacht and Rib Charter - Very similar to the courses and cruises except availability is available on a page on the website so in most cases you can just complete the online booking form from the charter menu and that's it all sorted.

You can pay for our courses and other activities by internet banking or online by credit/debit card through our secured server. If you want to pay by cheque, we'll not turn you away but......what century are you in??

Remember that our clubline is always there to give you help or advice and steer you towards getting the most from your sailing or other activity.

Cowes Harbour - Notice
With the new chain ferry, there are also changes to the clearance for passing vessels. I've included below a link to the Cowes Harbour Notice which gives details of the current situation and anyone going there would be well advised to read it. I'd like our yachts back with the same keel they left with please!!
http://www.cowesharbourcommission.co.uk/local_notice_to_mariners_no_15t_of_2017

Yacht Charter
There is plenty of availability for our yachts (some would say too much) and we can nearly always cater for short notice bookings. Their availability is shown on the charter page of our website.

Southampton Boat Show
This is undoubtedly the premier boat show and a great opportunity to look at boats and kit as well as do a bit of networking, meet some old friends and generally have a great day out. We've just heard that once again there will be a special promotional offer on tickets for members. Details will be published on our website shortly and will be included in next month's news.
Good Sailing to All
Dateline: 13-06-2017
June Newsletter Update:

A couple of developments since our last newsletter so here's a quick update on some recent happenings.

There is an appeal from our Vice Commodore for help running the PSUK Dinghy Championships, a couple of new courses scheduled, a helicopter rescue from Blue Spirit and the sad news that Keith Bateman who was one of our longest serving members passed away last Friday.
Sad News
It is with great sadness that we learned over the weekend that Keith Bateman had passed away and we send our condolences to his wife and family. Keith was an experienced sailor when I joined the club back in 1990 and anyone who has met him cannot fail but admire his knowledge and enthusiasm for all types of sailing. He raced our first yacht 'Counterpoise' and was an accomplished astro navigator teaching shorebased classes for the MPSC. He was also an active dinghy sailor and was often seen taking out his Wayfarer dinghy to all parts of the Solent from our base in Hamble. An inspirational sailor and above all a true gentleman, he will be sadly missed.

PSUK Dinghy Championships
The Metropolitan Police Sailing Club is hosting this years Police Sport UK Dinghy Championships from the 27th to 29th June 2017 at Stokes Bay Sailing Club near Gosport in Hampshire.

Due to the recent events, volunteers have had leave cancelled and now the Vice Commodore is looking for assistance in running the event both on the water and to assist with a BBQ on the evening of Wed 28th.

If you have any Powerboat skills or experience, or wouldn't mind helping in the evening, please can you email Jason.Cranmer@met.pnn.police.uk


New Training Opportunities
Due to some increased demand, we have scheduled further training courses.

We have an additional practical course for Day Skipper or Competent Crew starting on Sunday 20th August at 5pm. The Competent Crew is suitable for novices and those with little experience, whilst the Day Skipper Practical teaches you how to take charge of a yacht in familiar waters. For the latter course you should have completed a minimum of 5 days at sea covering at least 100 miles and have completed the Day Skipper shorebased course or have equivalent knowledge. The cost is £399.

We have an additional Day Skipper Shorebased course starting at 9am on Saturday 23rd September. this is of 5 days duration plus an additional 1 day sailing and will be run from our classroom at Hamble. Accommodation is provided and the cost is £299.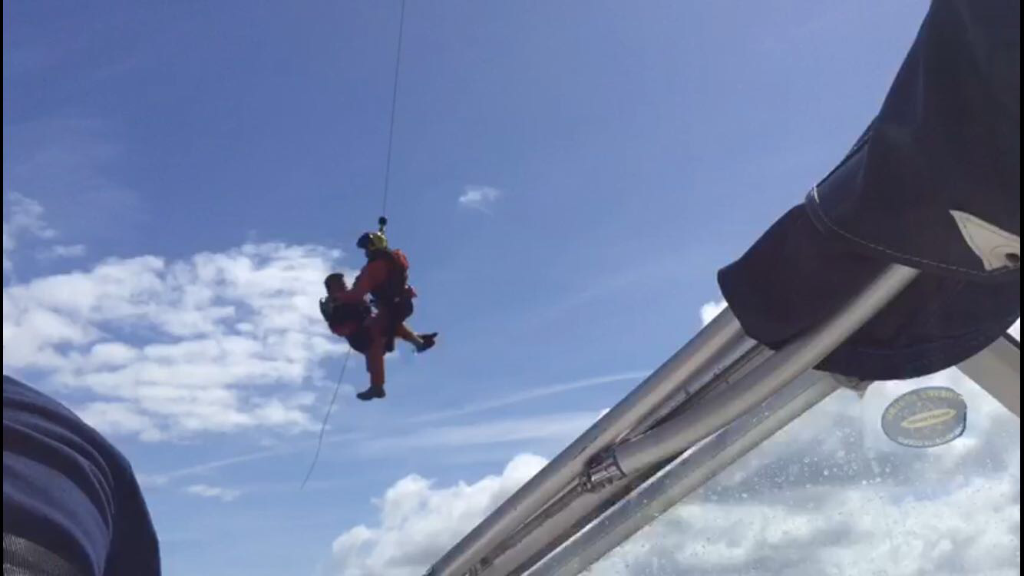 Helicopter Rescue
Great credit must go to Nigel Verrill and his crew for their prompt, professional and efficient action when rescuing a man from the Solent recently. They came across a kayaker in the water in the middle of the Solent off Beaulieu. They recovered him out of the water and recognised that he was suffering from hypothermia. A call to the coastguard and a hi line transfer of the casualty to the helicopter ensured that he received prompt hospital treatment and the feedback from the coastguard was that he had probably save the man's life. His hypothermic condition was advanced and a few more minutes in the water would likely have proved fatal. This is all the more notable as it was Nigel's first charter of the yacht and was out for a weekend with his family after recently completing one of our Day Skipper practical courses. So it's a big well done to:-

Nigel Verrill
Rose Verrill
James Cattermole
Russell Thompson

Details of all our activities can be found on our website at www.mpsc.uk.com.

Good Sailing

MPSC
Dateline: 01-06-2017
June Newsletter:
Well summer is certainly here and I have been lucky enough to be out on the water quite a lot to enjoy it.

See below for some information about our forthcoming club skipper weekend where we'll try and help you get on top of the skills necessary to charter yourself. We've not done this before so we need your support and we hope you get lots out of it.

On the theme of keeping up involvement, there's information on our Instagram account below so that you can see some of the things you've been missing in the lovely hot weather!

We've also some valuable property in our possession for which we need to trace owners.

Current details on course, cruise and charter information is also shown.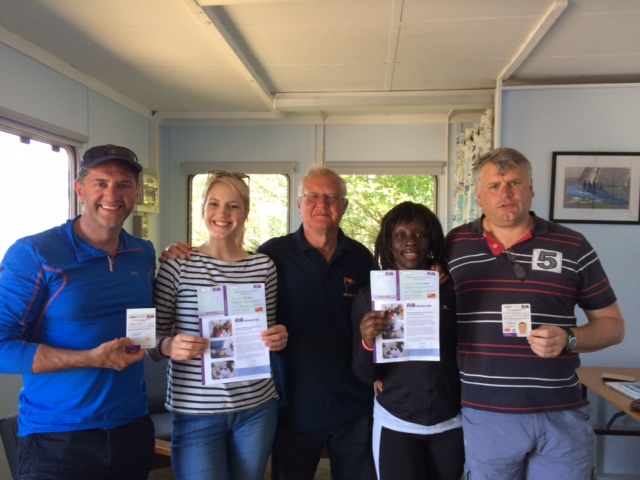 Congratulations to Nigel Verrill, Rose Verrill, Aritha..... and Craig Robinson on successfully
completing their Day Skipper and Competent Crew course

Club Skipper Weekend - Only £30 per Day

This is a two day club event held over the weekend of 7th to 9th July and is open to all club members, who are Day Skippers or L2 Powerboaters.

The focus is on those who feel they need some more experience before chartering by giving them an intensive input by club instructors.

You'll be starting early on the Saturday morning, which is the main training day (Sail and Power) with both practical and theory workshops throughout the day alongside a club instructor/skipper.

The day will finish with a BBQ in the evening with accommodation provided onboard the yachts.

Sunday will provide an opportunity for the members to take the yachts out with only the five Day Skippers onboard, armed with the knowledge gained from the one day refresher.

Each skipper will complete a short but complete passage. You will depart from a pontoon, sail a short route before returning to the mooring & handing over to the next skipper.

This weekend is designed to provide a safe environment to hone your skills and gain the skills to take that massive step towards chartering by yourself.

The cost has been kept to an absolute minimum and I think you'll agree it's a bargain at only £60 for the sailing (Sat & Sun) and £30 for the powerboaters. (Sat only)

There are only 10 spaces for yachts and 5 available for the powerboaters, so please book early.

Racing and Cruise Vacancies
We've had some great cruises this year already but there's lots to come. In particular we have the Round the Island Race in just over a month and still some opportunities to take part in this awesome event along with 1,500 or so other boats. It's quite an experience but we need to know asap if you're interested.

Another great event is our Cowes Week Fireworks Cruise. This has a great fireworks display on the Friday evening which last year was preceded by a simply mind blowing air display and I don't use those words lightly. This year there is also the opportunity to see the start of the Fastnet Race on the Sunday so all round a great opportunity.

Yacht Charter
We have a reasonable amount of charter availability including some dates which have only recently been released so see the diary on the website which is up to date. I've received a number of very favourable comments about the yachts after their significant refit with varnishing, new cushions and a lot more. They really are good value at the moment. All it takes is a quick phone call to the clubline and an online booking form.

Online Training
We offer a number of online courses but those most likely to interest you will be the Essential Navigation and the SRC Radio. With the demands on time of modern living, attending a course of evening classes or devoting a couple of days can be a bit of a challenge. The benefit of these courses is that you can complete the courses at your own time, at home or in the office or even on the train there and back. It doesn't have to be done in one go so you can make use of every minute of your time. They're often cheaper than the classroom as well.

Instagram
I know that more and more people are using Instagram now in fact some refer to it as the educated persons Facebook. It's certainly less cluttered and its a great avenue for us to be able to show you photos and videos from recent club events and it's not at all intrusive. There are some photos and videos from the last Day Skipper an Competent Crew Course put up recently. You, your friends and family can find us listed as mpsailingclub and keep up to date with what's been going on.

Website and Emails
We try to keep you up to date and an important part of this is our website. We've had some problems recently so please bear with us. We think it's all up and running now and will be updated. It's also important that we have your correct email. Please show our email address as one of your safe or trusted list. It's getting more and more difficult to send mails due to firewall and other restrictions which become more inhibiting as time passes. This is especially so with Gmail so please add us to that list.

Harbour Photo
Last month I challenged you to name the harbour in the photo and asked where I was when I took it. For those interested it was Newtown Creek, but I took it from the top of the mast. Some brave and strong people winched me up there. Apparently they're still recovering.

Property Found
We're in possession of a few items and looking for owners.
Firstly, we still have a dinghy in our compound, I think it's an RS Vision, which is covered and on a trailer. It's been there for some time but we've no idea who it belongs to. If it is yours, can you get in touch with us. There's no problem with it other than we need to know who's it is.
On one of the yachts we've found a drone. Of course it may have just landed there accidentally except that it was wrapped up in a case and put on one of the lockers so probably belongs to one of our charterers or their crew. If it belongs to you then do get in touch and you can have it back. By the way, I like New Zealand Sauvignon blanc.

Crew List
Just a quick remainder to anyone who is looking for crew, we have a page on the website dedicated as a crew list. I've been approached a couple of times recently by people looking for crew so I hope you find it useful. Similarly, if you want to go on the list, visit the page and it gives you directions.

Items for Sale or Wanted
Are you selling or buying? whichever, if you want to advertise something on our website, we have a market place where you can do so free of charge. Yes, there are still a few things free in this world.

Anyway, Good Sailing and Fair Winds

MPSC
Dateline: 08-05-2017
May Newsletter:
Dear All

Hopefully some summer weather will rush up on us in the near future and we'll have some great sailing as well.

I was sent an interesting story which I've copied below which demonstrates so vividly the relationship between time and location. It's a good read and it's contents certainly made me smile even allowing for a bit of poetic licence.

Some of our courses are getting booked up and some courses and cruises have sadly been cancelled. Can I issue a plea to book as early as possible as it makes it so much easier for us to cater for the things you want.

The photo below shows our Principal Carol Andrews returning after taking out some prospective new members on one of our Introduction to Sailing Days.
I see that we have managed to provide her with 6 white fenders....although every one is different. Now that's quite an achievement.
Training

Practical
Start Yachting 17th to 26th May
Day Skipper or Competent Crew - 21st to 26th May (Further dates on the website)
Day Skipper or Competent Crew (Women Only) - 4th to 9th June

Whilst our rib is still for sale, there are plans to retain a powerboat facility and we're still able to offer powerboat level 2 training.
Rib Level 2 - 17th and 18th June

Shorebased
Sea Survival - 14th May

We also offer a range of online courses including:-

SRC Radio
Essential Navigation
CEVNI
Professional Practice and Responsibilities (PPR)

Cruises

Jurassic Cruise 16th to 23rd June - This is a pleasant and relaxed cruise along the south coast with no set itinerary save some enjoyable sailing.. It's suitable for those with little experience and those who have some sailing miles and days under their belt who want to gain further experience.

Round the Island Race - 30th June to 2nd July. This is one of the high spots of the year and we like to fill as many places as possible. The spectacle of 1500 or more yachts sailing from Cowes around the Isle of Wight is well worth seeing. It is suitable for all levels of experience, you don't have to be a hardened and experienced racer to take part in the fun.

Cowes Fireworks - 4th to 6th August. This is one of my favourites and I often skipper one of the yachts. The Friday has a fantastic fireworks display preceded last year by some fantastic aircraft displays.
A Freak of Navigation??

The passenger steamer SS Warrimoo was quietly knifing its way through the waters of the mid-Pacific on its way from Vancouver to Australia. The navigator had just finished working out a star fix and brought the result to the master, Captain John Phillips.

The Warrimoo's position was LAT 0 degrees 31' N and LON 179 degrees 30' W. The date was 30 December 1899.

"Know what this means?" First Mate Payton broke in, "We're only a few miles from the intersection of the Equator and the International Date Line".

Captain Phillips was prankish enough to take full advantage of the opportunity for achieving the navigational freak of a lifetime. He called his navigators to the bridge to check and double check the ship's position. He changed course slightly so as to bear directly on his mark. Then he adjusted the engine speed.

The calm weather and clear night worked in his favour. At midnight the SS Warrimoo lay on the Equator at exactly the point where it crosses the International Date Line.

The consequences of this bizarre position were several.

The bow of the ship was in the Southern Hemisphere and the middle of summer. The stern was in the Northern Hemisphere and in the middle of winter.

The date in the aft part of the ship was 31 December 1899. Forward it was 1 January 1900.

This ship was therefore not only in two different days, two different months, two different years and two different seasons, but in two different centuries – all at the same time.

Quite an achievement.
---
Membership
We've always been an inclusive club and friends and family have been able to sail with you on private charters. A few years ago we spread our wings slightly and made membership open to family and bona fide friends so they can join and take part in our full range of activities rather than just accompany you. As an associate member they're not allowed to vote at AGM etc., (I'm sure they'll fight back the tears of disappointment) but in all other ways they can fully participate. If you do have friends or relatives who are interested then do encourage them to join and use our excellent facilities.

You can continue your sailing club membership after retirement (or even join for the first time) and for many that's a great time to sail. If we had been collecting your subs from pay then you have to tell us to transfer them to your pension as they're not transferred automatically. It's quite painless and all it needs is a short email.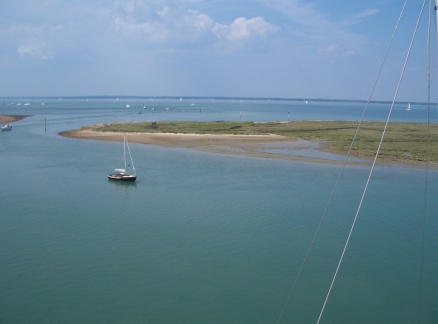 So your question this week is in 2 parts. Where is this and where was I when I took the photo. Answer next month.
Clubline - 020 8643 4292

Internet - www.mpsc.uk.com

Facebook - MPSC

Twitter - @mpsailingclub

Instagram (new) - @mpsailingclub
Dateline: 04-04-2017
April Newsletter:
As I write this, they say the temperature may reach 22 degrees today. Now that's definitely sailing weather.
Lots to choose from in the coming months both on the training front and the charter/cruising side and as usual I've highlighted below some of the activities which occur in the next few months, but as always, look to the website for full details.



Taken on a recent club cruise, the ladies look pretty chilled and relaxed and seem to be enjoying the experience.

Practical Training
Our practical courses have started filling in fact some are fully booked but there are spaces on the following.
Competent Crew or Day Skipper - 23rd to 28th April

Competent Crew or Day Skipper - Women Only - 4th to 9th June

Mile Builder Course 14th to 18th May
Dates for courses later in the year including powerboat courses are shown on our website

Club Cruises
Our Earlybird cruise went really well with two yachts out on a dry weekend and a good time was had by all. Of course I'd love to give you more details but what happens on board stays on board but you can see some photos on our Instagram account @mpsailingclub.

We have spaces on the following cruises
Vice Commodores Rally 5th to 7th May - There are spaces available on the club yachts but of you are a boat owner, why not bring your boat and crew along and share what in the past has always been a good time. You need to let us know that you're coming though.

Guernsey Liberation 5th to 12th May. A great opportunity to get a few miles under the belt, visit some lovely islands and join with the festivities of the occasion

Newcomers Cruise 14th to 16th May - A wonderful opportunity to do some gentle cruising gain some confidence and experience and of course meet and socialise with other members. I think I may have to skipper this myself. Sounds like my type of sailing.
Shorebased Training
Day Skipper - We have an Intensive course which is 5 days in our Hamble classroom and a free days sailing scheduled for 21st to 26th April 2017. This is a great opportunity for those relatively new to sailing who want to start to gain their qualifications. The cost including accommodation and a free day sailing!!

Sea Survival - I can't emphasise enough how great this course is. It includes some time spent in the swimming pool with a liferaft, some time learning the practicalities of 'floating' with your lifejacket and of course an opportunity to fire some flares which is also pretty eye opening. above all, whilst one would hope the need to use these skills never arises, it has the power to save your life.

Radar - Such a valuable electronic aid to navigation and collision avoidance. With the current trend to wards plotters and AIS, the benefits of radar are often overlooked. Whilst the other devices tell you where you are and often where some of the others shipping and hazards are located, a radar helps you avoid them but to do so effectively some knowledge is required. This one day course will give you that knowledge.

Metropolitan Police Athletic Association
Over the years, the sailing club have received huge support from the MPAA who have provided the facility for us to purchase our Hallberg Rassy yachts and supported some of our running and safety costs. Their contribution cannot be under estimated and they continue to be supportive. The only funding stream they have is the football lottery and we would strongly urge members especially those who benefit from the cheaper charter rates of our yachts to take up 2 shares in the lottery. You never know, you might win and be forced to thank me over a pint or two. The forms to apply are in the useful documents page of our website.

Club Survey
Keep an eye out in the near future for our survey. The directors are keen to ensure that they represent the views of the members and so a survey will shortly be distributed and I'd ask that you make a special effort to complete it and contribute to the future of the club.

Crew List
I've been approached by a few members recently looking for crew and they weren't aware of the crew list available on our website. To join, simply complete the online form and we can add you to it and if you're looking for people to make up a charter crew, simply phone up those on the list and make arrangements directly with them. It couldn't be easier.

Items for Sale
We also have a page where you can list items for sale and wanted. For inclusion, just send us the text of the advertisement and a photo or two and we'll put it on the page. You can view the page under the 'Market Place' on our website.


Hot Pursuit - For Sale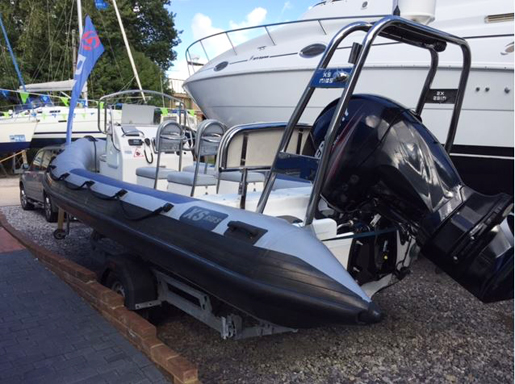 As many of you will know, our rib is sale and whilst the winter is never a good time to sell ribs, we're hoping the summer will enable us to move things forward and find a new owner for it. The above couple of photos give you an indication of what she's like and there are many more on our market place page together with a fuller description but suffice to say her that she was professionally valeted to put her on the market and the engine has been recently serviced. The road trailer is included.
Whilst a charter facility still awaits us selling the rib and purchasing a replacement vessel, we are still able to run powerboat courses. Full details are on our internet site.

Contact Information
Keep yourself informed with what's going on using our information feeds as shown below.
Website - www.mpsc.uk.com
Facebook - MPSC
Twitter - @mpsailingclub
Instagram - @mpsailingclub

The summer is nearly here so I hope you have a great time on the water.

Kind Regards and Good Sailing

MPSC
Dateline: 01-03-2017
March Newsletter:
March is a great time to shake off those cobwebs and get sailing. My wife likes it as well as I don't seem to get under her feet so much with frequent sailing trips and she says I'm certainly less grumpy. Don't know what she means.

Well the yachts are about to be launched so a big thank you to those members who gave up their time to come down and help out. . Those who come along for the first time are often surprised at how much they learn about how a boat works.

There's still a chance to get a place on our shorebased Day Skipper course next month and I must highlight the Sea Survival course as unmissable and great fun and it could save your life one day.

The Vice Commodores Rally is one of our premier events and it's an opportunity for those with boats to bring them along and have a good old get together on the water (or in the pub) We don't seem to do enough of that. If you're a boat owner and are interested in coming along then give us a ring on the clubline and we'll give you further details and reserve you a place. Berths are of course available on the club yachts.

Some news below about daily charters and discounts for longer charter periods.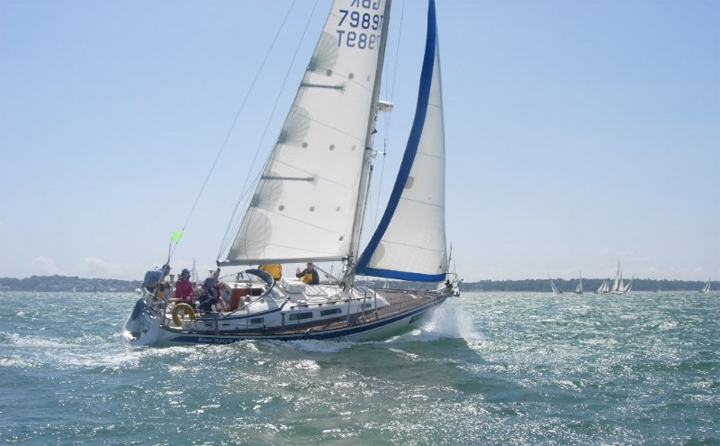 Training.
The season will be starting in earnest soon and some of our courses are already booked. We've the following over the next few months.

Practical
Day Skipper or Competent Crew - 2nd to 7th April
Close Quarters Boat Handling - 9th to 11th April
Day Skipper Skills - 19th to 21st April
Day Skipper or Competent Crew - 23rd to 28th April
Day Skipper or Competent Crew - 7th to 12th May
Start Yachting 17th to 26th May
Day Skipper or Competent Crew - 21st to 26th May
Day Skipper or Competent Crew (Women Only) - 4th to 9th June

Shorebased
Day Skipper Shorebased - 22nd to 26th April
Radar - 8th May
Sea Survival - 14th May
Start Yachting 17th to 26th May

The sea survival course teaches you skills you hope you never need but which have the potential to save your life. There is a 2 hour spell in the swimming pool which gives you the opportunity to see a life raft up close and personal and an opportunity to let off some flares which is quite an experience in itself.


Cruises
A busy spring and early summer cruise programme starts this month. Our Earlybird is full but there are places aboard the club yachts on most of the other events.

Our Vice Commodores Rally runs from 5th to 7th May. It is open for members to book places on our club yachts but we also invite in fact we encourage those members who own boats to come along and join the flotilla and share in the festivities.

We normally start with a bbq at Hamble on the Friday evening and after a sail during the day, there is a team meal in the evening. After last year's event, members asked for more sailing so the outline plan is a sail to Cowes on Friday evening and holding the cruise meal at Bembridge on the Saturday. How many of you have been there then? To book your place on our club yacht, get in touch on the club line or email a booking form and if you want to bring your own boat, let us know asap so that we can make arrangements for mooring.

A little more adventurous is our Guernsey Liberation Cruise from 5th to 12th May which involved channel crossings so makes a great mile builder and great to improve your experience.
| | |
| --- | --- |
| Club members at a working party putting the Furlex back together before launching | They say you should repair the roof whilst the sun is shining - well done Ross. |
Daytime Charters and Seven Day Charters
We like to think that we respond to what the members want and a couple of points in relation to yacht charters.

If at short notice you want to charter the yacht for a day, morning to evening, we can often arrange this. All that's needed is a phone call to our clubline and payment and any paperwork can be sorted out using our online booking forms.

If yachts are chartered for a 7 day period, we don't charge the weekend rate for the Saturday and Sunday, it's just 7 days at the daily rate which we hope makes it a bit more affordable.

Working Parties
A big thank you to those who came down to our working parties to help get the yachts ready for the new season. Thanks also go to Ross and Carol from our Ops Team for the time they spent often in the cold to ensure things can run smoothly for the forthcoming season.

Thinking of Retiring
Retirement is a great opportunity to get more sailing done and of course membership can continue after you retire. If you pay your subs from pay, they're not automatically carried across to pension so we need a short email from you and we can make the necessary arrangements

Also don't forget that we welcome family and friends who can take up associate membership and make full use of our great facilities.
Dateline: 01-02-2017
February Newsletter:
I love it when I start to notice the days getting longer and that is certainly the case now so time to plan sailing for the year. We.ve lots of opportunities and aim to provide something for everyone, but if you have an idea for something we don't do then please let us know. It is your club after all.

As well as highlighting below our courses and cruises, there's important information regarding support for the MPAA as well and another important item by Vic George who is our RCW and is still looking for volunteers so please read to the end - you know you want to.

Collision Avoidance - VHF Radio and AIS
Electronics on yachts are fantastic provided that they are working and we know how to use them properly. There has been some concern recently in relation to how sailors, are using VHF Radio and AIS in relation to collision avoidance. Unlike radar these are not included in the collision regulations and there have been instances of collisions where their use has been a contributory factor. Now I'm certainly not saying don't use them, but do use them properly and with care. Often a visual identification is a much better option. If you're interested to know more then MGN 324 has just been reissued by the MCA and there is an article by the RYA on their website and circulated to members.

I came across this photo the other day which was taken at the naming ceremony for Phoenix of Broadway when she was new. So how many of the people there can you name. Three of them are still members and Phoenix is currently for sale (See below).

Forthcoming Courses

We've so many training opportunities during the early season that I know I'll send you to sleep if I list and describe all of them, so I've done a description of the main ones and a bulleted list of the others. If you have any queries about any of them please have a look at the website or give us a ring as we're here to help you.

RYA Day Skipper Shorebased
This an intensive 5 day shorebased course with the addition of a 6th day sailing. It's a great way to start learning how to be a yacht skipper and teaches you about navigation, safety and general seamanship. The dates are 22nd to 27th April. Accommodation ashore at Hamble is provided and the cost is just £299.

RYA Start Yachting
This does what it says on the tin and is a great way to dip your toe in the water of sailing without taking the plunge fully. It's a 2 day course where you'll live aboard the yacht and learn some of the basics of sailing. At just £149 all inclusive it's terrific value.

RYA Day Skipper Practical
This is a 5 day course for those who can sail a yacht and haf either completed a Day Skipper shorebased or have equivalent knowledge. You'll live aboard for the duration of the course and visit many of the Solent harbours and whilst you will learn more than you envisaged possible, you'll also have great fun.

Other Courses
•First Aid - 26th February - £69
•RYA Sea Survival - 14th May - £95
•Diesel Engine - 25th March - £69
•Radar - 7th May - £69
•Practical Day Skipper Skills - 19th April - £140
•Yachtmaster Skills - 13th August - £140
•Practical - Close Quarters Boat Handling - 9th April £140
•Online - SRC Radio
•Online Essential Navigation
•Online CEVNI (European rules for inland waters.
•Online - Professional Practices and Responsibilities (PPR)
As always we're happy to chat over your requirements if you want to sail but not sure of which courses are for you. Don't hesitate to give us a call on the clubline.020 8643 4292.


Club Cruises

Earlybird
This is a short 2 day cruise which will keep within the Solent and the emphasis is on having fun. It's a great way to shake off some of those winter blues and get you back in the groove of sailing for the season. It's suitable for all levels and is a great way for novices to get an introduction to sailing. The dates are 5pm on 17th March till 4pm on 19th March and the cost is just £115.

Vice Commodores Rally
This is one of our premier events and is focussed on a good and social itinerary. Members and guests are able to book places on our yachts with a qualified skipper in charge, but we really welcome those members who have yachts of their own who want to come along and enjoy the festivities, either by themselves or guests are of course welcome. Details are yet to be finalised but there is usually a bit of a gathering on the Friday night with the possibility of a barbeque with the sailing starting on Saturday. The evening is set aside for a team meal, often with a bit of a theme and in the past, it has certainly been great fun. The dates are 5pm on Friday 5th May till Sunday 7th May and the cost of places on club yachts for members and guests is £125.
Further details will be published when arrangements have been finalised.

Guernsey Liberation
This has been a great success over the last 2 years so we're repeating the opportunity this year. It involves a bit more sailing and is an opportunity to get a few miles under your belt and gain the experience of a channel crossing. Of course as usual, there are some festivities to be had in Guernsey to celebrate their liberation after the Second World War. In the past, we've had a few members boats join this one as well and there's been a great atmosphere. The dates are 5th to 12th May and the cost is £400. A great opportunity to improve your skills and have fun at the same time.

Newcomers Cruise
I remember as a new sailor (yes I have a long memory) the sense of awe in the presence of those more experienced and at times this can be a bit intimidating for some. For those with little sailing experience, we have arranged a Newcomers Cruise which is only open to those relatively new to sailing. The pace will be set to slow and you can learn and gain experience as you go in a fun and friendly environment. the dates are 14th to 16th May and the cost is £120
Phoenix of Broadway now pending her sale. I'm sure many members will have happy memories of her.
Keeping In Touch With Members

We're very keen to keep you informed about what's going on and in particular any sailing opportunities or interesting events and we do this in a number of ways.

We keep this news mail to once a month as many people don't appreciate their inbox being regularly filled up.

Our website is the most comprehensive and has all our sailing programme together with many reference documents that we hope will assist. We post some short notice opportunities on the opening page. There's a link to our site at the top of this page.

Some things come up at short notice and can't wait for the next news mail so we like to post them on our MPSC Facebook page for you. You can get to this by clicking the Facebook icon at the bottom of this mail and if you 'like' our page, and we'd urge you to do so....., you will receive updates but trust me they're limited to club events and sailing activities or opportunities which we feel may be of interest. You won't be flooded with peoples posts or regular chit chat., so if you are on Facebook, come aboard and like our page.

We also have a Facebook group that you can apply to join and when accepted you can receive the regular chitchat from members that I know some love, in fact you can even contribute and add to it.

If you tweet, or want to, then we also have a twitter feed. You can get to this by clicking the icon at the foot of this mail and if you follow us then we'll get opportunities and events to you even faster.

Links to Facebook and Twitter are also on the opening page of our website, right at the top.

We need your photos. Gareth Granville who is our marketing director is looking for some photos that he could use now or in the future on marketing initiatives for the club. If you're able to help then please send them to the club email and I will pass them on or to his work address gareth.granville@met.police.uk. He did mention that if he gets enough, he may consider a prize of some sort for the best one.

Metropolitan Police Athletic Association

The MPAA have been immensely supportive of us over the years and I'm sure will continue to do so as far as they are able in the future. It is important that we pay our part and I would encourage everyone to support them by joining the Football Lottery which supports the MPAA. It also gives you the chance to win something from the £10,000 prize money given out each week.

To join the lottery, complete the form available in the Useful Documents section or our website.

Yacht Works

Finally - A Message from Vic George our Rear Commodore Works

Dear All,

Thanks to all those that have already responded but we have now set the three February work dates that were most popular and where we would most like help. 4th & 5th March already set for re-loading yachts.

They are:-
Monday 6th February
Saturday 11th February
Tuesday 21st February

Re-load days (refit kit back on boats at Pontoon)
Saturday 4th March
Sunday 5th March

If we could be cheeky and ask if you could help out on more than one date, that would be great in particular we need more help on 11th February.

Our return to you is a big thank you of course, but we will provide tea/coffees etc to help work along as well as either a lunch up to £10 at Watersedge (or £10 towards if choosing sirloin!!!??!) or a voucher to the value of £30 to use against a charter of a club boat in 2017. You can choose on the day/days?

If you can get back to me (RCW) by 1st February of any date or dates you can do and I will arrange brief Joining Instructions to be sent out. Meeting time will be 9 am or as soon as you can make it in the Broadway Base at the Hamble with a brief from one of the Ops Team.

If with short notice you become available (even day before), please get in touch with us at the MPSC Club Line on 020 8643 4292 or e-mail mpsc@hotmail.co.uk to get your name added to our list and to get some brief joining instructions and we will welcome you with open arms.

Thanks again from the MPSC,

Vic George
Rear Commodore Works
---

Good Sailing to you All

MPSC

Dateline: 01-01-2017
January Newsletter:
Welcome to 2017 and on behalf of the club can we wish you all a very happy and prosperous 2017 with lots of sailing.

Shown below are some of the early season cruises and training opportunities which we hope you will find of interest.

Do remember to check our website regularly for up to date information and details of any short notice sailing opportunities or discounts that we may be offering

Working Parties Required
Pride and Blue Spirit are currently out of the water and in need of their winter refit and below is a message from Vic.

Volunteers are required to assist working parties on any date between 6th and 28th February 2017. It's an opportunity to learn how some of the things on the boat work by doing some winch or heads servicing under guidance.
No special skills required just willing to work for about 5 hours, subject to weather. Top sides need washing down, polished, rub down old anti-foul and paint on new anti-foul on hull. All materials provided and lunch at Watersedge, Mercury as a' bribe', no thank you. Choose any date between 6th and 28th February, drop me an e-mail or fb message me of your availability on any day. Your day and task will be co-ordinated by a team leader and I will narrow down dates of when most are available. I will get back to you personally on the final group of dates decided.
Volunteers will also be required on 4th and 5th March to load kit, sails etc. onto the yachts once they have been launched,

Vic

Course and Cruise Bookings
Below are details of some early season courses and cruises. If you're interested in any of these, our booking procedure is very simple. First telephone the clubline 020 8643 4292 to ensure that place(s) are available, then complete the online booking form on our website. It's very easy. You can make payment by credit or debit card (there is a small surcharge for credit cards), or you can pay using online banking. We still accept cheques if you really want to.

Day Skipper Shorebased Intensive
We have 2 courses planned in the new year. These are residential at Hamble and consist of 5 days in the classroom followed by a free days sailing. The cost including the RYA pack, accommodation and free sailing is just £299.

Competent Crew Practical
If you're interested in learning to sail from scratch or even with a little experience, then the 5 Day Competent Crew course is a good starting point. You'll live aboard the yacht for 5 days (usually Sunday evening till Friday afternoon) and learn all the basics from one of our RYA qualified instructors. Our course schedule begins on Sunday 2nd April and the cost of the course is £399 which includes all food, fuel and moorings aboard and use of the club wet weather clothing.

Start Yachting
The Start Yachting course is also an entry level course for novices and those with little or no experience. Again it teaches you the basics but is just a 2 day course and broadly covers the first and most important part of the Competent Crew. The cost for the two days is £149 which again is all inclusive.

If you complete the Start Yachting course, you can complete a subsequent 3 day Competent Crew Conversion.

Day Skipper Practical
Once you can sail and have completed a Day Skipper shorebased or have equivalent knowledge, the next stage is the Day Skipper practical. Another 5 day course, this teaches you how to apply and put into practice those skills needed to take charge of a yacht in familiar waters during the day. Completion of this course also entitles you to obtain an ICC (International Certificate of Competence) which is a worldwide qualification. The cost of this course is £399. See website for calendar of dates but they start on 2nd April.

Diesel Engine
Many of the calls to the RNLI are caused by mechanical breakdown and this one day course is designed to help you increase your awareness of how a diesel engine works and a few simple steps that can often get you out of trouble. You don't need to be mechanically minded or a petrol head to complete this course, it's suitable for almost anyone. You'll learn on a real diesel engine which we have mounted on a trolley. The cost is £65 which includes the RYA pack and it's held at our classroom at Hamble. Course Date - Saturday 25th March 2017.

Sea Survival
This is a great course and the skills you learn can save your life. Based in Hamble the course include some classroom teaching but also provide for 2 hours in a swimming pool with lifejacket and life raft where you'll learn some essential skills. The day also provides an opportunity for you to let off some flares and gain an understanding the difficulties sometimes encountered.
One of the most eye-opening courses on offer!
The cost is £95 and the only date for next year will be Sunday 14th May 2017.

Online Courses
We offer a range of online courses. One of the advantages to these is that they enable you to complete the courses at a time and at a speed which suits you. They can usually be done in a series of 'sittings' so you don't have to set aside a lump of time in one go. In many ways, they're one of the future ways of learning and have the added benefit of often being cheaper. You can revisit something you're not clear about and of course you can do them from the comfort of your own home.
There is of course suitable support provided for these courses if you get into difficulties. Courses currently available are:-
SRC Radio

Essential Navigation

Professional Practices and Responsibilities (PPR)

CEVNI (International Inland Regulations)
If you're interested in doing one of these courses, you don't need to pick up the phone, just complete an online booking form and we'll send you the link and instructions.

Club Cruise - Earlybird
Our cruising programme should be the reason we go sailing as it's all focussed on the fun side of sailing. Of course you'll learn and gain experience but never forget the reason we go sailing is to enjoy ourselves. Why not kick off the season with our Earlybird Cruise which is Solent based and is open to all levels of skill and experience. It runs for 2 days from 5pm on Friday 17th March 2017 and the cost is £115.

Crew List
Our website has a page dedicated to members who are looking for crewing opportunities. If that's you then simply go to the page and complete the simple form to go on our list. A great place to make contacts and build up the sailing miles and experience.

Wanted and for Sale or even Reuse or Donate
If you've items that you want to sell or give away to a useful home then we also have a page dedicated to that. An email to the club mail address is all it takes.

Keep In Touch
Do keep in touch with us after all it is your club so let us know what you think or want. You can contact us using our dedicated email from which this was sent or you can speak to a real person on our clubline 020 8643 4292. don't forget to check the front page of our website which has a series of regularly updated posts about what is happening within the club.
Now that you are a member please join our group, 'MPSC Members & Friends' to share your experiences, photos and knowledge with other members. We also have a 'MPSC' page for updates from the team. Simply search for us using the above terms. If you 'tweet' you can follow us @MPsailingclub.

AGM and Committee News
The club needs your help. We've a board of directors who meet and take the strategic decisions, but they need deputies and helpers to make the work smooth and manageable. Many of those who keep things going are currently retired and in particular we need younger members and members who are still serving. If you go to the 'Company Info' tab at the top of our webpage you will see who does what, but in essence we need your help in a number of fields. In particular, we need a serving volunteer who has access to the MPS Aware system to help us with some work we're doing updating contact details and ensuring that the information we currently have is accurate. Please mail us on the club mail if you can help - we need you!


Content of this page is Copyright © 2017 Metropolitan Police Sailing Club, All rights reserved.



---
Previous entries pertaining to this page:
1st September, 2005 - 1st December, 2009
2010 - 2011 - 2012 - 2013 - 2014 - 2015 - 2016
Club hotline: 020 8643 4292 Email: mpsc@hotmail.co.uk