This page is dedicated to providing a convenient 'shortcut' to the latest circulations of news and information. . .

MPSC - News
'Info Update' Page
Content of this page is Copyright © 2016 Metropolitan Police Sailing Club, All rights reserved.
Further and fuller details are on the Met's own internet website
Dateline: 03-12-2016
From Phil Onslow:
So it's welcome to cold December. In this issue, a fantastic offer on London Boat Show tickets, some early season courses and cruises and some information from our AGM. Don't forget our Musto discount which could solve some of your Christmas present decisions, even the present you may want to buy yourself. They're often the best presents.

Full details of all our activities can be seen on our website. If you have any queries then don't hesitate to phone our clubline.

London Boat Show 6th to 15th January 2017 - Discounted Tickets
We have a fantastic offer on London Boat Show Tickets which is basically a buy one at the promotional price of £12.50p, you can get another ticket completely free. We have been asked by the organiser to take all possible steps to ensure that details are only available to MPSC members so we're not able to put details on our internet or Facebook pages, but if any member emails a request to me at our club email address I will send you access details. If interested then please get back to me asap as the tickets have to be ordered in advance.

Shorebased Training - Day Skipper
We have a Day Skipper Shorebased course running from 18th to 22nd February 2017 with a free days sailing on 23rd. The course fee of £295 includes the course pack and accommodation.

Shorebased Trailing - Yachtmaster
For the more advanced student, we are running a yachtmaster shorebased course at Imber Court over 3 weekends. The dates are 7th, 8th, 21st and 22nd January and 4th and 5th February. The cost is £279 which includes the course pack.

Earlybird Cruise
Our Earlybird cruise is usually popular and we try to get as many yachts out as possible. For 2017 the dates are 17th to 19th March. I know that some members have booked this already so if you're interested get your place reserved soon to avoid disappointment.

Musto Discount
December brings thoughts of Christmas and if you want to take advantage of our great discount and order and Musto goods, maybe for presents, we will happily give you a quote or place an order. Again, contact our club email.

Annual General Meeting
Congratulations to our new board of directors elected to manage the club for the next 12 months. Portfolios haven't been agreed but those elected are:-
Jason Cranmer
Alistair Mills
Helen Brown
Gary Pankhurst
Rick Earle
Martyn Potter
Victor George
Gareth Granville

Thanks and congratulations also go to Sean Phillips and James Hulme.
Both have been great supporters of the club over many years and were awarded Club Colours.
The photo above shows James receiving his but unfortunately Sean wasn't able to attend.
Powerboat Activities
Our rib is currently for sale so there is little to update you on this front. Details of any powerboat activities will be published as soon as future arrangements are confirmed.

Finally can I wish everyone a very Merry Christmas, a happy and prosperous new year and good sailing in 2017.

MPSC LTD
Dateline: 01-11-2016
From Phil Onslow:
So the clocks have gone back and the evenings draw in but the mild weather is enough to keep my interest in sailing going. See below for our deal on winter sailing.

It's AGM time soon so why not go along and have your voice heard,.

Also important, the charter dates, cruise programme and course dates are now published. See below for more information.

As always there are lots of things that need to be done and we need your help to do them. Can you spare a bit of your time for some of the things outlined below.

Don't forget the AGM Monday 14th November at 6.00pm at Lambeth Support HQ.

Programme of Sailing 2017
Our sailing programme for 2017 has now been published on our website and we're taking bookings for yacht charter, training courses and cruises during 2017.

There are no price increases to our charter rates!!

TRAINING PROGRAMME
Our practical course programme for this year includes a mixture of shorebased, practical and online courses.

I always say that training is never an end in itself, but a means to make your pleasure sailing safer and more enjoyable and the great thing is that no one has been everywhere, done everything and knows it all so there is always somewhere else to go and something else to learn. Whether you're a complete novice or a yachtmaster, we'll likely have something for you and if we haven't then do let us know what it is and we will help if we can. Have a look at our training pages on www.mpsc.uk.com and see what takes your fancy. We are taking bookings now!

Practical Training
Our programme includes the usual spread of Competent Crew and Day Skipper and later in the year we're running a Coastal Skipper course and an Exam prep to help you attain the Yachtmaster Offshore or Yachtmaster Coastal qualification.
We're also running a 2 day Start Yachting course which is ideal for novices. It's also a great opportunity to get a few friends together, go sailing and enjoy yourself whilst learning. We always get great feedback from these courses.
We supplement the RYA training with some of our own 2 day courses including Close Quarters Boat Handling as well as Day Skipper Skills and Yachtmaster Skills to enable you to keep those skills alive.

Shorebased Training
Early next year we have shorebased courses at Day Skipper level and also for Coastal Skipper/Yachtmaster level.

Yachtmaster - We have a weekend course running at Imber Court over the weekends of 7th and 8th Jan, 21st and 22nd Jan and 4th and 5th Feb 2017. See website for further details

Day Skipper - We have an Intensive course which is 5 days in our Hamble classroom and a free days sailing scheduled for 18th to 23rd February 2017. This is a great opportunity for those relatively new to sailing who want to start to gain their qualifications. The cost including accommodation is just £295.

Online Courses
The winter months provide a great opportunity to complete one of our online courses. We can offer a number of these but can I highlight the Essential Navigation course and the SRC Radio courses. The Essential Navigation is great for occasional users such as power boaters, fishermen etc., who don't need a detailed knowledge but enough to keep safe on the water.
To book these courses, you don't even need to phone, just complete the online course booking form and we'll send you the details and the necessary login.

Club Cruises
The last club cruise of the year is this weekend to see some fireworks and a glass or two may pass my lips during the weekend. Next year has a varied programme and it's strictly first come, first served. If you're new then we've some short Newcomers cruises, if you're looking to build miles we have a couple of mile building cruises and if you want a good working holiday with lots of fun then we are continuing with our Bastille cruise which has been so successful in the past.

Annual General Meeting
Our Annual General Meeting will be held on Monday, 14th November at 6.00pm at Lambeth Support HQ. full and associate members are always welcome and I'd encourage you to go. Only full members may stand for election or vote.

Help Wanted
We're always looking for help to run the club and to assist generally. If you want to be a director, then you have to have your nomination in by 7th November. You don't have to be a director to help and each of our directors needs a deputy to help him or her and we need more people to get involved. It doesn't have to be onerous and if lots of people can help a bit each that would be great! The more help we can get, the better the club can run and the better the service to members.
So....if you can help either on a one off basis or by a bit of regular help, either practical or on admin or organisational work then please get in touch. If you want to talk about what is involved, we don't bite so give us a call on the clubline 020 8643 4292

Hot off the press, the 2017 season sailing clothing is now available. Alternatively, you can order from the Musto range through the club and get a discount of around 25-30%. Ideal for Christmas presents. (Oh dear, I mentioned the 'Christmas' word and it's still early November)

Special Charter Rate for Winter!!
From 1st December till 28th February, we are offering Sapphire, complete with heating at the special price of £100 per day or £250 for a weekend and bookings can usually be taken at short notice. What could be better than that.

Booking Procedure
Booking all or our activities, whether course, cruise or charter is very simple now. Phone the clubline 020 8643 4292 to check availability. We can reserve a date or place for you for 5 days so you can gather friends or crew if necessary and then just complete an online booking form. Even the MPSC has moved into the 21st century and we accept payment by online banking or direct on the site using credit or debit cards. There is a small surcharge for credit cards but not for debit cards. What could be easier.

Website Development
I'm also hoping to develop our website to get the information a little more timely and also to use it as a resource centre a bit more. We frequently put posts onto the front page covering recent items such as events or crewing opportunities and achievements so try to have a quick look on a regular basis.

Crew List
We've a growing number of people on our crew list and whilst sailing opportunities are probably thinning down a bit, why not get your name on it so you're prepared for next year.
Go to our website at www.mpsc.uk.com and you'll find the link to the crewlist. Simply fill in an online form and your name is there.

Market Place
Another new feature, our market place page enables you to advertise articles for sale or wanted and I know a couple of ads have gone on there and been sold already so it does work. again, just go to the page and it's a simple process to include your article.

Good Sailing

Phil
Dateline: 04-10-2016
From Phil Onslow:
Welcome to autumn and hopefully there is still time for some great sailing. As usual, we've lots of information below on our regular club activities so do take a few minutes to read about what's going on.

Can I highlight the two articles on our new web features relating to a crew list and a market place page to buy and sell items.

It's too good outside now in this lovely autumn sunshine so it must be time to get out on the water.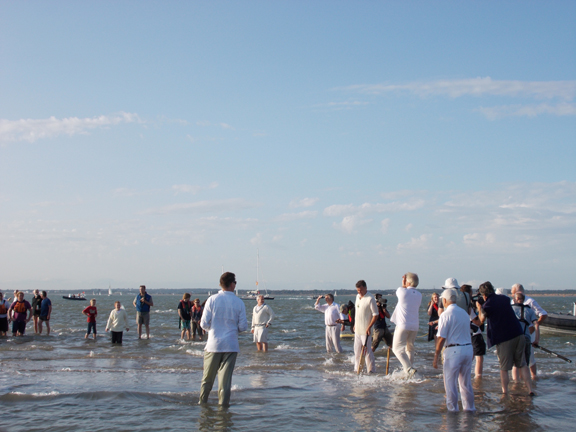 Correct me if I'm wrong but there seems to be a bit of moisture in the pitch of this cricket match.
I'm sure those well versed in the vagaries of willow striking leather will tell me
whether a seamer or spinner should be used.
Practical Training
We've still a place for someone who is keen and enthusiastic and wants to do their Competent Crew or Day Skipper practical as the last place of the year is on our course starting at 5pm on Sunday 23rd October.

Club Cruises
We still have a place on our Laying Up and Fireworks cruise from 4th to 6th November. The cost of this cruise is just £110 and it looks like we'll have all three yachts available. I have to declare that I love the autumn cruises and always like to get on them myself if I can. The Solent isn't crowded and you don't have to book moorings or restaurants and provided the sailing is done is short bursts if it's cold then great fun is always had by all. Perhaps I'll see some of you there?

Shorebased Training
We're currently putting together our programme for next year but there are some courses that have been firmed up already.

Yachtmaster - We have a weekend course running at Imber Court over the weekends of 7th and 8th Jan, 21st and 22nd Jan and 4th and 5th Feb 2017. See website for further details

Day Skipper - We have an Intensive course which is 5 days in our Hamble classroom and a free days sailing scheduled for 18th to 23rd February 2017. This is a great opportunity for those relatively new to sailing who want to start to gain their qualifications. The cost including accommodation is just £295.

Achievements
Congratulations go to our Vice-Commodore Sean Phillips and Mark Deacon for passing their Yachtmaster Coastal certificate of competence recently. With the sailing world asking more and more for qualifications getting certificates is never wasted but above all, it's a great achievement so well done to both of you.

The Future
In a couple of weeks, the directors will be having their annual get together where they lock themselves in a closed room for the day without food or water and talk endlessly about the various options to take the club forward into 2017 and we don't let them out till they come up with a plan. Some people have suggested they're still there from 2 years ago but that's not true.
On a serious note, they do need to have your ideas and views for the club and your preferences for what sort of things you'd like done whether it be cruising venues, themed cruises, training options or even yacht options, it you don't tell us then they won't know. Don't think of it as being critical and if you've taken part in something that you really enjoy or you find one of our services very good then let us know. A quick email is all that is needed and I can ensure that they get your views.

Now I've seen some strange rigs in my time but just what rig is this
and should he be displaying a motoring cone? I'm sure there
wasn't enough wind to give him speed with just those sails.
Crew List
Last month we started a crew list and I know that some of you have signed up for it. It's a great chance to get some sailing experience and meet new members as well. You can select the crew list page from the menu on our webpage and then complete a registration form which should take you about 45 seconds and you're there.

All skippers and charterers should also note this facility as I'm often asked if I know anyone who can crew at short notice.

Market Place
Another new feature, our market place page enables you to advertise articles for sale or wanted and I know a couple of ads have gone on there and been sold already so it does work. again, just go to the page and it's a simple process to include your article.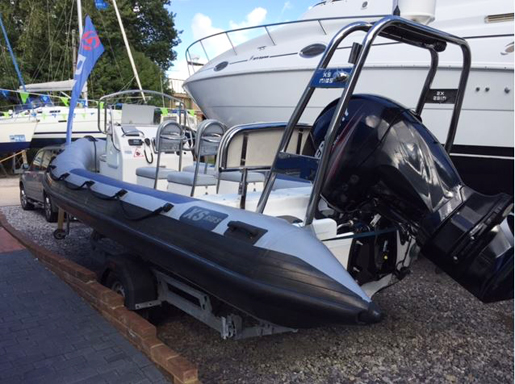 As many of you will know, our rib is currently for sale whilst we look at alternatives for our powerboating activities. The above couple of photos give you an indication of what she's like and there are many more on our market place page together with a fuller description but suffice to say her that she was professionally valeted to put her on the market and the engine has been recently serviced. The road trailer is included.
Well that's all for now. I was thinking of running a little skills article now and again to cover some of the regular problems we come across sailing. I thought a bit about mooring lines when rafting as the situation is rarely like the books say and there are a couple of neat solutions to help. So tell me your problem and maybe we can do a feature on it.

Fair Winds and Good Sailing

Phil
Dateline: 13-09-2016
From M.P.S.C.:
I hope you are all managing to make good use of this exceptionally good September weather. Just a couple of updates for you which are important

WORKING PARTY - This Weekend
We really need as many people as possible to help us on this working party. It covers both days but you don't have to do both and you don't need any special skills other than a sense of humour and a willingness to help. Start time at Hamble is 9am but if you can't make it till a bit later that's fine. We need to keep the base and yachts in good condition after all the work (and money) over last winter getting them up to scratch. James Hulme our Rear Commodore Works will be so pleased to see you. Please make it if you can and wear old clothes.

ROPE PULLERS WANTED - 25th to 30th September - £28 per day!
We have a couple of spaces for rope pullers on one of our RYA courses later this year. Start time is 5pm on Sunday 25th September and the course runs through till Friday 30th. The cost is just £140 which includes all food, fuel and moorings which is pretty exceptional value really for 5 days sailing. Phone the clubline 020 8643 6424 or email us if interested.

YACHT DISCOUNT
We have yachts available for the first weekend in October - that's starting 5pm on 30th September. Mid season rates come into effect then but we're making a special offer of any yacht for £350 for the weekend. That's great value especially if you split it between 4 or 5 of you. If you wanted to extend the weekend, we can offer 20% discount on any additional days added to that weekend. That's so good, I might even take it up myself. Phone the clubline or email us to reserve a yacht.

SEPTEMBER CLEAROUT SALE
OK well technically this is not a sale, not yet anyway. We need to clear the base cabins of members gear which is beginning to mount up and we need the space for our yacht kit. Can I ask that anyone who has personal kit in the cabins at Mercury remove it by the end of September or seek authority from the Ops Manager to continue storing it there. After September....well we may well have a sale after all or there is always the skip the other side of the car park. We're trying to get things as orderly as possible so please help us with this.

UNKNOWN DINGHY
On our slipway there is a very nice dinghy on a trailer that someone asked to park there. That's not a problem except we need to know who it belongs to in case it needs to be moved for any works etc. so if it's yours please get in touch.

Dateline: 31-08-2016
From Phil Onslow:
Well it's nearly September the start of autumn after what I'm sure most will agree was a 'mixed' summer. Hopefully we've still got some good sailing to come and I have to say that I far prefer it away from the school holidays where every mooring and meal has to be booked in advance. We've details below on late season cruises, a new market place on our website and also a club crew list. I've also included an update on the woes which hit Sapphire during August and details of discounted tickets for the Southampton Boat Show.
Base Working Party
It's important that we keep our yachts and base in good order and as usual we're asking for your help. We have a working party on 16th and 17th September and if you can help that would be very welcome. We'd like to know in advance that you're coming so that we can schedule the work to match the numbers turning up so if you're able to assist give us a ring on the clubline or drop us a mail to let us know.

Day Skipper and Competent Crew Practical
We have space on courses for Day Skipper and Competent Crew for the 5 days beginning at 5pm on Sunday 25th September and Sunday 23rd October. The Competent Crew is suitable for a novice whilst there are some pre-course requirements for the Day Skipper. They are priced at £395 which includes all food, fuel, moorings and accommodation on board throughout the course. All safety equipment is provided as well as use of our club wet weather clothing.

Day Skipper Shorebased
The October course is now full but there are spaces on the first course next year which will run from Saturday 18th February for 5 days with a free days sailing on 23rd February at the end of the course.

Yachtmaster Shorebased
We're running a Yachtmaster Shorebased course over three weekends at Imber Court

SRC Radio and other Online Courses
The demands on members time has never been higher (he says having just asked for working party volunteers) but did you know that you can do an increasing number of courses online. The advantage of these is that you can do the course from the comfort of your own home, work or even train if you have a connection, and they can be done in bite-sized bits.

Probably the most common is the SRC Radio which we can offer. It not only makes sense to have the qualification if you go out on a boat, it is sometimes a requirement and even if you're part of a crew, wouldn't it be so much more inclusive if you could use the radio yourself rather than get someone else to send any messages. I know as a skipper, it's great if there is someone else aboard as it saves me being down below and away from what's happening.

Particularly useful for ribs, fisherman and other casual or workboat situations is the Essential Navigation course. This can be done as a 2 day course but can also be done online and focuses on the key basic areas of information required.

If you're interested in enrolling, no phone call is necessary. just complete our online form and you'll be sent the course information and login details.

SRC Radio Assessment
If any members have completed the course, either online or through a classroom course and need an assessment then we have arranged one for Sunday 25th September at 9.30am at Cobalt Square. Phone or mail the club to reserve your place.

RIB Sale
Our rib is currently for sale and offers are invited from members in the region of £24,000. She is a 6.5m XS rib purchased new in 2013 and is fitted with a 150hp Mercury 4 stroke engine. She is fitted with a chart plotter, VHF, Echo sounder and log. She has been professionally valeted and now looks like a new rib and comes complete with cover and road trailer. For further details contact Rick Earle on xxxxxxxxxxx .
Club Cruises
Most of our cruises were earlier in the season but as always we have a laying up cruise at the start of November from 4th to 6th. I usually like to do this myself and this year is no exception and hopefully we will get at least 2 yachts and hopefully 3. Of course that depends on you. The cost is just £110 for the weekend and is a great way to round off the year with some short sails and maybe some long beer. You never know.

Crew List
I sometime think that as a club, we don't interact enough and one of the most common difficulties we have is crew looking for skippers and skippers who would love to charter the boat but don't have access to a ready made crew. Well want no more as I'm just putting together a webpage on which you can publish your details if you're interested in crewing. Great for those of you who have just completed a course and the burning question becomes, how can I go sailing again. We'll keep the details to a minimum and it can be an opportunity to sail with other members and gain more experience. You can register to go on the list directly from the website.

Items for Sale
We've introduced an items for sale page to the site so if you have any boats, boating equipment or items that you feel may be of interest to members then email details to us and we will include it on the page. We can publish a photo provided it's not too big....and of course it's free (Ebay eat your heart out). the same procedure applies if there's something you're looking to buy (or even rent). I'm sitting here waiting for the flood of ads to come my way.

Facebook and Twitter
Of course these items all require communication so don't forget to like our MPSC Facebook page. It's the one with the photo of a Hallberg Rassy 34 as I know some have had difficulty finding it in the past. I've probably neglected it a bit recently but by liking it you'll get the latest information in the future. It would really help us if you like the page and you will also be one of the first to be informed about sailing and other opportunities.

The same applied to our twitter of mpsailing club. I sometimes get short notice crewing and other opportunities and these are great ways to pass that information on. I'm always happy to post for other members on either feed if you've got something which may be of interest.

Now here's a little encouragement. I'm just waiting on 3 Southampton Boat Show tickets. The first 3 people to like us on Facebook or follow us on Twitter can each receive a free ticket, I am the last of the big spenders you know.

Southampton Boat Show
I believe that this is the premier show in the UK. London isn't what it was and is great for many things but for size quantity and variety of boats and equipment this is great. As an MPSC member you can get discounted tickets.
Dinghy at Broadway Base - But Whose is it??
We have a Vision Dinghy at the base in Hamble and we don't know who it belongs to. Can the owner please contact us by mail or on the clubline 020 8643 4292. No problem with it, but we need to sort out some details.

Good Sailing to you All

Phil
Dateline: 10-08-2016
From Phil Onslow:
Just a short note as there are a few short notice sailing opportunities which may be of interest.

Introduction to Sailing
We are running introduction to sailing days next week which are mainly there for non members to have a go at sailing to see if they may like it and be interested in joining the club. It's essentially a 9am till 5pm day starting at Hamble and we provide a buffet lunch. The normal cost of these days is £40 but one of those booked with her son is not now able to come and take her place on Tuesday 16th August. If you know of anyone in your office department etc. who may be interested then they can phone the clubline to book.

Close Quarters Boat Handling
We have a close quarters Boat Handling course from 25th to 27th September. This is great for building up confidence for berthing and un berthing which are most peoples areas of worry.
To book, telephone the clubline asap.

The forecast is great for the next few days - fair winds for all those lucky enough to be going out on the water.

Kind Regards

Phil Onslow
Dateline: 02-08-2016
From Phil Onslow:
Dear All

Well happy summer holiday to you all - all we need is some long hot summer weather to make it a good year. It's about half past summer and a long period of hot and balmy weather must be overdue by now.

In this issue, there are details about our courses and cruises (no change there I hear you say) but we've also got a great charter discount offer and an opportunity for some who want to do more sailing in support of the club.

There's a short notice cruise vacancy in a couple of weeks and another a week later from a member who has a private charter.

There's also a bit of a reminder about eligibility for membership which is open to friends, family and many more.

It's also time to think about the autumn activities and there's some details there of late season activities.

I came across the picture below. We didn't have enough water for showers on that passage so one of the crew decided to improvise. Now that's initiative,


Yacht Charter and Bank Holiday Offer
There's still some availability to charter our yachts this year and we're making a great offer for the Bank Holiday at the end of August. If you charter a yacht for the weekend (5pm Friday 26th till 4pm on Sunday 28th) then we'll let you keep it for the Bank Holiday Monday as well. So come on, get the family sorted or phone a friend and make a booking.

Day Skipper Shorebased
We've arranged a Day Skipper shorebased course using the intensive 5 day format with a days sailing at the end of it. This is an elementary course in basic seamanship, navigation and meteorology, suitable for beginners and people with little experience in yachts. The course starts on Saturday 22nd October and runs through till the following Wednesday with a free sail on Thursday. The cost of £285 includes the RYA pack and accommodation in the mobile home next door. Places are limited to 4 students so book early to avoid disappointment.

Day Skipper and Competent Crew Practical
We've a few practical courses set for the rest of the year. Competent Crew is a course suitable for a novice or those with little sailing experience whilst the Day Skipper Practical is suitable for those who have done some sailing and who have either completed the shorebased course or have equivalent knowledge. If you're not sure about which course is right for you then do give the clubline a ring and we can talk you through the requirements in greater detail. Our early September course is full but we have spaces on our courses beginning 25th September and 23rd October. Cost is £385 all inclusive.


Cruise Places
Cowes Fireworks - Due to a late cancellation, we have a place available on our Cowes Fireworks Cruise. This is usually a great weekend which starts off with a Friday evening sail to Cowes to watch what has always been a spectacular Firwwork display to mark the end of Cowes Week. The rest of the weekend is taken up with some gentle boozing and cruising or whatever else the crew want to try. As skipper of one of the boats, I can assure you it will be fun.

Newcomers Cruises - We have two cruises specially suitable for novices and those with little sailing experience. They are from 16th to 18th September and 18th to 20nd September and they each cost just £120. They'll be very gentle cruising fun and a great way to gain some experience and build some confidence and whilst it's certainly not a training course, you can learn some basic sailing skills from the very hands on nature of the cruise.

Laying Up Cruise - this is our final cruise of the year and runs from 4th to 6th November. We usually get a good turnout for this and manage to run a couple or even three yachts and by keeping the sailing short and simple we have a good time. It usually coincides with some firework displays which are always good to watch from the cockpit a yacht with a cup of tea or possibly something a little stronger to give some refreshment. It costs £110.

Sailors Wanted
Over the years we have run so many successful cruises and courses and much of the credit for this must go to the skill, enthusiasm and character of our team of instructors. Well, how would you like to be part of that team and support your club. We are looking for members who are Yachtmaster - Coastal or above who are willing to come aboard and help. It does mean that you may have to do some more sailing without having to pay for it but I hope that's a cross you are willing to bear. If you're interested in what's involved then contact the clubline or phone Carol Andrews who is our Sailing School Principal. It's a great way to develop as a sailor and you are supported in your endeavours and we're proud of the fact that many of our instructors have started off their training within the club.

Associate Membership
Don't forget that membership is open to family and friends as well as other emergency services and yacht clubs. Joining is very easy now and can be done by completing the online form on the 'Join Now' page of our internet site.

Crew Opportunity
Alec Tubridy who is one of our members is looking for crew for a social weekend sail from 19th to 21st August. If interested he can be contacted on ( )_

Good Sailing

Phil
Dateline: 26-06-2016
From Phil Onslow:
Dinghies for Sale
Just a quick message to let you know that our RS Vision dinghies are currently being advertised on Ebay should anyone be interested. In the interests of fairness, all bids must be made through the ebay site, we can't take any outside this forum.
One to note for the future, we will also be giving details of our discounted boat show tickets offer in the next newsletter.
Just a bit of a heads up in relation to future training courses and if anyone is interested in Day Skipper Shorebased, Day Skipper Practical or Competent Crew practical, then please get in touch as we're looking to plan our later summer and autumn programme.
Kind Regards
Phil
Dateline: 13-06-2016
From Phil Onslow:

Well time flies by, it's June already but the sun is shining although could do with a little less rain. You know what they say though, "No such thing as inclement weather only inappropriate clothing". I shouldn't complain having just come back from 13 days on a boat spent mostly in the West Country and we were blessed with good weather. I suppose that as someone who is supposed to be retired, every sunny day spent away from the water should be a wasted day, but I seem to do OK. There are still plenty of opportunities to charter our yachts, often at short notice so have a look at the availability of our yachts on the website. They are looking good and Sapphire now a shiny new engine to keep her going.

As usual lots of information below including some great value waterproofs that the club is offering, an update of course and cruise availability and an enqury from a member who is looking for a skipper for a 2 day sail next week.

I got a number of mails the last time I asked you to name a location from a photo so here's another one but a little more difficult. Can you name this lovely harbour? Answer next month.


Skipper Wanted
Austin Sherlaw-Johnson who is one of our members is looking to complete a 2 day sail on one of our yachts from Sunday 19th till Tuesday 21st June. He's not qualified himself and is looking for someone who can skipper the boat for him. If any of you are able to do so, then please contact him direct.

Cruises
There's space on the Cowes Fireworks cruise as we have 2 boats, in fact I'm doing that one myself, Later on, and of particular interest to the newer member, is our Newcomers Cruises which are scheduled to run from 16th to 18th September and 18th to 20th September. They're ideal opportunities for those who are relatively new to sailing to gain some knowledge and experience without the pressure of a training course.

Training
There is a short pause over the height of the summer in our RYA training programme to make the yachts more available to charterers. The next courses for Day Skipper or Competent Crew will be 4th to 9th September and then 25th to 30th September.

Facebook
We currently have a Facebook page which enables us to make you aware of some developments within the club and in particular any short notice sailing opportunities and from time to time, we have advertised discounts on this so it's in your interest to like the page and then you'll receive info direct as it happens. Rick Earle has also set up a page called MPSC members which you can use to discuss charters, seek advice, share photos and possibly find crew.

Yacht Charter
Having just spent some time on one of our yachts, I always have a feeling of Pride that we have access to such fantastic facilities. Not many places charter Hallberg Rassy yachts, as they're such well made and subsequently expensive yachts to build and buy. Of particular their ability to after you when the weather turns a bit for the worse. We've quite a bit of charter availability for the rest of the year so have a look at the online availability. Even the newest yacht at the peak of the season can be as little as £50 per person per day

RIB Sale
Sadly our rib has not managed to generate the interest we had hoped for and at the last meeting the directors took the reluctant decision to sell by the end of the season. We are looking at alternative ways to provide members with powerboating opportunities and these will be published when they are finalised. If members have any views or ideas that they feel we should take up in this area, then do drop us a line or get in touch in some way. We're keen to hear your views.

Dinghy Sale
Also with regret, the decision has been taken to sell the dinghies we currently keep at Island Barn Sailing Club and to discontinue our membership there. Unfortunately the facilities weren't being used.

Sale of ex-MPSC wet-weathers to members
Following our recent stock review of Club Musto wet-weathers there are a limited number of serviceable jackets and salopettes that are being offered for sale to MPSC members. All garments are red Musto Breathable BR2 Offshore and vary between 6-8 years old. All items show some signs of wear, however, all are serviceable and have been laundered and re-proofed for the sale. Sizes range from Small through all sizes up to XXL. There are nine full suits in matching sizes and three separate items.


The jackets are for sale at £30 and the salopettes at £20 each (RRP for new BR2 Offshore is jacket £249 & trousers £199)

If you are interested in any items please email your size requirements to mpsc@hotmail.co.uk. One set (2 items) per member will be allocated on a 1st come 1st served basis. If any member requires more than 2 items or just a single item their bid will be considered when the offer closes on 20 June and any remaining items will then be allocated.

Successful bidders will need to pay in full by debit or credit card within 5 days of being notified & will then be sent a voucher to present and collect the goods from the Broadway Base at Hamble by arrangement with a member of our Operations Team. Those attending soonest will be able to select from the available stock in their chosen size.

Any enquiries should be directed to John Bailey on mpsc@hotmail.co.uk.

Till next time, good sailing and enjoy your time on the water.

Phil
Dateline: 09-05-2016
From Phil Onslow:

Summer has truly arrived and what a fantastic last few days it's been. The Vice Commodores Rally seemed to be a hit and you can see some photos on our Facebook Page.

We've had great feedback from those who have chartered our refurbished yachts. It's amazing what a bit of varnish can do.....oh and a lot of rubbing down first!

We've an update below on cruise and course availability below as well as a chance for someone to skipper a yacht for a week to assist another member.

Don't forget to check our yacht charter availability.

Now a bit of a teaser for you. I came across this photo taken 10 years ago. My question is this. Can you tell me where in the Solent it was taken?. Answer next month.


Skipper Wanted
David Lavender, one of our members from Kent, usually charters 2 boats for 5 days and has indeed done so again this year. He is looking for someone who is Yachtmaster Coastal (Coastal Skipper) or above to skipper one of the boats on a jolly around the Solent or nearby. The dates are 5pm on Sunday 26th June for 5 days. He can be contacted on 07980 683383. There is an entry about this on our Facebook page.

Mile Builder Cruise
Due to a bereavement, one of our members is not now able to take up his place on the Milebuilder cruise. This is set to run from 5pm on Sunday 15th May until Thursday 19th May. If anyone is interested in taking up this vacancy then do get in touch without delay. The skipper is Alistair Mills, our Rear Commodore Training.

Competent Crew/Day Skipper Courses
We've just a couple of places left on our early season Competent Crew or Day Skipper course scheduled for 5th to 10th June. We've a bit of a break then so if you're looking to do this course then now would be good. The Competent crew is suitable for novices and those with little experience whilst the Day Skipper is suitable for those who have completed the shorebased course or have equivalent knowledge and have some basic sailing skills.

Round the Island Race
Time is pressing on and this prestigious event is due to happen on Saturday 2nd July. We normally enter some of our club yachts but need to ensure that we have crews before declaring our entry and paying money. It's a great event attracting over 1500 yachts and includes everyone from top racers to cruising sailors, in fact the latter are probably in the majority. The cost is just £165 for the weekend. There is of course the little matter of the Commodore's Cup to race for which is awarded to the first MPSC yacht, but you have to be init to winit.

Newcomers Cruise
I've always been a firm believer that sailing should be a fun and family activity and what could be better than a couple of days sailing in the Solent specially focussed on those members who are new to sailing. If you're in that category, this is for you and a great opportunity for you and your family to get out and 'chill' on the water.

Introduction to Sailing
I have so often had it commented by people that they wish they'd known of the sailing club years earlier and this is one of the activities we run for those who might like a taste for sailing. We have Introduction to Sailing days scheduled for 23rd and 24th May later on 15th and 16th August and they are an opportunity for us to showcase our club to non members. The cost is just £40. It's a gentle 9am to 5pm sail with a buffet lunch provided. We provide a skipper and first mate. If there are people in your office or department who may be interested, then please spread the word and let them know. Bookings can be made in the usual way via the clubline or email address.

Facebook and Twitter
We're still trying to get information out more timely using Facebook and Twitter but we need you to like and follow us. In particular we sometimes get short notice crew or course opportunities and other sailing activities which we learn about. You can post to Facebook as Guests and if we can get more members using it, everyone will be so much better informed. So ....please like our Facebook page and follow us on Twitter.

Membership
Whilst we remain focussed on being a members club for serving and retired police and staff, we do accept membership from other emergency services as well as family and friends. If you know of someone who may be interested in sailing then do pass on our details to them.

Powerboating
We can offer level 2 powerboat training on our fast rib which is also available for charter to members as well provided you have a Level 2 and a radio certificate. A great opportunity to take the family out in the summer months for a bit of an adrenalin rush.

Don't forget our powerboat weekend on 16th and 17th July. You're welcome to come along with your own powerboat or PWC or you can go our on our rib. Se website for further details.


Good Sailing
Phil
Dateline: 07-04-2016
From Phil Onslow:

Dear All
Well Easter has come and gone and what a contrast that was. Glorious sunshine on Friday and I had a lovely tranquil cruise on the river. The rest was a bit of a washout but we've passed the spring equinox and the days are longer than the nights. Should be downhill sailing from here on one hopes.

Blue Spirit and Sapphire are looking fantastic after the work done to their woodwork and new cushions. Below are details of the procedure to charter as well as the latest on cruises including the Vice Commodores Rally which is later this month.

Our rib is back, also after having some work done by the manufacturer and is a great way to spend a day (or maybe 2) with the family or friends on the water. It definitely gives an adrenalin surge. We're having a dedicated rib weekend this year for rib users and owners which sounds fantastic so see below for further details

I've included some training courses information included dates for a Day Skipper shorebased which has ben organised for next month.

Vice Commodores Rally
Our Vice Commodores Rally is nearly upon us so if you haven't booked your place on one of our yachts, or informed us that you are bringing your own boat then let us know asap. It really helps with the arrangements. This is a great weekend and one of the rare opportunities that boat owners and non owners can attend an event together. I could tell you about some of the fun times from previous rallies but I think they are best enjoyed by those who were there so my lips are sealed (unless of course some scotch is involved).

Power Weekend Camp
We will be running a POWER WEEKEND CAMP in 2016. The club invites any member to attend a weekend of power craft activities to be held from the afternoon of Friday 15th July (for tent pitching & craft preparation) through to Sunday 17th July. We will be providing our RIB and the Volunteer Police Cadets (TeenMarine) will be providing their RIB for use to all members. There will be camping available at Riverside Holidays Camp Site next-door to Mercury Marina. www.riversideholidays.co.uk

Any member who wishes to bring their own power craft may do so but it would be useful to know if anyone is going to bring a craft so that arrangements can be made with Ross Elliston and the MPSC shore based crew to arrange overnight berthing of craft in the MPSC compound. There will be a BBQ on the Saturday night but its a bring your own drink (soft or otherwise). Children and families are welcome but please let us know in advance of their ages. At present, we do not have lifejackets for under 10s.
•Events include PWC taster
•Powerboat close quarter manoeuvring
•Solent Treasure Hunt

The costs are as follows:
Two days boating and BBQ = £30 per person (not including camp costs)
One day Plus BBQ = £20 (not including camp costs)
The camp site costs will depend on the sort of camping members wish to participate in. The rates are for a minimum of two nights and are as follows:
Camping pitch 1 - 3 man tent = £18.00
4 - 6 man tent = £22.00
7 man or over = £24.00
Touring Pitch Up to 6.3 meters = £21.00
Up to 8.8 meters = £25.00
RVs, Winnebago or 30' or over = £43.00

Dogs are welcome at the campsite but there is a charge of £2.50. There are also supplements relating to awning (£4.00), additional persons (£4.00 or £3.00 for children). Additional car = £5.00 and any posh person with a gazebo has to pay £10.00 extra! Early bookings mean we can get sites all together. Maximum persons will depend on how many members can bring their own power craft.

Members to supply their own food for breakfast & lunches etc.

For more information or to book then please contact the clubline. Places are limited but it's a great opportunity for those who haven't tried rib activities to have a go and for those who have to gain experience and chat with likeminded colleagues.

Guernsey Liberation Cruise
The Channel Islands are one of my favourite locations to sail to and I'll readily admit I've had some of my greatest sailing times there. Once again this year we're running a cruise to coincide with their liberation. A wonderful opportunity to cover a few miles and gain experience whilst having a great and social time as well. The cruise runs from 6th to 13th May and the cost is £400.

Sea Survival Course
We still have places on this normally sought after course which is scheduled for 30th April and the price is only £90. It's the course you hope you'll never need but can save your life!

Day Skipper or Competent Crew Practical
We have vacancies for the above courses from 8th to 13th May and 5th to 10th June. For the June course, we're making this a ladies only course although we have one for ladies and gents running at the same time. The Competent Crew Course is suitable for novices or those with limited experience and the Day Skipper is suitable for those with some experience who want to learn how to take charge of a yacht. Both courses are priced at £385.

Day Skipper Shorebased
There is the opportunity to attend a Day Skipper Shorebased intensive over 5 days plus one days sailing from Saturday 7th to Thursday 12th May. Accommodation is included in the course which is priced at just £295. As time is limited, we do need you to book quickly to avoid disappointment.

Mile Builder
We've one place left on our milebuilder course running from 15th to 19th May. This is a great opportunity for those who have some sailing experience to push the boundaries back a bit and try something a little more challenging and may involve a cross channel passage although this will be dependant on weather and other factors pertaining at the time. The cost is only £270.

Powerboat Level 2 and Intermediate
The normal starting point for powerboat activities is level 2 and this together with a radio certificate is all that is required to take out our rib. The course lasts for 2 days and costs £199 and is conducted on our own rib which can go......quite fast. The intermediate is suitable for those with some rib experience who want to progress or take a rib further afield or on longer passages, a great development for those who have already completed their level 2. The April courses are all full but we have availability for level 2 on :-
14th - 15th May
6th - 7th June
18th - 19th June
The dates for the Intermediate course are 19th and 20th May

Yacht Working Parties
Just when you thought these were over for the winter, we thought we'd give you further chances to support your club. Blue Spirit and Pride are back in service with glorious new varnish and cushions and the opportunity has been taken to lift Pride for a short while to do some maintenance on her so we always need your help. We're particularly interested if you're good with a soldering iron! We've not set dates but if you are willing to help out weekend or midweek then do get in touch.

Yacht Charter
Chartering our yachts is very easy and all that is needed is a Day Skipper practical and a VHF certificate. You're not just restricted to taking members but can take family and friends who are not members. Our charter rates are significantly lower than those of commercial companies. To book, just check the availability on the website. phone the clubline to reserve your dates and confirm with an online booking form. We can often hold a provisional deposit whilst you check your crews availability. We now take credit and debit cards online as well so it couldn't be easier.

Club Contact
There are further details on all of the above together with other information and events on our internet site at www.mpsc.uk.com or telephone our clubline 020 8643 4292. Don't forget to like us on Facebook and follow us on twitter to get the latest information.

We try to keep people updated but bulk mail is getting more and more difficult. Please help if you can by showing our mpsc address as one of your trusted addresses.

Good Sailing

Phil
Dateline: 10-03-2016
From Phil Onslow:

Despite the recent weather, now might be the time to think about your sailing. I had a comment recently from a member about how much he enjoyed hearing about the sailing I've been doing so especially for Phil but to everyone, I've had a great February with some fantastic sailing including a weekend with no rain, warm(ish) temperatures and no one on the pontoons at Lymington or The Folly. Sailing out of season can be so good.

Below is information about our cruises, especially the Vice Commodores Rally, but also there's information about courses, training and the recent yacht works which has been a great success.

As normal, if you have any queries, don't hesitate to get in touch via email or on our clubline

Vice Commodores Rally
Sean Phillips who is our new Vice Commodore is looking for your support over the early May Bank Holiday when he has organised his annual rally. This is one of our better events (well they're all good), and is open to all members including those who have boats of their own. We have places on our club yachts where we will provide a skipper as well. It starts on Friday 29th April at 5pm with a barbeque at the base and on Saturday, there will be a sail to Portsmouth where I'm told there will be an opportunity for the ladies to do some retail therapy before the pontoon drinks party at 6pm and a sit down meal at HMS Hornet scheduled for 1930hrs. On Sunday you will be sailing to The Folly (maybe more retail therapy in Cowes on the way??) and another meal in the evening. I can't imagine that many participants will want to start early on Monday when it will be an opportunity to say any goodbyes before a short sail home.
This is a great event as the photo above from last year shows.
If you want to book a place on our club yachts or come along in your own boat then do give us a call on the clubline.

Guernsey Liberation
There are still a couple of spaces on this excellent Cruise. Personally, I love the Channel Islands with opportunities for great sailing and lovely people and places. The dates of 6th to 13th May were chosen to coincide with the anniversary of the liberation of Guernsey at the end of the war. Nothing like a good liberation celebration is there. The cost is £400 for the week. We normally only schedule cruises thee every 3 or 4 yrs. so now's your chance.

Round the Island Race
Another great event, with up to 1800 yachts of all shapes and sizes taking part in what's reportedly the largest yacht race in the world. One of the great things about it is that you don't have to be a top racing sailor to take part and we take a number of novices every year. Other participating yachts include some serious professional yachts but it's also a great family occasion with mum, dad and a couple of kids on some of the yachts. The cost is £165 and if you're interested we need to book early to make sure the yachts and crew are entered otherwise it gets a bit embarrassing. Dates are 1st to 3rd July.

Newcomers Cruise
Final cruise worth mention at this time is our Newcomers Cruise which is specially tailored to cater for novices and those with little experience. People sometimes feel intimidated when there are lost of experienced members aboard and you shouldn't be. Everyone on this cruise will be relatively new to sailing, and the activities you do will be gentle rather than challenging. Dates are 5th to 7th July and the cost is £120.

Yacht Charter
It would be very easy for us to require members to be experienced sailors before they charter our yachts, but I was once told that experience is those things that we learn after we really needed to know them. Well if you have a Day Skipper practical qualification and a radio licence then you can charter our yachts and hopefully have a great time.

Over the winter, the hulls have been cleaned and polished but most noticeable, the insides have had a major re-varnishing and new cushions and curtains. They look unbelievably good, in fact I'd say they are positively stunning for yachts of that age and the attention to detail of the workmen has been fantastic.

Our charter rates have been kept as low as possible and are significantly below normal market rates. the earlier you book, the more likely you are to secure your choice of dates.

See our own website for further details

Practical RYA Training Courses
We're running our regular programme of RYA practical courses primarily for Competent Crew and Day Skipper. These are competitively priced at £385 which includes all food, fuel and mooring fees as well as the use of club wet weather gear.

Competent Crew is designed for those with little or no sailing experience, whilst the Day Skipper is there to teach those who have done some sailing, how to become a skipper in familiar waters. Courses are of 5 days duration, starting at 5pm on the Sunday. Available dates are:-
10th to 15th April
8th to 13th May
5th to 10th June

For those who may like to dip their toe in the water with a shorter course, we have a Start Yachting course costing just £149 starting on 17th May. This 2 day course is suitable for novices.

Practical non RYA Courses
To cater for those who have completed their Day Skipper, we've a couple of 2 day modules to build and support what you may have already learned (or forgotten in some cases)
From 24th to 26th April and from 25th to 27th May, we're running Day Skipper Skills modules designed to refresh and build on your skills. If you want to build on your skills or just have a bit of a brush up, they're a great opportunity.
We're also running a 4 day mile builder course from 15th to 19th May for those who want to go further afield and do something a little more challenging or stimulating or just add to their skills and experience.

Sea Survival Course
I can't believe that we don't get more demand for this course which is there to potentially save your life although we all hope we never have cause to use the skills learned. You'll get the chance to let off flares and go in a life raft in the swimming pool which gives a great insight into how the emergency equipment works and what skills you need to use it.

Online Courses
We have our full range of online courses including
SRC Radio
Professional Practices and Responsibilities
Essential Navigation
Cevni

These can be taken at your leisure or convenience and from the comfort of your own home. See internet site or phone clubline for further details.

Family Affairs
I like to remind everyone now and again that whilst we are a sailing club, we cater for your family and friends, and seek to be inclusive. Your spouse, partner, relative or in many cases your good friend can participate in courses and cruises with you. Sailing should be a fun and sociable activity and I've certainly had great fun over the years. We're very keen to ensure that sailing does not become divisive to families so think about including them in your activities.

Let me finish by wishing you all a great sailing season in 2016.

Phil


Dateline: 23-02-2016
From Phil Onslow:
Dear All

An important amendment to the working party dates in my recent message and a few reminders.

The working party dates should be 27th and 28th February and 5th and 6th March, not 5th and 6th June as stated. If you're able to attend them please let us know. We really do need people this weekend!

In the near future, we have vacancies on the following club activities.

18th to 20th March - Early Bird Cruise
10th to 15th April - Competent Crew or Day Skipper Practical

21st and 22nd April - Level 2 Powerboat

24th to 26th April - Day Skipper Skills

30th April - Sea Survival Course (this is really good!)

A little further ahead, there is a 4 day mile builder from 15th to 19th May. A great opportunity to build some experience.

See internet site for fuller details or phone the club line 020 8643 4292
Dateline: 09-02-2016
From Phil Onslow:
Dear All
Well Christmas and New Year are beginning to fade into history for another year and the days are getting longer so it must be time to organise some sailing whether it's cruises, charter or some training courses.

I've included below some information about our forthcoming training courses and also some of our skippered cruises which are really what sailing is all about. To those new members, you don't need lots of experience to do these cruises and if you want more information about them then do give us a ring on our Clubline. It always helps us if you make bookings early so if you're thinking of booking up then make it sooner rather than later.

Below are shown some of our forthcoming cruises and training courses.

Most important at this time of year is our working parties. Thankfully, Blue Spirit and Sapphire have undergone a major professional refit this winter and are looking really smart. We do need volunteers for some dates just to get kit on and off yachts and a bit of work on Pride which has been in the water over the winter.
Working Parties
James Hulme is our new Rear Commodore Works and I know that he's keen to make sure the yachts are in tip top condition. Blue Spirit and Sapphire are due for launch on Friday, 19th February and we need working parties on 27th and 28th February to get them re kitted and back into service and also the following weekend 5th and 6th June for a number of miscelaneous works at the base, on the yachts and on the rib. If you're able to help then please give us a ring. We need to know how many are coming so that we can feed you.

Shorebased Training - Sea Survival
We've a Sea Survival Course on Saturday, 30th April. This is the course that you hope you'll never need but has the potential to save your life. You'll learn about liferafts, have an opportunity to let off some flares to see just how hot they can get and learn some techniques in the swimming pool to help you if the worse case happens and you end up in the water. I can thoroughly recommend this course and the cost is £90

Shorebased Training - SRC Radio - Essential Navigation - CEVNI
We run these course using an online facility and these have the advantage that you can complete them at times suitable to you rather than being governed by class times. They also tend to be a bit cheaper that the face to face courses. If you're interested in any of our online courses, you don't even have to phone up, just complete an online booking form from our internet site and we'll send you the details to log in and get started. Support for these courses is always available - we don't just book you on and leave you.

Practical Training - Start Yachting
This is a great course and is aimed at beginners who can spend a couple of days sailing with one of our instructors, learn some of the basic skills and also get a good idea if sailing is for you. Most importantly you'll have a great time as well. The cost of these courses is £149. Dates are 17th to 19th May and 19th to 21st June.

Practical Training - Competent Crew
This course is also an entry level course for novices or those with little sailing experience. It's 5 days duration and during the course, you'll visit a number of Solent harbours learning all about how to sail and become a useful crew member and at the same time, you'll have 5 days of great fun. The cost of this course is £385 which includes all food on board, fuel, moorings and the use of our wet weather gear. Dates are10th to 15th April, 17th to 22nd April and 8th to 13th May. The cost is £385

Practical Training - Day Skipper
This is a 5 day course to teach you how to become skipper of a yacht in familiar waters. When you've completed this course, you can charter our yachts and take your friends and family sailing. The pre course requirements are that you have completed a Day skipper shorebased course or have equivalent knowledge and have some sailing skills. It's not an entry level course, but it's also not an advanced course. The cost is £385 and we have places on courses starting on the following dates:- 10th to 16th April, 17th to 22nd April and 8th to 13th May.

Practical Courses - Day Skipper Skills
This is a 2 day training module designed to develop the skills you may have learned as a Day Skipper, or even those just picked up through experience. It will put you on the road to taking your Yachtmaster Offshore practical. Dates are:- 24th to 26th April and 25th to 27th May. The cost is £135.

Practical Training - Future Courses - Yachtmaster Prep
During September, we will be running a course to prepare you for the Yachtmaster Offshore or Yachtmaster Coastal (formerly Coastal Skipper) exam. If you're at Day Skipper level and want to advance and improve your sailing skills, this may be for you. During the 5 day course, you'll have your skills honed and developed so that at the end of the course, we hope that you can satisfy an examiner that you're at the required standard.

Future Courses - Cruising Instructor
Also during September, we hope to run an instructor course to train suitable Yachtmaster Offshore certificate holders to become Cruising Instructors. If you're interested in doing this course then do drop us a mail or give us a ring and we'll talk you through the requirements.

Skippered Cruises - Early Bird
There are still a few places on our Early Bird cruise from 18th to 20th March. This is often a great way to start the year ( I know that as I'm doing it). It's nothing too challenging, suitable for novices and those with little experience and we hope to have more than one boat doing it so a great way to meet other people. The cost is just £110.

Skippered Cruises and Boat Owners - Vice Commodores Rally
Our Vice Commodores Rally will be held over the early May bank holiday weekend from 29th April to 2nd May. Places are available on club yachts for £180 for the three days, but if you're a boat owner, why not come along and join the festivities. It's usually a social and jovial event and I'm sure with Sean Phillip our new Commodore, that will continue to be the case. To reserve a place on our yachts then book in the normal way and if you want to bring your own yacht and crew then do let us know so we can include you in the arrangements.

Mile Builder
This is a bit of a cruise and a bit of a course. It's a 4 day cruise and a great opportunity to get out of the Solent and gain experience and knowledge sailing outside the confines of these sheltered waters. I like to think that you'll also have a great time and great experience and probably see some of our wonderful coastline. Dates are 15th to 19th May and the cost is £270.

Skippered Cruises - Guernsey Liberation
Running from 6th to 13th May, this y day will involve a couple of channel crossings and is an opportunity to visit one of my nicest sailing areas. I love the Channel Islands which are full of 'real sailors' and lovely places to visit. The cost of the cruise is £400.

There are a number of other cruises and more information on our internet site so do have a look and see what appeals to you

Yacht and Rib Charter
Our yachts will be available to charter from 13th March onwards so why not take advantage of them at their pristine best after their professional refit and book a charter soon. You only have to be a Day Skipper and holder of an SRC certificate to charter yachts and Powerboat level 2 for the rib. You can take family and friends with you, your charter isn't restricted to members.

Staying in Touch
We're working hard to keep people's details up to date and keep you informed of what's going on. Due to the current numbers we have to use a bulk mail service and for some, especially those with Gmail addresses, this can result mail being directed to your junk folder. Please include our email as one of you trusted sources.

We're also looking to make more use of our Facebook and Twitter pages so do sign up for these and you stand a better chance of getting and short notice or discounted sailing opportunities before anyone else.

Good Sailing

Phil
Dateline: 10-01-2016
From Phil Onslow:
Dear All
Well firstly let me wish you all a very happy New Year and hopefully lots of sailing in 2016. We have a slightly revised format and method of distribution for our sailing information messages which I hope works a bit better and will be a bit more informative.

Christmas and the New Year have come and gone, so now is a great time to organise your sailing and we've lots of opportunities for 2016. You'll find details below of our training courses including some new courses such as an all female course and a combined shorebased and practical Day Skipper course over 9 days.

I've highlighted some cruises which offer something for everyone from the novice to the experienced yachtsman and some awards and other information from our Annual General Meeting in November.
We hope that more of you will be inclined to charter our yachts with their newly refurbished inside and professional polishing outside.

Don't hesitate to give our clubline a ring on 020 8643 4292 if you have any questions.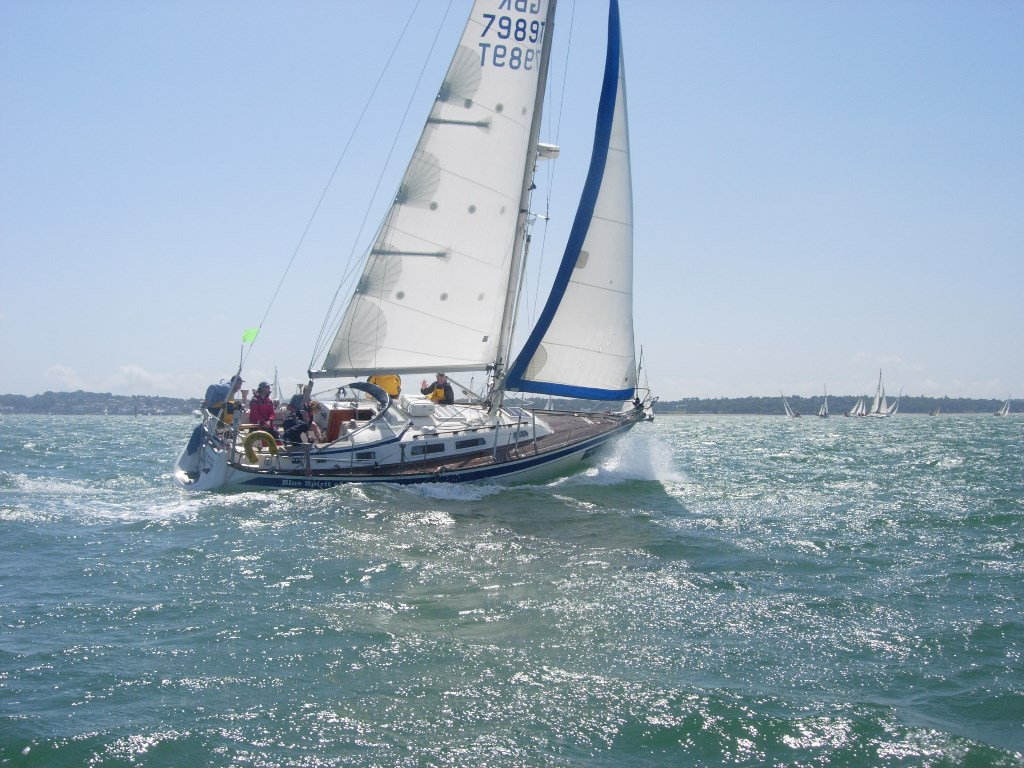 Yachtmaster Shorebased Course
There's still just time to book on this course at Hamble for the weekends of 16th and 17th Jan, 13th and 14th Feb, 12th and 13th March and 16th and 17th April.

Yachtmaster Skills
This is a 2 day course for those who aspire towards a Yachtmaster practical course and are looking to gain some more advanced skills. Dates are 26th to 28th February and the cost is £135.

Day Skipper or Competent Crew
We run a programme of these throughout the year although for 2016, they're focussed towards the beginning and the end. The cost of these is £385 for the 5 day course which includes food, fuel and moorings. The Competent Crew is suitable for novices whilst for the Day Skipper you should have completed the shorebased course or have equivalent knowledge. There are spaces on 10th to 15th April.
New for this year is a combined practical and shorebased course running from Saturday 16th April to Sunday 24th April so you only need a week off work! The cost of this course is £669.
Also new, we're offering a Day Skipper or Competent Crew course for ladies only from 5th to 10th June

Cruising
An exciting and varied programme of cruising has been arranged this year including the Vice Commodores Rally, Guernsey Liberation, a Jurassic Cruise and much more. First up however is our Early Bird Cruise which is a great way to start the year. It runs from 18th to 20th March and the cost is just £110. It is suitable for beginners and experienced yachtsmen in fact the only prerequisite is that you're willing to enjoy yourself.

Online Courses
These are the way of the future and the variety and availability is likely to increase over the next few years. Currently we can offer SRC Radio, Essential Navigation, Professional Practices and Responsibilities and CEVNI (European Inland Waterways) as an online Course.

Yacht Refurbishment
Our yacht refurbishment programme is well underway and we're hoping to have Blue Spirit and Sapphire launched and ready in all their glory and ready for charter from 6th March. We're at low season rates then so it's a good and cheap opportunity to try them out when it's quiet and see the yachts at their glorious best.

Booking Procedure
To book any of our courses and cruises, just phone the clubline 020 8643 4292 to confirm availability and the booking and payment can be done online. If you have any queries about any of our activities, the please don't hesitate to give us a ring. We're here to help.

AGM News
The AGM was pretty quiet actually but there again that's always a good sign. In the chair for the last time was our commodore Chris Allison. Chris has held the post for longer than I can remember and his practical and straightforward approach is always refreshing. Having now retired from the MPS, he felt it the right time to step down and we all thank him for his contribution to the club over the years. He is succeeded by Commander B.J. Harrington and we welcome him to the post. Mike Wise reviewed the past year's events with a glorious Technicolor presentation and I'm sure we'd all like to thank him for the enormous time and effort he has put in over the years both as Rear Commodore Offshore and as Vice Commodore. Like many he has given a considerable amount of his time to support the club in many ways over the years and will be a hard act to follow. That honour falls to Sean Phillips, our Rear Commodore Works who has been dragged kicking and screaming, spanner still in hand from our workshop to take on the mantle. We welcome James Hulme as the new Rear Commodore Works in his place. We also welcome Gareth Granville onto the committee as Rear Commodore and House and Marketing. Gareth has been our membership secretary for a while now and John Bailey and I will be taking over most of his membership duties. Departing from the committee is Debbie Dady who has brought some fresh ideas to our marketing but has now left the organisation to work for BA. She sends us messages from various warm parts of the globe and we're not a bit jealous (why has my nose just grown). We wish you well Debbie.

Honorary Life Membership was awarded to Chris Allison in recognition of his service as Commodore and as an active sailor and racer over many years.

Club Colours were awarded to Alistair Mills who has served the club well for many years firstly as assistant to the Rear Commodore Training and more latterly as the Director for Training.

We've managed to keep our charter rates almost the same for 2016 as they've been for the past 2 years. We've done a little realigning and simplification with our structure this year but endeavoured to keep it the almost the same overall. We have had to put up our subs which have also remained frozen for the last 2 years. Full membership is now £4.50 per month and Associate membership £5.50 per month. We still think that represents excellent value probably equivalent to a coffee and newspaper each month.

Content of this page is Copyright © 2016 Metropolitan Police Sailing Club, All rights reserved.



---
Previous entries pertaining to this page:
1st September, 2005 - 1st December, 2009
2010 - 2011 - 2012 - 2013 - 2014 - 2015
Club hotline: 020 8643 4292 Email: mpsc@hotmail.co.uk