Barnacle Bill's casual observations from the shore . . .


. . . . . . . . . . . . . . . . . . . . . . . . . . . . . .


This Section is merely to appraise you of what's happening around Police sailing, who's doing what (sailing-wise) and acting as general scuttlebutt.
11/11/20

Another message from Franjo..

Dear friends,

These last days I am calculating and calculating expenses to organize WPSC&ICCA 2021. Nobody can tell what will be then in September 2021, but I truly hope and believe we will meet.

So far I can say calculated fee is about 4.000,00 € for WPSC and little less for ICCA + about 250 € additional costs like always, but we will try to get some more discount on the boats - due to all this trouble with Covid 19 and also the fact we/you already paid some additional amount of the fee in advance to the charter. I can't help a lot here - boats are simply much more expensive in September then in October. Anyhow we will see what we could manage to do. Like always I will try to lower the costs as much as I can.

All prices are calculated for 6 persons, 6 dinners in the program on the picture. We will visit at least two more main islands in Dalmatia - Hvar and Brač.

Franjo Stančin


ICCADRIA
E-mail: info@iccadria.com
Mobile phone: 00 386 41 715 204
Web: www.iccadria.com
18/10/20

A message from Franjo..

Dear friends and colleagues

Obviously we are living in the hard times. Nobody is safe, nobody is certain what is real and what is not. The fact is Covid 19 has a great influence on our lives, our homes, our families. We can't argue with that. Anyhow I am, and I hope we all are "optimists", and we still see the light at the end of that tunnel. I have been thinking a lot these days, and I want to share some ideas with the whole "ICCA family". This is only an idea, and please be free to share your thoughts.

Let's say ICCA regatta was 2015, 2017, 2019.... and WPSC was 2016, 2018 and finally 2020 postponed. The Idea is simple - to postpone it to 2022. Next year we will need to relax, we will need something really refreshing to forget 2020. So, my idea is to have a new ICCA sailing week 2021 which is an ICCA regatta but a little more fun. Still we will keep it like a Law Enforcement regatta, like always but we will allow exceptions , so also family members or even friends can participate, but only half of their crew - or something like that. I think that rule will facilitate finding members to fulfil the crew.

But the main change is add more routes and more destinations at the Adriatic, so every evening we will moor in another marina/town/island. I have already had meetings with port authorities, restaurants, even majors of some destinations to see what options we have. So far I can say the best response I have from port Rogoznica and islands Hvar (Jelsa, Pakleni otoci, Hvar), Brač (Bol) and Vis (Vis). So possible routes in one week you can see at the map in attachment. But the real route will always depend on the weather of course and safety.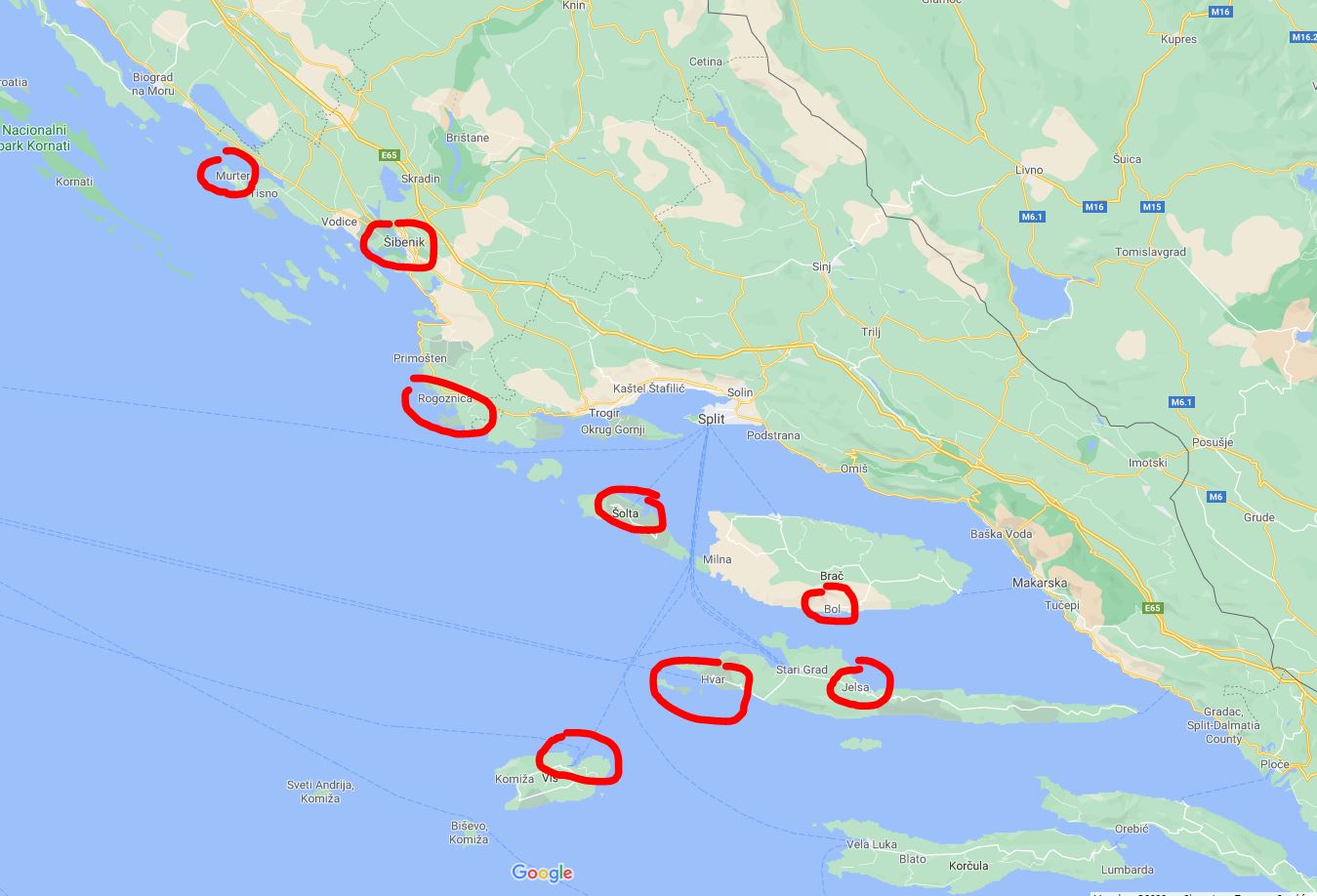 Again, this is just an idea, WPSC/ICCA 2021 is still scheduled for 11-18 Sept 2021.

Please let's hear from about this:
1. What do you think about it ?
2. What do you think if we moved the dates to October - regarding the Covid situation is perhaps better to have it later (depends when the vaccine will be discovered)

So talk about it and then please let skippers answer these questions.

Thank you - stay safe, stay optimistic

Best regards

Franjo Stančin

ICCADRIA
E-mail: info@iccadria.com
Mobile phone: 00 386 41 715 204
Web: www.iccadria.com
12/10/20

PSUK Sailing Section
The PSUK Sailing Section AGM duly took place on 6th October.
On the retirement of John Oldham as Section secretary, the post has been taken up by DC Gareth Granville, Met Police SC. Further detail on the 'Contacts' page.
Minutes from the meeting should be available soon.
06/09/20

AGM of the PSUK Sailing Section

.

Dear all.

I have arranged the PSUK sailing AGM for 9am on the 6th October on MS Teams. The meeting will be chaired by the Commodore of the Met Police sailing club and chairman of police sailing DAC Matt Twist @ New Scotland Yard.
Please could you :
1. Indicate if you wish to join the meeting and I will send out the link
2. Propose any items you wish for the agenda.

I will issue minutes of previous meetings and final agenda near the time

Best wishes

John

John Oldham
PSUK Sailing secretary
07/08/20

A message from John Oldham
Dear all,
I have decided to retire from policing so looking to pass on the baton of the PSUK Sailing secretary - any takers? It needs to be a serving officer.
Any persons interested I can explain the role it's not onerous with a lot of the old admin stuff now much reduced
I will stand down at the AGM in November but hopefully still take part in the events as a pensioner
Best wishes
John
03/08/20

Update - 03/08/20: Important Latest..

From Ian Goodman:

Griffin Regatta (PSUK Offshore Sailing Championships)


Skippers,

It is with regret but perhaps with some inevitability that we have taken the decision to cancel this year's Griffin Regatta/PSUK sailing championships. As you are aware we have been constantly monitoring the situation and working on changing scenarios to try and make the regatta work in the hope that the relaxing of restrictions would make it possible to put on the event . However, the RYA put out its advice on Friday for racing which stated that if people from different families had to sleep on board then it should be one person per cabin with no one sleeping in the saloon. This effectively meant that only three people could sleep on board with the rest of the crew sleeping ashore. Whilst some crews do choose to sleep ashore anyway, most sleep aboard so we considered this to be unviable for most crews.

This of course was not withstanding other restrictions on the social side of the regatta and the potential for reintroduction of national restrictions or local lockdowns being imposed. The committee felt that it was unrealistic to ask skippers and crew to outlay deposits and payments to charter yachts in such an uncertain climate. We are aware that this is advice rather than rules and that some skippers have crew that are happy to make their own decisions and come sailing anyway. However the reality is that we are all from government departments and to be seen to be ignoring government advice to take part in the regatta may not pass the 'Daily Mail test' (I hate that phrase but you know what I mean). We also considered postponing the event to a date later in the year or early 2021 but other regattas are doing the same so availability is limited and with the current level of uncertainty it was felt best to make a clear decision to cancel and look to next year's event. (Sods law, the weather will probably be perfect racing conditions all week!)

Fairview have been very understanding and supportive of the decision to cancel. Should anyone wish to do a personal charter for the same period Sunday - Thursday, they have offered a charter price of £1100. It is a matter for the skipper as to who is on board. Please contact Fairview directly if you are interested.

We will now turn our attention to the 2021 Griffin Regatta which will again be the end of September 19-24 or 26-1 Oct TBC.

Thank you for your patience, understanding and support over this period and I am sorry we are not able to run the regatta this year but I am sure you understand the reasoning. I hope you manage to get some sailing in this year and I look forward to seeing everyone at the 2021 regatta.

Best wishes

Ian
13/07/20

Latest from Franjo..

Dear friends

As you already might know WPSC 2020 is moving to 2021 regarding Covid 19 situation. Let's hope until then vaccine will be developed and the world & people will change as much as we must to prevail disease.

Anyhow our plan so far is to organize both events at the same time in 2021. More about this in the future. So far we must reserve the dates. We have two possible dates, and some of the teams already voted on our Facebook group . Most of the crews are happier with September, and if the majority of the teams will follow that pattern.... the decision will be clear. At this point I must warn you again that in September boats are much more expensive like in October so we will be forced to raise a fee from 3.600,00 € up to ??? - anyhow I'm expecting we could still lower the price if we gather about 20 crews and raise will not be unacceptable. That's also the reason we will do both events at the same time - to gather as many boats as we can.

Now please to all the crews - answer if you have intention to participate in our events in 2021, be specific on which event and what do you prefer September or October (where the price stays at 3.600,00 + 250,00 balance).

Crews already voted about dates are Dorset, Cobra, Top Cops, Metropolitan, Kiwis & Weeks, PSNI 1, PSNI 2, Hong Kong, Pacific, Lucerne PST, Girls force 8 and Team Vigilant.

So again possible dates are:
• 11th to 18th Sept 2021 or
• 2nd to 9th Oct 2021
Now it's on you my friends ;-)

Best regards

Franjo Stančin
30/06/20

Metropolitan Police Sailing Club - Re-opening - 6th July 2020

From Gareth Granville, Vice Commodore MPSC:

I am happy to confirm that the club will reopen on Monday 6th July. Initially this will be for charters only and is based on government guidelines allowing groups from two households to meet and to now stay overnight away from home.

We are following government guidelines to reduce the risk of Covid -19 on our yachts and offices.

Further detail and guidelines - See also the MPSC's 'Info Update' page on this website.

25/06/20

Restart of PSUK Events & Fixtures

From John Oldham

Please see the message below from the PSUK national committee.
This currently effects the two remaining organised events

1. National Offshores ( run by the NCA)
2. Worlds - Croatia

All details of above are on the police sailing website.

Our national body is the RYA and full details of their restrictions are on their website.

From Ian Campbell

Restart of PSUK Events & Fixtures:

We have agreed that PSUK Events and Fixtures may restart from 1st September
BUT ONLY if the event is in line with guidelines issued by the National Sporting Body.

Secretaries are asked to consult fully these guidelines before arranging events or fixtures.

Keep safe.

Ian
21/06/20

Rules for PSUK Championship Organisers

From Ian Campbell, PSUK Executive Officer:
Many Sections will already be making arrangements for the hosting of PSUK Championships in 2021.
It is important that each Organiser receives a copy of the Rules, a copy of which can be found on the www.teampolice.uk website 'ABOUT PSUK' pages

World Police Sailing Championships 2020
19/06/20 - Latest from Franjo..
Dear friends,
As you may think I'm very concerned regarding the present situation and our events. So far I'm forced to cancel events planned in May and June. Hopefully I'm still certain all ICCAdria`s events in September and October will be possible, so for now let's say WPSC 2020 will be organized. So far we have 9 teams + 1 possible so 10 perhaps. But if event can't be organized because of any reliable reasons we will be forced to move it to the next year.
Let's wait for a little more time to see how the situation will evolve. Thank you, stay safe and healthy. Miss you all.

Best regards
Franjo

NCA GRIFFIN INVITATIONAL REGATTA
Incorporating the PSUK Offshore championships
Currently planned for Sunday 20th to Friday 25th September, 2020
Update - 16/06/20: Important Latest..
From Ian Goodman:

It's been over two months since the last Regatta update and in early April we thought or hoped that by September things would be back to normal and the Regatta would go ahead as planned. However, we are now in mid-June and the situation is still not clear enough to know whether it will be possible to hold the Regatta or not but I thought it was probably time to get in touch and update you as to where we are.

As you are aware, restrictions are slowly lifting and it is now possible to sail with family and charters are taking place, albeit not many. Most marinas are still shut to visitors or have very restricted facilities. We await further news over the coming weeks of the reopening of hospitality venues and possible reducing of the social distancing measures. But right now it is impossible to predict what the situation will be in September. What is clear is that social distancing on a yacht for four days is pretty difficult if not impossible under current rules. I have been in touch with Fairview and we have agreed that we will hold off making any decisions for another month and review the situation in mid July when hopefully we will have a better idea of the likely situation in September. Fairview will continue to hold the racing fleet for us and are not asking for any deposits but by mid July we are going to have to make a call on whether it is viable to go ahead or not.

Griffin SC committee have been constantly reviewing the possibilities (over Saturday night Zoom chats which may or may not have involved a beer or two) and there may be measures we can take if we do go ahead, to limit contact between crews; no socials, limit crews to five per boat so single person cabins and two in the main cabin etc, which won't be quite the same but at least we would get racing. However, these are just ideas for now and safety has to be our first priority.

It would now be helpful for me to have some feedback from yourselves. You probably have crew that want to know what is happening and possibly crew that may be unsure whether to come even if restrictions allow us to go ahead. I'm sure you have concerns yourself so it would be very helpful to get a feel of your thoughts and ideas. I'm not asking for any decisions or firm commitments but I would like to get your views. So please come back to me in the next week or so.

Best Regards
Ian
04/05/20

A note from Ian Campbell, PSUK Secretary:

Further to our suspension of Police Sport (1st June) as a result of the Covid 19 crisis.

PSUK has reluctantly agreed to suspend all police sport for a further period until 31st August.

I know that some events scheduled for September have already been postponed as well.

In the meantime please keep safe, I will update everyone as the lockdown unfolds etc..

Best regards

Ian
05/04/20

World Police Sailing Championships 2020
Email from Franjo
I have here really hard time. My first event should start at end of May, but it seems everything will go down, also in June. Hopefully WPSC is in October, so I really hope issues about that virus will be solved by then, and regatta could take place.

Best regards,
Franjo
info@iccadria.com
03/05/20

NCA GRIFFIN INVITATIONAL REGATTA
Incorporating the PSUK Offshore championships
Currently planned for Sunday 20th to Friday 25th September, 2020

Important latest re NoR..

From Ian Goodman:

I want to update you on the current thinking for the Griffin Regatta in September. As you are all very well aware, marinas are currently closed, sports events cancelled and anything that was due to happen this side of July is not going ahead. I'm sure like me, many of you are sitting at home adapting to a new way of working and longing for the days when you were on deck in a force 6 with the rain lashing down and realizing that was far preferable to being stuck indoor for weeks on end with the family!

Anyway, it is what it is, so to update you on our thinking for the Regatta.

I have been in discussion with both Fairview and The Island Sailing Club over the last week. Many regattas are cancelled or postponed including The IDOR however, with the Griffin regatta still 6 months away we are hoping that we will be back to some sort of normality by then, whatever that looks like, and we are still intending to run the regatta at this time. This will of course be subject to review in a few months time but fingers crossed.

There is however, one important impact of the current COVID 19 situation that is impacting on the regatta. As you may be aware the Round The Island Race which was scheduled for late May, has been postponed until 26th September. This is the biggest event in the ISC calendar and is now scheduled for the Saturday after our regatta finishes. This has significant impact in a number of ways. ISC become very busy towards the end of the week in preparation. Fairview have all their fleet chartered out for this and the Cowes marinas start to fill up with foreign and non local yachts from mid week onward.

Neither ISC or Fairview have asked us to move our regatta as both are very keen that we go ahead as planned and in reality all dates in September - October are now full but after discussions with both and with continued good will to accommodate everyone's changed circumstance,we have come to a tentative agreement. Our current thinking is to run the regatta on the original week but to shorten it by a day. We will still join the boats on Sunday 20th evening as normal and meet for a social. Monday will no longer be a practice day and there will be no practice race. We will likely be doing a passage race from Southampton water to ISC finish line started by Fairview at around mid day. There will then be a second inshore race starting and finishing at ISC line. All Monday races will be scoring races. Tues - Wed will likely be 3 races per day. The regatta dinner and prizes will be on Wednesday evening at ISC. Yachts to be returned to Fairview by mid day Thursday 24th. The charter costs for the yachts will be reduced accordingly but the entry fee will likely remain unchanged as almost all the costs are the same.

None of the above is set in stone and as the situation develops over the next few months we will continue to review. I have yet to give Fairview the entries of which we currently have 13 with a few more still to confirm. I know a couple of crews were doing other things this year but if those plans have changed then there is still availability. If you have any questions about the regatta then please get in touch with me. I will give Fairview the entries in a week or so's time.

Have as good a weekend as you can and let's hope that we get afloat in the not too distant future.

Stay healthy,

Ian
24/03/20

Devon & Cornwall Regatta

This year's Sailing Regatta planned for Saturday, 30th May 2020 at Brixham Yacht Club, South Devon has been cancelled for the time being,
20/03/20

A message from the Organiser of the PSUK Dinghy Championships 2020
Chew Valley Lake Sailing Club made the decision yesterday to cancel all sailing at the club for the foreseeable future. This is clearly a sensible decision in view of both the Government, Medical and RYA advice and one that I'm certain was not taken lightly.

In view of this our Committee have decided to cancel the Nationals that we were hosting in June.

If things improve dramatically we will look at hopefully hosting either it, or our Open later in the year and will make contact as soon as a decision is made.

Could you please pass on our best wishes to all our fellow Police family sailors around the country.

Best regards,

Jim
27/02/20

Devon & Cornwall Regatta

There's an invite to this year's Sailing Regatta to be held at Brixham Yacht Club, South Devon on Saturday, 30th May 2020.

Details appear on the D&C page.

07/02/20
A message from the PSUK Sailing Secretary:
Dear all,

We continue to try to find a way of making the PSUK Dinghy Nationals more sustainable and take the burden off the few forces who have hosted the event over these last few years.

An idea from Avon and Somerset is that we use the Weymouth and Portland National Sailing Academy. The Academy would organise the sailing and accommodation and we just turn up and sail / hold our prize giving. The food also will be arranged.

What are peoples thoughts on this?

Avon and Somerset are kindly hosting this year's nationals ( details on the website) we will discuss it in full at the committee meeting at this event.

I am still looking into contacting the Civil Service club event - but have run out of contacts - anyone help ?

Regards
John Oldham
05/02/20

The Notice of Race for this year's combined NCA/PSUK Offshore regatta is now published on the NCA regatta and PSUK Offshore regatta pages..
20/01/20
The Notice of Race for this year's combined NCA/PSUK Offshore regatta will be available shortly.
A reminder of the date:
20th - 25th September 2020
Further details will appear when available, on the NCA page.
Contact, Ian Goodman
or via the Regatta Office on
ncaregatta@gmail.com
Latest from Franjo
Dear friends and colleagues,

Finally our promo video is here. Its made by video clips taken this year of the ICCA regatta in Murter. Anyhow its dedicated to all the ICCA family. Here is the link on YouTube where you can find it. Enjoy it please..

Watch the video from the Event

Regarding World Police Sailing Championships - there is still room - so far we have only 12 boats, I don't know why... Please - I want to hear from you - all of you, your suggestion, your dissatisfaction, anything at all, which could help us to be better and to organize the event which will please you.

Thank you again to all of you who are coming back, especially those who didn't miss any of the events.

And now I wish you all Merry Christmas and a happy New Year, to you and your dear ones.

Franjo Stančin
ICCADRIA
The PSUK National Dinghy Championships are pencilled in for 17th and 18th June 2020 at CVLSC

(Most recent entries are now at the top of this page)