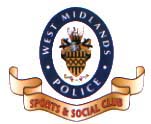 West Midlands Police Sailing Section
Dinghy Open Regatta
Bartley Sailing Club
Held Wednesday, 13th April, 2011
After recent days of balmy weather the cold snap came as a bit of a shock for travellers to the first regatta of the police sailing season. The forecast was for fresh winds developing during the day and so it turned out with winds climbing to 25mph but at least the rain held off. 11 boats turned out with a preponderance of Phantom helms - but not necessarily sailing Phantoms. The Race Officer, Mark Reddington set some excellent courses using most of the lake which made for exciting racing.
Race One: 3 0 C 2 5 8
The wind blew down the reservoir making Buoy 3 the windward mark for the day. After the five minute countdown most boats opted for a start in the middle of the line set between buoy 8 and a pin end flag with only the Radial hugging the starboard end. All went well at first in the gusting breeze as boats headed for the windward mark. Then came a downwind leg which caught out the RS400; the first of a number of boats eventually capsizing as the race continued. By this time Hawkes had established a healthy lead which he maintained to the end of the race. On corrected time Glen in a Solo claimed second place with Mason in his new Phantom third.
Race Two: 3 0 C 2 5 8
The second race after lunch had a change of course inviting lots of reaching across the lake. At the start, most boats opted for the starboard end, but it was again the Radial which got ahead starting from the port end of the line. By now the wind was at its maximum for the day. The Picos were coping well in the conditions but as the race developed there were a number of capsizes persuading some to call it a day. Hawkes again came first with Mason not so far behind and the Radial picking up third place on corrected time.
Race Two: 3 0 C 2 5 8
The third race went ahead back-to-back with just six boats taking part. From the start Hawkes had picked up the best tacks and by the windward mark had established a clear lead ahead of the fleet which slowly spread out in a procession with little in the way of capsizing changing the order on the water. On corrected time Hawkes was first, with Mason a distant second and Glen in the Solo picking up a third place.
West Midlands Police Regatta, 2011
Result
(3 races; 2 to count)

Helm

/Crew

Force
Class
Race
1
Race
2
Race
3

Points

Final
Position

Simon Hawkes

Avon & Som.
Phantom

1

1

1

2

1st

Nick Mason

Met.

Phantom

3

2

2

4

2nd

Alistair Glen

Met.

Solo

2

5

3

5
3rd

Richard Sivers

Northants

Laser Radial

5

3

dns

8

4th

Andy Carter

West Mids.

Laser

4

4

4

8

5th

Steve Elliston/Phil Baker

West Mids

.

GP14

7

6

5

11

6th

Jenny Li

West Mids.

Laser Pico

9

7

dns

16

7th

Ken Daniels

Met.

Phantom

6

dnf

dns

35

8th

Ian Ingram/Marie Bond

West Mids.

RS400

8

dnf

dns

37

9th

Rob Castle

West Mids.

Laser Pico

10

dnf

dnf

39

10th

Malcolm Dykes/Andy Butler

Avon & Som.

Laser Bahia

dnf

dns

dns

58
11th
Further Information and Regatta Contact :
West Midlands Police Sailing Secretary: Marie Bond
Tel: 0845 113 5000 x 7800 2726
Mob: 07990 645178
Email: m.bond@west-midlands.pnn.police.uk