Round Britain & Ireland Race 2006

Met officers Justin Rowley and Richard Lett are taking part in this year's Shetland Round Britain & Ireland Race in a Tripp 40 yacht, Chikara.

They are raising money for the Ellen MacArthur Trust.

The event commences on 11th June from the Royal Western Yacht Club, Plymouth and below are some details as received.


It is hoped to add further pictures shortly.
The Last update: 6th July, 2006
Dateline 4th May, 2006
From Justin Rowley:
"We completed our qualifying 300 mile passage over the Easter weekend which was a great sail and 'Chikara' was very quick. We left Dover in thick fog and with the assistance of Dover Port Control cleared the Eastern Entrance and away from the cross channel ferries and then made our way up to The Wash".
"We returned on a reciprocal route with the trip taking about 43 hours. Chikara has got to be in Plymouth for the start of the race by the 8th June and we will be away on the 1st leg on the 11th June. We have been raising money for the Ellen MacArthur Trust and are using the race as a platform to raise additional funds via pledges. A PS where I work has a daughter suffering from leukaemia who has sailed with the Ellen MacArthur Trust on several occasions so it has a close link".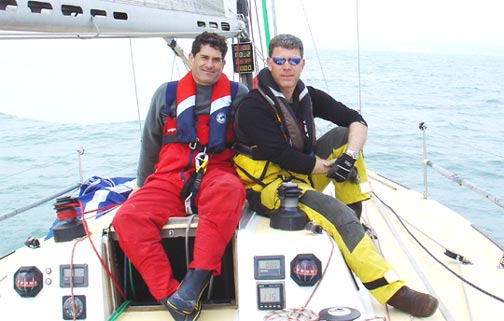 Justin Rowley & Richard Lett aboard Chikara
Dateline 21st May, 2006
From Justin Rowley:
"Things are getting very close now and we are taking the boat down to Plymouth having had a stop off at Cowes at the beginning of next June. Whilst nearly everything is ready we are still having some problems with the boat instruments".
"Chikara is fitted with a race system called 'Ockham'. It is an American system which uses B&G wind speed and other components from a company called Signet who are based in the U.S. We have just discovered that the B&G masthead unit is unserviceable and are waiting for a reconditioned unit to come back from B&G.
Additionally we don't have speed readout. I can't say whether these are two separate faults or the problem lies within the Ockham system. It is this last thing you need three weeks before the race!!!!.
Dateline 24th May, 2006
From Richard Lett:
We start the delivery to Plymouth next Tuesday our plan is to stop over in Cowes between 1st & 5th June; I am in the Round the Island on an SB3 with a couple of old friends. We should arrive in Plymouth by 7th June for scrutineering before the kick off on the 11th.
Dateline 25th May, 2006
From "Chikara":
Chikara
Round Britain and Ireland - predicted schedule.
11th June Depart Plymouth
Race start 1100 UTC (1200 BST)

13th June Arrive Kinsale

15th June Depart Kinsale

18th June - Arrive Castlebay

20th June - Depart Castlebay

24th June - Arrive Lerwick

26th June - Depart Lerwick

29th June - Arrive Lowestoft

31st June - Depart Lowestoft

4th July - Arrive Plymouth


Position of Chikara as at: 2nd June, 2006
Note 1.
Each stop at Kinsale, Castlebay, Lerwick and Lowestoft must be 48 hrs from time of arrival.

Note 2.
Schedule based on moderate winds. Stronger, lighter winds, breakages or getting lost will affect timings.

Note 3.
Latitude and longitude for each Port below:
Port

Latitude

Longitude

Plymouth

50' 21".000 N

04' 9".000 W

Kinsale

51' 42".000 N

08' 31".000 W

Castlebay

56' 57".000 N

07' 29".500 W

Lerwick

60' 09".500 N

01' 08".500 W

Lowestoft

52' 28".500 N

01' 45".000

E
We will aim to send our Latitude and Longitude each day via Satellite E-mail. I hope you can follow our course around the UK and Ireland.

Richard & Justin.
Dateline 30th May, 2006
From Justin Rowley:
Richard and four others are taking Chikara to Cowes today and I will join Richard for the trip to Plymouth next Monday (4/6/06) We seem to have sorted out the problems with the Ockham and now have both wind and speed, which are obviously quite important!
Ilford CID raised a further £1845 from a charity disco held in April and I handed the money over to Cath Bremner from the Ellen MacArthur Trust last week and we are obviously hoping to raise more through pledges from the race.

So now it's just waiting for the off!
Dateline 12th June, 2006
From 'Sharon':
Richard and Justin left yesterday from Plymouth at 12:15 hrs, and passed out of Plymouth Sound number 12 in their class. The weather en route has been force 2 – 3, increasing up to force 5 westerly in the Fastnet shipping area. They also appear to have passed through quite a bank of rain last night and this morning.
The current forecast is SOUTH OR SOUTHWEST 4 OR 5, OCCASIONALLY 6 AT FIRST IN IRISH SEA, VEERING WEST 3 OR 4. SHOWERS AT FIRST. GOOD. The leaders (Pete Goss in a multi hull called Cornwall PFS) arrived in Kinsale at 10:59 this morning, however the single Hulls (of which Chikara is one) are not due to arrive until later this evening, or early tomorrow morning. When they reach Kinsale, they will have a mandatory 48 hour layover. This will be good news for the crew, as just before they left, their oven and gas hob failed to light – they plan to try to fix this in Kinsale. In the meantime, they did depart with a flask of hot tea, and some self heating rations, so they will have managed to get some hot food and drinks to see them through the night! Morale was high, and they were both looking forward to getting underway.
Dateline 13th June, 2006
From 'Sharon':
Chikara has arrived in Kinsale today at 13:29 – 2 days 1 hour and 14 mins after departing from Plymouth. They are currently sitting 6th in their class.
Dateline 15th June, 2006
From 'Chikara':
Dear all,

A little update on the 1st leg and a forecast on the next.

On the morning of 11th Chikara was ready to sail although we had a problem with gas that we couldn't solve so were resigned to cold food and water for a few days. In Kinsale we found out the bottle had been filled with a lot of air as well as gas and this combination would not stay alight.

As we sailed around the start line we couldn't decide on whether to raise the No.3 or No.2 foresail, there is a large difference in size and 10 kts of wind is the change over point before we are overpowered; the wind in Plymouth Sound was blowing between 9-11 kts, it was likely to be stronger out to sea. We decided to go for the No.2 as the forecast was for lighter winds, this would give us plenty of power off the line Luckily the wind didn't build and by the Eddystone Lighthouse we had sailed to the front of the fleet.

On rounding the Eddystone the wind was know behind us and we raised the asymmetric spinnaker. We knew we are weak downwind without a full size asymmetric but gambled on the easier handling and reliability of the 'A' throughout the whole race. This meant we would have to sail higher angles and we split from the majority of the fleet. This is were we discovered our next problem, the laptop had thrown out the com port for the plug in gps and we had no location information.

I could not resolve this, so we were back to basic navigation, and a lot of guess work around the best angles to gybe and tides. I think the lack of gps cost us dear as we maintained good boat speed throughout the next few days. From the Bishops Rock the wind allowed us to set a course straight for Kinsale, although well over a hundred miles we managed to land less than two miles east of our destination. I could make Kinsale out against the coast and the two miles was down wind and tide !!

At Kinsale we are now 6 hours behind the Class 1 leader, with our gps up again (and spare hand-held), with some hot food and drink through the night we hope to start making time up.

Kinsale is a beautiful harbour, everyone has been great, with Irish hospitality long into the last couple of nights. We have been tempted to enjoy the moment, but with 4 days in on the Atlantic coast of Ireland coming up we have focussed on rest and eating well. Must come back to enjoy the town another time.

It is 11.30 and we leave in 1 hour to get to the start line for the next phase. All systems working. The winds over the next 24 are forecast light from the south, increasing to 20 + kts as we go north. We would have wished for wind more on the nose to play to our strengths. We will have to work the spinnaker well and make some good decisions around our laylines on this leg to keep in touch with the fleet.

We found in the recent Round the Isle of Wight Race that the situation changes many times, with different boats able to take advantage of changing wind speed and direction. Our aim is to work hard where we are weak and even harder where we are strong; and over the next few thousand miles we will have good and sometimes better days.

Current prediction puts us in Barra in three day arriving some time in the evening of Sunday 18th June.

Best wishes

Justin and Richard
Dateline 16th June, 2006
From 'Chikara':
Yacht Chikara at 1350 on the 16th June 2006 position 52' 13" 302 N 10' 48" 747 W.

Throughout yesterday and until around 1000 this morning the wind has been on our nose. We have made up plenty of ground and have 6 yachts I (don't know who as yet !) in sight. Only now the wind has come around and is behind us and we are slower before the wind. Everyone in sight is under spinnaker, we aim to work very hard to hold onto our gains. The next 48 hours should be fun !

We past the Fastnet Rock Lighthouse at 2300 yesterday, a beautiful evening with an almost full moon rising on the horizon.

We have just had a close encounter with a large tanker headed for Limerick. I think it was under auto pilot and the watch keeper reading a book. We called them up on channel 16, shortly followed by a hard turn to starboard. It is a hard decision for a yacht to take emergency action in case you turn into the path they may take.

Am going to try to get some sleep for an hour whilst Justin takes the helm.

Richard & Justin

Dateline 19th June, 2006
Chikara update,

We are currently anchored in Castlebay on the Island of Barra in the Hebrides. The only way ashore is in our avon inflatable and in the strong winds it is touch and go whether we can make the shore in a head wind !!

The last leg was tough and taught us both a lot about endurance long distance racing. The three days contained so many different races within races that it almost seems to not have been one leg of the race at all.

The first leg was in a glorious sunshine with a moderate head wind and we were set fair to catch up a lot of boats and by the Fastnet Rock (72 miles from Kinsale) we were in sight of 6 competitors and were looking forward to racing in close company.

As we rounded Fastnet the next obstacle in the 'Bull' a massive rock with a major lighthouse just as you turn North up the Atlantic Coast the wind died and everyone nearby had 4 unpleasant hours waiting for some wind whilst sitting in a very sloppy sea. Although the coastline of Ireland at this point is beautiful we were keen to get going again.

When the wind filled in it did so from the South and started as a moderate breeze. We hoisted the spinnaker and for around 12 hours kept making good progress and stayed in touch with many of the leading boats. Through the night the wind began to build up to over 20 knots. Chikara was running well and was handling the building waves well. We took the opportunity to use the extra wind strength to head further downwind, this turned in a big mistake. At 3 in the morning Justin was at the helm in the worsening conditions when the spinnaker went into a spectacular wrap round the forestay.

I leaped on deck only having time to put on my lifejacket and safety harness and went to the front of the boat to try and sort it out whilst Justin kept the boat going under the main sail. Chikara was now starting to surf down the waves and the rudder was resonating badly as we accelerated to over 10 knots. It took over two hours to get the spinnaker down. In the end I don't know whether fate leant a hand, because I was cold, soaking wet, exhausted and felt completely helpless. We were getting to the stage that we could not see how we could solve this problem and it took great determination to keep fighting exhaustion.

The spinnaker now had 9 tears in it after beating itself and me around for such a long time and we would continue under the No. 4 foresail and full main (we were too weak to face reefing it). In the strong breeze we were able to sail (without autopilot) straight down wind and enjoyed an exhilarating roller coaster up the Atlantic.
This continued for many hours. The visibility became almost zero and we had to take great care of shipping. In the loom we suddenly came across a massive oil platform being towed to some North Sea destination ? An unusual sight I guess, with several patrol boats circling the rig, clearly anxious about collision (although not about us I guess) in what had reduced to around 200 mtrs visibility in fog/drizzle.

As the wind died we decided to take a chance that the spinnaker would hold together as we needed the power to keep making good progress. It looked a bit ragged, but as all the damage was caused randomly by the rigging I hoped none would be on the stress line when under load. The surf was still quite big and we were back into a rollercoaster and a screaming rudder. (The rudder on Chikara in a new carbon fibre high aspect one and I think the problem is the sharp trailing edge; I think if the trailing edge on the rudder was more square she would handled the higher speeds more easily.

We managed another hundred more miles with the spinnaker, before the wind started to come from the North and we were back to normal sails.

On the last night I was on the helm around 5 in the morning when I watched a shearwater attempt to land on the top of our mast (which in the marina at over 60 ft moves around quite a lot). The aerobatics were spectacular. Over half an hour of determination never paid off and I was left wondering whether it was trying out of desperation for somewhere to rest or as a test of its own flying ability and determination.

The last day looked like it may end on Sunday morning when we seemed to fall into a large weather hole, we struggle to make any progress for another few hours. The winds remained light and were slowing becoming more and more from the north east. This had the effect of heading us as we tried to point inside Barra Head and make towards Castlebay. Barra Head is a massive headland with a large lighthouse and after several hundred miles of open sea is quite striking.

We spent some time looking at the uninhabited islands, although their were signs of old crofts everywhere. There were also sheep grazing in the most improbable places, I guess they are left to their own devices until time for shearing or taking to market.

We have seen lots of dolphins and one whale so far, but as we came up the Sound towards Barra a group of Dolphins gave us the most impressive display. Justin and I stood on the front of the boat watching them accelerated under the boat and jump out in front of our bow wave, whilst around us others were leaping in the air. I don't know what type of dolphin they were but they were almost black with a large white stripe down their flanks.

We gratefully got into Castlebay at 6.16pm. Luckily still in daylight as the entrance is very rocky and hazardous to enter. We got the boat and sails straightened away and went ashore to have a hot meal, I could have fallen asleep into my plate, but the prospect of rowing back to Chikara in a partially inflated old Avon kept me alert.

Today we have been resting and have been helped a lot by the Dutch crew of Vijaya. Erik is a professional sailmaker and he has been helping us arrange our reefing lines for the next leg. He has made a great difference to how we can depower the boat if necessary. The forecast is for winds over 40 kts and Justin and I are just a little nervous at the moment. I have never sailed in the high Atlantic and rounded the top of the Shetland Islands and I don't think I would choose a gale force storm to do it in. The weather has been quite good, funny how it looks like getting bad just when we wanted the best weather.

Pete Goss and Henrik Larsen have just sailed back into Castlebay (they left yesterday for the Lerwick Leg). I don't know whether their boat is broken, but they must have serious problem to have sailed back to Castlebay. I will be going ashore soon to find out. What I do know is, they have been facing quite big seas over the last 24 hrs.

Tomorrow will be spent re-supplying the boat; should be fun, rowing to and from the harbour wall. We leave for Lerwick at 6.16 pm, hopefully rested and prepared for what lies ahead. In one sense I am looking forward to it as I am sure it is the sort of experience makes this sort of thing the challenge that it is.

At some stage ask to see our collection our sad sailor photos, Justin and I seem to pull the camera out whenever each other is feeling (and looking) completely shattered, cold and miserable.

Why does mankind seek adventure and personal tests ?? And why do memories of such feats seems so pleasurable ??

Best wishes

Justin and Richard.
Dateline 20th June, 2006
From 'Chikara':
Dear all,

I would like to start by saying I have no reason to prove those who think I can be a little rash correct. We are definitely not leaving Castlebay whilst the elements are in such a very bad mood.

That is not to say we are at all safe in Castlebay as currently we are hanging precariously off our mooring line, our dingy is getting lower by the minute under weight of rain and is showing every sign of sinking beneath us if we attempt to set foot in it. Even if we could get in the dinghy I believe we would only go straight down wind onto a rocky shore. So currently we could not leave if we wanted to and are marooned on our boat (lucky we managed to get to the Castlebay food store first thing this morning).

Earlier this morning the whole fleet was debating the weather and before it started to get very bad many tales of derring-do were being told. Once the lifeboat was launched to rescue the Knights Challenge in some peril of Barra Head (the Scottish equivalent of the Portland Race with added value). Ruffian's anchor dragged and was pulled off the rocks (by the now very busy Barra Lifeboat), Vijaya main mooring line snapped, Blue Demon's anchor dragged at 12 noon and is still motoring head to wind three hours later by now looking desperate for their anchor to hold in the rock and kelp bottom; talk had already turned to how dangerous it may be just getting back to our own boats across the harbour and us heroes decided to meet in the bar later for a hot meal and think about sailing tomorrow.

Some boats have left and they may be lucky to round St Kilda before the forecast Force 10 hits, as any time before rounding that island you have the Outer Hebrides as a foreboding lee shore in the event of trouble.

Let me say something about those who have gone and those of us who have stayed.

A number of boats have left today, they all fall into a category of people who know themselves, know their boat and have been in this scenario several times before and have the confidence they can deal with it. We wish them good luck.

Some very good boats have decided to stay in harbour and in admiring them I wish to join them for a drink this evening, only I suspect I will be stuck on Chikara enjoying an evening with Justin with the Castlebay Hotel only 300 yards away. One of our main concerns is our mooring lines chafing as we bounce around, Justin recently split his Musto trousers and they have now been wrapped around our mooring lines and fairlead to stop the action of the boat cutting our lines.

This wind is vicious and coming from the Arctic quite heavy and cold. We are both reasonably experienced sailors and I for one am not shy of a little adventure. We have spent nearly 6 months preparing Chikara and in that time have been able to afford to replace about 30% of her rigging, amongst many other bits. I think we have chosen the right 30% but I do not know. She is a lightweight racing boat, and although strong has spent her life racing in the Solent. Tripp 40's have sailed around the world.

I have some super pictures on the lifeboat rescuing Ruffian, and some of poor old Blue Demon motoring around the harbour trying to anchor. We could not have helped and hope they will value some photos of their troubles.

This reminds of summer holidays as a kid stuck in a caravan in the pouring rain.

I will be reviewing the weather overnight, we may or may not sail in the morning.

We want to get to Lerwick and I for one would have the chance to see my honey if I could have made it for the weekend (the weather must be bad for us to stay here).

We can currently see Dick Koopmans (the Dutch boat builder) and Les Irvine (from the Shetland Islands) preparing to leave this evening. I know these two guys and I have some sense of how strong their boat is. They will make good and safe progress to Lerwick.

I have just heard from Blue Demon call on the radio, they have driven around to Vatersay Bay and picked up a fisherman's buoy.

Justin and Richard.
Dateline 21st June, 2006
From 'Chikara':
Dear all,

Winds reached nearly 50 kts in Castlebay last night. No sleep on board Chikara as she was jumping around like a shying horse on her Highlands and Island mooring (thank goodness for a thorough job in planting that one).

Justin's old Musto trousers have done their job preventing the moorings lines chafing through, although we were both on deck several times imagining we were about to join company with the shore.

We spent a great day with the Halb and Erik - the crew of Vijaya, a very tough Aluminium Dutch boat. Both have significant experience of the Atlantic, Halb having sailed the Ostar and several long distance single-handed races and Eric coming from a sailing family and is building his own Open 40 in his back garden. Last night they had to be rescued by the Barra lifeboat.

They left our joint mooring at 13.30 to set of on the next leg, confident they were prepared, as you now we weren't and had already decided to stay put.

After rounding Barra Head they began beating to windward in 40+ kt winds. 20 miles short of St Kilda in the early hours they were exhausted and cold, both having to focus on keeping Vijaya on her feet in the storm. They decided to heave to and having done so waited for one hour to see how she would handle the storm and then went below to get some food and rest. Some time afterwards Erick woke lying on the roof and Halb was semi- concious having sustained a nasty cut to the head.

They believe Vijaya somehow came off being heaved to, first pitch-poled in the bottom of a trough and was knocked flat. Vijaya lost three aerials off the masthead; the radar, Inmarsat and Sea Me off the transom also a spreader punched through her mast. They reported their situation to Stornoway Coastguard and began making their way, under storm sail as the conditions were so severe the propeller would not grip the breaking seas, back to Castlebay. The Coastguard despatched the Barra Lifeboat to escort them back and on the journey the lifeboat (the Edna Windsor) was knocked flat in the mountainous seas. The Barra lifeboat is the largest type the RNLI have and the crew have never been knocked flat before. The wave height was reported over 50 feet, with the top third regularly collapsing and foaming off the tops, classic yacht rolling stuff!

Meanwhile back in the virtual tranquillity of Castlebay, Blue Demon again dragged anchor and came against the rocks. They were lucky enough to get off under engine and for the next four hours again motored within the confines of Castlebay. Guy Warner the skipper must have been exhausted physically and mentally avoiding the rocks and standing out in the appalling weather.

One of Sagitta's (Farr 50) mooring lines chafed through early this morning, leaving her 19 tons hanging off one line. The inshore lifeboat helped them add another.

It has been interesting in the bar each evening as the Barra Lifeboat crew await the next sequence of mishaps to fall on the RBI fleet. They are keen as mustard and knowing we are providing lots of opportunities for them to display their skills are vying for each other to make the crew on each call out.

Justin and I (foolishly) decided to use the westerly 'breeze' to blow us ashore last night so we could get a hot meal and some company with the other competitors. What we may forget to tell you another time is how helpless we felt trying to row back to Chikara. Having done some long distance kayaking in the past I had some idea of technique and pace, Justin collapsed on the deck on Chikara unable to. The row of 200 mtrs took us over 20 minutes!

We have recently heard that Jager has taken shelter behind St Kilda and both crew are fine.

Everyone must be fed up with hearing about Castlebay, but what a sequence of weather!

Tomorrow the weather looks like breaking and we hope to set off for Lerwick around 12 midday. We are both looking forward to feeling Chikara sailing under us as we feel the need to have the confidence of her riding with the wind and waves again. Seems like riding a bike, although we haven't fallen off yet. Am keen to get on and ride again before Castlebay becomes a permanent home.

Regards

Justin and Richard

Dateline 22nd June, 2006
From Sharon:
Chikara departed Castlebay at 09.07hrs, 22nd June 2006. They are now en route to Lerwick, and initial estimates suggest that it will take approximately 4 days to complete this leg.
Dateline 23rd June, 2006
From Sharon:
An update from Richard and Justin - for those of you without your admiralty charts handy, they have rounded St Kilda, and are now to the west of the Isle of Lewis.

07.00 hrs: 58' 11" 705 N 08' 02".28 W

11 knots wind, sea calming down after a lumpy night. Boatspeed 8 kts.
Dateline 24th June, 2006
Chikara 59'.47" N, 04' 56" W at 0900, 24th June. (Approx half way between Isle of Lewis and the Shetlands)

After 6 hours becalmed yesterday we have just run under spinnaker for 84 miles through the night. The wind is now slightly more in the north west and we have found (Particularly in a choppy sea) that she is quicker with the No.2 foresail blocked to the rail at an angle of around 60° apparent to the wind. We are currently making 6.6 kts in 8 kts of wind.

All night I have been wondering how the J boats (with their spinnaker poles) have been doing, I imagine them climbing all over us and now being in front. We have been very focussed all night and hope to have held our own.

At first light I could sea a yacht hull down on the East horizon, about 3 miles behind us and of course I don't need any more encouragement to work hard. (in fact what I need is a bath, a hot drink and bed). Nothing else is on the horizon, in any case I hope so as I am writing this e-mail and Justin is sleeping beside me.

We have around 140 miles to Muggle Flugga the most northerly part of the UK before we start heading south again. I wonder what we can do for our topping out ceremony, maybe I allow tea and a ginger biscuit. I am becoming fascinated by Kittiwakes, not only do they all look identical but everyone takes a detour to fly in front of, around the boat, then gives you a steely look in the eye.

Much drama yesterday, and those of you who know how impractical Justin and I are will bury their heads in our dilemma - blocked the toilet. Those with a more gentle disposition may wish to stop reading at this point..........

I decided to give myself a clean up with a baby wipe (note to self - do not allow on board boats) and tried to flush this down the loo. Well after dismantling the Jabsco unit in a very swelly sea, I still hadn't discovered the blockage so start taking the pipe runs apart towards the through deck fitting (with bung between teeth at all times). The pipe work isn't so new and the main length of sanitary hose split. Now, apart from the mess in conducting the whole operation, it now looked like we had no loo for the next 3 days.

After a cup of tea and thoughts on using a bucket, Justin suggested we cut up a length of the bilge pump ducting and clamp this on both ends. Brilliance, so off I went (reluctantly) to perform this operation. Justin reports all toilet amenities our now fine.

We hope winds willing to make Lerwick by Sunday.

With this race you just have to keep believing every little thing makes a difference. Tough, when your competition is not alongside like a round the cans race in the Solent.

All well aboard

Justin and Richard.

Dateline 25th June, 2006
Chikara 60' 30" 295 N 03' 38" W , 1600 24th June.

Wind strength 20 kts, boat speed 9.8kts wind 75 apparent. The seas are building and we are getting concerned for the auto pilot, can't afford for it to break so we will man the helm for a while until the conditions improve.

Wind got up quickly from 15 kts, just put in 1st reef mainsail and No3 jib.

One thing I haven't commented on yet is how wet and cold it is. The sea temp is below 10 degrees as opposed to around 14-16 on the south coast and when the wind blows from the north and it is raining (a lot), it is freezing. I have nearly my whole merino wool collection on and am still cold; am also soaking as is everything inside and outside the boat including cold wet feet.

Crew all happy though.

Richard and Justin.
Dateline 25th June, 2006 (part 2)

We are just some 12 miles off Lerwick and looking forward to some comforts.

We battled for over 500 miles to keep ahead of the boats that left Castlebay the same time as us, and at dawn this morning as we rounded Muggle Flugga. Think I could see 4 sails in our wake, some worryingly close.

As we went around the light the wind became northerly, it was due to change to the north till this afternoon and we hoped to make a reach to Lerwick.

Initially we ran with mainsail and No 3 foresail. It was the pressure of the boat behind and spinnakers unfurling followed by my mistake in thinking we could run in 20 kts of wind with a loose tacked spinnaker in a large rolling sea.

As the boat rolled 30 + degrees on the following sea, the luff of the spinnaker kept collapsing. Within 5 minutes we knew we had to get it down or we could damage the sail (further) or risk a broach. Thence followed another foredeck battle getting it down, I am too tired to try dark humour at my efforts. Suffice to say, the lot (and me) nearly went overboard. I have given a lot of attention to the weaknesses of this sail, however it has been the general ease of use and amazing speed on anything from a reach to 140 south that has kept an old boat like Chikara in the running against some very smart new boats (we just cannot go straight downwind, and now we know very clearly that it does like to fly in a large rolling sea).

Muggle Flugga by the way is a desolate headland with a lighthouse and a radar/ listening station. At 4.30 this morning it was pouring with rain and very cold.

We hope to be within an hour of our competitors, which after the leg we have all done will be quite amazing to arrive so close together, I think we have done better than some.

I promised Sharon that I would grow my beard until we met in Lerwick, just so she could have a laugh at a mixture of grey/black/ginger on my face. Now it seems like I will be unshaved till
Lowestoft.

The boat looks like my childhood bedroom, I smell like I have had a fight with a badger and as for my clothes!!! I ended up wearing half a can of Goulash trying to make some dinner for us last night.

Email written quickly now as when we get to Lerwick we will have more immediate priorities.

Justin and Richard

Dateline 27th June, 2006
Richard and Justin are due to depart this afternoon from Lerwick for Lowestoft. They estimate that the next leg should take around 3.5 days.

Monday 26th June, Lerwick, Shetland Islands, above the Arctic Circle.

An interesting navigation problem occurred as we sailed into Bressay Sound on the final approach to Lerwick. The finish line was right up in the town centre after 5 miles beating and tacking to windward. Nearing the final straights, in a very tight bit of seaway, we were on a collision course with a Viking Longship, fully crewed by fearsome Warriors; being in a race and on starboard I was not sure what rules they would play by !

They appeared to be determined to hold their course, knowing the Col Regs we held ours. We were preparing to tack when it became clear these were not the pillaging Vikings of old as they beared away and waved cheerily back at us.

To finally review lessons from the last leg before moving on to Lowestoft.

We were 30 minutes behind Zelda, ahead of Audacious, Oojah and others going into Muckle Flugga at 0430 and took another 12 hours to complete the final 48 miles. Going off on a broad reach, towards Bergen under mainsail alone whilst we cleared the wrapped asymmetric, was not helpful and cost us dear.

Lessons learnt:
1. You need a stabilised off-wind sail if you are going downwind in a large swell (the sideways motion of the boat creates a side wind on the luff which, without the support of a pole or other means of creating greater tension on it, collapses).

When under (self imposed) pressure with boats around you, don't gamble your lead by doing something dangerous/risky. We may have not been overtaken by all and we certainly would not have lost as much time if we had played safe. Do not go deeper than the sail/ conditions allow.
Right! Now onto Lerwick itself.

Everyone here has been fantastic. Each crew were met by a rep of the local yacht club on arrival, taken home, bathed, fed a proper home meal and all washing handed over. The hospitality extends to arranging to take us to the shops and a drive around the island to see some of the sights.

We have arrived during their midsummer festivities, having close on 24 hrs of light and what constitutes reasonable temperatures is obviously worth a lot of celebrating judging by the drinking and partying in town last night. Apparently the average temp here is exactly half whatever it is in London. Although in the winter, apart from wind chill, temperatures due to sea all around rarely fall below zero. I think they are kidding on. This is definitely one of those places where whatever other fashion accessories they have, it includes a thick coat.

Tonight the RBI Fleet, those of us not already off to Lowestoft are guests of the Lerwick Boat Club for a reception. Looking forward to some more of the Valhalla Breweries finest.

I have spent an enjoyable afternoon in the local boat builders, they build some very serious looking fishing boats here, using one of their warehouses to dry out and repair our spinnaker (again). One good decision we made in the spares and repairs area was to go to UK Sails and get some professional sail repair tape. Any of you who have wasted time and effort on the stuff you buy in a chandlers will understand. Am pleased with the result and lessons learnt hopefully, ready for action again.

By the way, over 20 sails from amongst the fleet are here being repaired and on the last two legs everyone seems to have taken a battering at some point. With only 48hrs to play with using their facilities to repair our own was the only way to guarantee a repair. I also helped Sagitta, the Farr 50, to repair a rip in their luff; now that was a lot of sail to handle.

One other worrying sign of wear is damage to the spinnaker and mainsail halyards. I can account for the spinnaker halyard getting damaged during the flogging whilst wrapped. The main is more perplexing, it must have chafed whilst reefed or more likely whilst we sat in light airs for 6 hours with the main and boom swinging about on the swell? Both are new 12mm Dyneema lines. A local electrician (everyone has several jobs here) is currently on deck with Justin cutting off and re-splicing the end sections.

Both feeling refreshed, dry, warm and with clean clothes, good to go for the next leg.

Best wishes

Justin and Richard

Dateline 28th June, 2006
Chikara underway south from Lerwick leaving the puffins, seals and minke whales behind. We are currently on a course of 163 degrees at 8.40 kts.

I am expecting this 470 miles leg to take about 4 days. So far we have always arrived at a good time of day and we hope to get to Lowestoft in the day time as well, fingers crossed.

Shetland was very beautiful, a little chilly and windy for some I guess. One local word I learnt is Peerie this means little in Shetland and they use this word quite a lot in the same way that in some parts of Scotland they use Wee.

Justin and I are looking forward to a good sail.

Will keep you updated.

Looking forward to heading South !!

Justin and Richard.

Dateline 29th June, 2006 (part 1)
28th June 2006 Chikara at lat. 57' 47". 8 long. 0' 42".0 , crossing the Moray Firth about 60 miles north east of Aberdeen.

From the start yesterday we had Octavus in our sights and I knew Bram the Dutch skipper would be watching us closely. Imperceptibly at first we began to draw them in, the chase took 12 hours till 4am this morning !! Just like Jack Aubrey on HMS Surprise in Master and Commander. For the next few hours we followed the same course in lightening winds through the Scottish Oil fields.

At 0950 we tacked westwards taking a course nearer to the Scottish mainland, there is always more wind near Scotland I figure (navigational experience gained through long hours standing on wind-blown Scottish heathland). So my cunning plan is to find even more wind than the fleet and draw a few more boats in.

On the horizon we can now see Wolfies Toy (an Open 50) on the same course and tack as us, Tzigane (an unknown to me Swedish design) and possibly Audacious or Psipsina. Tzigane has just tacked East, if we are right and they are wrong, we may catch them by nightfall. As for Wolfies Toy it is great having some in sight to keep the concentration levels up.

The sun is shining beautifully today and although the air is quite chilly it is a glorious day for a chase. The wind is due to get up to a force 6 later and the sea should develop a short chop which will be unpleasant to drive into for the next 48 hrs or so.

With dry clothes and a much calmer sea, Justin and I have managed to sleep quite well during our 2 hour rest periods last night.

One issue so far on this leg - we are down to 30 ginger biscuits and will have to consider rationing.

Leaving Shetland water several whales (not sure which) swam past and we could clearly see the air and water coming out of their blow holes.

Should be fun trying to cook dinner when the winds get up, no chance of a relaxing sit down meal on this trip.

Regards

Justin and Richard.

Dateline 29th June, 2006 (part 2)

We had changed to the smaller No.3 foresail yesterday evening and have kept this flying all night. Just changed to the No.2 (which is a much larger sail) as the winds reduce to around 10 kts.

Have been on a course-choosing dilemma last night, the best course for the wind shift and the making tack, should have been on a south easterly heading on starboard tack. However the short steep North Sea chop made it impossible to get anywhere near best course to windward without knocking the stuffing out of the boat's speed.

I persisted for over 6 hours determined by some combination of footing off a little and sail trim we could make our best course. At around 4 we gave up on this idea (we had also run out of ideas to improve boat speed) and started to head south west back in towards the Scottish Coast line, running more down the troughs of the wave train. This enabled us to add over a knot to boat speed.

Currently we are carefully watching the waves waiting for their shape to soften in the lightening winds, so as we can tack.

I think we have just seen Sagitta the Farr 50 crossing our bows about 2 miles ahead. We felt slow during the night, and I hope my persistence on the right course hasn't cost us any time over the fleet. I think everyone would have had a dilemma over best rather than easiest course last night (reminds me of the taking the low road or the high road and who'll get to Lowestoft first.

Jordans luxury maple and pecan cereal for breakfast, really love that stuff, Justin and I have been looking mournfully at the nearly empty Tupperware. We emptied the shelves of it in Kinsaly, Castlebay and Lerwick, most shops obviously don't stock enough of the stuff.

If we make the tack, only 100 more miles before we start the 230 mile tack to Lowestoft; not many windward marks are that far away !!

Oil rigs, helicopters and support ships everywhere, looks like some Mad Max film set.

Justin and Richard

Dateline 30th June, 2006
From Chikara:
Current position 56' 02" N 02' 16" E.
On current predictions we are likely to be arriving in Lowestoft around midday, Saturday.

I think we will have wind against us all the way.

Dateline 1st July, 2006
1330hrs lat 54' 11" N long 01' 59" E, wind speed 7 kts at 131 deg, boatspeed is 6.65 kts and heading due South. We are currently about 63 miles east of Bridlington and 100 miles North of Lowestoft.

We have the No.2 and full main, in this configuration in light winds I think we may be as fast as any boat in the RBI fleet.

At the moment we can see no other boat, worrying a bit. It is so much better to have a sail in sight to keep you focussed or to measure performance against.

We hope to be able to hold the layline on the backing winds all the way into the finish line.

The North Sea has been a bit weird after the wildness of the Atlantic around Ireland, Scotland and the Shetlands. It is different because we have only seen a very few sea birds, against flocks of all types everywhere else. I guess this may be linked to lack of fish supplies or maybe pollution. The sea birds were great company and made the whole place seem alive and very healthy.

Also there is rubbish every few miles. The depth has varied between 150 and 40ft so it is a lot shallower than the Atlantic Coastline. The shallowness and contained nature of the North Sea create a choppy kind of sea with none of the large rollers we have seen. We must have passed over 30 oil and gas platforms and are just about to enter the next big area of production off Grimsby. The charts show well over a hundred platforms out here !!

Another difference is a kind of bladder wrack sea weed floating around on the tide. Initially I thought it may be a piece broken off from the sea bed, but there are so many this must be its habitat. They are a light tan colour and grow to around the size of a football. I was part of marine conservation programme in Belize a few years ago; we were measuring the increase in algae caused by the intensive farming (nitrate run off into the sea) in the area; this was killing off the coral. I wonder where the amount of sea weed is a good or a bad thing here?

We have just had a lunch of Campbell's meatball and pasta, followed by tea and chocolate covered raisins. Boy, we know how to live.

A further thought on this leg, for some reason we have both been exhausted. Since the start at Plymouth I have felt the need for very little sleep and have been raring to be on deck. Justin and I have both been dragging ourselves off the bunk to take over watches. There have been no clouds and the temperature is surprisingly cold. Throw in a little sea breeze and bed starts to seem more attractive. After three days of tiredness we are starting to feel refreshed.

UPDATE just heard a position from OOJAH, giving them at 54' 51 " N. They were well ahead of us leaving Lerwick and if I heard this right they could be around 50 miles behind now !! The RWYC should have there current position to confirm.

Best wishes

Justin and Richard

Dateline 4th July, 2006
2nd July 19.10 hrs:
Chikara has arrived in Lowestoft. Hurrah! The last leg felt a long, long way.

Still, the weather became better and warmer the further South we came. Funny when you can see and feel the gradual warming in real time as you travel up and down the country. I now have a better idea why some people would rather live in the South.

Just a final round-up on the last leg - we did really well. Only Zelda and Audacious, amongst those of us delayed by weather in Castlebay, beat us to Lowestoft and we have still recovered some time on these boats.

Two things happened in the final 12 hours of the last leg, one was quite dangerous. We were nearly run over by a very fast 'oil rig' and secondly I have now twice been completely becalmed near the vast wind-farm off Great Yarmouth, you'd have thought it would have been built in a windy place !! We spent over 4 hours completely stationary avoiding the tide on top of a sandbank; what was weird was that the blades were still going round.

Back to the 'oil rig' - we had travelled down most of the North Sea outside of the shipping lanes. When we got to the top of East Anglia we didn't realise the amount of shipping cutting the top corner quite fine on their way to and from Hull. Unfortunately the first boat we came across seemed to have some sort of homing device targeting Chikara. It came real close.

Justin was on watch when I surfaced to take over. We were surveying the horizon and had discounted another 'oil rig' as no danger, it was fully lit with sodium lights and looked exactly the same as the previous one. After looking around the rest of the horizon, we notice it had come a lot closer. It was moving very fast and was very large, we quickly flashed a searchlight up at our sails and towards the bridge, no reaction. We called the skipper on channel 16 and 13 international calling channels. No reply. We started to think of options, it can be dangerous to change course on a yacht. First you may lose speed and therefore your own options and secondly, the ship could suddenly alter its own course.

It was touch and go, we kept on our course, racing around the cans and making judgements on starboard boat came in handy, and just missed the bows. I almost felt us lifted by the bow wave.

It was misty, we were so used to seeing only oil rigs and support vessels that suddenly coming across a large ship travelling around 16 kts really took us by surprise. Luck would have it that the first ship we came across aimed straight at us.

Some boats have the radar detection and automatic ship recognition system. I would like one of these in any future offshore sailing.

The next leg to Plymouth - the winds are forecast really light - let just hope what wind there is, is on the bow. If the wind is light and behind it is almost impossible to move; as soon as you start to move the wind dies as the boats speed reduces the apparent wind on the boat. With the wind on the bow at least the boat speed increases the apparent wind and you can make some respectable boat speed.

Pymouth could be a long way off; have taken on plenty of water, biscuits, cereal, food and sun tan lotion.

Sharon has joined us in Lowestoft which has been great, her reward was a 'Burra Bear' called 'Donny Spelberry' hand-made from a Shetland jumper, very cute.

Chikara passed Sharon's inspection; apparently she thought that two boys on a boat would have made a far greater mess than we had. Frankly I thought it had become awful and have been glad to get all cleaned up again.

All fresh and clean for Plymouth and the finish line.

Regards

Richard and Justin.


4th July 13.45 hrs
Position at 1300 is 50 38.583 N, 000 01.018 E almost due south of Brighton. Has just started to rain - great.

Left Lowestoft in company with 3 other competitors Sagitta, Houd Van Hout (Dutch Trimaran) and Audacious. Really enjoyed the sail down to Dover, we were all pretty much neck and neck. Each of us taking different routes through the various sandbanks that cover the Thames Estuary and approached to the Dover Straights. Never quite knew what would happen with each attempt to either duck or take advantage of a tide, we took a few chances with the depth which seemed to work well.

We where the first boat to make Dover; all except Sagitta taking the inside route through the Goodwin Sands saving around 12 miles.

After the turn into the English Channel the wind dropped and started to go around the clock, really hard to concentrate and set a meaningful course. We ducked in and out of bays to avoid - and use - the tide.

By 10am we thought we may still be ahead of the three boats and then through the binoculars I think I saw Sagitta around 6 miles ahead. I have no idea how they do it. Whenever the wind drops they seem to appear the following day 6 to 10 miles up the course !! Must find out their secret.

However the Trimaran and Audacious should both do well in these light winds. Sometimes I am at a loss as to which course to try. All the weather forecasts have given a south easterly wind, in fact it has been in the north east for the last 12 hours. Bring back Michael Fish.

Justin went for a sleep in bright sunshine and now cannot believe the change to pouring rain.

We passed the entrance to Dover Harbour in the early hours of this morning and called them on channel 74. I'm glad I did because all the ferry captains heard our progress as Port Control watched us on their radar. In the 25 minutes we took to cross the line between Dover-Calais, 7 ships arrived or left Dover.

Having passed Dover, I have now already sailed around the UK on this trip, Justin will have done, once we are level with Cowes. Tempting to pull in and go home, should forget such thoughts and get on with the race.

Light wind sailing is so much harder than stronger winds; the relative boat speed is so volatile to shifts and tweaks.

Going to try for an hour's rest.

Hopefully Plymouth by tomorrow night.

Richard and Justin

Dateline 5th July, 2006
Chikara position at 1045, 50 18.277n 001 58.447w, about 18 miles south of St Alban's Head.

Boat speed 7.3 kts, wind 14.4kts, raining. ETA to finish at Plymouth is around 3 - 5 am. So don't suppose there will be much of a crowd, bunting or a drink then.

Sagitta within around 6 miles of our position, in front or behind as we had radio comms on handheld at 0845 this morning, with them. Not sure about Audacious, Houd Van Hout or even Octavus (Bram is a good skipper, wouldn't be surprised if he isn't right with us).


Would be fun after 2500 miles to still have a race to the finish line. Funny how boats have always, whatever course they have taken, converged at the finish of each leg.

Wind light and around the compass all last night, spent much of time fingers crossed re spectacular lightning. Wind got so fluky we just had to leave the sails and drink tea, the direction changed so quickly and faded away it was a very frustrating 12 hours of so.

My trusty Helly Hansen water proofs have begun to fail me, have had a wet backside all night in heavy rain. I think the sanded deck paint has been the final straw for them. They have lasted brilliantly and will be looking for more of the same rather than going for the ubiquitous Musto.

In the calm of last night, lots of similar seaweed to that of the North Sea has been floating around. What was striking was several hundreds of cuttle fish shell floating in amongst it all, oh and again the amount of rubbish mostly plastic of all sorts.

We may have got weed on the speedo paddle wheel during the night as we had to clear it several times when we lost all data. You may have laughed watching Justin and I (each with a large bung in our hands) staring at the through hull fitting debating whether we could get it out and a bung in before the boat sank. I duly began to undo it and as a rather large column of water shot up, Justin put in temporary bunk whilst I clean it and replaced it. Funny how something like that, that in harbour would not have raised stress levels too much, is a completely different event 40 odd miles out to sea. It is not the sinking that most worried me but explaining to the coastguard we had made a hole in our own boat.

Looking forward to hearing how Dick Koopmans is, I heard he has fallen down the forward hatch on Jager and has been taken to hospital.

Looking forward to making the finish !!

Regards

Richard and Justin


Dateline 6th July, 2006
From Sharon: 5th July, 22.00hrs
Chikara position 50 21.139n 002 50.998w approx 32 miles east of Start Point.

If wind holds eta QAB (Queen Anne's Battery, Plymouth) around 5 - 6 am.

Richard & Justin

Chikara finishes
Round Britain and Ireland completed at 0529 hrs on Thursday, 6th July.

We had a close run leg with Audacious, Sagitta and Houd Van Hout; and of course conscious that Octavus, Tzigane and others would all be after making up time. As of now 0640hrs, none of the others have arrived. It is great getting in first. I knew Chikara could do it and over the last couple of legs Justin and I have allowed her to perform nearer to her best.

This leg was characterised by light and fluky winds. It was incredible to watch the wind going all the way around the compass several times. We learnt to just sit it out and have a cup of tea.

The whole race had so many twists and turns and even the last few miles became a real concern. There was no moon and thick cloud; the sea, sky and sails all merged into blackness and we could see nothing. We were travelling at over 7kts and apart from the instruments it was like plunging down a coal mine.

And then the lightning started to shoot across the sky; all this did was to turn parts of the sky yellow. I don't think we have any proper sort of insulation against lightning and I felt like I was sat under the only tree in a field.

I turned everything off and unplugged the laptop, I was getting worried not only about what would happen if lightning struck but also (if we survived) how we could find Plymouth in total blackness.

Eventually the weather cleared and we made our way into Plymouth. Sailing down the Sound it became really important to know how the others who left Lowestoft with us had done. Crossing the line the Royal Western Yacht Club fired their cannon (sorry to the good people of Plymouth for finishing so early in the morning !), I wasn't expecting that and it really felt like we had done something special.

We have just spoken to Les Irvine from Jager (Dick the Skipper fell down the hatch and broke several ribs off Dover). It appears that although they lost 17 hours getting Dick to hospital and finding a new crew member (one of the Dover Lifeboat crew volunteered to finish the race with him !!) they have still won the race on handicap adjusted time, amazing. The twist in the tale is that Sunbeat, who win if Jager is disqualified, have protested the change of crew.

Well I don't think they'll get much support and should lead to some interesting conversations in the bar later. How can you protest, to win because of an accident, particularly when Jager has been so resourceful to find someone willing to jump on the boat and keep racing !! I'll probable let my views be known, best have sleep first.

Just had a celebratory mug of tea and a ginger nut. Now going off into Plymouth to find a greasy spoon to celebrate with an all day special.

When Clare Francis did this race she wrote a book ( I think called Come Hell or High Water) about the whole thing. Quite a few boats haven't made it, at least 3 dismasted, 4 rescued by lifeboat, rudders coming off, shredded sails and crew taken to hospital.

When this achievement sinks in I already sense we have brought off a really special feat in a complex yacht like Chikara. I always was lucky !!

I don't know where we came overall at this moment but I do know we couldn't have given it any more than we did.

Justin and Richard.

---
For those wishing to view the full results of the race,
turn to the RBI race website via: "RBI Race - Results" .
---
You can also follow their progress by viewing the Shetland Round Britain & Ireland website at http://www.rwyc.org/ShetlandRBI/ .

A Tripp 40