Notts Police Represent the British Police at
Skandia Cowes Week 2007.


The above event was held between the 4th and 10th August 2007.

The team, having won the Police Sport UK National Offshore Championships in 2006 were given the opportunity and support to represent the British Police.

Having been successful in the Sunfast 37 with Sunsail at Cowes 2005 and Cork 2006 the team decided to take on a new challenge.

They decided to race in the J Class - a J109 with asymmetric spinnaker: a 35 foot yacht which can be crewed by up to 10 people.

The boat (ALICE) was collected from Five Star Sailing on the Hamble during Friday afternoon and brought across to Cowes & Shepherds wharf marina. As the crew had not sailed this type of yacht before, we went out for a practise during Friday evening. With a nice force 2, the spinnaker handling was very different from the handling of a conventional spinnaker, so methods had to be worked out in raising and recovering it. Friday evening went very well the team felt confident.

Saturday.
We were on a committee boat start in the region of Gilkicker point. After about an hour's postponement the racing started with the 27 x J109ís starting 5 minutes after the IRC5 boats.

We made a good start on port, leading the fleet, after everyone had sorted themselves out. We then started to be overtaken as we went up the first beat, it seemed I had forgotten how to set a boat up and make it go, the wind was about a force 2. We got to the first mark in 6th place for the downwind leg to Portsmouth, with the spinnaker up and us overtaking the slower IRC5 boats who were on a similar course, we were back up to speed and overtaking. Again into wind we were just about holding our own but on the 2nd spinnaker hoist we somehow ended up with a knot in the spinnaker. This brought boats close to us and on the drop, we had to overshoot the mark by several metres to sort it out, loosing 2 places. We eventually finished in 11th place.

Sunday.
Royal Yacht Squadron start. Great start in the inshore end of the line but the same thing occurred in the heavier gusts. We were up to speed but as the wind dropped away the boat seemed to stop going upwind. Downwind by using some tactical decisions and going deep we were overtaking numerous boats but having been in about 25th position at the windward mark we needed to play catch up. Unfortunately on one of the drops we managed to get the top of the spinnaker stuck on the reefing gear and tore the support patch off the material, this then gave us the opportunity to use the 80% spinnaker. This limited overtaking downwind for the rest of the race but we managed a 13th place.

Monday.
Squadron start. The wind was a force 3 to 4 and at times during the afternoon got gusting a 6. This was scary at times, with an unknown boat that was certainly livelier than a Sunfast 37, but we still managed a 15th place with no damage. The same could not be said for other boats.


Tuesday.
Squadron Start in light winds.
It paid to get into the shore early on the first beat as we were into wind with a foul tide, with the lighter winds the boat would not seem to drive into the wind so we eventually got inshore and with some good boat handling and careful reading of the depth gauge we started to recover some positions by short tacking along the shore. Downwind we seemed to have the measure of the boat and were not losing positions but gaining. We managed a 16th.

One of our Offshore team had come down with us and was sailing on another J109. They had a No. 1 Genoa, whereas our largest was a No. 2. The principle at Five Star had stated that the No. 1 was only slightly larger and had limited usage as you became overpowered in quite moderate winds so he only used a No. 2 whilst racing. It was clear our upwind speed was partially to blame for a lack of a No. 1 which had not been supplied with the boat. My initial enquiries with Five> Star gave me the impression that we were in a One Design class but with handicaps dependant on sail plan. This however was not the case as it was a straight One Design fleet with first over the line the winner.

Wednesday.
Committee boat start, mid-way between Cowes and Yarmouth. We made a mid line start crossing the pin end boats and seemed to be leading until the lack of power in the rig became evident. First mark in 20th position or so, beam reach along to the 2nd mark overtaking 2 boats one of which tore their spinnaker from top to bottom in a gust. The wind varied between a force 1 and 4, in the 4ís we were up to speed but the boat died as it got lighter. We seemed to be maintaining position by dinghy sailing, tacking on each shift and keeping position but the lack of power in the rig made life difficult. Again down wind by going deep we overtook and caught up boats, to again loose this on the beats.
The last leg but one to Cowes with spinnaker up saw us overtake about 5 boats going deep, we rounded the last mark onto a broad reach feeling positive but the IRC class2 50-60ft yachts were also finishing, one after the other they went over us taking all the wind as the boats we had just overtaken used their line and went past us as we trod water against the foul tide. One of the crew counted 6 boats passing us giving us a 19th place by the finish, very frustrating.

After racing I contacted 5 star regarding the lack of a No. 1 Genoa, as luck would have it he had one with him in the yacht haven, we took it off him for the last two days racing.

Thursday.
A long postponement waiting for the sea breeze to fill in, the gradient wind was a northerly with the sea breeze a south westerly. The gradient wind was winning, with a reaching start off the squadron line it was clear only one boat would get a good start with the rest picking up the pieces, I decided to go for a mid line start in the foul tide with spinnaker up. It was a good start with us laying the first mark with the other leading boat.
At this point the sea breeze decided to have a go, wind went to nothing and then the south westerly sea breeze filled in. We were then in foul tide on a port tack, as we got into the shallow water we had only 2 J109ís behind us, also making life difficult were the IRC 5 boats that had started 5 minutes ahead of us. The sea breeze stayed with us for 2 marks mid way to the 3rd mark the gradient northerly kept fitting and starting with periods of no breeze at all. At the 3rd mark there was a raft of IRC5 and J109ís with very little wind with windward boats taking wind out of boats sails to leeward. I chanced my arm and went to windward of all of them with numerous shouts of no water and with greater boat speed against the foul tide we passed the raft who had stopped and were drifting away from the mark, we slipped in and rounded overtaking several 109ís who were stuck in the raft. It could have gone very wrong but it seemed that luck was with us.

The sea breeze again filled which pushed us up to another pack of J109ís who had stopped but as we got nearer the gradient breeze filled in again. We brought the spinnaker down and a fetch to the finish, this was not fast for us as we were in the 2nd row and lost 2 to 3 places to the line but a tack would have taken us further back. 16th place.
The No. 1 Genoa however had clearly been better as we not only maintained position on the beats but overtook some boats, but with the wind being a variable as it was, it was difficult for a proper assessment to be made.

Friday.
The race was postponed from the committee room for most of the morning. At noon we went out on the water and hung about, only to hear at 13.30 that the racing had been abandoned for the day. At 1400 nice sea breeze filled in, shame the organisers wanted us ashore for the fireworks that evening!

Final Position: 14th out of 27 J109ís. Overall Results of J109 Fleet at bottom of page.....
Conclusions.
The team enjoyed the boat as it was very lively, as the skipper I should have made sure we had a full suit of sails and not just taken the word of the principal at Five Star.
The team all stopped in accommodation or camping, so we day sailed the boat. We moored at Shepherds wharf which was about 50% cheaper than the Haven but this got us rafted out 5 deep into the Medina river with no passes for the Haven bands etc. team members bought their own tickets for the nights they wanted to hit the Haven.

If given the opportunity, the majority view of the Crew would be to have another go with the J109, however this time we would ensure we have a full racing spec. boat and sails and we go and have a practise weekend before.

Having won the Police Sport UK offshore Championships 2007 I am sure the team will be competing in the event again in 2008 if given the chance.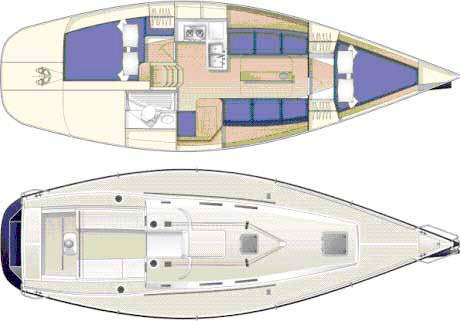 A J109 Layout
Overall results of the J109 Class:

Pos

Boat Name

Sat

Sun

Mon

Tue

Wed

Thu

Total

Best 5
Results

1

SHIVA

2.0

2.0

1.0

7.0

1.0

2.0

15.00

8.00

2

ZELDA

3.0

1.0

2.0

3.0

2.0

5.0

16.00

11.00

3

JAHMALI

4.0

3.0

7.0

2.0

3.0

1.0

20.00

13.00

4

FIRESTORM

1.0

28.0

9.0

1.0

6.0

3.0

48.00

20.00

5

JANGADA TOO

8.0

14.0

4.0

6.0

5.0

8.0

45.00

31.00

6

RED ARROW

6.0

28.0

5.0

4.0

10.0

10.0

63.00

35.00

7

JAMBO

15.0

6.0

11.0

9.0

7.0

4.0

52.00

37.00

8

PERSEVERANCE

13.0

5.0

28.0

10.0

9.0

6.0

71.00

43.00

9

JUMPING JELLYFISH

9.0

28.0

12.0

11.0

4.0

12.0

76.00

48.00

10

OUTRAJEOUS

17.0

7.0

8.0

5.0

15.0

13.0

65.00

48.00

11

MOJITO

5.0

15.0

16.0

13.0

14.0

7.0

70.00

54.00

12

HIGH TENSION

14.0

9.0

14.0

15.0

13.0

19.0

84.00

65.00

13

JET

19.0

12.0

10.0

14.0

18.0

11.0

84.00

65.00

14

ALICE

11.0

13.0

15.0

16.0

19.0

16.0

90.00

71.00

15

BASIC INSTINCT

21.0

20.0

28.0

8.0

8.0

17.0

102.00

74.00

16

JOHNNY BLUE II

10.0

4.0

3.0

28.0

30.0

30.0

105.00

75.00

17

JOYRIDE

7.0

8.0

6.0

28.0

30.0

30.0

109.00

79.00

18

JEBOCH

23.0

16.0

19.0

12.0

11.0

28.0

109.00

81.00

19

DESIGNSTAR 2

28.0

11.0

17.0

30.0

17.0

9.0

112.00

82.00

20

DORIS J

18.0

10.0

22.0

21.0

20.0

15.0

106.00

84.00

21

JUST SO

12.0

18.0

18.0

28.0

21.0

22.0

119.00

91.00

22

SQUIBS

22.0

28.0

20.0

20.0

12.0

18.0

120.00

92.00

23

JONPEDU

28.0

17.0

23.0

18.0

23.0

14.0

123.00

95.00

24

BATFISH II

16.0

28.0

24.0

19.0

22.0

23.0

132.00

104.00

25

JUST WILLIAM

20.0

28.0

13.0

17.0

30.0

28.0

136.00

106.00

26

JOUSTER

28.0

28.0

21.0

23.0

16.0

21.0

137.00

109.00

27

BETH

24.0

19.0

28.0

22.0

24.0

20.0

137.00

109.00
Report and results details by Pete Walters. Skipper, Alice of Hamble. J109 1L
Full details of this year's event can be viewed at: http://www.skandiacowesweek.co.uk
Pictures from the regatta are the copywrite of Rick Tomlinson.