IPA Adriatic Cup 2008




Most officers, serving or retired, will be aware of the International Police Association - the IPA - which has been in existence since 1950 and has a large number of members in a current total of 61 countries.

In May this year a number of serving and retired officers from the southwest region of the UK International Police Association made their way to Croatia to take part in the IPA Adriatic Cup regatta.

The two teams made up from the Devon & Cornwall and Dorset Force members made up the regatta of just three yachts using Grand Soleil's.

Main report provided by Paul Smith.
Šibenik, Croatia IPA hosted the inaugural IPA Adriatic Cup between 10th May and 17th May, 2008.
Croatia IPA, everyone connected with the Regatta and the local people made the whole experience most special, certainly one to remember and provided racing that tested us all.
Both IPA Region 7 teams ('A' and 'B'- Bournemouth and Plymouth Branch members making up Region 7 'A' boat; with Plymouth, Devon and Cornwall Branch members making up the Region 7 'B' boat). flew to Split airport on 10th May 2008. From the moment we landed until our departure a week later we were hosted with the warmest of hospitality and made to feel most welcome in this beautiful country. We could have never expected such friendship and hospitality.
The first day was allocated for acclimatisation and familiarisation sailing with well-equipped Grand Soleil yachts, with racing starting on day two.

ŠIBENIK, a city and port in northern Dalmatia, not far from the estuary of the Krka river into the Bay of Šibenik, connected by narrow straits with the Šibenik Channel.
Mid-week we were treated to a rest day and given a guided tour of the Kyrka National Park, seeing the fantastic waterfalls at close quarters, as well as a river-boat ride upstream to the monastery. Once again our hosts ensured the day was most memorable, and our National Park guide gave an articulate and captivating brief on the history of the national park and also of Croatia's troubled past.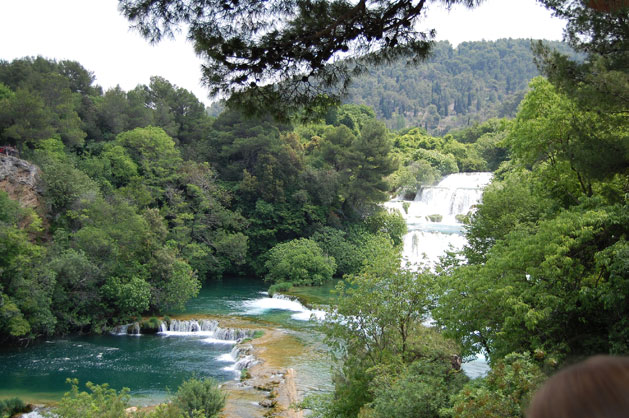 The regatta required the completion of four passage races, passing through the most glorious coastline and islands. The first race took us to the Kornati Islands, an archipelago of over 1000 islands, most uninhabited and all of striking beauty. The remaining three races all finished at Šibenik marina, but routed differently through the surrounding islands.
The races each day consisted of 30 to 40 miles with islands and lighthouses as turning marks of the course. (See Race 4 below). Each course had beats into the wind, reaching and spinnaker legs with winds reaching 28 knots in gusts around the island headlands, but at all times it was sunny and warm.
Race One


Click to view Course in greater detail
Race 1 saw IPA Region 7A in a Grand Soliel 37 with a crew of 4 take an early lead which they held until a few miles before the finish when they were overhauled by the Croatian IPA team in a Grand Soliel 40 with a crew of 7 who went on to cross the line first by a few minutes. IPA Region 7B in a Grand Soliel 40R were third on the water. Both Croatia IPA and IPA Region 7B had to give time on handicap to the smaller and slower IPA Region 7A boat,
The result of Race 1 was 1st: IPA R7A, 2nd: Croatia IPA, 3rd: IPA R7B.
Race Two


Click to view Course in greater detail

Race 2 and 3 saw the lead on the water change several times with minutes between all of the boats at the finish.
The result of Race 2 was 1st: IPA R7A, 2nd: IPA R7B, 3rd: Croatia IPA.
Race Three


Click to view Course in greater detail
The result of Race 3 was 1st: IPA R7A, 2nd: Croatia IPA, 3rd: IPA R7B.
Race Four


Click to view Course in greater detail

Race 4 saw IPA R7B get off too a good start, IPA R7A followed with Croatia IPA slightly late. The first 5 miles saw a series of close match-racing style tacking duels into the wind. This was followed by spinnaker legs in strong winds with gybes at the turning marks making exciting sailing with all of the boats near their limits. IPA R7B held the lead until 2 miles before the finish line when they were overtaken by IPA R7A on the final beat into wind. A tense last two miles of beating into wind saw IPA R7A cross the line first beating IPA R7B by one second, the length of an anchor.
The result of Race 4 was 1st: IPA R7A, 2nd: IPA R7B, 3rd: Croatia IPA.

IPA Adriatic Cup 2008 - Overall Results

Team

Race 1

Race 2

Race 3

Race 4

Position

IPA Region 7A

1

1

1

1

Champions

IPA Region 7B

3

2

3

2

2nd

Croatia IPA

2

3

2

3

3rd

IPA R7B and Croatia had the same number of points, but IPA R7B beat Croatia IPA in the last race
which was how tied points were decided.
The boats, sailing area, weather and the new friends that had been made will ensure IPA Region 7 will be supporting the Adriatic Cup event in the future.


Back Row: (Plymouth Branch – Region 7B) Left to Right:- Julie Finn, Lisa Costin, Julie Turner, Ian Tomlinson,
Jon Bancroft, Andy Munday (Skipper of Region 7B), Ray Lawry, Craig Downham.
Front Row: (Bournemouth Branch – Region 7A) Left to Right:- George Russell, Andy Welch,
Ivor Graham (Skipper of Region 7A), Dave Pridoe


You can view the UK IPA website via: http://www.ipa-uk.org
Paul Smith is the Chairman of the Bournemouth Branch in Region 7 of the UK's IPA. Region 7 has its own website at: http://www.ipauk7.org/