Strathclyde Police Recreation Association
Police Regattas & Results
2010
---
NORTH BRITISH AND STRATHCLYDE POLICE SAILING CHAMPIONSHIP 2010
REPORT AND RESULTS
This yearís event has again been an absolute pleasure to organise and witness from the committee boat crewed by myself as event organiser/race officer, Arthur Munn assistant race officer and my wife Lynsey.
May I take this opportunity to thank all who attended and took part in the event which has now achieved a long held ambition of mine to have a larger attendance than the PSUK event. I would also like to thank Kay and Louise the treasurer and secretary of the sailing section for their assistance.
This year we had an entry of 24 yachts sadly one, the defending champion had to call off at the last, due to the pressures of duty, dropping the entry to 23 yachts making a fleet of 24, including the committee boat.
All yachts gathered at Troon over the weekend of 5th, 6th June, 2010 sampling the hospitality of the Marina and surrounding town. The marina were kind enough to place the committee boat in such a manner, next to the pedestrian access giving everyone a chance to reacquaint or introduce themselves and sample the hospitality on board.
On Monday morning Neil Richardson the Deputy Chief Constable of Strathclyde and Brian McKelvie of the Strathclyde Police Recreation Association joined the committee boat for the day to witness the event at close hand. Both enjoyed their day and were a pleasure to have on board.
RACE 1
Monday, 7th June dawned bright with little wind, a course was set, but by 10:30 hrs no wind of note was apparent and all yachts motored of in the direction of Little Cumbrae where about 13:30 an amended course was set and a start given. The yachts sailed in the very light winds with positions changing constantly depending on who had the breeze. The committee boat stayed a short distance in front of the fleet and decided upon a shortened course around 16:00. Leomaris took the line honours closely followed by Contessa Royal, (Strathclyde) and then Charlie Donít Surf, (PSNI) in third. The rest of the fleet followed them home to the finish. Yachts then made their way to Kip Marina where a buffet was provided for the hungry sailor who spent a long day in the sun. But they were not that thirsty. A great night was had by all in the chartroom with old friends renewing acquaintances and the newcomers getting a good initiation into the social scene of the event.

RACE 2
Tuesday, 8th June dawned cloudy and grey with slight rain at various times but wind was apparent, course set and race started at 10:30. Off the yachts went on their merry way towards Dunoon around various marks before heading back down the Clyde with many popping their kites and gaining good speed. The committee boat had to motor hard to get in front in order to put a finish line in place. One or two broaches were witnessed at a distance and all the yachts found a race for themselves somewhere in the fleet. First Celtic Crusader, Leomaris , Charlie Donít Surf and Contessa Royal at the front, with Charlie suffering a problem at the 3rd last mark with their kite costing them dear. First Celtic Crusader, (South Wales) took the line hours followed by Leomaris and then Charlie Donít Surf.
Once the remaining fleet finished it was decided to have a second race round a triangle of buoys off Rothesay. Sadly Jonah's skipper was not alert at the morning briefing and slipped unnoticed into Rothesay Harbour where they spent the day wondering where the fleet was.

RACE 3
Course set and the start was given about 14:00 and the yachts set off in freshening winds towards Bank buoy; a good beat to windward. All except Jonah, who took the afternoon off. A good race was had by all but some showers of rain and the chilly day made the committee boat decide to shorten the course. One of the crew on Leomaris is a bit soft and feels the cold apparently. First Celtic Crusader took the line honours followed again by Leomaris and Charlie Donít Surf. All the yachts then made their way into Rothesay Harbour for overnight berthing and the opportunity to enjoy the Town.


RACE 4
Wednesday, 9th June came with high winds and rain and the prospect of a race cancellation loomed. Various delays were put in place and several weather sites visited before a decision was made to leave Rothesay at 13:00, motor to Kames and then start a race to Tarbert as soon as the yachts gathered at Kames. It was also decided to split the fleet into a fast and slow fleet based on the performances in the previous races.
The race started at 15:00 and the yachts set off on their separate courses. The fast boats going round Inchmarnock to starboard then to finish at Tarbert and the slow fleet going straight to the finish. Again an interesting race was had by all in both fleets in testing conditions. Most went for a reef at the start but these were quickly taken out shortly after the start.
Line honours in the slow fleet were taken by Te Luath (Lancashire) closely followed by Whiskey Mac (PSNI) and Final Fling third.
The fast fleet honours were taken by First Celtic Crusader 2nd Leomaris 3rd Charlie Donít Surf. Despite being briefed to start in the slow fleet Jon Buoy, West Yorkshire sailed the longer course and were promoted to the fast fleet for their efforts. The weather also brightened to show the town of Tarbert at its best. The yachts berthed overnight and enjoyed the delights of Tarbert.


RACE 5
Thursday, 10th June came with warm sunshine and light winds. Again it was decided to split the fleet and two courses were set.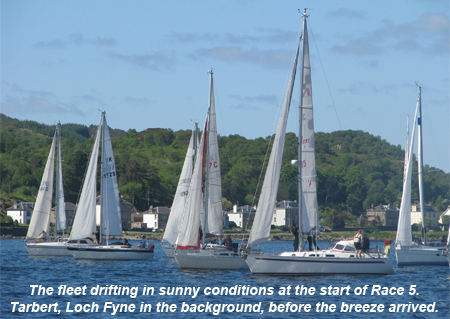 The slow fleet rounding Sgat Mhor to starboard, the Inchmarnock to port and finish at Portavadie. whilst the fast fleet rounded Sgat Mhor to starboard, Skipness buoy to port and InchMarnock to Port, then finish at Portavadie. Due to limited space and traffic in the area of Tarbert it was decided to use a different start. All yachts were to form a line abreast behind the committee boat under engine the start would be given and sails raised and off they went at 10:30. The start worked well with no yachts having an advantage due to the light winds. They all drifted for a while before the wind freshened and off they went on their courses. Again racing was close in both fleets with everyone finding someone close at hand to race.
Line honours in the slow fleet were taken by Starkle, (Lothian and Borders) followed by Salamander (Strathclyde), 2nd and Meercat, (PSNI) in 3rd.
Line honours in the fast fleet were taken by First Celtic Crusader, Leomaris 2nd and Dipper, (North Yorks) 3rd.
The yachts then headed into Portavadie Marina for overnight berthing and a bar-b-que prior to the prize presentation.




PRIZE LIST
North British Sailing Championship Shield
1. Leomaris. Skipper Ricky Gray. Strathclyde.
2. Contessa Royal. Skipper Kenny Millar. Strathclyde.
3. Charlie Donít Surf. Skipper Phil Quinn. PSNI.

Strathclyde Police Sailing Championship Rose Bowl.
1. Leomaris. Skipper Ricky Gray. Strathclyde.
2. Contessa Royal. Skipper Kenny Millar.
3. Salamander. Skipper Bob Stone. Strathclyde.
Porthole Trophy. Fast Fleet Races
1. Leomaris. Skipper Ricky Gray. Strathclyde.
2. Dipper. Skipper Ben Franke. North Yorkshire
3. Charlie Donít Surf. Skipper Phil Quinn. PSNI
Anchor Hotel Trophy. Slow Fleet Races.
1. Straiddorn of Down. Skipper James Heron. PSNI.
2. Starkle. Skipper Alan MacMillan. Lothian & Borders.
3. Somerled. Skipper John Morgan. Strathclyde. Esprite Skipper Matt Jenkins. PSNI. Swashbuckler. Skipper .PSNI
PSNI Trophy. Best performance by a fully serving officer crew.
1. Charlie Donít Surf. Skipper Phil Quinn. PSNI.
Galbraith Trophy. Best Irish yacht performance.
1. Charlie Donít Surf. Skipper Phil Quinn. PSNI
Lynsey Gilmer Trophy. Best Non Celtic yacht performance.
1. Dipper. Skipper Ben Franke. North Yorkshire.
Invitation Plate.
1. Sambuca. Skipper Sam McIntyre. Strathclyde/Invitation.
Portavadie Marina Trophy. Best improvement on previous year.
1. Starkle. Skipper Alan MacMillan. Lothian & Borders.
Some more amusing and less serious awards were also made.
Swashbuckler (PSNI) received 3 langoustines for their wonderful attempt to moor on a pot buoy near Kames in front of the whole fleet.
Jon Buoy the West Yorkshire team received a fender for use in Rothesay due to the fending off required to extricate themselves from the harbour without damage.
Stevie Corson a crew member on Leomaris received a packet of porridge oats to help him keep warm on colder days.
Stevie Andrews the skipper of Myna Bird, PSNI was gifted a set of hair curlers from his crew to keep his new found curly locks in order.
In closing it was interesting to note that all attending expressed a wish to return next year, it was also surprising the improvement in performance from some of the yachts who attended last year. I also overheard discussions regarding the purchase of spinnakers for next year and other go-faster items.
Again many thanks for your attendance which makes the event possible. For those of you reading this that have not attended, please give it a try - you will have a good time in friendly competition.

Colin Gilmer. Event Organiser.
---
Click Here to view
ANNUAL OFFSHORE SAILING CHAMPIONSHIPS 2009
---
Click Here to view previous regattas & results 2003-2008