British Police at the Phantom Nationals 2013
The Police Sport UK National Dinghy Championship held at Rutland Sailing Club in 2012 was won by Nick Mason representing the Met Police.

As a result and with the support of the PSUK Sailing Section, he was offered the opportunity to represent the British Police in a national dinghy event during 2013.

His selected event was the Phantom Nationals held at Shoreham Sailing Club on 6th - 8th September, 2013.

This is Nick's own story of his preparation and performance in the two day event.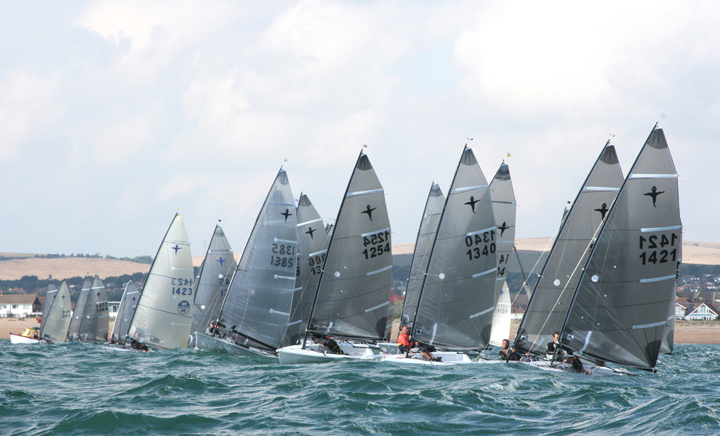 All Pictures from the Phantom Nationals, 2013 are with grateful thanks to www.warwickpics.com

Having been lucky enough to receive some Financial assistance from Police Sport UK, I decided to have another crack at the Phantom Dinghy Nationals, my third time at this prestigious event. Previous years had seen me luck out with gear failure at Lyme Regis in 2011 when I had just joined the class (with a brand new boat - so not best pleased about gear failure) and a general lack of preparation for Sunderland 2012. This time I thought I'd give it a proper go and set about working towards the event early in the season and aiming for a top ten finish at the Nationals.
I competed in a number of Open Meetings where I found my sailing to be pretty consistent with a number of second place finishes or as I termed it "Always the Bridesmaid, never the Bride". Each time I sought advice on my boat tuning and the equipment I was using from my sailing buddy Simon Hawkes (ex Avon and Somerset Constabulary) and a well respected sailor within the Phantom Class and anyone else I could bleed information from.
After much deliberation I decided that I needed to change my control line set up (that's the stuff that looks like coloured spaghetti snaking around in the cockpit at the front of my boat). A new system was developed so that my 'Lowers' on my mast remained taut when I raked my mast thus delivering a stiffness at the bottom of the mast keeping power low down. I was happy with my mast itself, it being the CST that all the top boys were sailing so I left that alone, though I did treat myself to a new ODLO5 sail through Pinnell and Bax just to ensure my family were completely skint for the rest of the summer.
Now those of you who compete will appreciate that the most important thing about preparing for a Championship event is getting time in the boat. In series racing you need to be consistent and my aim was to finish every race, making as few mistakes as possible. However, work and family life conspired against me. I managed to compete in a two day event at the beginning of July and then had three weeks family holiday. Upon return to my work in August I was snowed under and a week of 'On Call' meant I got no time in my boat.
And so to the event.
The 2013 'Ovington Boats' Phantom Nationals was scheduled at Shoreham Sailing Club near Brighton to be held over the long weekend of 6th to 8th September. Although it was a long weekend, several of us Phantomers decided to arrive on the Wednesday to get some practice and boat tuning in before the mass arrived on Friday morning, Wednesday saw me making some fine adjustments to my boat in an effort to ensure that I was ready for a good practice day Thursday. Unfortunately, on Thursday we were met with no wind which meant no meaningful practice and no time to try out the new systems now in place on my machine. I retired to the boat park to peruse the local tidal charts and discuss the finer points of Phantom sailing on the lawn of the sailing club with a cold beer and a number of my Phantoming friends.
Friday morning was registration day and the first day of racing. There was a total of 48 entries and I was amongst some distinguished company with at least eight National, European or World Champions from either the Phantom or other classes…………I was beginning to think my chances of a top 10 finish were looking doubtful, but undeterred I set out to sea.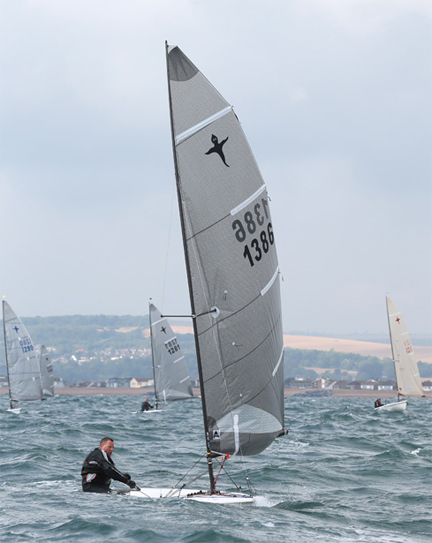 Shoreham is an epic place to sail. If there is wind against tide you get massive rolling waves which run the length of the South Coast. The wind was blowing a good 20 knots and, (as expected with this fleet) the start of Race One was a general recall and the real start was under the black flag, with the tide pushing the fleet hard on the line. We sailed course A, Triangle Sausage, The first beat was hard fought and the waves seemed fairly big. It was here that I discovered that my fine tuning hadn't gone so well. These boats need a lot of kicker when you rake upwind and I hadn't adjusted mine sufficiently. The upshot of this was I couldn't get enough on upwind and even when block to block I was having to spill a huge amount of wind using the main………not good and I was pretty fed up. As I reached the windward mark several people were caught out when bearing away and discovering the acceleration off the tops of the swell on a broad reach. The Phantom only weighs 61kg and screams down reaches (if you keep it upright)., What I'd lost out on the beat I was able to make up downwind………after all I didn't have to worry too much about letting my kicker off downwind…….didn't have much on anyway!!!!! I slogged round the course and managed a 12th, which given the lack of kicker I was pretty happy with in a scheduled 7 Race series.
The second race of the day was held back to back and so no time to fix my kicker problem…….. More frustration in the Mason camp!!!!!! Course B was posted, Windward / Leeward. Another challenging start but under the Blue Peter and we were away 1st time. The wind over tide was making for more interesting sailing, challenging the boat handling skills of everybody. Having relatively no kicker tension was proving difficult and I tried to sail slightly off the wind to compensate. Suffice to say it didn't and I ended up 21st. Fortunately the last race of the day was abandoned due to the conditions.
With a hard day on the sea the competitors returned to shore to be met by a nice cold beer on the top of the slipway. I spent the next couple of hours sorting my boat assisted by Hawkesy, the Jedi master when it comes to all things to do with the Phantom!! Saturday night saw us entertained by a lavish buffet provided by the sponsors and a couple of Brighton Blondes, a beer supplied by a local brewery. I retired to my van parked next to the Sailing Club content in the knowledge I was ready for the next day's racing and the opportunity to get some decent results.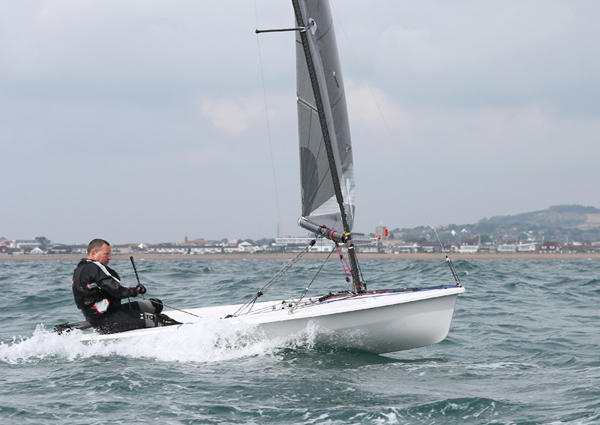 Saturday I was awoken by the sound of 30 knots of wind buffeting my van and shrouds in the boat park howling. The sky was filled with cloud and it looked ominous, in fact to be honest it looked frightening. I know Shoreham well and at the Sailing Club you are sheltered in the harbour. Beyond the harbour wall is a different story and 30 knots of wind against tide meant it was going to be much different out on the race track! There was a lot of discussion about safety but the Race Officer called it (Correctly)……It was safe to Race and he would be commencing Race 3 shortly. As I left the sailing club to launch my boat the Race Officer was heard to comment, "The waves are quite big, you will no doubt go faster than you have ever done before in your Phantom, although it may not be for very long!". I ventured out and wasn't disappointed. Beyond the harbour I was met by a wall of wind with gusts of 35 knots hitting me. It was not possible to remain stationery in the boat as the swell would have turned it over…………..This was proper Shoreham racing. I had a look down the start line, trying to gauge which end to start. I didn't want to be second row on the line but at the same time I'd paid a lot of money for my boat and I didn't want to get taken out and ruin the rest of my series. I managed a middle of the line out of trouble start and started Race 3 sailing course 'A' triangle/sausage. The wind was with tide but there was still a swell on. My kicker was working well much to my relief. I bore away round the windward mark and launched down the back of a huge wave. All around me was carnage. I reached the gybe mark and was thinking about tacking round but was travelling too fast so had to go for the gybe. The secret of gybing in these things is to keep the boat speed on and reduce the pressure on the main. I went for it surfing down the back of a wave and to my surprise actually came out of it in one piece. The race continued in survival conditions. At times the boat was moving so fast I was overtaking waves and ploughing through the backs of others, with walls of water washing up the boat threatening to drag me out of the back. I managed to get round without a capsize and finished 11th which I was happy with given the conditions which worsened. The fleet were instructed to return to the safety of the harbour and Race 4 was abandoned. On return I found out that we'd been sailing in gusts of forty knots.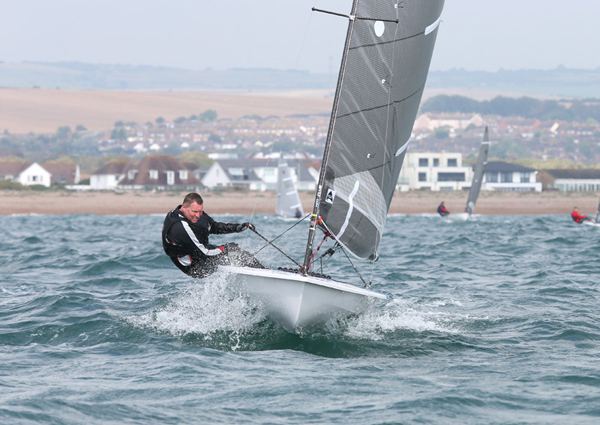 Saturday night saw another social event with a sponsored "Hog Roast" and more "Brighton Blondes". My boat stood up well to the test so I was happy that I was still in with a chance to achieve the top ten, lying 13th overall on Saturday Night with three races planned for Sunday, the last day of the event.
Couldn't believe this……………Sunday dawned…………NO WIND………unbelievable after the previous days howler. However the Race officer assured us that a SW F4 was on its way…………..he was right of course!
Race 5, started on time on Course 'A' and was an easy start with Wind and Tide working together. A port end flyer, Ian Sullivan, crossed the whole fleet with boat lengths to spare. The wind had arrived as promised and the sailing was fantastic, a nice F4, although it was being encouraged by squalls at times making for some exhilarating reaches. No idea what happened here, but I was 23rd, got the beats completely wrong……Not happy.
Race 6 was more of the same but still only managed a 17th…………..still not happy.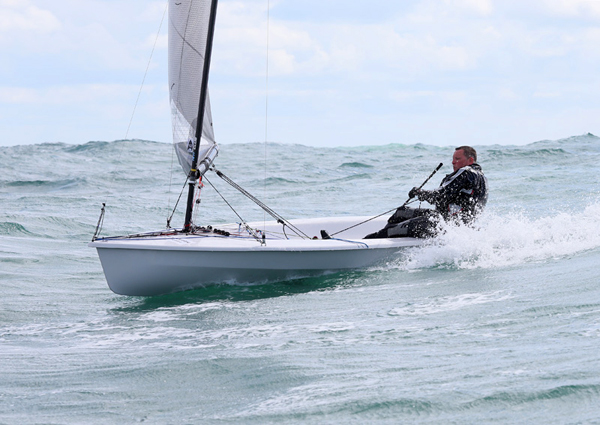 The time had come for Race 7, the final race. Andy Couch had already secured the Championship and he headed for home leaving it for us mere mortals to scrap over the leftovers. By now the wind was up again, 30-35 knots and some of the fleet decided they had enough. But I had to stay, I had to pull off something special to get into the top 10. The Race started and I got an absolute flyer and was 6th round the windward mark. I started on my reach then saw a few boats bearing further away to port, sailing course B windward leeward. I take no pleasure in this (well not much anyway) but I knew they were in the wrong. They were assuming a course change but I had made a point of checking it so I set about my business fighting it out with local hero Tyler Harmsworth (Ex Phantom National Champion) for 3rd / 4th place. All was going well and I was on the last leg. I was about 100 yards from the finish line in 4th place that would have ensured at least my top ten finish when I heard a loud bang!.........The next thing I knew I was eating the green stuff and being rescued. For some reason the pintle on my rudder sheered. This is a part that should never fail, but it did. The forces exerted on my carbon rudder caused it to buckle and that was it for me……………..Obviously I had chuckled too much at the misfortune of those that went down the wrong leg of the course and I got some pay back in a big expensive way!!!!
And of course that meant the end of the Nationals for me. I ended up 15th overall slightly disappointing in that without the rudder failure I would have achieved my aim of top ten and I would have finished all races.
I have to say, despite the last race, it was a fantastic event and all the competitors had a great time thanks to the generosity of Ovington Boats, Seabrook Developments and the team at Shoreham Sailing Club.
My final thanks must go to PSUK for the financial support I received which helped relieve some of the cost burden. The other competitors weren't quite as appreciative and when they realised I had received some money to compete I was ordained with the title 'Bent Copper'!!!!!!!! Guess we still have some way to go in educating certain areas of society about our modern Police Service.
Full results at: the Phantom Class Association website.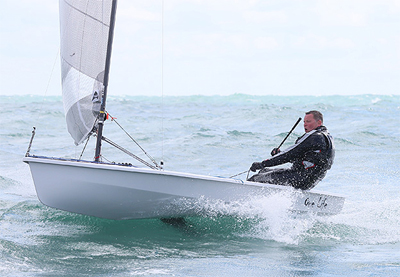 All Pictures from the Phantom Nationals, 2013 are with grateful thanks to:
www.warwickpics.com