Blue Arrow's "America's Cup Challenge"


A Story from the 80's

From 1973 to 1994, Charles (Chaz) Jordan was a member of Kent Police and competed in a number of police sailing regattas in his Phantom.

Chaz built his Phantom from scratch during the winter of 1979-80 and took part in the Devon & Cornwall PAA Champs at Exmouth in 1983 coming 5th overall and receiving the Maiden Trophy.

This is the story of his further experiences starting in the summer of that year.
Having competed in the PAA Dinghy Champs, 1983, I had missed the UK National Phantom Sailing Championship held during the September, due to work. I then read in the Yachts & Yachting magazine that the Phantom Nationals had been postponed due to excessive winds at Grafham Water after 2 races. Y&Y stated the Championships were now to be held over the remaining 4 races at Grafham during October 1983 - and this, I was able to attend.
During the two-day event, there were 18 Phantoms and the wind rarely abated to below F5 (and that was overnight). It blew like hell both days, unbelievably at Force 5-7 touching 8 at times. Every boat capsized at some time or other and some damage occurred during this speedy event. My Phantom was one of 6 that was undamaged. I recall capsizing 5 times during the 1st race and 3 times during the following race. Day 2 was nearly as bad. 1st race = 5th, 2nd race = 2nd, 3rd race = 4th & 4th race = 2nd. 5,2,4,2 - my number on joining Kent Police; what a coincidence. I was absolutely delighted. I had won! They told me consistency is the key..

Following a couple of attempts to get me onto the Phantom Committee, they eventually succeeded and I became Class Secretary from 1986 to 1989.

During my time in office, the Phantom Association decided to assist the British Team for the America's Cup Challenge, by making a small donation in return for a video tape about the 'Blue Arrow' Cup Challenge yacht based at Falmouth. About 4 days later, I received a telephone call from David Redfern (Press & Publicity Officer of Blue Arrow at Falmouth) inviting me join the British Team at Falmouth during October 1988.

I drove 300 miles hot-foot from Maidstone to Falmouth in high winds and driving rain. I found a B&B just 300 metres from the Blue Arrow hangar. The hangar remained closed due to the F8 gales and continual driving rain for the rest of Monday, throughout that night and for most of Tuesday.


The Blue Arrow base at Falmouth
Wednesday 12th October started dull and overcast with virtually no wind. I made my way down to the hangar and was met by David Redfern. I was introduced to :
Derek Clark (Design Coordinator & Civil Engineer who coordinated the Blue Arrow design program from the start. He is a veteran of the Victory campaign and sailed as Tactician on the Kookaburra in Australia, which came close to winning the America's Cup in Perth. In 1976 he was selected for the Olympics and in 1980 he worked as a tactician on the Mayhem in the Admiral's Cup race)

Tony Castro (Designer. Has won many awards, including 2 World Championships, the One Ton Cup and the Quarter Ton Cup and was a core member of the Blue Arrow Team)

Ed Dubois (Designer - recognised as one of the world's best yacht designers)

Jo Richards (Designer - won an Olympic Medal sailing a Flying Dutchman in 1984)

Leo Mason (Official Photographer for the Blue Arrow Team and twice winner of the British Sports Photography "Photographer of the Year" award)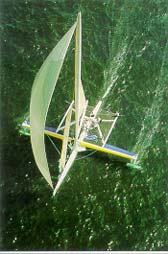 Blue Arrow's "America's Cup Challenge" yacht was designed with speed in mind.
Having only had a brief glimpse of the Blue Arrow yacht on TV, I stood there in awe as the hangar doors were opening, revealing what at first impressions was a huge but sleek, exotic bird.

Because of the radical design, Blue Arrow named the yacht "Radical". She is 65ft LOA and because of the very slim forward entry, she creates minimal bow wave or wake. Radical is a foil-stabilised mono-hull which has a 2.583ft beam (2ft 7ins). At the outer ends of the 60ft cross beams (which look remarkably like aeroplane wings in order to create minimal drag) are vertical forward facing pylons (similar to keels) which dip below the surface of the water. Attached to these are the key to the whole concept - Horizontal foils that trim like aeroplane ailerons that provide lift and down-thrust as required. Radical is built of carbon fibre for strength and maximum lightness. I was informed Radical only weighed 1.5 tonnes. A hydraulic ram can move the cross-beam fore and aft up to a foot either way. Coming out of the rear of the hull are struts supporting a kind of a trampoline of netting, (water below) which acts as a crew platform. Towards the stern is a small square cockpit which allows a person to stand inside the hull, with the sole responsibility of keeping Radical level, aided by a digital readout display and a rotary pump handle, rather like the one that faces the driver of a Blackpool Tram. He has to turn the handle one way and then the other which alters the angle of the horizontal ailerons by just a fraction of a degree.
One of the most striking things about Radical is her 80 ft wing mast, 4ft at the widest part. It was built at the hi-tech works of Paragon Composites, Totnes. Martin Smyth, Chief Stress Analyst at British Aerospace in Bristol (one of the world's leading authorities in composite structures) was largely responsible for the design and construction of the mast.

With the basic design finalised and the hull units under way, the Design Team agonised over their computers, about whether the whole vessel was going to be controllable in real-life. Like 'Concorde' and 'Kittyhawk', it would fly on paper, but how would it translate to the sea in Falmouth Bay?

I feel extremely privileged to have been invited aboard ~ I stood there, trance like, at the sheer elegance and beauty of the Radical.

Whilst I donned a splash-suit in the Blue Arrow colours, I watched Radical being craned into the water dock-side, followed by the 80ft wing mast. The crew busily rigged Radical and within 10 minutes of her touching water, she was properly rigged with full sails. I joined 9 Blue Arrow employees in an accompanying motor launch that followed Radical out into Falmouth Bay. The weather had improved and the clouds were dispersing but the wind was only about F0.5 and it was sunny and warm. As we followed in the wake of Radical, I was standing next to the launch coxswain, I saw we were touching 4 knots. 'But there's hardly any breeze.' I thought. I was able to take several photographs, most of which were unfortunately blurred due to the vibration from the marine engine.

Having followed 'Radical' about the Falmouth sound for 2 hours, the launch eased up to the port quarter. David Powys (Crew member of the defending Kookaburra Team 1987) was aboard Radical who called out, "Mr. Jordan, we would very much like your company, step aboard please!" Butterflies or what?!! Stepping aboard was something else. I transferred my weight from a solid launch onto (just) netting which sank under my weight and Radical appeared to tilt towards me. I scrambled uphill towards the hull. Because of the relatively slow speed through the water, the ailerons did not have the required lift or down-thrust required to keep the yacht from capsizing, so I was asked to use my weight (approx 17.5st) as ballast. It was like a balancing act. As I was nipping from one wing to the other attempting to help stabilise the yacht, I failed to notice a patch of wind coming across the water towards the yacht. The sudden acceleration from 3 knots to about 8 knots, knocked me off my feet and I landed in a heap amid laughter from the crew. And that was without the gennaker!! I took my turn, cranking the 'tram wheel,' turning the wheel this way and that. Full concentration was required.

Leo Mason took a photograph of Yvonne Couldrey, Marketing Manager
for Blue Arrow and myself whilst aboard Radical.
Ed Dubois who was aboard asked me several nautical questions including, "If we were to ask you to design a new British yacht for the 'America's Cup' what would you build?" Taken aback somewhat, I described a maximum mono-hull, width under America's Cup rules (then 25ft, LOA 85ft, LWL 70ft), raked bow with flair to support lift through larger wave patterns, hull shape so-n-so, mast so-n-so, sail, keel shape, etc., etc." He paused, then said, "Have you been into our computer room?" I answered, "No." Later, when we had been returned to shore, I was invited into the Team computer cabin and shown a number of screens. As the computer hummed into life, images of various yachts became visible on the 4 screens. I said, "Like that!" and indicated a yacht very similar to that which I had described on Radical. "We have been working on that idea for some years and you come up with a very similar idea within 30 minutes?" I learned later that Michael Fay had built a similar craft, but I suppose it shows I was thinking along the right lines. It's nice to know that the guys at the top are genuinely interested in the thoughts of the guys towards the bottom. My two hours aboard passed too quickly and I was required to leave, making room for another lucky visitor.

David Redferm assured me that I am the only civilian other than Blue Arrow employees that has been invited aboard Radical. Blue Arrow's hospitality was first class and I thanked them all very much - indeed!

Before I left their base, I was given a splash jacket in the Blue Arrow colours with their logo thereon and various brochures. I later received a photograph from Leo Mason and the Blue Arrow Team that hangs proudly in my study.
Chaz Jordan
Kent Police 1973-1994