D-One Gold Cup 2016 world Championship
Having been fortunate enough to win the single handed section of the Police Nationals, with the offered support I decided to enter the D-One Worlds in Riva Del Garda in September.
To make it more of a holiday we also went to Austria, Lake Attersee for the Austrian Nationals immediately before Garda.
It took two days to get to Attersee and the wind failed to play ball, so although having entered there was no race above 3 knots. This meant staying ashore in 31degrees of sunshine, swimming in the lovely clear water and occasionally cooling off with a beer. The only race I managed was cancelled and we all came in due to lack of wind.
Onto Garda for the Gold Cup which was due to commence on the 15th September. After a lovely drive and the weather still holding out in the high twenties we arrived at our camp site just up the road from the Sailing Club. We had travelled with friends and between us had five boats in tow.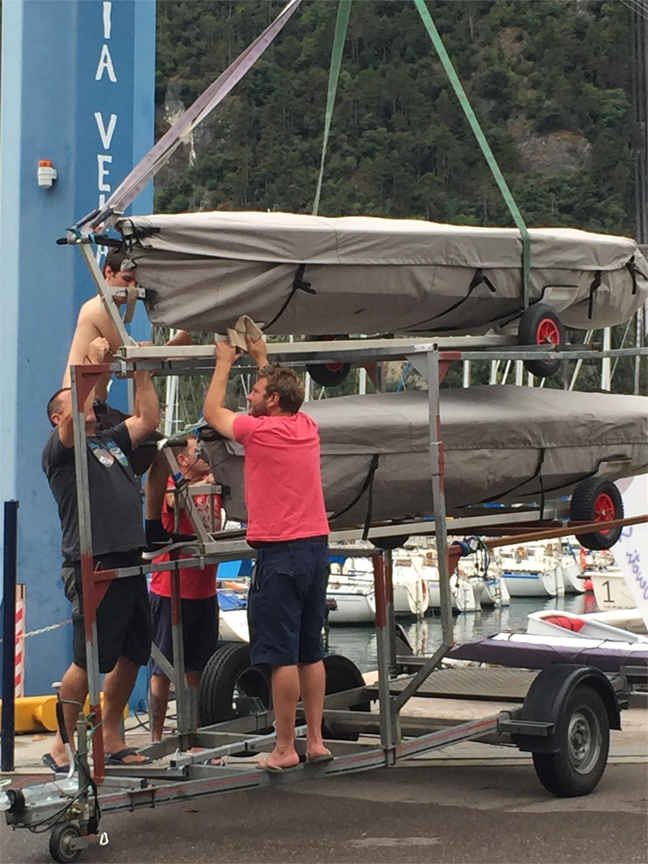 The Club fortunately had a crane which made the unload a great deal easier.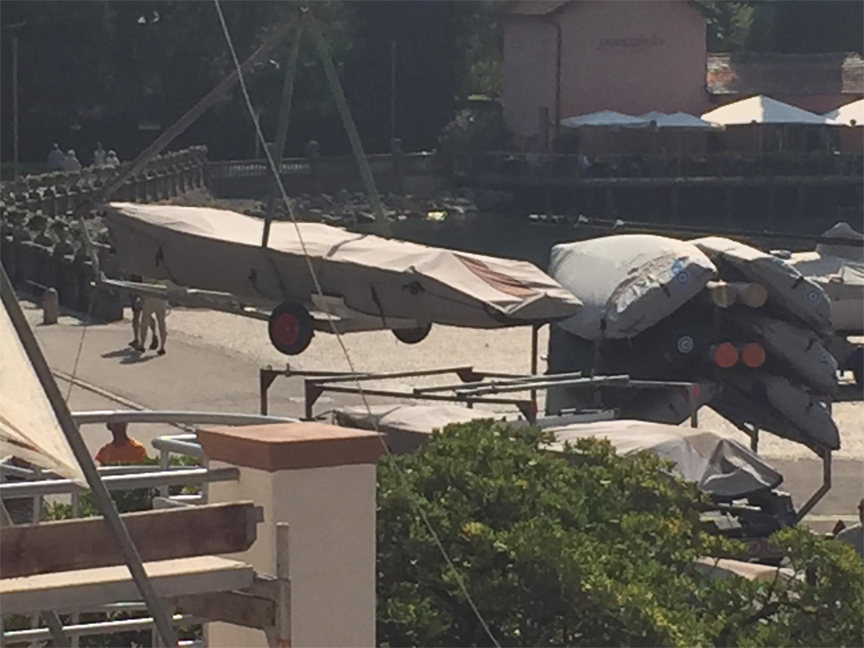 Garda is famous for its wind conditions with the 'Ora' being the afternoon wind blowing down the lake in a medium to strong fashion every afternoon. These were conditions I was hoping for due to being on the inner wing setting for those over 86kg. The boat has two settings those being under 86kg able to sail with the wings extended a few further inches out creating about 9kg extra righting force.
Registration and weigh-in takes place, entering under the PSUK banner and putting a fictitious weight on the record for a bit of fun as I was always going to be over 86kg! Sadly I was only questioned by one other competitor as to if I really was 127kg!!
The day before the racing commenced a few people went out for a sail and the Ora duly kicked in and they flew around the lake in the sunshine having an amazing time. Sadly this was the only time we saw the Ora for the entire event and the racing was run in the early mornings with shifty Northerly winds. Such is life.
Day One dawned and we sailed off down to the start line in a F1 to 2. The course was set about two miles from the Club and took a while to get there. Race One started well and to my surprise I was third around the windward mark and managed to finish 5th which I was very pleased with. Race Two was very similar light shifty winds that caused a lot of place changes. I nearly had a nose bleed with the excitement of being first around the windward mark. I lost a few places around the course mainly downwind and finished a respectable 7th.

So after Day One I was extremely pleased to be lying third overall.
The next day saw us on the water for 8 a.m. ready for 0830 start. Slightly more breeze which made for pleasant sailing but I found it more difficult to find the groove and posted 7th and 8th which in the grand scheme of things was good but a little disappointing as it had started so well.
So to the last day which we were told was a last race non discard-able double points race. This effectively nullified race 5 which was just as well as I started terribly and posted a 10th.
So down to the important race, not a great start and well down the fleet in the teens at mark One. I gained a couple of places reaching away on port on the windward leeward course heading towards the left hand side of the course barely planing. Most people gybed back to the middle of the course but I could see it was very light in there.
With my position not being great I could afford a gamble and someone above looked upon this favourably. I carried on on port to the left of the course to the lay line back in, basically banging the corner. It was unlikely there was less wind there so I went for it.
I gybed back and sure enough I was planing well. The distance between boats made it very difficult to judge how things were going but it looked promising. Within 500 yd of the mark I could see I was back up to about 7th and low and behold, divine intervention I found myself on the wash or a large ferry and planed in at speed to the mark rounding in 4th. I could hear my friends happily cheering me and my good fortune………..NOT! This led to a processional beat and amazingly shortened course giving me fourth in the double points race.
My quick arithmetic worked out the I had recovered fifth overall and probably first over 50…...Yahoo!!!!
We got to shore and everyone eagerly awaited the results which showed the Club had scored differently not only meaning that I was in fact sixth and second over 50 which was a shame for me but even more so for Nick Craig who had sailed under the same belief and lost the event on count back.
Overall a beautiful place that sadly for me did not live up to my expectations of steady wind and racing. However a wonderful trip and a great time and a not too shabby result for a large bloke against tiddlers in the conditions.
Thanks to the PSUK for the support for my first trip to Garda and D-One World Championship.
S.H.
Overall Results:
| Pos | Sail No | Helm | | R1 | R2 | R3 | R4 | R5 | R6 | Pts |
| --- | --- | --- | --- | --- | --- | --- | --- | --- | --- | --- |
| 1 | ITA 135 | Mario Rabbň | Circolo Nautico Rapallo | 1 | ‑2 | 1 | 2 | 2 | 2 | 8 |
| 2 | GBR 5 | Nick Craig | FPSC | 2 | 1 | ‑3 | 1 | 1 | 3 | 8 |
| 3 | HUN 119 | Balŕzs Tomai | DOVSE | 3 | ‑11 | 2 | 3 | 3 | 5 | 16 |
| 4 | HUN 10 | Tamŕs Szamňdy | BYC | 6 | ‑10 | 8 | 6 | 4 | 1 | 25 |
| 5 | GBR 410 | Chris Sallis | Gt Yarmouth & Gorleston | 4 | 9 | 4 | 5 | (dnf) | 7 | 29 |
| 6 | GBR 419 | Simon Hawkes | P.S.U.K. | 5 | 7 | 7 | 8 | ‑10 | 4 | 31 |
| 7 | ITA 4 | Beppe Pontremoli | Yacht Club Italiano | 8 | 5 | 6 | 7 | 6 | ‑20 | 32 |
| 8 | ITA 41 | Riccardo Pontremoli | Yacht Club Italiano | 7 | ‑12 | 5 | 10 | 5 | 6 | 33 |
| 9 | CZE 40 | Bachtík Marek | Yacht Klub Jestrabi | 9 | 4 | 12 | ‑13 | 8 | 8 | 41 |
| 10 | GBR 72 | Tim Garvin | Queen Mary SC | ‑14 | 3 | 10 | 14 | 9 | 14 | 50 |
| 11 | HUN 767 | Gémesi Gyula | DOVSE | 11 | 6 | 13 | ‑15 | 13 | 15 | 58 |
| 12 | POL 120 | Piotr Machel | UKS Wiking | 10 | 8 | (dnf) | 18 | 17 | 9 | 62 |
| 13 | GBR 420 | Paul Birbeck | Wimbleball SC | 12 | 19 | 11 | 9 | 12 | ‑22 | 63 |
| 14 | GBR 8 | Nick Orman | Castle Cove SC | 13 | (dnf) | 14 | 4 | 7 | ocs | 64 |
| 15 | SUI 27 | Michael Mutti | RCO | 17 | 18 | 9 | 11 | ‑20 | 10 | 65 |
| 16 | SUI 7 | Patrick Rüfenacht | YCB | 15 | 14 | 15 | 16 | 14 | ‑18 | 74 |
| 17 | ITA 315 | Enrico Ciferri | YCI | 18 | 13 | 18 | ‑19 | 16 | 13 | 78 |
| 18 | ITA 10 | Fabio Toccoli | CVT | 16 | 16 | 19 | (dnf) | 11 | 16 | 78 |
| 19 | UK 55 | Ken Ward | South Shields | 20 | 17 | 17 | 17 | (dnf) | 12 | 83 |
| 20 | HUN 122 | Matyasovszki Géza | DOVSE | ‑23 | 15 | 20 | 21 | 19 | 11 | 86 |
| 21 | ITA 24 | Tommaso Buzzi | LNI Savona | 19 | ‑21 | 21 | 12 | 18 | 17 | 87 |
| 22 | GBR 502 | Steve Gray | GYGSC | 21 | ‑23 | 16 | 20 | 15 | 23 | 95 |
| 23 | SUI 53 | Michel Erni | RCO | 22 | 20 | (dnc) | dnf | 21 | 19 | 108 |
| 24 | SUI 101 | Andreas Von Arx | Zurcher Segelclub | 24 | 22 | (dnf) | dnc | 22 | 21 | 115 |
| 25 | SUI 22 | Peter Tellenbach | RCO | (dnf) | dnc | 22 | dnc | dnf | dnc | 126 |