UK National Police Offshore Sailing Championships
This page provides details of past and forthcoming events pertaining to the Police Sport UK National Offshore Sailing regattas.
2011
Report & Results:
Police Sport UK
Offshore Sailing Championships 2011

This year's annual Police Sport UK Offshore Yacht Championships were held in the Solent between the 8th and 13th May 2011. The organisers were the Metropolitan Police Sailing Club (MPSC) on behalf of the MPS.

This competitive event was raced in a brand new fleet of 42 foot 'Beneteau First' yachts supplied by Sunsail from Port Solent. These are powerful, demanding one- design yachts crewed by up to ten competing sailors. The event attracted twenty one entries encompassing thirteen different Police Services from as far away as Northern Ireland, Strathclyde and Devon and Cornwall.

The event organiser was John Oldham and his Supporting Team of eight, which included Principal Race Officer Andy Taverner and Deputy Race Officer Nick Mason. All are serving MPS officers and members of the MPSC.

A more detailed composition of those competing:-
Competitors
| | | |
| --- | --- | --- |
| FORCE | SKIPPER | Sunsail boat number |
| Devon & Cornwall A | Jon Bancroft | 19 |
| Devon & Cornwall B | Graham Higginson | 42 |
| Hants A | Simon Judge | 40 |
| Hants B | Steve Norcross | 16 |
| Hertfordshire | Stan Thingsaker | 23 |
| Warwickshire | Henry Scutt | 17 |
| Notts A | Pete Walters | 28 |
| Metropolitan B | Roger Glass | 30 |
| Metropolitan A | Andy Robinson | 13 |
| Metropolitan C | Mason King | 41 |
| Notts B | Mark Flavell | 2 |
| Lancashire | David Old | 5 |
| Strathclyde | John Morgan | 33 |
| Metropolitan D | Dave Hartshorn | 20 |
| Sussex | Steve Rigby | 31 |
| City of London | James Thorogood | 14 |
| Cleveland A | Tony Riordan | 25 |
| Cleveland B | Iain Tribick | 32 |
| West Mids | Ian Ingram | 6 |
| PSNI | Steve McKraig | 39 |
| Metropolitan E | Alan Slater | 35 |


The initial briefing took place at Port Solent on 8th May at 17:00 and competitors were allocated their yachts. The first race was scheduled to take place at 10:00 on Monday, 9th May, 2011 with a start in the vicinity of a Solent Mark near Portsmouth called 'Browndown'.

Race One - The yachts were all evenly matched and winds of around 15 knots produced ideal racing conditions for the first race, a short one lasting just an hour and a half. Notts A (skippered by Pete Walters) reproduced his previous good form, winning the race.
He was followed by a large contingent of Met Yachts. Met B (skippered by Roger Glass) took 2nd followed by Met A (skippered by Andy Robinson) and Met C (skippered by Mason King) in 4th place at the finish. An uneventful race other than the fact Met A managed to rig and fly their spinnaker upside down!

Race Two - This commenced at 12:00 and was again a short, 'round the cans' race, lasting just over one and half hours. This time Met A got it all together to claim victory and relegated the last year's champion Notts A into 4th place. Hants A (skippered by Simon Judge) and West Mids (skippered by Ian Ingram) secured 2nd and 3rd places

Race Three - The final race of the day started at 14:30. Again this was closely contested in the evenly matched yachts. This time it was Met B who took a turn to win. Again West Mids were well up, taking second place, followed by Hants A. This time Notts A had been relegated to fifth place.

At the end of the first day's racing after three completed races, results showed a number of different teams were capable of winning races. It seemed at last that Pete Walters from Notts A with his numerous previous event victories might at last be deposed!

The fleet made their way to Cowes Yacht Haven that evening and the yachts moored alongside each other in close proximity for the crews to exchange war stories of the days racing and how all of them had nearly won! The camaraderie of these seafaring competitors could be heard late into the night.

Tuesday, 10th May began the start of a new day's racing

Race Four - started at 10:00 hours at a racing mark close to Cowes. Winds were again about 15 knots. This was followed by Race Five at 13:15 hours. Both were slightly longer races of about two and half hours. A pattern began to emerge with Met A and Notts A winning one race each and West Mids and Met B keeping in the first five places.

As overall event positions are based on the total scores of all races it is imperative to consistently maintain high placings.

At the end of the second day, interim event results showed Notts A first, Met A second and West Mids third.

Again competitors parked their yachts in Cowes Yacht Haven to avail themselves of the sumptuous bathroom facilities and don their evening attire for the gala dinner.

The evening was well attended and supported by a host of dignitaries that included:-

• Sir Paul Stephenson - Met Commissioner

• Sara Thornton - Chief Constable of Thames Valley and Chairperson of Sailing PSUK

• Chris Allison - Assistant Commissioner and Commodore of MPSC (also a competitor in event)

• Dick Fedorcio - Director of DPA Met Police and member of MPSC

A raffle on the evening raised over £500 funding for The Anthony Nolan Trust which is the current MPSC adopted charity.

Race Six - began the following day at 10:30 and competitors had been warned it was a Passage race. Rumours had been rife with expectation of sailing to Weymouth, Round the Isle of Wight or even to Cherbourg and back.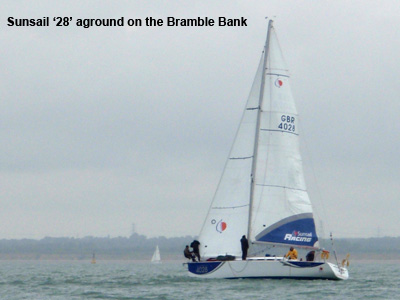 The race course was announced at 10:00 and transmitted to yachts via radio. It transpired to be a course that almost covered the full length of the Solent and beyond, in both directions. It also took yachts out beyond the defensive forts of Portsmouth and to the ominous looking Nab Tower situated some miles out to sea. This was constructed as a First World War submarine defence, but its rusting mass remains clad in scaffold, presumably because it was difficult to get decorators to work there! The reigning champion, Peter Walters of Notts A made a navigational error early in the race and ran his boat aground on the sand bar of the Bramble Bank. The tide was still an hour from its completed ebb, so that is where he stayed for some time. Luckily the boat was found to be undamaged after a lift out inspection the following day. But an unenviable position to be in, watching the hull emerge from the water as it is lifted out, knowing that if it is damaged you might forfeit a £3000 pound damage deposit!

This long all-day race saw numerous position changes as yachts were almost becalmed on their way out to the Nab Tower, picking their way through the multi thousand ton tankers that were anchored and waiting in the lee of the Island. The return from The Nab and the sail back towards Cowes involved a tactical choice of routes. Some competitors sailed dangerously close to the famous Ryde Sands, which, to the uneducated hide their shallowness. Thankfully the sands made no claims. Yachts battled their way on with a race lasting over seven and half hours. Cleveland A (skippered by Tony Riordan) won. Amazingly, despite such a long race, four other yachts finished within the next four minutes. In order, they were Met B, Met A, PSNI (skippered by Steve McKraig) and Notts B (skippered by Mark Flavell). All were close enough to hear the raucous cheers from Cleveland celebrating their victory. I can give testimony that they carried on that celebration well into the early hours of the following morning!

Race Seven - began at 09:30 on Thursday, 12th May
Winds had increased on the day and blew at over 20 knots. This made the un-reefed yachts almost unmanageable. An error by Strathclyde (skippered by John Morgan) saw them grounding on a sand spire off Gurnard Ledge. Conditions were testing, but many of the fleet still managed to fly their large masthead spinnakers, a testament to their own crews' ability. Successfully flying such large sails in windy conditions requires good team work and especially speedy communications between the crew. The race was won by West Midlands beating Met A by 10 seconds, followed by Notts A just 6 seconds later. So indeed a very close race by anyone's standards!

Race Eight followed at 12:20 hours, but strangely, just before the start, winds became momentarily light and fluky. This caused disarray amongst the fleet with yachts tacking into areas of no wind and remaining almost stationary while others only feet away began sailing in strong wind. Variable wind strengths and direction make the flying of spinnakers an even more treacherous task. Notts B fell foul to the temptation and an untethered spinnaker could be seen flying from the top of the mast with four 60 foot lengths of sheets and guys flaying like circus whips in the air. I am told they eventually found a suitable target to secure themselves to a passing Hampshire Police Launch!

This race was even closer with Met A taking line honours followed by Notts A 2 seconds later and Devon & Cornwall B (skippered by Graham Higginson) in third place

Race Nine - took place the following day and was the last race of the championship. Met A were slightly in the lead overall in the championship and could not afford to allow Notts A to come first in the last race. It was truly now 'battle of the giants'.

The race started and Met A made an unfortunate start, being slightly over the start line. Sadly they were subsequently disqualified, so kissed goodbye to their chances of overall victory in the event, despite sailing so well over the week. Meanwhile out in front were Met B and Cleveland A. As the race continued Met B forged a respectable lead, but failed to notice a Race Committee Flag indicating that the race course was ending early. This meant that they initially failed to finish the race correctly. By the time they had discovered and rectified their error Notts A had caught them and finished ahead followed by Notts B.

So sadly for Met A and Met B the day and date had proved the superstition correct- Friday the Thirteenth.. But for Notts A (skippered by Pete Walters) the day had secured another well deserved championship victory.
Overall Championship Results were as follows -
1st, Notts A - Peter Walters
2nd, West Midlands - Ian Ingram
3rd, Met B - Roger Glass.
Assistant Commissioner Chris Allison Commodore MPSC presented the prizes at a prize giving held at Port Solent later that day.
R.G.
PSUK Offshore Sailing Championships 2011
- hosted by the Metropolitan Police in the Solent
Trophy Winners

PAA Shield

Overall Winner PSUK Offshores

Pete Walters

Nottinghamshire Police 'A'

Hampshire Solent Cup

Second Place PSUK Offshores

Ian Ingram

West Midlands Police

Anchor Trophy

Third Place PSUK Offshores

Roger Glass

Metropolitan Police 'B'

Sailability Trophy

Most Improved Team

Ian Ingram

West Midlands Police

The Hampshire PAA Trophy

Awarded this year to the Winner of the First Race

Pete Walters

Nottinghamshire Police 'A'

Sunsail Trophy

Awarded this year to the Winner of Last Race

Pete Walters

Nottinghamshire Police 'A'

West Midlands Trophy

Awarded this year to the Winner of Race Four

Andy Robinson

Metropolitan Police 'A'

Ian Toomer Memorial Cup

Awarded to the yacht that completes every race but has the highest points

David Old

Lancashire Police

Overnight Bell

Awarded to the Winner of the Passage Race

Tony Riordan

Cleveland Police 'A'

Stern Light Trophy

Awarded to the last yacht home in the Passage Race

Dave Hartshorn

Metropolitan Police 'D'
Click Here to View


Pictures of the Presentation
Pictures from the regatta taken by Mick Watts can be viewed at yachtsnaps.com
A report by Notts 'A' Team can also be viewed via the 'Reports & Stories' section of this website.
---
Event Organiser:
John Oldham
Chair of Organising Committee
Det. Ch/Insp , Tm7
SCD1 - Homicide and Serious Crime Command.
4th Floor, Jubilee House
230-232 Putney Bridge Road,
London. SW15 2PD
07884-117730
MPSC@hotmail.co.uk
---
2010

View the report and results of the PSUK Offshore Sailing Championships 2010.

---
2009

View the report and results of the PSUK Offshore Sailing Championships 2009.
---
2008

View the report and results of the PSUK Offshore Sailing Championships 2008.
---
2001 2002 2003 2004 2005 2006 2007
National Offshore regatta results only can also be viewed via the 'Stats' Section