Reports and Results below, pictures follow in due course:
POLICE SPORT UK NATIONAL LASER SAILING CHAMPIONSHIP 2005
There was no lack of wind for this year's police national Laser championship. The man-made reservoir at Scaling Dam, on the northern edge of the North Yorkshire Moors National Park, was covered in low and heavy rain clouds. Strong and gusting winds of up to force 6 were blowing in from the west. The race officer, Ian Holden, held three races, all with zig-zag courses around the fixed club buoys, from committee boat starts.

Race 1 was a race of attrition with the strong winds wearing down the strength of the competitors and the gusts catching out the unwary. I think that every sailor capsized at least once. A couple of unfortunates capsized soon after leaving the beach and were swept onto the dam wall by the waves generated by the strong winds. Another Laser needed to be dragged up on top of the dam. Dick Sivers (a pensioner from Northamptonshire) did make an attempt to sail but had great difficulty getting away from the beach and eventually decided to sit it out. Roger Glass, another pensioner, made a wise decision (as things turned out) of sitting that race out and did not even get changed into his sailing gear, but stayed ashore watching the others struggle. For the first time in the Laser Championship, some competitors decided to use the smaller Radial rig. From the start of the race, it soon became a 4-man race with Andy Taverner (Met) leading the way round, with Stuart Jenkins (Met) hard on his heals. Paul Meeson (Cheshire) sailing his Laser with a Radial rig managed to keep ahead of Steve Brisley (Cleveland) sailing a standard Laser. These 4 competitors (the only finishers) completed the course in that order. Meanwhile, the competitors who had ended up on the dam were walking back to the clubhouse carrying sails & spars on their shoulders. It had been a tough morning.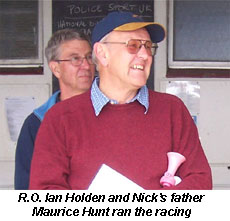 After a well-earned lunch break, nine Laser sailors took to the water for the second race. The wind was still from the west but it had eased enough to make life a little easier for the sailors. The leading group was made up of a Metropolitan trio, Roger Glass, Stuart Jenkins and Andy Taverner, and one local man – Steve Brisley. They fought it out to the end, when the local boy came good and was first to cross the finish line. Glass was not far behind, and he was followed home by Jenkins and Taverner. Paul Meeson was 5th.

The winds eased even more for the 3rd race and 10 racers took to the water. This time Andy Taverner was determined to do better. With his win in Race One, he was in a good position to win the championship. He was in the lead two legs from the finish, but then Glass managed to overtake him. Taverner's confidence must have taken a knock at that, but all was not lost. He must have known that if he could hold second place he could still be the overall winner. But unfortunately it was not to be! Only about 100 metres from the finish his Metropolitan compatriot, Jenkins, managed to slip by and crossed the finish line ahead of him, pushing him back into third place. That meant police pensioner, Roger Glass, was the 2005 Police Laser Champion. Andy Taverner was the runner up! So close and yet so far! Stuart Jenkins was third overall.
L.G.
National Police Laser Sailing Championships,
15th June, 2005
Result
(2 races to count - 1 discard)

Final
Position

Helm

Force
Race
1
Race
2
Race
3
Points
1st

Roger Glass

Met.

DNC

2

1

3

2nd

Andy

Taverner

Met.

1

4

3

4

3rd

Stuart Jenkins

Met.

2

3

2

4

4th

Steve Brisley

Cleveland

4

1

4

5

5th

Paul Meeson *

Cheshire

3

5

5

8

6th

Richard

Sivers

*

Northants

DNC

6

6

12

7th

Andy Cuddon

Lancashire

DNF

7

7

1

4

8th

Robert DeGrove

Met.

DNF

8

9

1

7

9th

Jim Shaw

Essex

DNF

DNC

8

21

10th

Dave Clough

Cleveland

DNC

DNF

10

23

=

11th

Judith Nellist *

Cleveland

DNC

DNC

DNC

30

=

1

1

th

Andy Hayfield

GMP

DNC

DNC

DNC

30

* denotes Radial rig used for the championship. Ratings were off scratch.

Pictures of the Laser Championship
---

Police Sport UK National Dinghy Sailing Championships, 2005....
Report & Results - Pictures to follow -
More and more lady sailors are coming to public notice, and so it was inevitable that sooner or later a lady sailor would win the police national sailing championship. And so it came to pass in the year AD2005 that the title of police sailing champion was won by Frances Gifford of the Met. She was sailing a very quick National 12, ably crewed by Peter Walker. What made this feat all the more commendable was that it was done in some very heavy weather, it was done against some very hot opposition, and it was done very convincingly. She won 3 of the five races, came 2nd in another and was able to discard her lowest result, which was a 4th. Alan Husk (Essex), the defending champion, sailing his swift Phantom, was the runner-up.

This year's number of entrants was disappointing with only 29 boats (of all shapes and sizes) taking to the water at the man-made reservoir at Scaling Dam, on the northern edge of the North Yorkshire Moors National Park, for the 30th police national sailing championship. Ten different forces were represented. The fastest dinghies on handicap were the RS400s (PY 952) and the slowest was the Laser Pico sailed by Michelle Farrant (PY 1259). To make sure that the races did not drag out too long, and to do away with the need for a time limit, the very competent race officer, Ian Holden, brought in an average lap system for the slower boats. It seemed to work quite well, and the programme was completed in good time.

Instead of having a social event at the clubhouse on the Thursday evening, Nick Hunt and his merry men thought up the idea of having a coach trip into Whitby, about 9 miles from Scaling, and allowing the competitors to wander around the town as the fancy took them. There was no shortage of places of interest to look at, with fish & chip restaurants also pubs to visit. The light evening was a blessing to those who were content to explore the town. Full marks too, went to the organising committee and the race officer and his team for having the results ready for a 2 o'clock prize-giving on the Friday, allowing those who had a long distance to travel to make an early get away.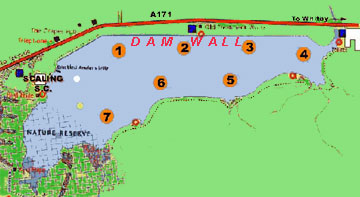 Five races were held over two days for the championship, with four race results to count towards the points. Three races were held on Thursday and two on Friday. All races were sailed over zig-zag courses around the club's fixed marks, avoiding the nature reserve and making use of the whole of the sailing section of the dam. The race officer controlled the races from his small committee boat. Every race was headed by a bevy of RS400s, with the sole RS300 of Geoff Norman, the Phantom of Alan Husk, the Lasers of Stuart Jenkins and Roger Glass, and the Albacore of the local man, Steve Brisley, tagging along behind. Husk got left behind at the start of Race 1, but was soon carving his way through the fleet, to finish second on handicap to the National 12 of Frances Gifford. Andy Taverner (Met) gave up his place in the Laser fleet to team up with Paul Heath (GMP) in his RS400. If Andy thought he was in for an easy ride, he was sadly mistaken, and ended up using more energy in the RS than he usually does in the Laser. But those two lads did well enough to finish 5th overall. The 3rd and 4th places in this championship went to the RS400s sailed by two local men, Nick Hunt and Jonathan Tapper (both Cleveland); and Pete Walters and Mark Bush from Nottinghamshire. Try as he might, Alan Husk could not get far enough ahead of the National 12 of Gifford and Walker to break the handicap advantage, and had to settle for second place overall. So that left Francis Gifford and Peter Walker as the undisputed champion team.

In Race1 it was the Cleveland RS400 of Hunt and Tapper that crossed the finish line first. The Nottinghamshire (Walters & Bush) and Greater Manchester/Metropolitan (Heath & Taverner) RS400s streaked across the line some 11 seconds later only one second apart. It was over 3 minutes later that the Essex Phantom crossed the line only 14 seconds ahead of the Metropolitan National 12. The veteran, Geoff Norman was the 6th to finish in his RS300, over a minute behind the National 12. On handicap Francis Gifford was 1st and Alan Husk 2nd.

In Race 2 the three RS400s of Hunt, Walters and Heath were again the fastest boats over the water, with Husk's Phantom finishing next. Norman's RS300 finished ahead of Gifford's National 12, but dropped back to 8th on handicap. Paul Meeson (Cheshire) sailed extremely well to be the 7th boat to finish, and the first Laser. On handicap he won equal 5th place with Paul Heath's RS400. It was Nick Hunt that won on handicap.

In Race 3 Nick Hunt was again the first to finish, but this time it was Paul Heath who was second over the line, ahead of Pete Walters. Geoff Norman was 4th to finish, with Alan Husk 35 seconds behind him. Francis Gifford was 6th over the line, but first on handicap.

Day two of the handicap event brought lighter winds. In Race 4 it was Paul Heath that led the fleet home, over a minute ahead of Alan Husk, who was only 6 seconds in front of Nick Hunt. Pete Walters was 4th to finish, just 12 seconds ahead of Geoff Norman. Steve Brisley (Cleveland) in the Albacore was 6th was across the line, but 3rd on handicap. And Francis Gifford finished 7th, but was 2nd on handicap, and Alan Husk was 1st.

With the wind dropping even more, Race 5 was a fairly short race and it was Pete Walters' turn to lead the fleet home. 2nd over the line was Paul Heath, followed closely by Alan Husk. Geoff Norman crossed 4th, and Francis Gifford was 5th, just 5 seconds ahead of Steve Brisley. On handicap Francis ended up 1st, Alan was 2nd and Steve 3rd. By the time the back markers finished there was hardly enough wind to get back ashore.

It is planned to hold the 2006 championships in Nottinghamshire.
L.G.
Police Sport UK

National

Dinghy

Sailing Championships,
1

6th-17th

June, 200

5


Result
(

4

races to count - 1 discard)


Discarded race shown in light grey

Final
Position
Helm

/Crew

Class
Force
Race
1
Race
2
Race
3
Race
4
Race


5

Pts

1st
Frances Gifford/
Peter Walker

National 12

Metro

1

4

1

2

1

5

2nd

Alan Husk

Phantom

Essex

2

3

4

1

2

8
3rd
Nick Hunt/
Jonathan Tapper

RS400

Cleveland

4

1

2

8

14

18
4th
Pete Walters/
Mark Bush

RS400

Notts

5

2

5

10

4

16
5th
Paul Heath/
Andy Taverner

RS400

Notts

6

5

3

6

8

20
6th
Steve Brisley/
Tony Riordan

Albacore

Cleveland

9

11

8

3

3

23
7th

Stuart Jenkins

Laser

Metro

3

6

6

13

11

26
8th

Roger Glass

Laser

Metro

7

8

9

4

7

26
9th

Geoff Norman

RS300

Notts

10

7

7

7

8

29
10th
Dave Burrows/
Christine Moon

GP14

Cheshire

12

15

12

5

5

34

11th

Paul Meeson

Laser

Cheshire

8

10

11

9

10

37
1

2

th

Richard Sivers

Laser

Northants

11

9

10

11

DNS

41
1

3

th
Dave White/
Chris Oyston

Albacore

Cleveland

13

12

13

14

6

44
1

4

th
Len Gooch/
Clive Bishop

Albacore

Metro

15

13

14

DNF

12

54
15th

Andy Cuddon

Laser

Lancs.

14

DNS

15

12

13

54
16th
Peter Muggleton/
Jane Muggleton

Fireball

Leics.

DNF

14

17

15

15

61
17th
Les Milner/
Sue Milner

RS400

Leics

16

16

DNS

18

17

67
18th
Jeff Hines/
Jim Shaw

Comet Trio

Avon &
Somerset

17

19

20

17

16

69
19th
Kevin Green/
Judith Nellist

Comet Versa

Metro

21

17

16

19

18

70
20th
Jerry Summers/
Pauline Thornton

Laser 2000

Leics.

18

18

21

23

19

76
2

1st

John Fuller/
Paul Robinson

Laser 2000

Avon &
Somerset

20

DNF

18

22

20

80

22nd

Michelle Farrant

Laser Pico

Essex

19

21

19

24

DNS

83
2

3rd

Jeff Stratford/
Bob Lowrie

RS Vision

Avon &
Somerset

DNS

20

22

21

23

86
2

4

th
Mick Williams/
Les Bain

Enterprise

Cleveland

DNF

DNS

23

16

21

90
2

5

th
Dave Clough/
Ian Trebbick

Albacore

Cleveland

DNS

22

DNS

20

22

94
2

6

th

Jim Shaw

Laser

Essex

22

DNS

DNS

DNS

DNS

112
2

7

th

Judith Nellist

Laser Radial

Cleveland

DNS

DNS

DNS

DNS

DNS

120
2

7

th

Robert DeGrove

Laser

Metro

DNS

DNS

DNS

DNS

DNS

120

27

th

Dave Clough

Laser

Cleveland

DNS

DNS

DNS

DNS

DNS

120
For full Race by Race details Click Here
Main Trophy Winners

Sunderland Trophy
1st Overall

Frances Gifford

Metro

Police Review Trophy
2nd Overall

Alan Husk

Essex

Merseyside Trophy
3rd Overall

Nick Hunt

Cleveland

(Token award)

4th Overall

Pete Walters

Notts

Bala Trophy
Winner of First Race

Frances Gifford

Metro

West Midlands Trophy
Winner of Last Race
Alan Husk
Essex
La

n

con Bell
Highest Placed GP14

Dave Burrows

Cheshire

Mark Peers Trophy

Highest Placed

Enterprise

Mick Williams

Cleveland

Laser Trophy
Highest Placed Laser

Stuart Jenkins

Metro.

Maiden Trophy
Highest

Overall not having won a National Trophy

Paul Meeson

Cheshire

Spinnaker Trophy
Highest Placed spinnaker boat

Nick Hunt

Cleveland

Seagull Trophy
First slow handicap boat

Frances Gifford

Met.
Laurenson-Batten Trophy
Highest

S

ingle

-

hander
A. Husk
Essex
Lakeland Trophy

Highest

Retired officer

Roger Glass

Metro

.

"Spirit of the Event"

Trophy awarded for the last boat which sailed all 5 races

John Fuller

Avon & Somerset

Prizes were also given to the winners of a Gold, Silver & Bronze fleet - see Race by Race page for details.

Click here to view pictures from the Dinghy Championships
---
Event Organiser:
Nick Hunt
Nicholas.Hunt@cleveland.pnn.police.uk
Police Station, France Street,
REDCAR
Cleveland
TS10 3HH
Tel: 01642-302614
Mobile (0796-609-1570)