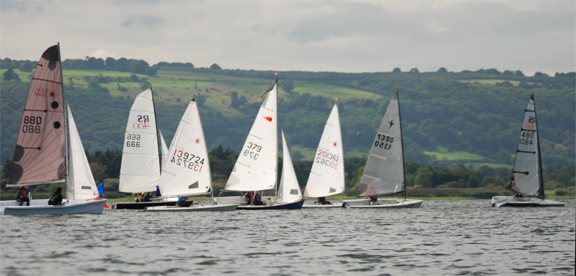 Avon & Somerset Police Sailing Section Open 2015.
This year's event was held on Wednesday, 2nd September, 2015 at Chew Valley Lake Sailing Club.
When we arrived at 8.30 to open up the sun was shining and there was hardly a ripple on the lake, where was the 8 to 10 mph northerly wind that had been forecast? As people arrived and rigged their boats there was no sign of any wind.
We were lucky again to have Keith Harris as our Race Officer assisted by Alan Coventry and Steve Turner. The safety boats were crewed by Mike Meloy, Dave Hales, Bob Lowrie, Patsy Steadman, Darren Crew and Mark Hill. We had a total of 14 entries with 4 visitors and 10 boats from the host Force, disappointing but a sign of the times.
With what little wind there was Keith struggled to set the start line for the first race as the wind shifted from a southerly to a westerly, there was a slight delay but as soon as race 1 started the wind filled in a little, Simon Hawkes sailing a RS400 with his son Ben quickly showed us the way round, closely chased by Rob Jones in the RS 300, also in contention was Ken Daniels in his Phantom and the two Lasers of Tony Hyland and David Thompson. Jeff Hines and Barbara Bradley led the rest of the fleet leaving the remaining Avon and Somerset boats to fight for the remaining places. Simon and Ben were 1st, Rob Jones was 2nd and Ken Daniels was 3rd.
After lunch the wind had picked up slightly and race 2 got under way, the usual suspects led the way with Rob Jones 1st, Tony Hyland 2nd and Simon and Ben 3rd. The lower places were keenly contested by the host force boats with places constantly changing.
By the start of race 3 the wind had picked up a little more, a start line incident saw Ken Daniels taking a swim, again the lead boats were no surprise and the lower places were again keenly fought over. Rob Jones took 1st place, David Thompson took 2nd place and Tony Hyland 3rd. Simon and Ben were 4th. Jeff and Barb had their best result and were 5th.

Rob Jones received the winner's prize
The prizes were presented by Acting Deputy Chief Constable Louisa Rolfe (also a member of our sailing section)
Winner of the PSUK Open event was Rob Jones, Simon and Ben Hawkes were 2nd and Tony Hyland was 3rd.
Winners of the Force Championship was Jeff Hines and Barbara Bradley ( Simon and Ben were not eligible as Ben is not Police staff) 2nd place went to Mark Rolfe in his new RS Aero and 3rd place went to Mark Fordham in his pink Feva. Winner of the Silver fleet award was Shirley Eden in a Topper and Spirit of the Event went to Jim Shaw and Gus Krouwel in the Laser 2000. Andy Butler and I thought there ought to be a prize for the highest number of years and weight in the boat, we would have won that!
We all enjoyed a brilliant days sailing and our thanks to the Race and Safety team who make it possible and to CVLSC for allowing us to host the event.
J.S.
Contact for the event is:
Shirley Eden
Email: shirley.eden@avonandsomerset.police.uk